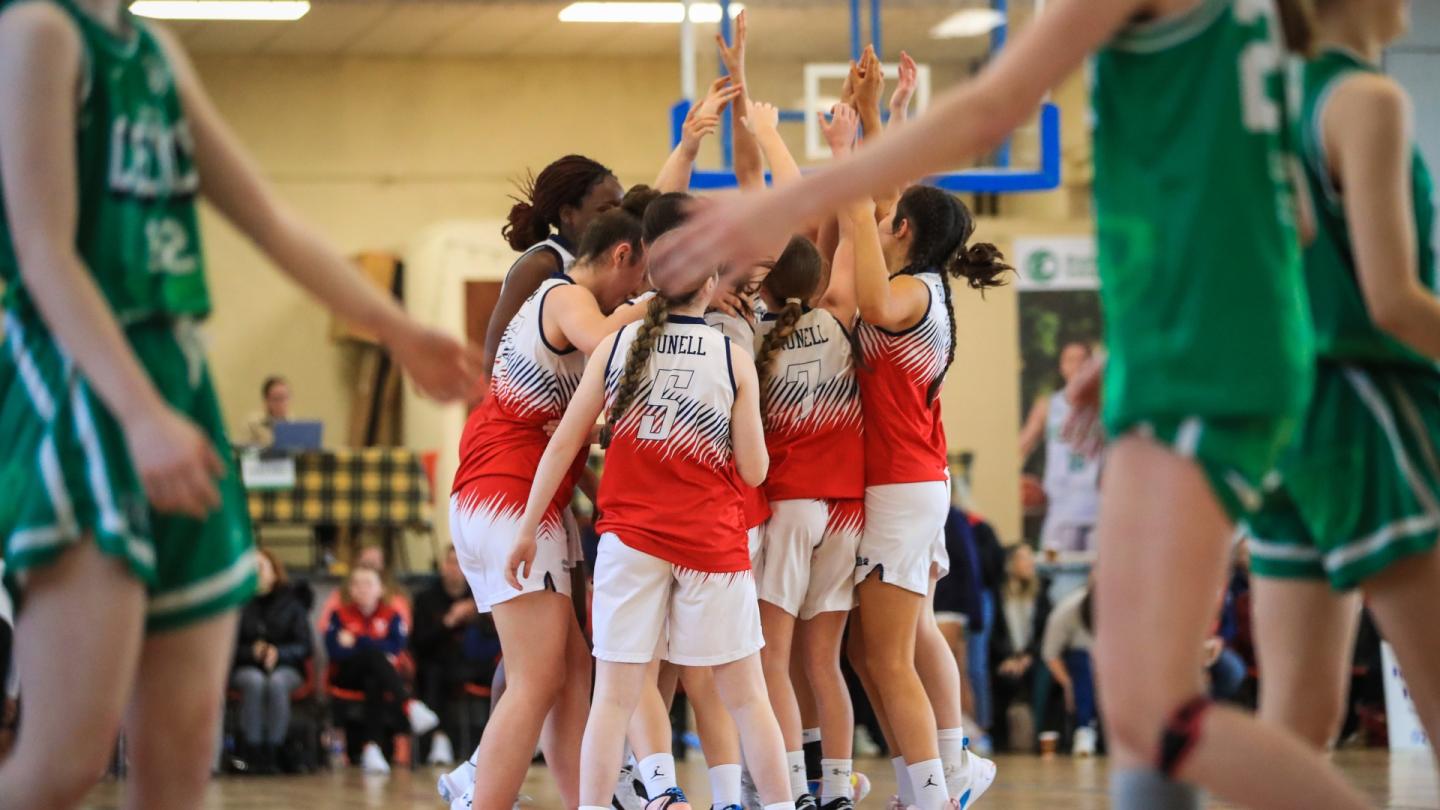 Jan 07 2023
Singleton SuperValu Brunell to play Meteors in InsureMyHouse.ie U18 Women's National Cup Final
Singleton's SuperValu Brunell will play Meteors in the InsureMyHouse.ie U18 Women's National Cup Final after a comprehensive 64-43 win over Limerick Celtics.
Home advantage suited Singleton's SuperValu Brunell, with an immense home crowd behind them but it was Celtics' Amy Buckley who got the scoring underway for the visiting side. Brunell answered back quickly keeping the sides level. An aggressive man-to-man defence worked in Brunell's favour, complemented by Rebecca Sexton's three-point prowess on the other end.
Sexton hit another huge shot from range, followed by an easy two for Ava Walsh giving Brunell a four-point advantage with both Buckley and Devoy keeping the score board ticking over for Celtics. Brunell's sharp-shooting continued at the end of the quarter leaving them with a 5-point lead, 21-16.
A slow start to the 2nd quarter saw both sides missing shots, it took composure from Brunell's Rachel Lynch to end that sequence. Issy McSweeney proved to be a hassle for Celtics to guard, scoring the final 2-points of the quarter. The first half ended with the home side in front, 33-25.
Limerick Celtics' Lucy Devoy found her range to start the second half, draining two free throws to reduce the deficit to six points. Brunell gave away two quick fouls but that didn't dampen the home crowds support with Kelsey Cooper coming up with a vital shot on the baseline. The game ebbed and flowed throughout this quarter but Sexton came up with another 3-pointer to set her teams shooting in motion and extend the lead to 14-points. Limerick Celtics' Amy Buckley continued to contribute scores during a 3rd quarter where her team struggled to score consistently.
The home side continued to grow their lead with efficient fast breaks in the final quarter, with the final score ending of 64-43 to the home side.
After the win, Brunell's top scorer Issy McSweeney said "We have been training so hard over Christmas and last year I tore my ACL in the semi's, so it feels amazing to come back and win it this year".
Quarter Scores:
Q1: 21-16
Q2: 33-25
Q3: 49-33
Q4: 64-43
Singleton SuperValu Brunell: Mia Lynch, Kelsey Cooper, Laura Hannigan, Saoirse Breen, Niamh Cullinane, Issy McSweeney, Rachel Lynch, Ava Walsh, Rebecca Sexton, Michelle Angozi.
Top Scorers: Issy Mc Sweeny (15), Ava Walsh (14), Rachel Lynch (12)
Limerick Celtics: Lucy Devoy, Amy Buckley, Alli Walsh, Sorcha Cronin, Margretta Azzorpardi, Ava Crean, Nina Stijacic, Dearbhail O'Connor, Alisha Russell, Lucy Barry, Claire Cuddihy.
Top Scorers: Amy Buckley (19), Lucy Devoy (12), Alli Walsh (4).
PHOTO GALLERY