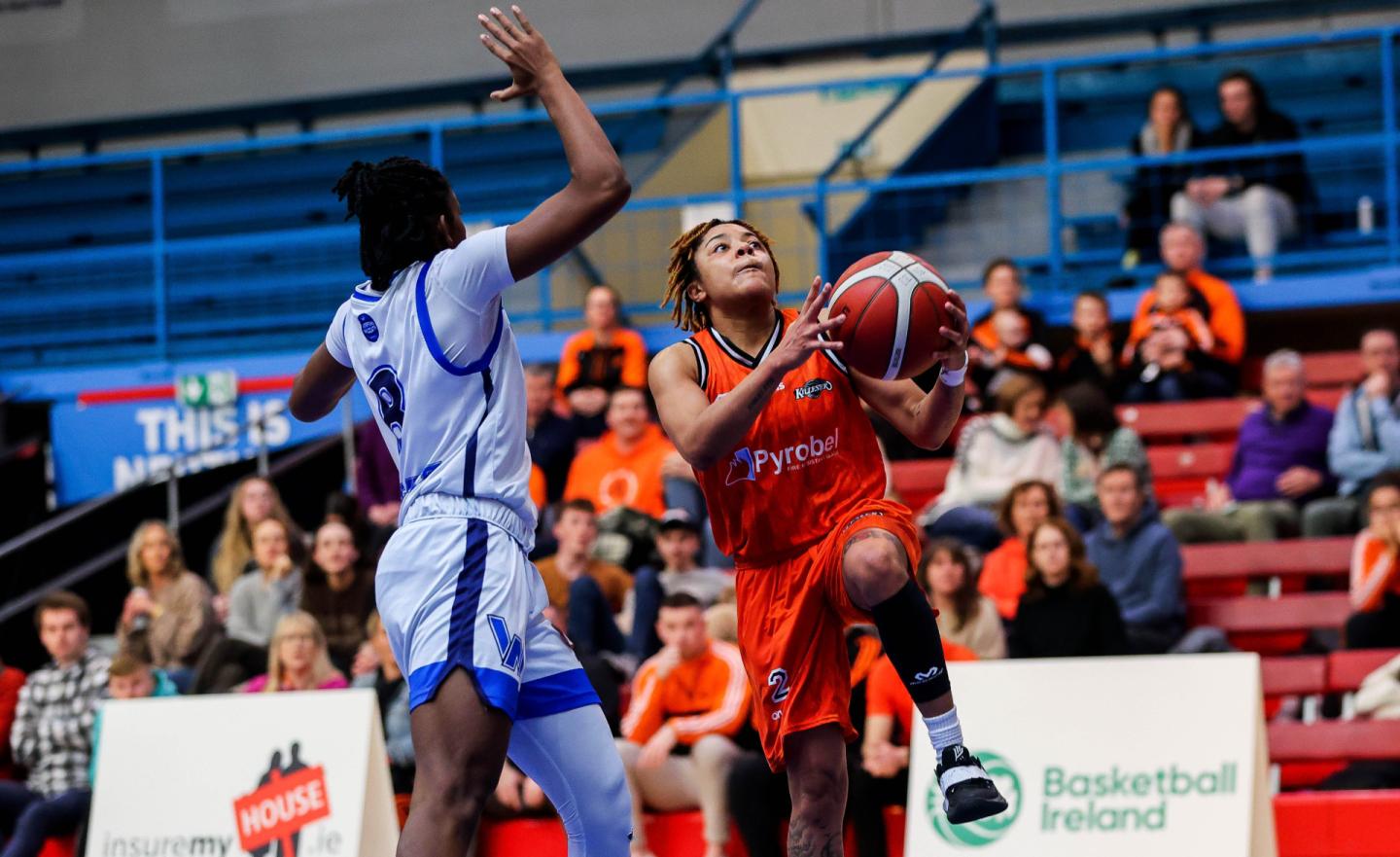 Jan 07 2023
Killester edge Waterford Wildcats 87-77 to reach InsureMyHouse.ie Paudie O'Connor Cup final
Chyna Latimer scored 34 points to help 2020 champions Killester into the final of the InsureMyHouse.ie Paudie O'Connor Cup, winning a thrilling contest against Waterford Wildcats 87-77 at Neptune Stadium.
It was an incredibly tight game with eight lead changes. Killester edged the opening quarter-23-21, but by half-time it was Waterford Wildcats in front, a big three from Kate Hickey was followed by a Sarah Hickey layup to make it 45-39, before a Latimer three with 50 seconds to go in the quarter reduced the deficit and it would be 46-42 to Wildcats by the break. The Hickey sisters to the fore, Sarah (11 points) and Kate (10), while their American Karli Seay had 11 at half-time, and Seay would finish with 27.
Sarah Deegan was another who had a fine game, she had a nice shotclock buzzer beater 2-point jump shot to put Wildcats ahead 54-47 with five and a half minutes to go. But it was 56-56 with three minutes to go, after three points from Ieva Bagdanaviciene for Killester. By the time Michelle Clarke landed a three with a little over a minute to go, it was the Dublin club who led by five, 61-56. But it was a one-point game by the end of the quarter, Killester ahead by 61-60.
Killester were in foul trouble in the last quarter, Channell Williams - who finished the game with 19 points - had already picked up her fourth midway through the third, while Chyna Latimer also went onto four fouls in the second minute of last quarter.
It was a one point game six minutes to go, when Jasmine Walker landed a three to trail 67-66, however Killester went on a nine point run in the next four minutes to open up a ten point advantage, the impressive Latimer's two making it 76-66.
That run was ended when Kate Hickey picked up a foul and landed two of her three throws. Wildcats picked up the offensive rebound after the missed free and Seay drained a long-range three, to trail 76-71 with 1'54 to go.
Killester kept Waterford Wildcats at arms-length, despite Seay and Walker hitting a couple of three's in the closing stages, Mark Grennell's side winning by 10 points, 87-77.
"Great gutsy win from our girls. They fought back time and again when Wildcats looked to have taken control. Credit to Tommy (O'Mahony) and Wildcats, they were excellent and I think it was one of the more entertaining games you'll see. Chyna (Latimer) and a Chanell (Williams) are obviously so dynamic for us that they deserve a mention too for that display, even if they did try give me a heart attack with their foul count. We will enjoy this win and then focus on next week's league game." - Mark Grennell, Killester head coach
The Paudie O'Connor Cup final will be played on Sunday 22nd January at the National Basketball Arena and will be live on TG4 and basketballireland.tv.
Quarter Scores:
Q1: 21-23 , Q2: 46-42 Q3: 58-61, Q4: 77-87
Killester:
Chanell Williams, Michelle Clarke, Chyna Latimer, Sarah Courtney, Ella McCloskey, Bree Shelly, Robyn Malone, Ieva Bagdanaviciene, Maria Long, Lana Walsh, Stacey Walsh, Jenna Howe
Head coach: Mark Grennell
Top Scorers: Chyna Latimer (34), Chanell Williams (19), Ieva Bagdanaviciene (10), Michelle Clarke (9), Ella McCloskey (8)
Waterford Wildcats:
Caitlin Gloeckner, Helena Ronan (c), Sarah Hickey, Kate Hickey, Karli Seay, Jasmine Walker, Sinead Deegan, Illana Fitzgerald, Miriam Liston, Orla Dullaghan, Cathy Kavanagh, Stephanie O'Shea
Head coach: Tommy O'Mahony
Top Scorers: Karli Seay (27), Sarah Hickey (17), Sinead Deegan (13), Kate Hickey (12) Jasmine Walker (8)