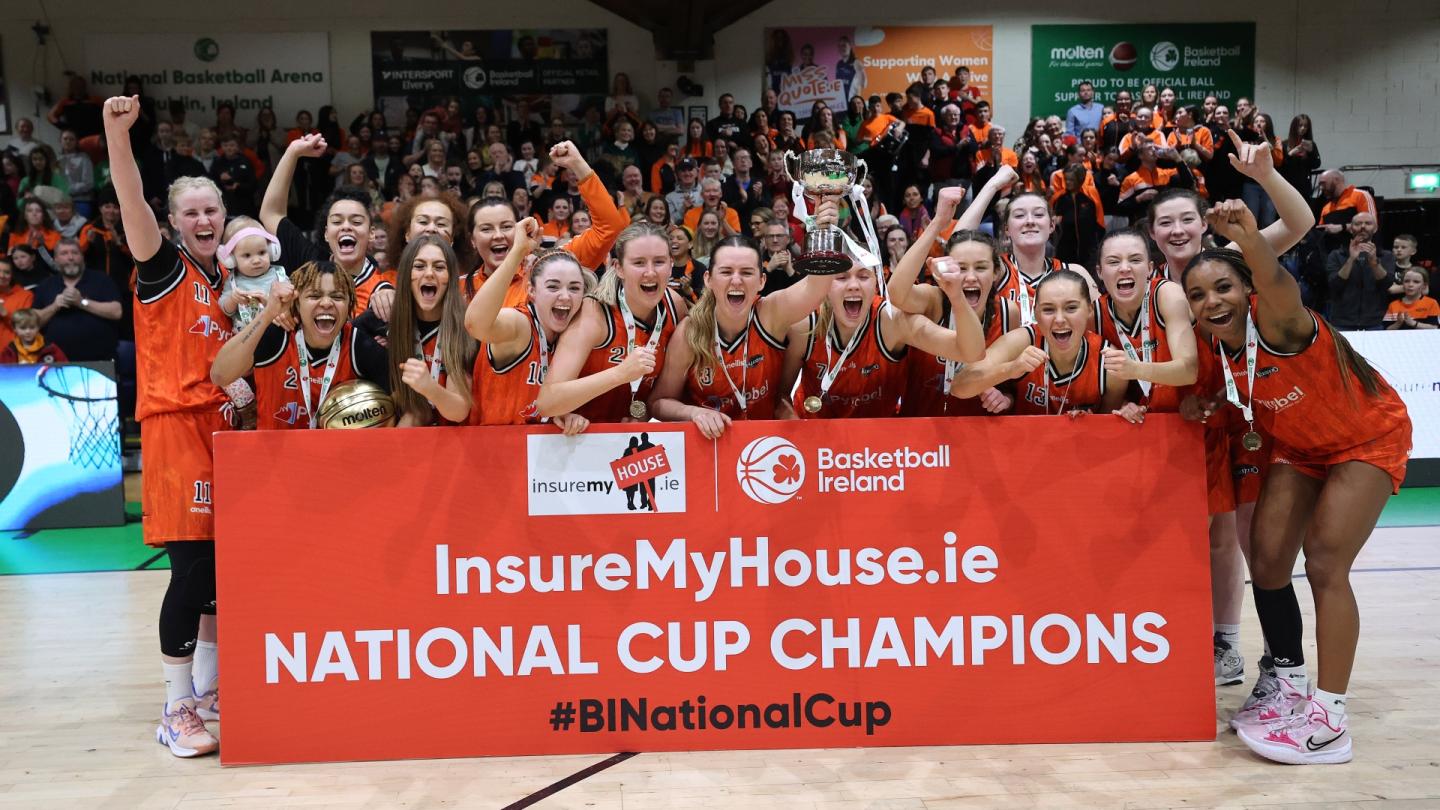 Jan 22 2023
Killester beat Trinity Meteors 96-70 to win fourth InsureMyHouse.ie Paudie O'Connor National Cup
Killester have won their fourth InsureMyHouse.ie Paudie O'Connor National Cup title, following an impressive 96-70 win over Trinity Meteors. The pacy Chanell Williams was inspirational for the Dublin outfit, scoring 25 points and racking up 13 assists, four rebounds and four steals to earn her the MVP. There were also big performances from another American, Chyna Latimer, who had 26 points and 13, along with Ieva Bagdanaviciene, who shot five from the three point line and their talismanic captain Michelle Clarke, to name but a few.
Killester, who last won the trophy in 2020, were fast out of the blocks, their two Americans in particular – Williams and Lattimer – making a huge impact and they were 13-5 ahead with a little over three minutes gone. But Trinity Meteors started to have joy on the boards - Claire Melia and Celena Taborn among the scorers. The pacy Williams was dictating play and she drove through traffic and finished with a neat layup in the dying seconds of the first quarter to make it 27-22 to Killester, she also picked up a foul and added the extras from the free throw line.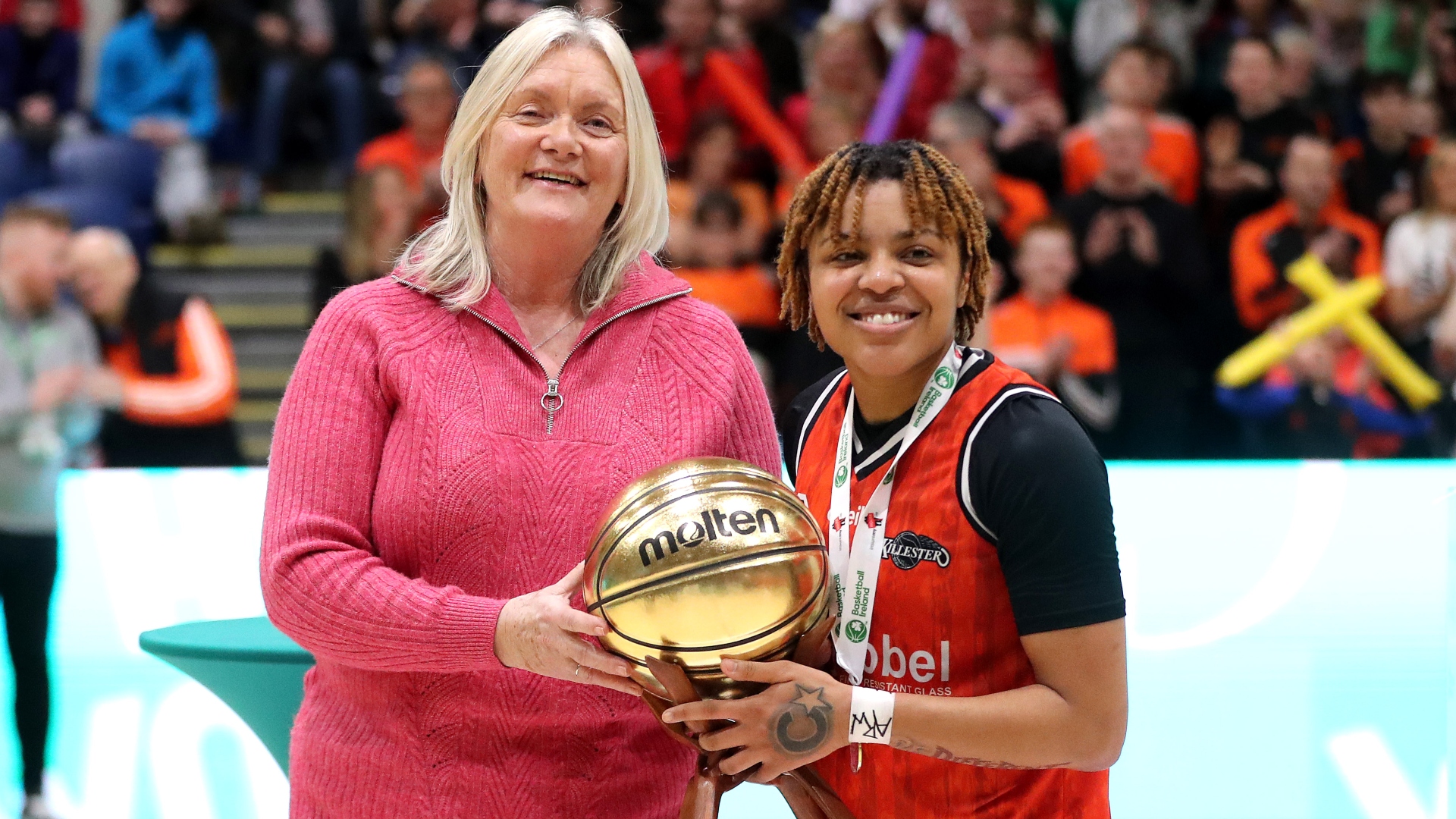 Killester's Chanell Williams picks up her MVP award from  WNLC Chairperson Breda Dick. 
Ella McCluskey's three from the corner got Killester off to the perfect start in the second quarter, as they led 31-22. A layup by Robyn Malone and it was 33-22. Killester's shooting from the three point line was proving fruitful, Clarke got in on the act in the fourth minute of the quarter and they were ahead 36-24. Trinity Meteors closed the gap with Taborn starting to making a real impact inside – she would finish the contest with 25 points. A layup from Dayna Finn brought Trinity Meteors in front for the first time, 43-42, with a little over a minute left in the second quarter. Killester regained the lead, but it was the narrowest of one's at the half-time break after Claire Melia's buzzer-beating three for Trinity Meteors to finish the half, Killester ahead 47-46.
Bagdanaviciene unloaded two big threes for Killester to start the third and it was 63-58 midway through the third. Clarke's three from the corner with 3'06 left in the third made it 69-60 to Killester, to spark their fans into full voice and Trinity Meteors head coach Niall Berry called a timeout. A minute later Latimer drained a two point jump shot from the same corner, to make it an 11 point game in Killester's favour. Clarke landed another three from the top of the arc in the closing seconds and Mark Grennell's side appeared in control, 74-60.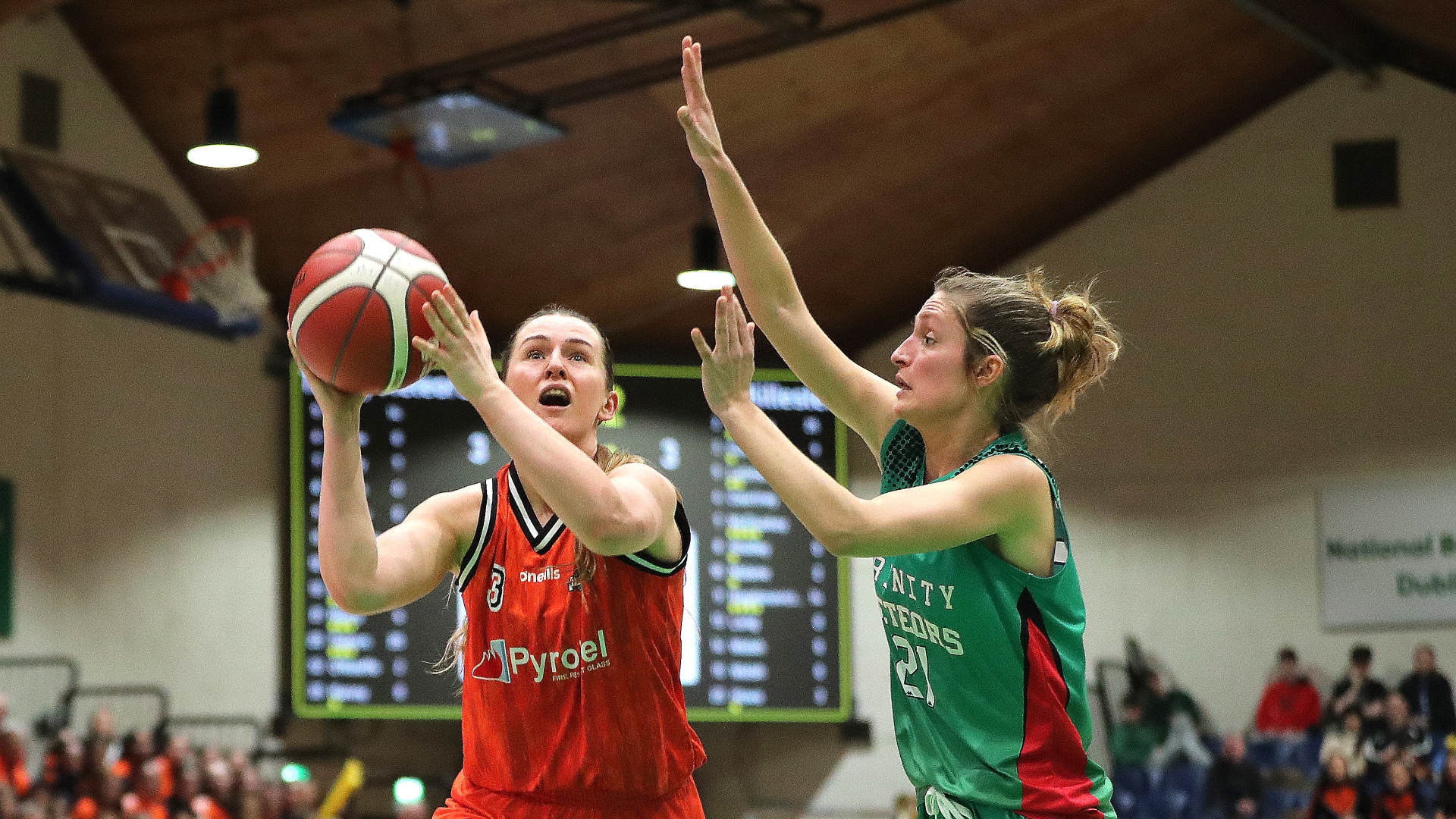 Killester's Michelle Clarke  attacks the basket defended by 

Mireia Riera Serda of Trinity Meteors. 
If there were any nerves among the Killester ranks, they weren't showing it, Bagdanaviciene sunk another three to start the fourth quarter, while the hot-handed Williams converted from long range too, to give Killester an 80-60 lead. Sarah Kenny finally snapped that scoring sequence with a three point jump shot of her own, but Trinity Meteors still had an uphill task. With five an half minutes to go they lost Finn to injury, 30 seconds later it was Williams who went down clutching her leg and had to be carried off, with the Killester support chanting "MVP" in her direction. The medics on the Killester bench managed to get her back on court so she could savour the closing stages, Killester running out comfortable 96-70 winners in the end.
Asked about their fourth Paudie O'Connor Cup, Killester captain Michelle Clarke - who has been with the club for 23 years - responded: "I'm trying not to cry at any given moment. I was balling my eyes out in 2020, that was so special and it's equally as special today. From start to finish we just put in the complete performance. We haven't been the best starters in games, so going into the dressing room one point up we were saying we are a second half team, that's something we wanted to carry on and we did so today. We have such faith in Mark (Grennell), he has coached outstandingly all year and he kept it simple today, look after the boards, keep pushing on offense. We just played our game and that has really stood to us."
Trinity Meteors head coach Niall Berry heaped praise on his opponents. "I actually think Killester were outstanding throughout the whole game. I don't think I remember a time in that game where Killester went cold, so for me they were willing to play basketball and they were willing to take on the game and go win the game and you have to give them the credit for that. I don't think our girls played badly, I think in the second half we couldn't get any rhythm. No matter what kind of change we or the girls tried to make, it didn't work and that again is credit to Killester."
Trinity Meteors 70–96 Killester
Quarter Scores:
Q1: 22-28, Q2: 46-47, Q3: 60-74, Q4: 70-96
Killester: Chanell Williams, Michelle Clarke, Chyna Latimer, Bree Shelly, Ella McCloskey, Sarah Courtney, Robyn Malone, Ieva Bagdanaviciene, Maria Long, Lana Walsh, Stacey Walsh, Jenna Howe
Coach: Mark Grennell Asst Coach: Sarah Malone and Alex Troy Team Manager: Colm Malone
Top Scorers: Chyna Latimer (26), Chanell Williams (25), Ieva Bagdanaviciene (17), Ella McCloskey (12), Michelle Clarke (9)
Trinity Meteors: Dayna Finn, Sinead Keane, Sarah Kenny, Rebecca Hynes, Lisa Blaney, Aisling Marmion, Eva Moloney, Claire Melia, Mireia Riera Serda, Celena Taborn, Rebecca O'Keeffe, Niamh Kenny
Coach: Niall Berry Asst Coach: David Earley and Brian Thiessen Team Manager: Celine Marmion
Top Scorers: Celena Taborn (25), Dayna Finn (14), Claire Melia (13), Sarah Kenny (7), Mireia Riera Serda (6)