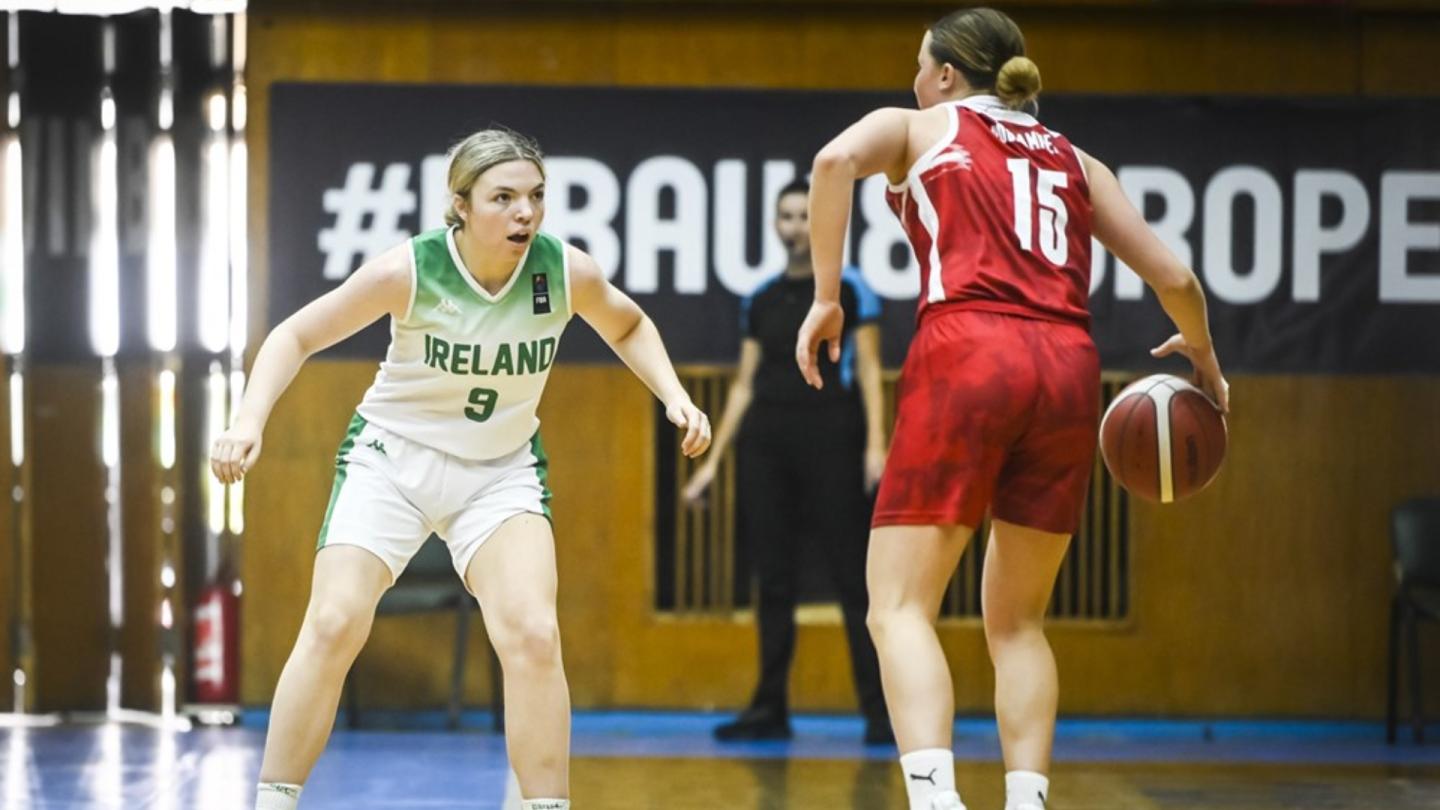 Feb 22 2023
Ireland U18 Women's head coach Tommy O'Mahony names 17 strong squad for Four Nations tournament
Ireland U18 Women's head coach Tommy O'Mahony has named a 17 strong squad ahead of the upcoming Four Nations tournament in April .
Three previously uncapped players have made the roster. USA based duo Anna O'Shaughnessy and Orlagh Gormley, while Laois' Emer Dunne of SETU Carlow and Mountmelllick CS is also included.
Three players, Rebecca Sexton, Caitlin Gloeckner and Lucy Devoy return from the Ireland U18 team who competed at the FIBA European Championships in 2022, with a further six, Karolina Gierszal, Grace Prenter, Emma Tolan, Clara Boyce, Aisling Moran and Caoimhe Gilligan making the leap from the U16 grade.
Eight counties, Laois, Cork, Dublin, Waterford, Kildare, Cavan and Limerick are represented, with Brunell BC providing the highest number of players to the squad (4).
Upon naming his squad, head coach Tommy O'Mahony said:
"The players have been working really hard over the last few months and the selection process has been very hard with a lot of tight calls. The European championship occurs very early this year so hence we have a lot of work to do in such a short space of time. We understand a lot of work will need to be done away from the squad in order to get us in prime condition for the championships. We are really looking forward to the next phase of the program to see what players step up and make are real impact on the team."
The Four Nations tournament is a competition between Ireland, England, Scotland and Wales that will take place in Cardiff on the 12th and 13th of April.
Four Nations Fixtures
Ireland v Wales - Wednesday 12th April, Time: 11am, Venue: Archers Arena
Ireland v Scotland - Thursday 13th April, Time: 11am, Venue: Archers Arena
Ireland v England - Thursday 13th April, Time: 3pm, Venue: Archers Arena
Full Ireland Squad
Ireland U18 Women's Four Nations Squad
Name

Pos

Club/School

Height

Caps

Aisling Moran

G

Meteors, Colaiste Iosogain

5"6

24

Anna O'Shaughnessy

F

St. Ignatius High School

San Francisco, California USA

6"2

0
| | | | | |
| --- | --- | --- | --- | --- |
| Ava Walshe | G | Brunell Regina Mundi | 5"9 | 2 |
| | | | | |
| --- | --- | --- | --- | --- |
| Bree Shelly | G | Killester, Sutton Park | 5"6 | 12 |
| Caitlin Glockner | G | Waterford Wildcats, Yeats College | 5"7 | 17 |
| Caoimhe Gilligan | G | Colaiste Brid Clondalkin, Liffey Celtics | 5"9 | 17 |
| Clara Boyce | F | Liffey Celtics, Colaiste Chiaran | 5"8 | 18 |
| Emer Dunne | F | SETU Carlow, Mountmellick MCS | 5"10 | 0 |
| Emma Tolan | F | East Cavan Eagles, Virgina College | 5"11 | 18 |
| Grace Prenter | G | Meteors & Mount Anville | 5"9 | 18 |
| Issy McSwenney | PG | Brunell , Scoil Mhuire Gan Small | 5"7 | 5 |
| Karolina Gierszal | G | MUKS Bydgoszcz | 5"8 | 18 |
| Katie O'Sullivan | G | Ongar Chasers, Castleknock Community College | 5"7 | 1 |
| Lucy Devoy | G | Ard Scoil Mhuire Corbally, Limerick Celtics | 5"8 | 19 |
| Orlagh Gormley | PG | Dexter/Southfield, Quincy Massachusetts USA | 5"7 | 0 |
| Rachel Lynch | F | Brunell BC, Colaiste na Chroi Naofa | 6"1 | 2 |
| Rebecca Sexton | G | Brunell, Carrigline Community school | 5"7 | 17 |