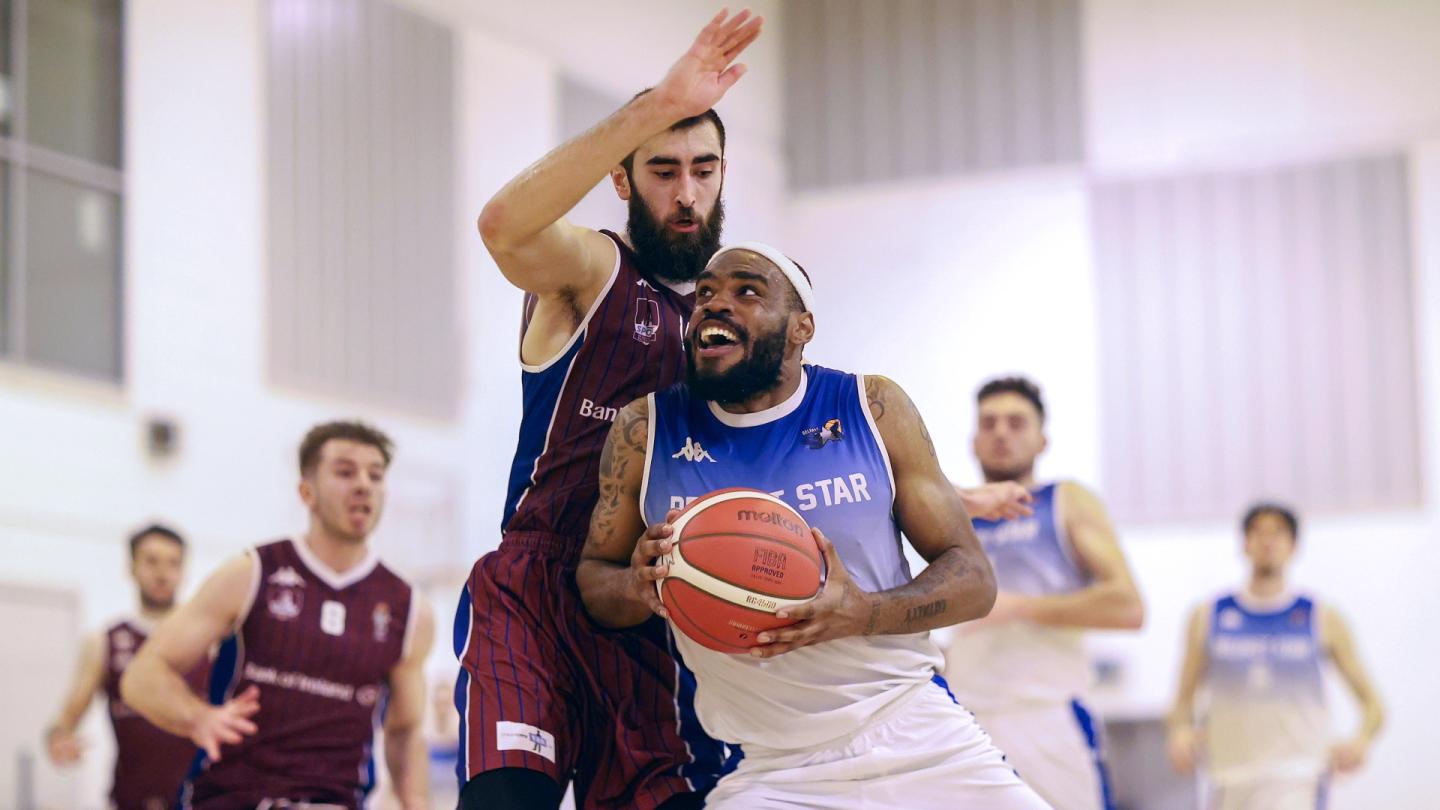 Mar 22 2023
'Super Saturday' spots to be decided as post season playoffs reach semi-final stage
'It's as big a game as Galway has ever hosted.' University of Galway Maree head coach Charlie Crowley is under no illusions about the magnitude of their upcoming InsureMyVan.ie Super League playoff semi-final against Belfast Star, as both bid to become the first to book their spot in 'Super Saturday' on TG4 at the National Basketball Arena on April 1st.
The InsureMyHouse.ie Pat Duffy Cup champions outlasted EJ Sligo All-Stars to reach this stage, but 25 year-old Crowley believed his team will need to 'improve mentally and physically' to have any chance of getting over Belfast Star. Maree ended the regular season with the best record in the InsureMyVan.ie Super League and two of the form players in the country in the shape of Jarett Haines and Rodrigo Gomez. They've also managed to reach this point holding their form well despite the pageantry and distraction of lifting silverware mid-season.
The two teams have met twice during the campaign. University of Galway Maree won their cup quarter-final, with Belfast Star taking the league encounter. Max Cooper topped the box score for Belfast Star on that occasion, but Cooper hasn't played since the middle of January after sustaining an injury. In his absence Chrishon Briggs, Conor and Aidan Quinn and Max Richardson have all taken turns to step up for Adrian Fulton's side.
'Massive challenge but one we're looking forward to,' said Fulton ahead of the tie. 'They aren't National Cup champions for nothing. Charlie (Crowley) has done a terrific job with this squad. They have plenty of talent and depth, so will we have to be at our very best for as close to 40 minutes as possible. If we are, we will be right there.'
They'll be hanging from the rafters in the Mardyke Arena for this weekend's other InsureMyVan.ie Super League playoff final four tie, a Cork derby between UCC Demons and Emporium Cork Basketball.
'This is going to be an incredible battle with neither team giving an inch,' said Emporium Cork Basketball player/head coach Ciaran O'Sullivan. 'UCC Demons have been one of the best teams in the league since Christmas and have huge momentum. Our attention to detail gave us a chance in the quarter-final, but we will have to raise our game once more to stay in the competition,' he added.
Recovery will play a key part for both teams, each having gone through double overtime against DBS Éanna and Killester respectively. Jose Jimenez Gonzales stamped his authority on the overtime period a week ago. Along with Keelan Cairns, John Dawson and Adrian O'Sullivan, Emporium Cork Basketball have the scoring threats to give UCC Demons head coach Daniel O'Mahony a lot to think about in the build-up.
UCC Demons have plenty of scoring prowess themselves, as they bid for their first InsureMyVan.ie Super League crown since successive wins in 2015 and 2016. Michael Randolph Jr. has been among the most effective shooters in the country since joining at the midway point in the season. Former Ireland captain Kyle Hosford has also hit a purple patch at the right time, hitting some crucial buckets en-route to a 20-point haul against Killester.
Reaching the decider would be another big step in a difficult journey for the club in recent years. They were forced to bounce back from relegation to the InsureMyVan.ie Division 1, doing so in style in 2021 and they've gone from strength to strength in the time since.
Similarly to the weekend's opening gambit, these teams have faced off twice during the regular season. There was nothing between them as both took the spoils on the road and it's sure to be another frantic tie when they meet for the third time on Sunday afternoon.
In the MissQuote.ie Champions Trophy, the top four teams from the regular season clash for a spot in the decider at the National Basketball Arena next weekend.
Waterford Wildcats secured a morale boosting road victory over opponents, defending champions The Address UCC Glanmire in the finale of the MissQuote.ie Super League. That game took place only a fortnight ago, with head coach Tommy O'Mahony certain 'both teams will make a long of adjustments' in the wake of their 83-81 success.
'We've been delighted with our performances and application in the last few weeks,' said O'Mahony. 'Playing the best team in the league in their home venue is a daunting task, but being at the business end of the season is where everyone wants to be and we are all aware that big performances are needed to get over the line.'
The Wildcats head coach got those big performances in abundance at the Mardyke Arena in their most recent encounter. Irish international Sarah Hickey showed her class in the paint to score 27 points, complimented by Karli Seay, Jasmine Walker and Caitlin Gloeckner who all reached double digits, but crucially also held their own on the defensive end.
His counterpart Mark Scannell is all too aware changes are needed from that display if their amazing season is to continue for another week. 'We know how important our focus and preparation need to be this week as that wasn't the case last week when we lost to Waterford. The week off was good to recharge and get ready for that challenge, but our defense will have to be better as we gave up 83 points in our last meeting. The prize at stake is a final live on TG4 and we all want to be there,' added Scannell.
It's an all-Dublin affair in the second semi-final, as familiar foes DCU Mercy and Trinity Meteors do battle for the fourth time in 2022/23. Trinity Meteors lead the series 2-1 but crucially, Mercy have claimed their one meeting at the DCU Arena.
'This will be a very close game,' admits DCU Mercy supremo Mark Ingle. 'We have played Meteors in the league and shared the honours with one win each, but we are at home for this one and we have been playing well in the last two months, so we go into the game on form and we are looking forward to this latest challenge.'
Ingle's team are acknowledged by many as the premiere defensive team in the country, emphasised by their ability to hold a free-scoring Leixlip Amenities Liffey Celtics to a meagre 50 points at the quarter-final stage, something Trinity Meteors coach Niall Berry is quick to point out.
'DCU have been playing fantastic basketball lately and are the form team really for the last few weeks of the season,' acknowledged Berry. We are absolutely thrilled to reach this stage coming off the back of a solid team performance last week. We are confident that we can give them a good challenge and give ourselves a chance of winning the game,' he concluded.
As has been the case in their previous contests, the battle of Irish internationals on the court will be a fascinating watch. Australia bound Dayna Finn will be keen to finish on a high, while Claire Melia, Rachel Huijsdens, Hannah Thornton and Sarah Kenny all know one another's game inside and out. Celena Taborn has played to a very high level for Trinity Metors since her arrival, while the recent addition of Amelia Motz to pair with Lindsey Abed has proved to be a catalyst for improvement on the offensive end for DCU Mercy.
Both ties have all the ingredients to throw up an instant classic, while the carrot of a televised final at the National Basketball Arena on TG4 on April 1st is sure to give the games an added spice.
The InsureMyVan.ie Division 1 playoffs are at the same stage, with two enthralling games to contend with. First up on Saturday Ulster University travel South to face Malahide, fresh off the back of causing a slight upset a week ago. These two teams met at the same stage of the InsureMyHouse.ie National Cup with the victory going the way of Ryan McCormick's team. Malahide are no doubt out for revenge. The other game pits Moy Tolka Rovers against Limerick Sport Eagles in a very physical battle. Both teams play with a lot of grit and posted two of the best records in Irish basketball during the regular season.
All eyes will be on the Virginia Show Centre in Cavan for MissQuote.ie Division 1 League Cup, with the quarter-final and semi-final ties down for decision. Breda Dick's Phoenix Rockets take on Limerick Celtics in the opening game, with newly crowned MissQuote.ie Division 1 champions Portlaoise Panthers facing Moy Tolka Rovers in the day's other last eight tie. St. Paul's Killarney and McEvoy's Cavan Eagles await to play the winners on Sunday.
---
Fixtures:
InsureMyVan.ie Super League Playoff Semi-Finals:
Saturday, March 25th
2000| University of Galway Maree v Belfast Star, Kingfisher Gym
Sunday, March 26th
1600| UCC Demons v Emporium Cork Basketball, Mardyke Arena
InsureMyVan.ie Division 1 League Playoff Semi-Finals:
Saturday, March 25th
1915|Moy Tolka Rovers v Limerick Sport Eagles, Tolka Rovers SC
1900|Malahide v Ulster University, Malahide CS
MissQuote.ie Champions Trophy Playoff Semi-Finals
Sunday, March 26th
1330| The Address UCC Glanmire v Waterford Wildcats, Mardyke Arena
1430| DCU Mercy v Trinity Meteors, DCU Arena
MissQuote.ie Division 1 League Cup
Saturday, 25th March - Quarter-finals
1300|Phoenix Rockets v Limerick Celtics, Virginia Sports Centre (Game 1)
1530|Portlaoise Panthers v Moy Tolka Rovers, Virginia Sports Centre (Game 2)
Sunday, 26th March - Semi-finals
1200|St. Paul's Killarney v Winner Game 1, Virginia Sports Centre
1500|McEvoy's Cavan Eagles v Winner Game 2, Virginia Sports Centre