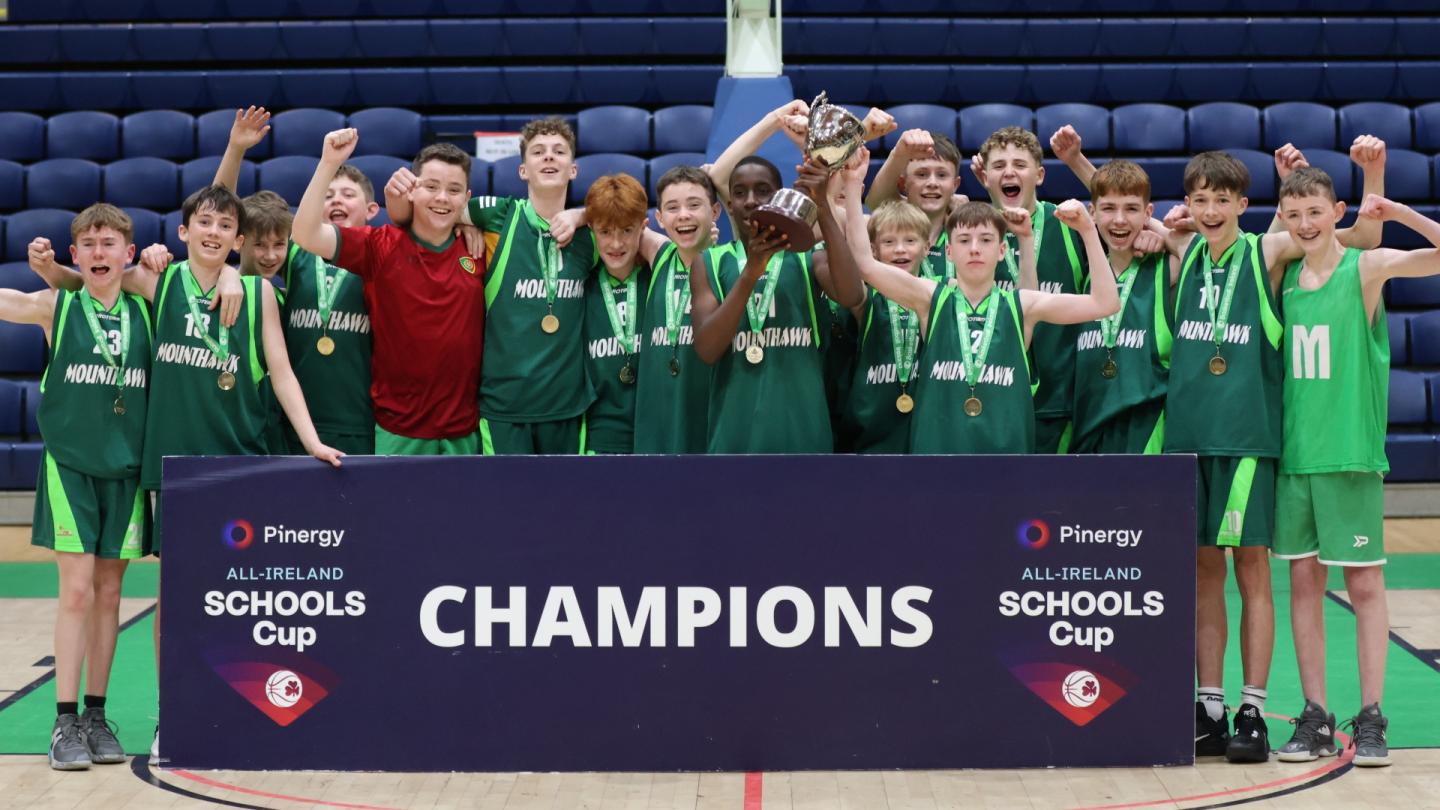 Mar 28 2023
Mercy Secondary School Mounthawk defeat Coláiste Eanna 37-34 in dramatic Pinergy All-Ireland Schools Cup Final
Mercy Secondary School Mounthawk have been crowned Pinergy U14 'A' Boys All-Ireland Schools Cup champions following a dramatic fourth quarter comeback against Coláiste Eanna at the National Basketball Arena.
The Kerry school were 13 points down entering the final seven minutes before turning the tables on the back of a terrific defensive effort which saw them hold their opponents scoreless in the final quarter of a 37-34 win.
Coláiste Eanna showed a ruthless streak to that point. Karl Walsh and Conor Naughton put their best foot forward in accounting for 19 of their team's 34 points. James Devane also chipped in with four of his own, as the Dublin school looked on course for their third Pinergy All-Ireland Schools Cup win of the season, with a 34-21 lead at the end of the third.
As that buzzer sounded, Ryan O'Carroll hit the only three of the game and this appeared to be the spark needed for Mercy Mounthawk. Kevin O'Shea, David Hobbert and O'Carroll took the game by the scruff of the neck with vital scores and when Michael Cotter made a layup with sixty seconds remaining, the Kerry team had brought the score back to 34-33.
Up stepped Harry Murphy to make his second basket of the game after a fierce battle for the offensive rebound with just 10-seconds on the clock and O'Shea sealed the win with a break away score as time expired.
It was a marvellous game from both teams who advanced to the final by defeating St. Malachy's College Belfast and St. Mel's College Longford earlier in the day.
​Top Scorers:
Coláiste Eanna: Karl Walsh (10), Conor Naughton (9), James Devane (4).
Mercy Secondary School Mounthawk: Kevin O'Shea (10), Ryan O'Carroll (7), David Hobbert (6).
---
Results:
Pinergy U14 'A' Boys All-Ireland Schools Cup Semi-Final
St. Malachy's College Belfast 24-27 Coláiste Eanna (Dublin)
St. Mel's College (Longford) 22-39 Mercy Secondary School Mounthawk (Kerry)
Pinergy U14 'A' Boys All-Ireland Schools Cup Final
Coláiste Eanna (Dublin) 34-37 Mercy Secondary School Mounthawk (Kerry)