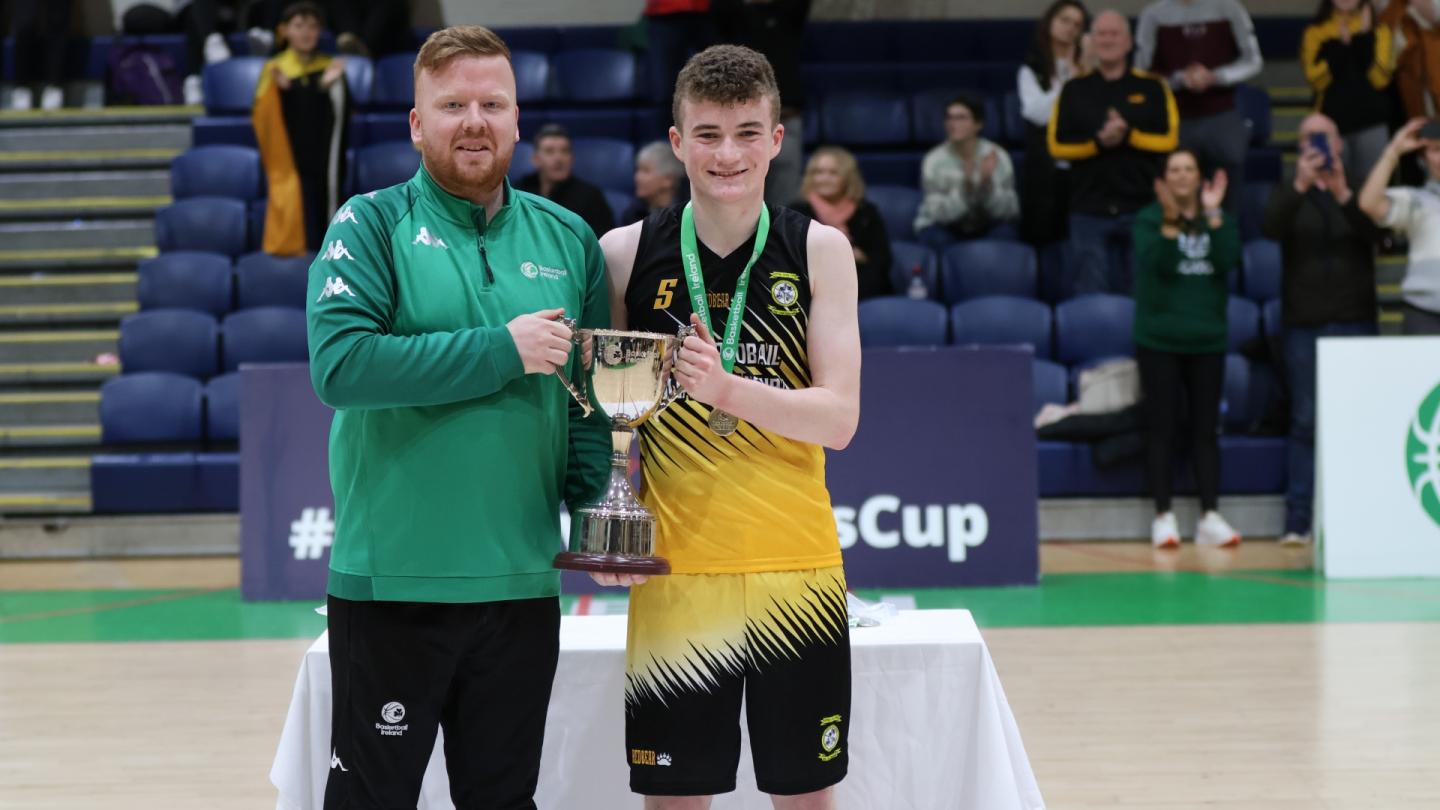 Mar 29 2023
SPSL Rathmore claim U15 'A' All-Ireland Schools Cup with 42-35 victory over St. Joseph's Patrician College
Scoil Phobail Sliabh Luachra Rathmore are the Pinergy U15 'A' All-Ireland Schools Cup champions following an entertaining 42-35 win over a talented St. Joseph's Patrician College (The Bish) at the National Basketball Arena.
Both sides came through ties against Our Lady's Secondary School Castleblayney and Coláiste Eanna earlier in the afternoon to reach the decider.
Trailing by two as the fourth quarter began, SPSL Rathmore scored 13 of the final 17 points, lifting the silverware to the delighted of rapturous travelling support. Cathal Casey was the star of the show, topping the box score with 16 points.
Both teams enjoyed periods of domination in the opening half. Luke O'Reilly was on fire for The Bish to start the contest, scoring 8 points in the opening quarter. Aided by buckets from Sam Herrick, Ferdinand Osabuohien and a three pointer by Louis Gannon, held the advantage 16-12 at the close of play.
SPSL Rathmore took a narrow lead into the half-time interval though. Oisin O'Leary, Oisin Hurley, Cathal Casey and P Togher all making pressure shots to drag their side to a 23-21 advantage, including a crucial 6-2 run to start the quarter.
The second half proved a cagier affair, but similarly each team had a spell in the ascendency. Long range three pointers by Osabuohien and Herrick, alongside a layup from Gannon put St. Joseph's Patrician College in pole position at the start of the fourth, leading 31-29, but all was about to change.
However, it was SPSL Rathmore who shot most effectively during the dying embers of the game. Casey exploded for 6 points in a matter of minutes at the start of the final period and when Damien Moynihan made a pair of jumpers with less than a minute remaining, the Kerry school finally broke the resistance of their Galway counterparts.
Casey capped a fine display with two insurance free-throws to seal a 42-35 win for Scoil Phobail Sliabh Luachra Rathmore.
---
Top Scorers:
SPSL Rathmore: Cathal Casey (16), Dylan Bowler (6), Damien Moynihan (5)
St. Joseph's Patrician College (The Bish): Luke O'Reilly (8), Louis Gannon (8), Ferdinand Osabuohien (7), Sam Herrick (7)
---
Results:
Pinergy U15 'A' Boys All-Ireland Schools Cup Semi-Finals
Our Lady's Secondary School Castleblayney 23-34 St. Joseph's Patrician College (The Bish)
Scoil Phobail Sliabh Luachra Rathmore 68-57 Coláiste Eanna
Pinergy U15 'A' Boys All-Ireland Schools Cup Final
Scoil Phobail Sliabh Luachra Rathmore 42-35 St. Joseph's Patrician College (The Bish)