Mar 31 2023
Belfast Star defeat Éanna 78-74 to claim the InsureMyHouse.ie U20 Men's National League Plate
Belfast Star claimed the InsureMyHouse.ie U20 Men's National League Plate, with a hard fought 78-74 win over Éanna at the National Basketball Arena, in the first of 10 games on National League finals weekend. Darragh Ferguson hit seven three's to help him to a tally of 29 points, on the way to claiming the MVP.
Éanna started brightly and had a 21-14 advantage by the end of the first, Nathan Comerford picking up eight points in that quarter. Cathal O'Sullivan, had a hot hand in the second, racking up 13 points in the quarter to bring his tally to 17 by the break and kept Éanna in control of proceedings. O'Sullivan was outstanding throughout for Éanna and finished with a game-high 35 points.
Belfast Star inched their way back into it and went into the lead with 2'56 left in the second quarter through Darragh Ferguson's three, to edge them 35-34 ahead. A minute later a lovely long range three from Ferguson had them 40-34 up and momentum seemed to be with them. Ferguson would have 18 points by the break, as Belfast Star led 44-40 at half-time.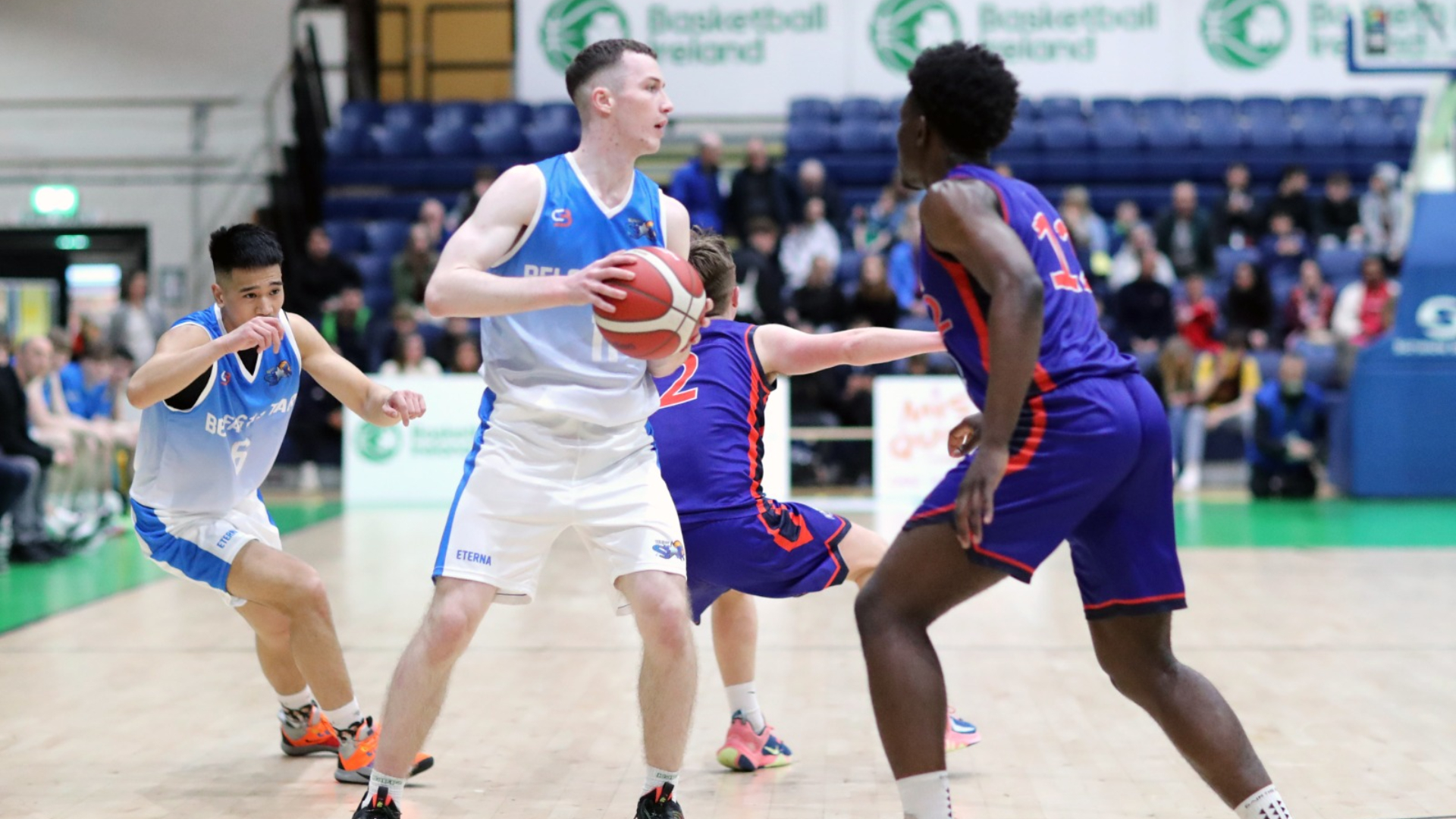 Game MVP Darragh Ferguson scored 29 points 
Back-to-back three's from Michael Donnelly's and Ferguson gave Belfast Star a 10 point advantage, 62-52 with 1'44 to go in the third. An O'Sullivan free throw in the final seconds of the third reduced the deficit slightly. There was an excellent start to the fourth by Éanna, swiftly making it a one-point game within two minutes, following four more points by O'Sullivan and four by Conor Dikcius, to trail 62-61.
Belfast Star responded with back-to-back three's from Ferguson and Luke Donnelly to establish a seven point lead. But Éanna pegged them back once more, Dikcius was having joy in the paint and his layup made it 71-70. Ferguson meanwhile was lighting up the Arena, a lovely assist picked out Jake McCotter for his layup, Ferguson then unleashed a lovely floater to put Belfast Star 75-70 up with less than 90 seconds remaining. Éanna coach Ian Lynch called a timeout and he got the desired response, with points from O'Sullivan and Comerford and it was a one-point game again.
Éanna had possession of the ball with 18 seconds remaining, but a three point attempt by Seán Brady went long and Belfast Star broke to finish with a Iandle Alvarado layup and seal a 78-74 win.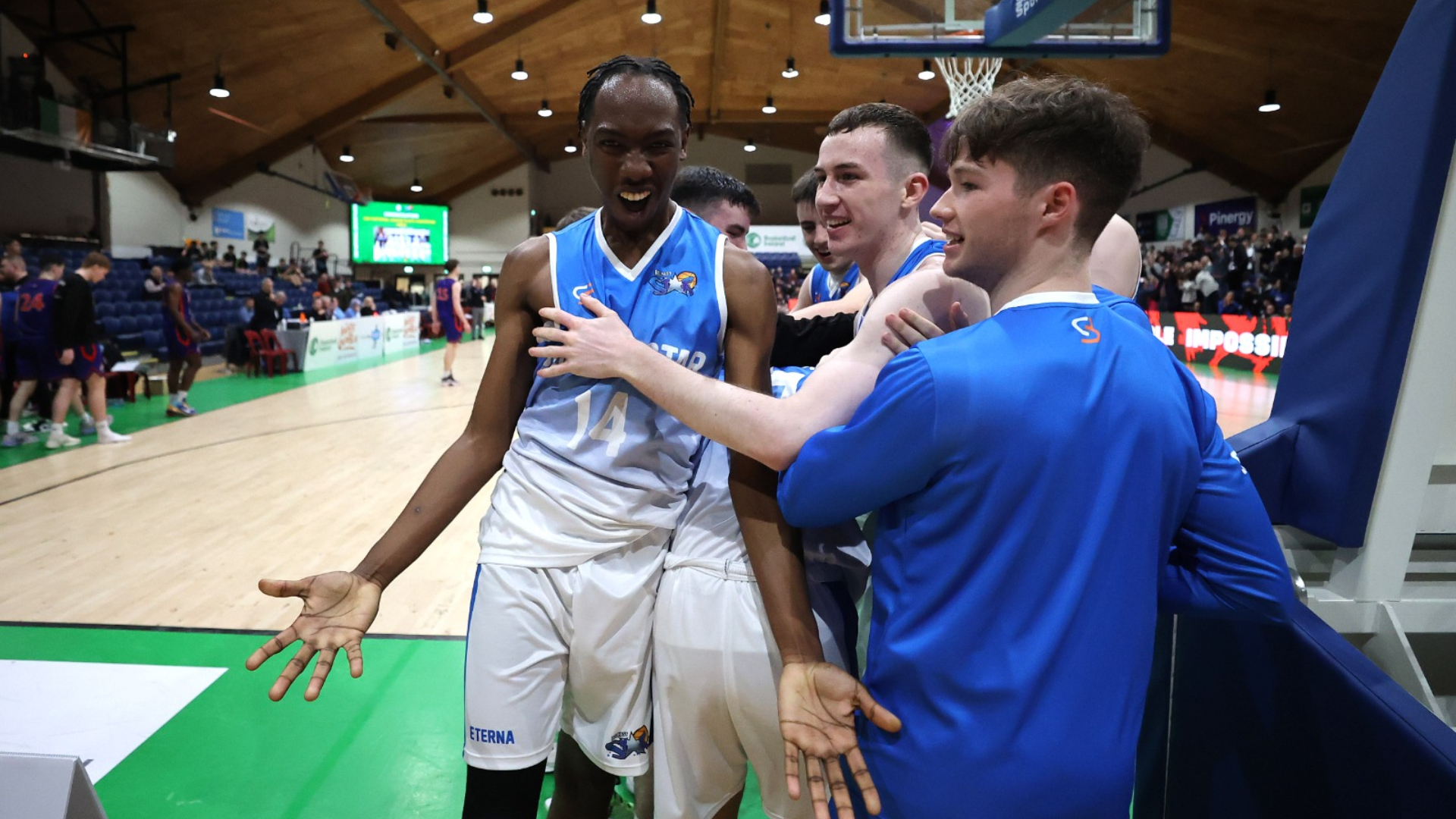 Belfast Star's Ryan Kingi celebrate at the end of the InsureMyVan.ie U20 Men's National League Plate Final
Belfast Star captain and game MVP Darragh Ferguson said: "We've been the kind of team all year who live by the three and die by the three and today we lived by it. We had to step up big defensively at the end, Éanna really came at us and got on top inside. I'm just delighted we could get that stop at the end, because this means so much to this club. Credit to our coaches and the fans who came and supported us here today, they were immense and that makes all the difference in these close games."
View this post on Instagram
Q1: 14-21, Q2: 44-40, Q3: 62-53, Q4: 78-74
Éanna: Milo Herbst (0), Cathal O'Sullivan (35), Shanay Shah (DNP), Abel Ikhaguebor (1), Conor Dikcius (14), Seán Brady (2), Chuk Chimes (DNP), Nathan Comerford (18), Thomas Brosnan (DNP), Viktor Lovic (2), Neil Coghlan (2)
Belfast Star: Jake McCotter (9), Luke Donnelly (14), Iandle Alvarado (2), Padraig Webb-McKeown (4), Jacob Mulholland (DNP), Daire O'Hare (DNP), Michael Donnelly (18), Darragh Ferguson (29), Patrick Doran (DNP), Conor Blair (0), Ryan Kingi (2)