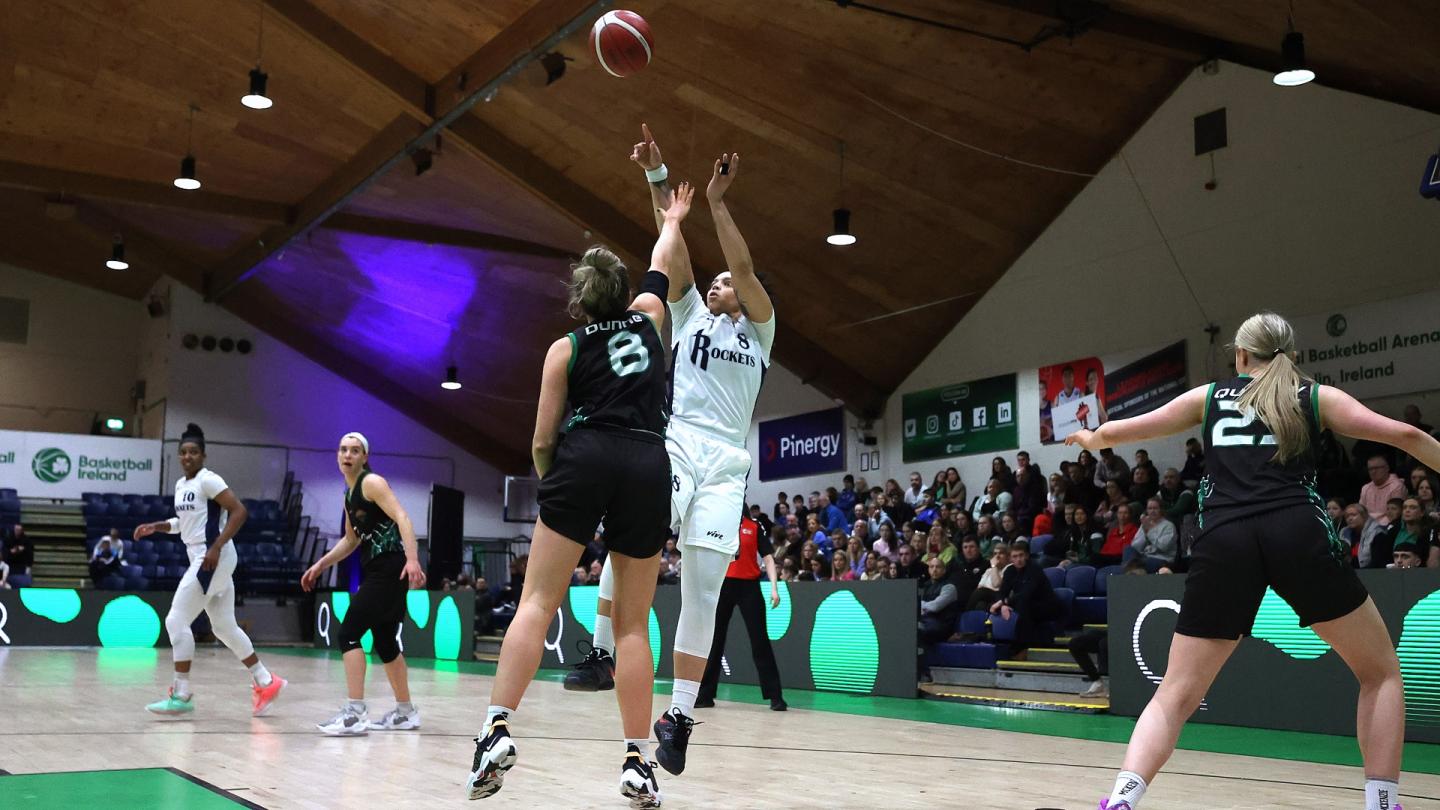 Apr 01 2023
Phoenix Rockets defeat Portlaoise Panthers 89-69 in MissQuote.ie Division 1 League Cup Final
Phoenix Rockets are the MissQuote.ie Division 1 League Cup champions, defeating Portlaoise Panthers 89-69 at the National Basketball Arena. Phoenix Rockets' Jessica Fairweather stole the show with 34 points, 12 rebounds and two assists, to earn the MVP.
Phoenix Rockets hit the front in the third minute through Clark Calisha's two pointer and didn't relinquish the lead after that. Portlaoise Panthers, who sealed promotion to the MissQuote.ie Super League two weeks ago by winning the MissQuote.ie Division 1 League Playoff final, kept it tight in the first quarter. Sarah Flemming contributed eight points for the County Laois outfit in the quarter, as they trailed 23-17 at the end of it.
Phoenix Rockets took command early in the second quarter and were 41-27 up after a pair of Fairweather free throws with three minutes to go in the quarter. But Portlaoise Panthers worked themselves back into the contest, the ever-dangerous Alyssa Velles unleashed a three to reduce the deficit to six, 41-35, with a minute to go in the quarter. Velles would finish the game with a team-high 19 points. The gap was six at half-time, Phoenix Rockets ahead 43-37.
Phoenix Rockets were quick out the blocks again in the third, a 14-point run which included seven by Fairweather and they were 63-43 up with a little under two minutes to go. The gap would be 20 points by the end of the quarter too, 68-48.
Fairweather, who had 12 points in the third quarter, picked up where she left off in the fourth, a lovely three from the left put Phoenix Rockets 73-51 up two minutes in. Portlaoise Panthers tried to get themselves back into contention, a pair of Shannon Quigley free throws brought it to within 15 points, 79-64, with four minutes to go. But it was to be Phoenix Rockets day, Charley McGrath's three with two minutes remaining re-established their 20 point advantage, at 87-67. It would eventually finished 89-69 to Breda Dick's outfit.
Jessica Fairweather, the game MVP, said: "It's been a long season; we've been here three times, so it feels good to take home the trophy. We've had struggles over the season, but we came together as a team and it's a thousand times sweeter because of that adversity. We're surrounded by stars; I mean we have two girls on the 'All-Star' team, but outside of that everyone knows their role. We have shooters, we have rebounding, everybody steps up in practice and on gameday this team is just like a family."
Q1: 23-17 Q2: 43-37 Q3: 68-48 Q4: 89-69
Phoenix Rockets: Anna Brennan (7), Fionnuala Toner (2), Maeve Deery (0), Catherine Fleming (0), Jessica Fairweather (34), Clark Calisha (12), Georgie McGrath (13), Bronagh Barker (0), Rebecca Barker (4), Sophie Short (0), Aisling Murray (DNP), Charlie McGrath (17).
Portlaoise Panthers: Ruth O'Brien (0), Shauna Dooley (2), Megan Dunne (2), Shauna Burke (4), Jasmine Burke (6), Amy Byrne (2), Rachel Byrne (0), Shauna Slattery (2), Jessica Fressle (14), Sarah Flemming (9), Shannon Quigley (9), Alyssa Marie Velles (19).