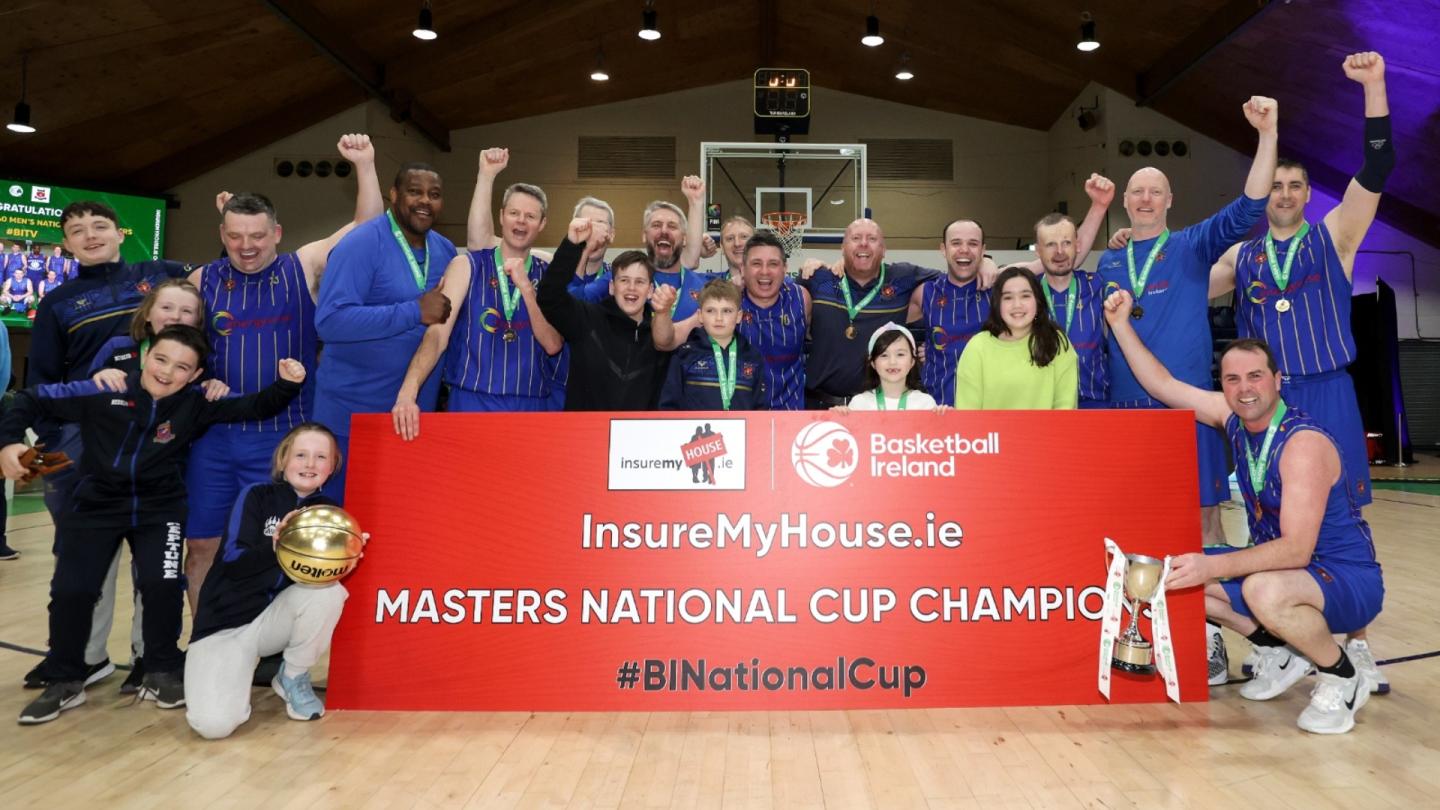 Apr 02 2023
Neptune win InsureMyHouse.ie O40 Men's Masters National Cup with 76-66 win over BNAF
A sharpshooting third quarter guided Neptune to their first InsureMyHouse.ie O40 Men's Masters National Cup success, defeating defending champions Brothers Near and Far (BNAF) 76-66 at the National Basketball Arena.
Ger Noonan took home the game MVP Golden Ball on the back of a 21-point performances for the Cork outfit.
Each team came out of the blocks shooting well. Joey Haastrup got Brothers Near and Far off the mark with an early three. Marius Kazlauskas added two more moments later. Neptune settled into the task thereafter, a pair of Robert Lynch baskets made it 7-4 at the midway point and the game assumed a more even pattern. As the quarter closed, Kevin Reddy picked up his own rebound for the putback two, leaving it 19-18 in favour of Neptune.
Neptune extended that advantage with the first points of the second quarter. Ricardo Leonard flipped the ball to a driving Eamonn O'Neill. He duly obliged with the layup to make it 21-18. Jason O'Callaghan piled on the pressure through a nice shot from the top of the key and when Ger Noonan made a difficult corner two, it was 25-20 to the Cork side. That momentum didn't last though, and the teams entered the break level following a 7-2 BNAF run. Ian Durham and a terrific Peder Madsen and one play ensuring it was 27-27 at the interval.
BNAF turned the game on its head at the start of the third. A Scottie Sommersgill triple capped a 7-2 run in the first 90-seconds and suddenly they held a 34-40 lead. Neptune had to respond to adversity for the first time and they did so with aplomb. Marcus Walley brought them back into it with seven points in succession, Ger Noonan and Michael McGinn then got in on the act give Kieran Leahy's team a 51-39 lead as the clock wound down. The defending champions were on the ropes, it took a Joey Haastrup long range three to keep them In the fight, 51-42 Neptune as they entered the final quarter.
BNAF did their best to conjure a comeback in the final ten minutes, but despite the concerted effort of Sommersgill, who had 13 points during that spell and Bronislovaitis who had 7, Neptune weathered that storm. Noonan, Walley and McGinn capped fine individual performances with scores down the stretch that ensured Neptune kept their opponents at arm's length to claim a 76-66 win.
Speaking after collecting his MVP award Neptune's Ger Noonan said: "Regardless of what level you are at or what age you are, it's always nice to win a cup with your friends. As for MVP well anyone out there could have gotten it. There are four or five lads there who deserved it as much as I did. I'm delighted my kids got to see me win the MVP and the trophy so that's a really nice touch."
Quarter Scores:
Q1: 18-19; Q2: 27-27; Q3: 42-51; Q4: 66-76
Teams:
BNAF: Vytautas Bronislovaitis (7), Tommy Costello, Peder Madsen (5), Sven Van Der Ven, Ian Durham (6), Scottie Sommersgill (22), John Quigley (2), Marius Kazlauskas (8), Saulius Kulvelis (3), Bernard Walsh, Joey Haastrup (8), Tony McDonagh, Mike McLaverty, Michael Bonaparte, Paddy Kelly.
Head Coach: Bernard Walsh
Top three scorers: Scottie Sommersgill (22), Marius Kazlauskas (8), Joey Haastrup (8)
Neptune: Michael McGinn (19), Jason O'Callaghan (3), Thomas O'Sullivan (4), Marcus Walley (16), Robert Lynch (6), Ricardo Leonard (1), Eamonn O'Neill (4), Kevin Reddy (2), Derek Nolan, David O'Brien, Denis Wallace, Iarmantas Skeirys, Ger Noonan (21), Rory O'Sullivan.
Head Coach: Kieran Leahy
Top three scorers: Ger Noonan (21), Michael McGinn (19), Marcus Walley (16)