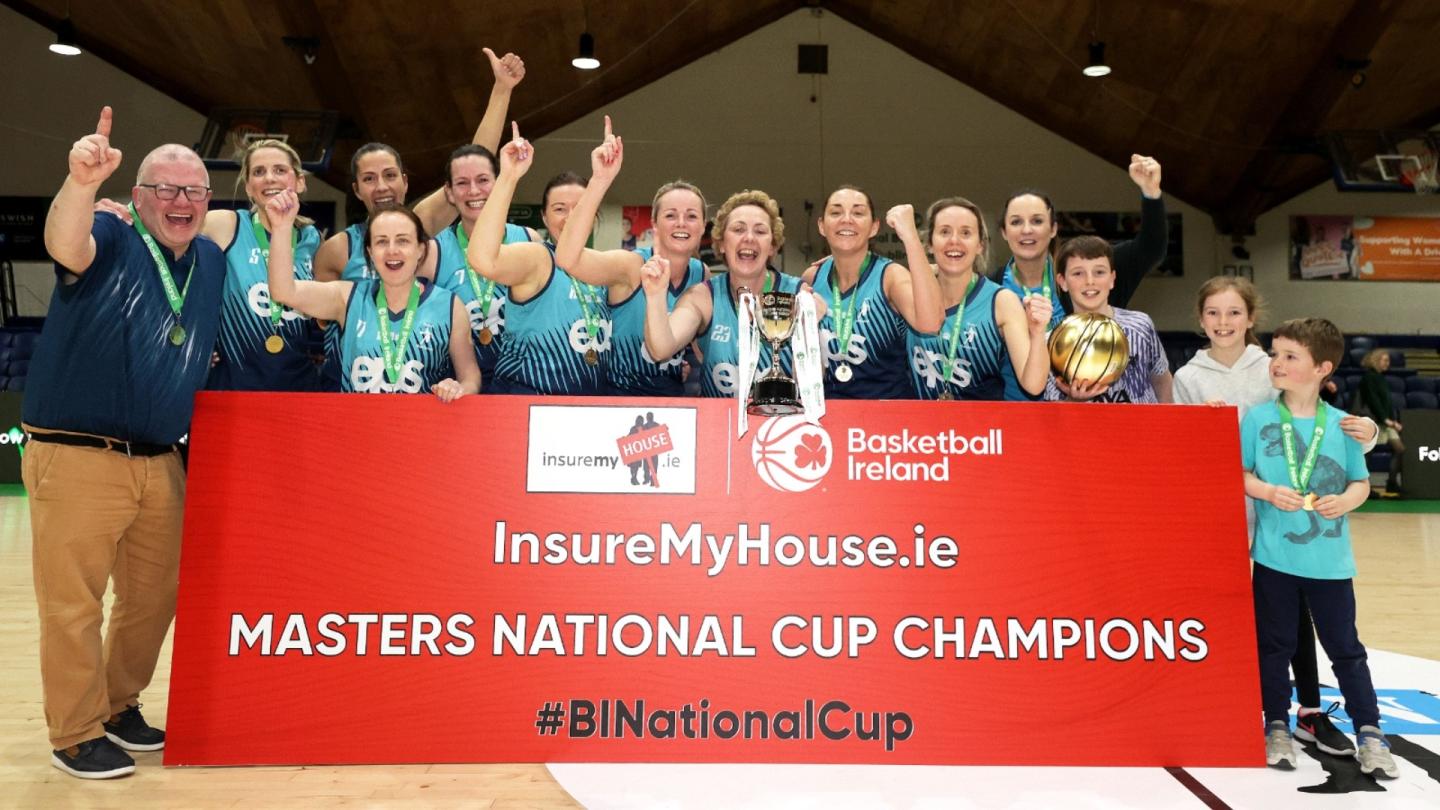 Apr 02 2023
Rebel Ramblers win InsureMyHouse.ie O40 Women's National Cup 62-50 against Midland Masters
Rebel Ramblers narrowly overcame Midland Masters 62-50 to claim the InsureMyHouse.ie O40 Women's National Cup and bring the curtain down on a pulsating weekend of action at the National Basketball Arena.
Maria Harty was awarded MVP following a 14-point performance.
Rebel Ramblers and Midland Masters went blow for blow in the opening exchanges. Maria Harty opened the scoring for the Cork team, immediately cancelled out by a Attracta Phelan three following a nice exchange with Maria Ramsbottom. That set the tone for the quarter, Catherine O'Sullivan and Anna Reddin scored heavily for the defending champions, while Montse Salvado, Angelene Myers and Nollaig Cleary responded for Rebel Ramblers. Peter O'Sullivan's Midland Masters eventually took a slender 17-16 advantage into the second.
That lead grew to 8 points within two minutes. O'Sullivan, Reddin, Phelan and Grainne Tomlinson all making scoring contributions, the latter from the free-throw line. John Glavin called timeout and from that huddle, Rebel Ramblers offence came out transformed. They closed the half with a 15-4 run, which saw them get plenty of open looks. Maria Hearty, Juliet Murphy and Catriona O'Connell all showing up in important moments and from nothing, Ramblers had a 33-30 lead at half-time.
Both teams continued to shoot the ball well in the third, but it was Rebel Ramblers who eventually took the upper hand. With the clock approaching the midway point, Harty worked some space to fine Murphy in the paint and she capitalised to give her team a 46-38 lead. Midland Masters needed a response, but it was the challengers added to their lead by the quarter's end. Harty took her personal tally to 14 through a seventh jump shot of the contest, while O'Connell held her composure at the line to ensure Rebel Ramblers took a 51-41 advantage to the final quarter.
Midland Masters needed a big start to the fourth, but it was Rebel Ramblers that sealed the game with the opening two scores. A couple of early offensive rebounds led to Nollaig Cleary's 11th point of the game and when Juliet Murphy also reached double digits from the mid-range, the tie was effectively wrapped up at 55-41. Midland Masters fought valiantly to the buzzer, Marie Ramsbottom and Catherine O'Sullivan leading the charge, but the closing score went to Catriona O'Connell via a corner two, making it a clean sweep for Cork teams in the InsureMyHouse.ie Masters National Cup.
Quarter Scores:
Q1: 16-17; Q2: 33-30; Q3: 51-41; Q4: 62-50
Teams:
Rebel Ramblers: Angelene Myers, Juliet Murphy, Catriona O'Connell, Neasa O'Keefee, Maria Harty, Sharon Doyle, Gillian Condon, Montse Salvado, Nollaig Cleary, Mary Gardiner
Head Coach: John Glavin
Top three scorers: Maria Harty (14), Juliet Murphy (14), Catriona O'Connell (13).
Midland Masters: Olive Maher, Catherine O'Sullivan, Grainne Tomlinson, Attracta Phelan, Claire Foyle, Ailish McLernon, Deirdre Tomlinson, Edel Larkin, Ann-Marie Troy, Jackie Costelloe. Anna Reddin, Marie Ramsbottom.
Head Coach: Peter O'Sullivan
Top three scorers: Catherine O'Sullivan (16), Anna Reddin (11), Attracta Phelan (9)