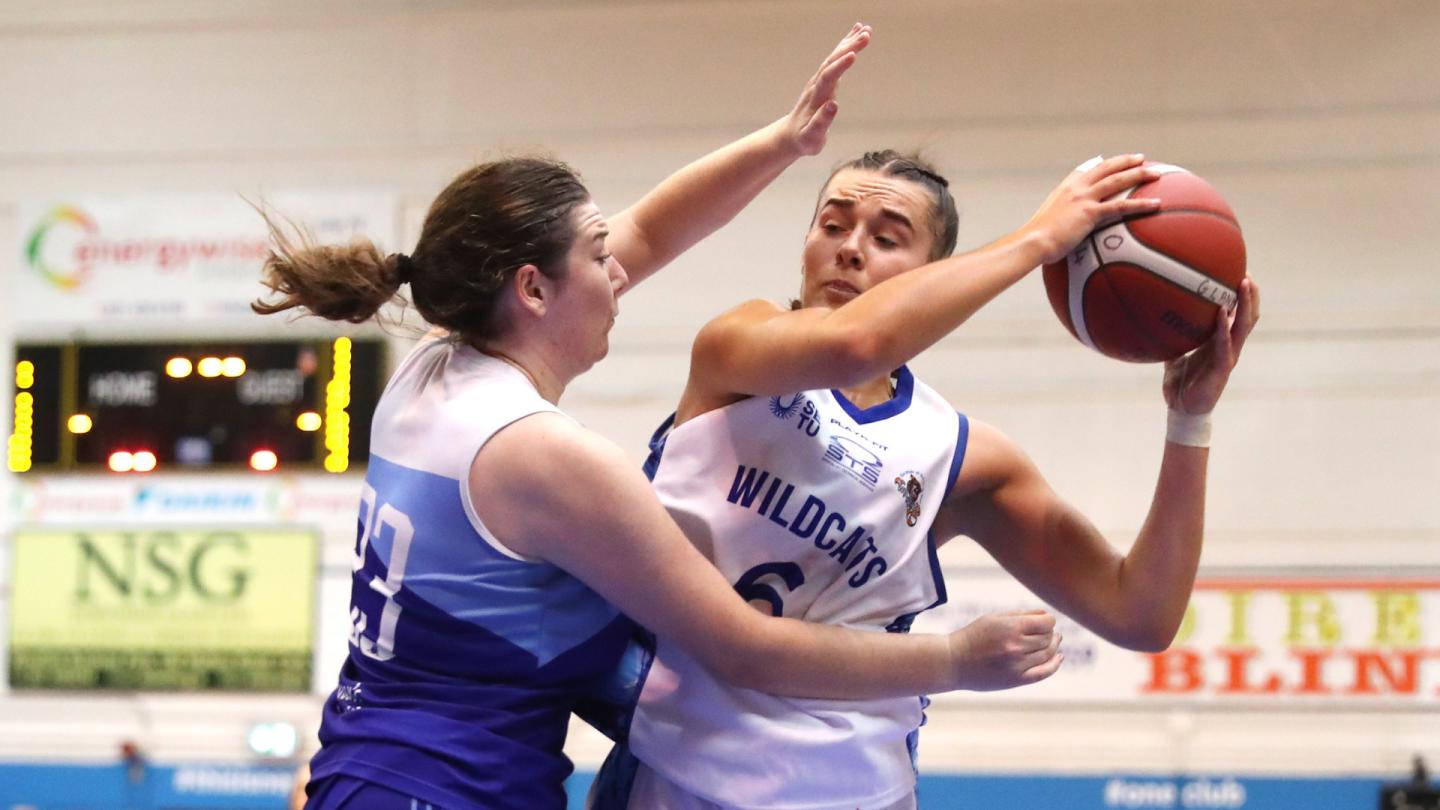 Sep 24 2023
SETU Waterford Wildcats win at reigning MissQuote.ie Super League champions The Address UCC Glanmire
Image: Ireland international Sarah Hickey helps Waterford outfit to 80-75 road win on opening weekend
SETU Waterford Wildcats picked up an 80-75 win at defending MissQuote.ie Super League champions The Address UCC Glanmire on the opening weekend of the new season. Ireland international Sarah Hickey was to the fore in their victory with 23 points, while their new signing Myia Clark hit 18 points in their victory on Sunday.
SETU Waterford Wildcats head coach, Tommy O'Mahony, said: "Delighted to get the win, beating a team of Glanmire's calibre is never easy. Being the first game of the season, it was scrappy affair, but I thought our girls dug deep to get us over the line. I thought we had a lot of big performances today and they stood up when it was needed, which is always nice. We understand we have things to improve on and we will work really hard to get them right for our next game."
After finishing 2nd last season, DCU Mercy got off to a flying start on Saturday against University of Galway Mystics at the Kingfisher Sports Arena, winning by a 25-point margin, 98-73, the largest of this weekend's games. Ireland international Hannah Thornton put in a big performance, top scoring with 31 points, along with 11 rebounds and five assists.
Ulster University narrowly edged out newly promoted Portlaoise Panthers by four points, 81-77. Alex Mulligan and Aoife Callaghan, who returned to the side after one-year studying stints in the USA, scored 23 and 18 points respectively for Patrick O'Neill's side. Jessica Fressle scored a game-high 33 points for Portlaoise Panthers.
Gurranabraher Credit Union Brunell picked up an impressive 99-74 road win over Trinity Meteors. Ireland captain Edel Thornton and new signing Kayja Williams were in fine form for the Cork outfit, both scoring 25 points.
Gurranabraher Credit Union Brunell coach, Liam Culloty said: "We are very happy to pick up our first win especially away from home. We know we have a lot of work to do to improve on certain aspects of our performance but I was happy with our pace and we look forward to playing at home next weekend."
FloMAX Liffey Celtics raced to an 36-7 first quarter lead against Pyrobel Killester and were 65-29 ahead by half-time, before the InsureMyHouse.ie Paudie O'Connor National Cup champions launched a second half fightback, however FloMAX Liffey Celtics hung on for a 78-75 win.
MissQuote.ie Super League Results:
Saturday, September 23rd
University of Galway Mystics 73–98 DCU Mercy
Ulster University 81–77 Portlaoise Panthers
Trinity Meteors 74–99 Gurranabraher Credit Union Brunell
FloMAX Liffey Celtics 78–75 Pyrobel Killester
Sunday, September 24th
The Address UCC Glanmire 75 – 80 SETU Waterford Wildcats
MissQuote.ie Super League Fixtures:
Saturday 30th September
SETU Waterford Wildcats v Trinity Meteors, 1700, Mercy Gym
Portlaoise Panthers v FloMAX Liffey Celtics, 1800, St. Mary's Hall
Pyrobel Killester v Catalyst Fr. Mathews, 1800, IWA
Sunday 1st October
DCU Mercy v Ulster University, 1430, DCU Arena
Gurranabraher Credit Union Brunell v University of Galway Mystics, 1445, Gurranabraher Credit Union Arena
InsureMyVan.ie Super League Fixtures
Saturday 30th September
Irish Guide Dogs Ballincollig @MTU v Energywise Ireland Neptune, 1600, MTU Arena
Belfast Star v Bright St. Vincent's, 1830, De la Salle College
Griffith College Éanna v EJ Sligo All-Stars, 1900 Coláiste Éanna
Maree v Ulster University, 1900, Kingfisher Sports Arena
Flexachem KCYMS v UCC Demons, 1915 Killorglin Sports Complex
Garvey's Tralee Warriors v Maigh Cuilinn, 1930, Tralee Sports Complex
MissQuote.ie Division 1 Fixtures
Saturday 30th September
Abbey Seals Dublin Lions v Templeogue, 1730, Coláiste Bríd
iSecure Swords Thunder v Phoenix Rockets, 1730, ALSAA
Limerick Sport Huskies v Moy Tolka Rovers, 6pm, UL Arena
Sunday 1st October
SETU Carlow v St. Paul's Killarney, 1230, Barrow Centre
McEvoy's Cavan Eagles v Oblate Dynamos, 1500, Virginia Show Centre
Limerick Celtics v Marble City Hawks, 1515, Cresent College
InsureMyVan.ie Division 1 Fixtures
Saturday 30th September
Team NorthWest v Drogheda Wolves, 1700, ATU
Titans BC v Limerick Sport Eagles, 1800, Knocknacarra Community Centre
Mater Private Malahide v Moy Tolka Rovers, 1900 Malahide Community School
SETU Waterford Vikings v Limerick Celtics, 1900, SETU College Hall
Abbey Seals Dublin Lions v UCD Marian, 1930, Coláiste Bríd
Kavanagh's Portlaoise Panthers v Killarney Cougars, 2000, St. Mary's Hall
Sunday 1st October
SETU Carlow v Scotts Lakers Killarney, 1515, Barrow Centre