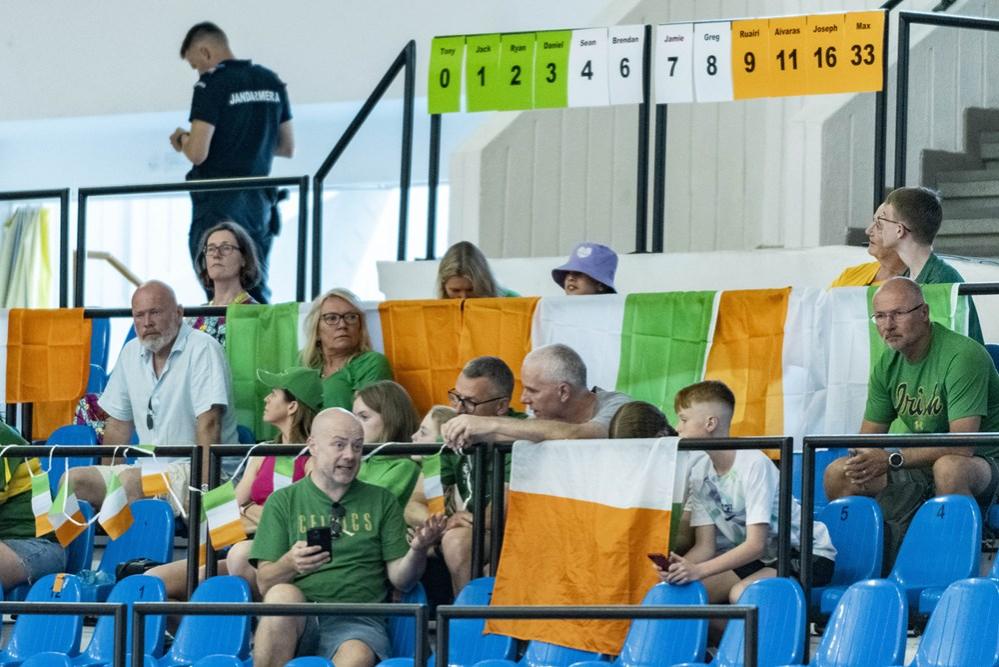 Jul 31 2022
Ireland taste defeat at the hands of Iceland in FIBA U18 Men's European Championship
Ireland U18 men's team tasted their second defeat in succession against an Iceland team who were efficient around the basket. While the final buzzer outcome tells its own story, the determination of Paul Kelleher's men never deserted them.
Going in after the first quarter down three, there was plenty to be proud of, most notably, Daniel Carberry's pair of threes in quick succession within two minutes of him coming into the game. It was an affair that was in the balance with momentum being traded early on.
The second quarter was a whole different ball game. The Icelandic opponents had answers to everything that was thrown at them. They were first to rebounds, as Kelleher's side went off the boil on a shooting front. Iceland ended up winning that particular quarter 31-13 to give them a 21 point lead at the interval.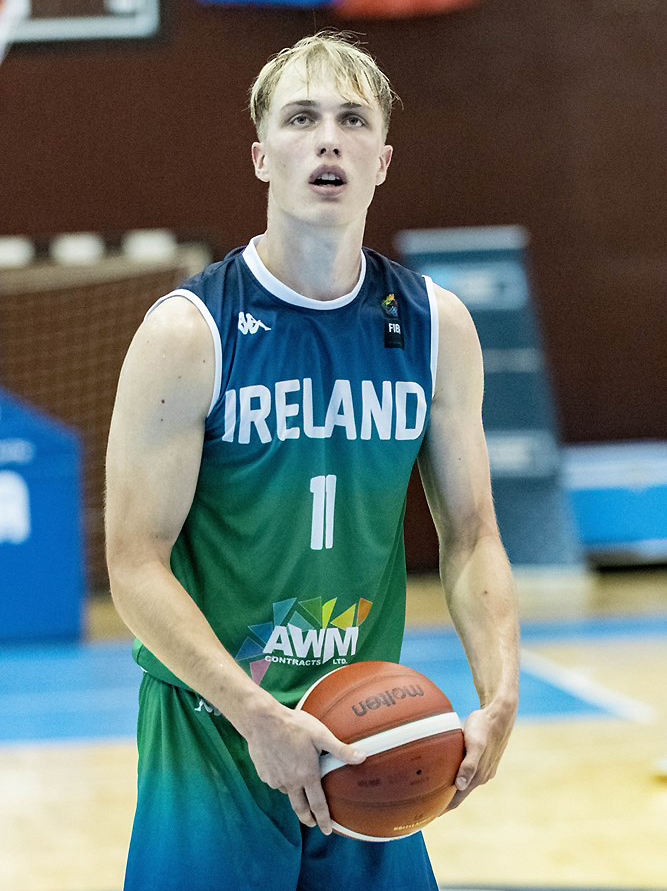 Aivaras Uosis
A real test of Ireland's mettle was in store with Iceland looking strong. To their credit, the U18 side plugged away and even cut the deficit down to 12 with some timely and impressive plays by Ruairí Cronin and Jack Kehoe. There was clear intent to press higher up to challenge the Iceland side. Plenty of rebounds fell into the hands of Joseph Badejo and Brendan Douanla, but the Iceland outfit often had an answer at the other end of the court to whatever we could throw at them.
There are plenty of positives to take into the game against Ukraine on Tuesday. Paul Kelleher's side showed character to fight back today and their attitude couldn't be faulted throughout. The game was a very high-scoring one and Ireland did clock up the scoreboard well - just one lapse of the consistency in the second quarter probably cost the team.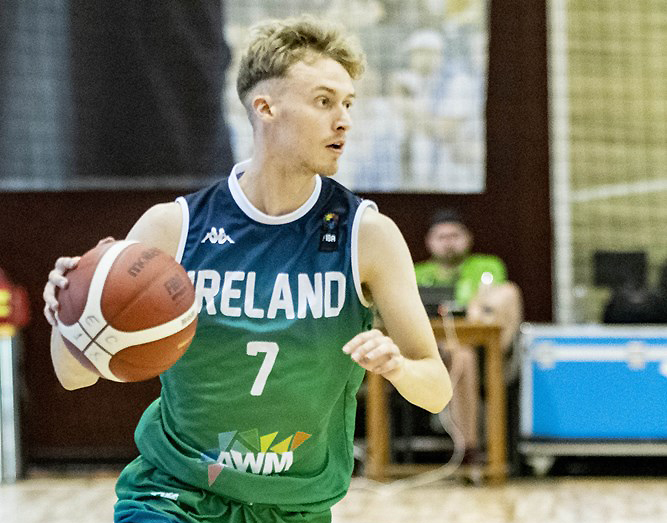 Jamie Cotter
Sean Fitzpatrick showed some excellent nous and skill throughout. Another shining light was the performance of Tony Ezeonu - his 14 point tally, paired with nine rebounds and three assists tells the tale. The 17-year-old Phelps School man often bounces off the likes of Daniel Carberry and Aivaras Uosis and today was no different. Shooting two from two from the three-point line was exactly what the team needed.
Ireland now face Ukraine on Tuesday after a day off the day before. They lost their first game 55-71 to Denmark. After that, Ireland will take on the Danes on Wednesday evening - but first off, a win will be the aim going into the Ukraine game.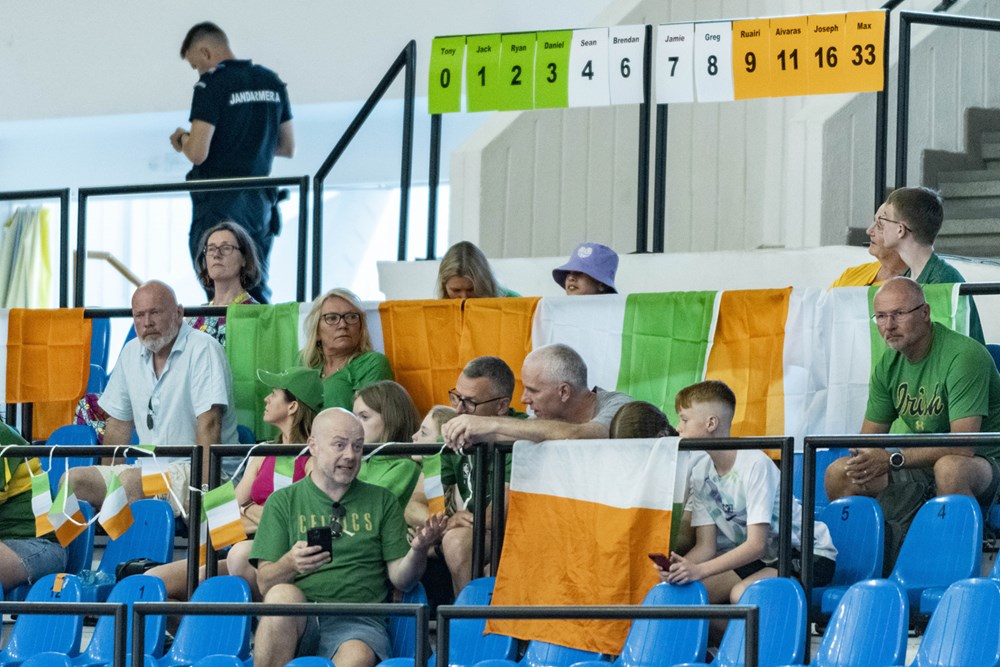 Quarter Scores:
Q1: IRL 15-21 ICE
Q2: 13-31 (38-59)
Q3: 31-25 (69-84)
Q4: 11-19 (80-103)
Ireland Top-Three Scorers:
Tony Ezeonu 14 pts, Daniel Carberry 12 pts, Ruairí Cronin 10 pts
---
---
Upcoming FIBA U18 Women's European Championship Fixture:
Ukraine v Ireland, Tuesday, August 2nd - 15:45
---
Full squad
Aivaras Uosis (Garvey's Tralee Warriors), Brendan Douanla (Ballincollig BC), Daniel Carberry (Templeogue BC), Greg Marinkovic-Augustine (NABA Lanzarote), Jack Kehoe (IT Carlow & Old Leighlin), Jamie Cotter (Reading Rockets), Joseph Badejo (Dundalk Ravens), Maz Tyndall(Drogheda Wolves), Ruairi Cronin (Limerick Celtics), Ryan Calo (Phoenix BC, Belfast), Sean Fitzpatrick (Malahide BC), Tony Ezeonu (The Phelps School, NJ).