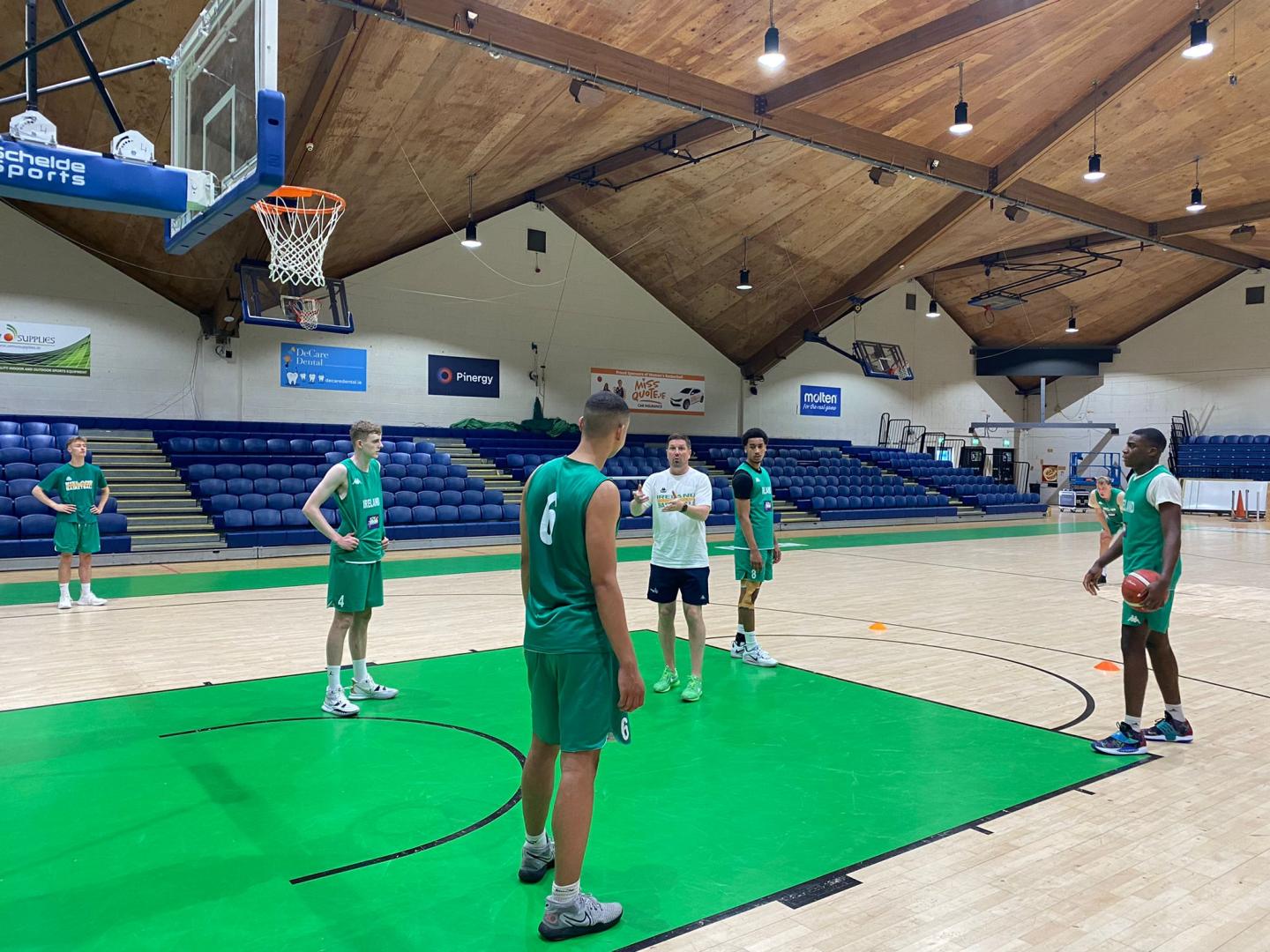 Jun 29 2022
Ireland U18 and U20 men's teams gear up for friendlies ahead of FIBA European Championships
As both teams prepare for the FIBA European Championships, the Ireland men's U18 and U20 teams are both in action over the weekend. The U18 team host Luxembourg in the AWM Contracts series at King's Hospital, Liffey Valley, while it's the challenge of Alabama-based NCAA Division 3 college side, Birmingham, for Paudie Fleming's U20 team at Tralee Sports Complex on Saturday evening.
U18 vs Luxembourg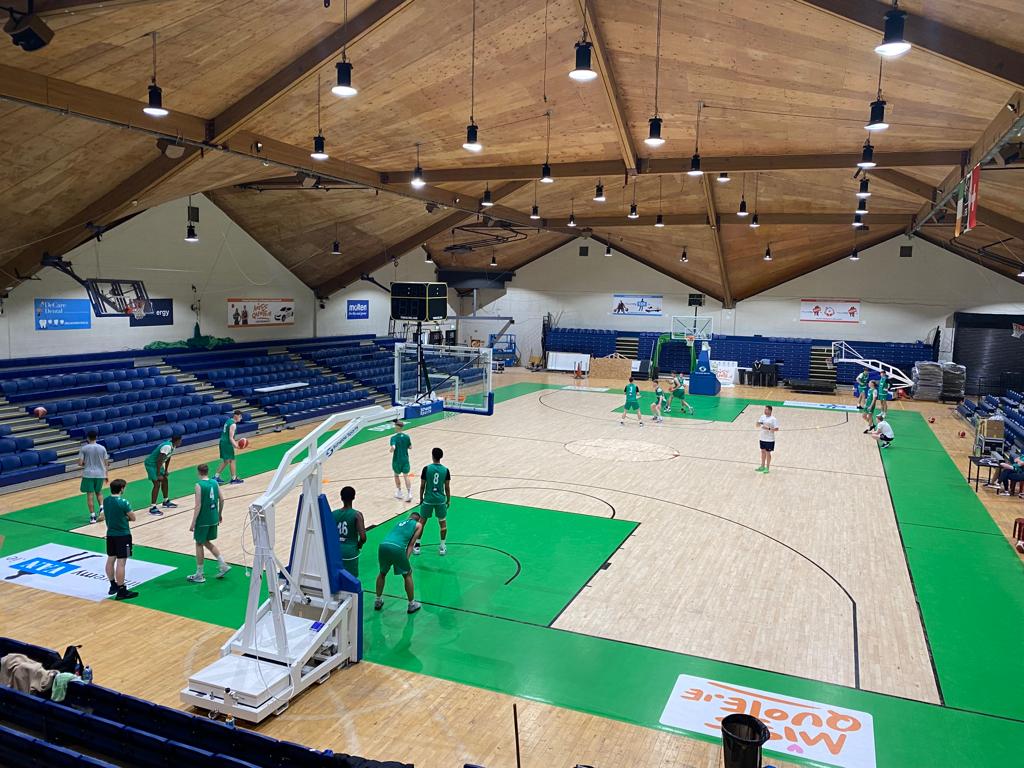 U18 team training ahead of the challenge of Luxembourg.
The Ireland U18 men's team are set to host Luxembourg at the King's Hospital Liffey Valley in a three-game series, in preparation for the upcoming European Championship.
Paul Kelleher's side will look to pick up where they left off in the last exhibition series against Slovakia, where they ended upon the right side of a 2-1 series scoreline.
Speaking ahead of the series, head coach Paul Kelleher had this to say:
"It is amazing that we get another opportunity to prepare for the European Championships with some more Preparation International games on home soil. The support we got against Slovakia was nothing short of extraordinary and we hope the same can be achieved this coming series on Thursday, Friday and Saturday at Kings Hospital who have also been amazing in their support of our team this international season. Without them a lot of this would not be possible. The boys have come back relatively sharp after the exams, and we hope this series we get back to a level we saw against Slovakia, which is the first step to preparing for the European Championships. We look forward to everyone coming out and supporting this weekend."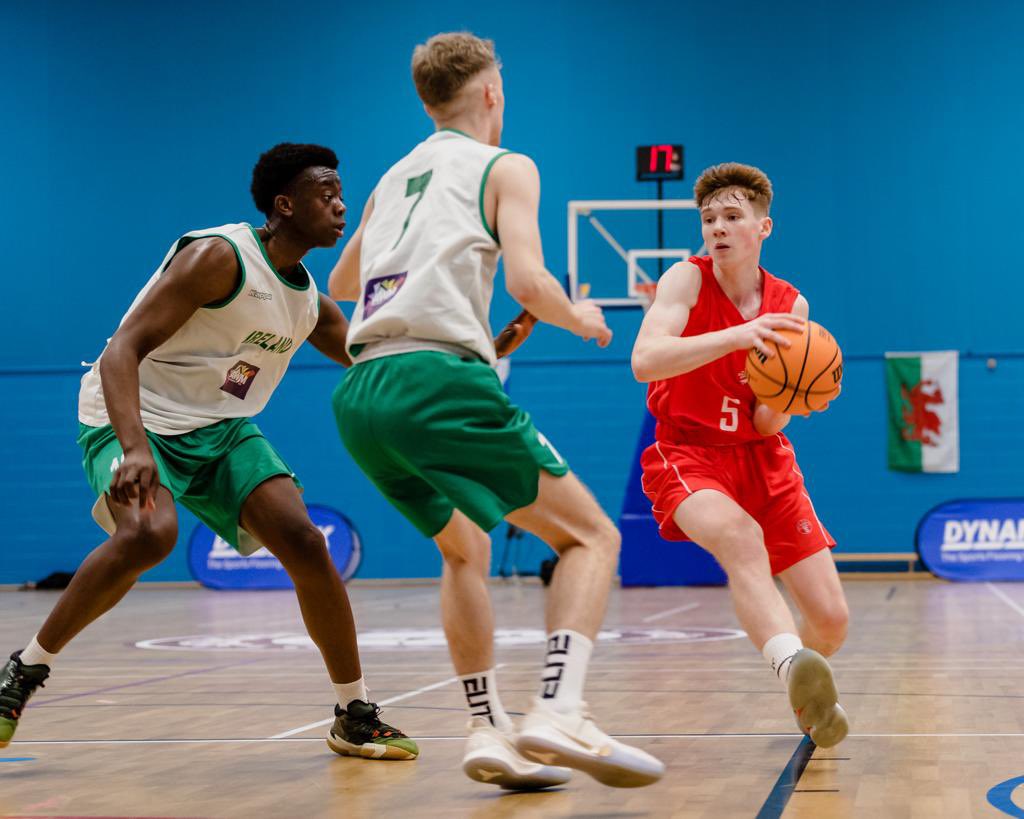 Joseph Badejo and Jamie Cotter in contention against Wales at the Four Nations earlier this year. Source: @sameoldsmith






The action against Luxembourg gets underway on Thursday, running over the next few days until Saturday.

All games take place at 8pm each night and tickets will be available at the door, details in graphic below.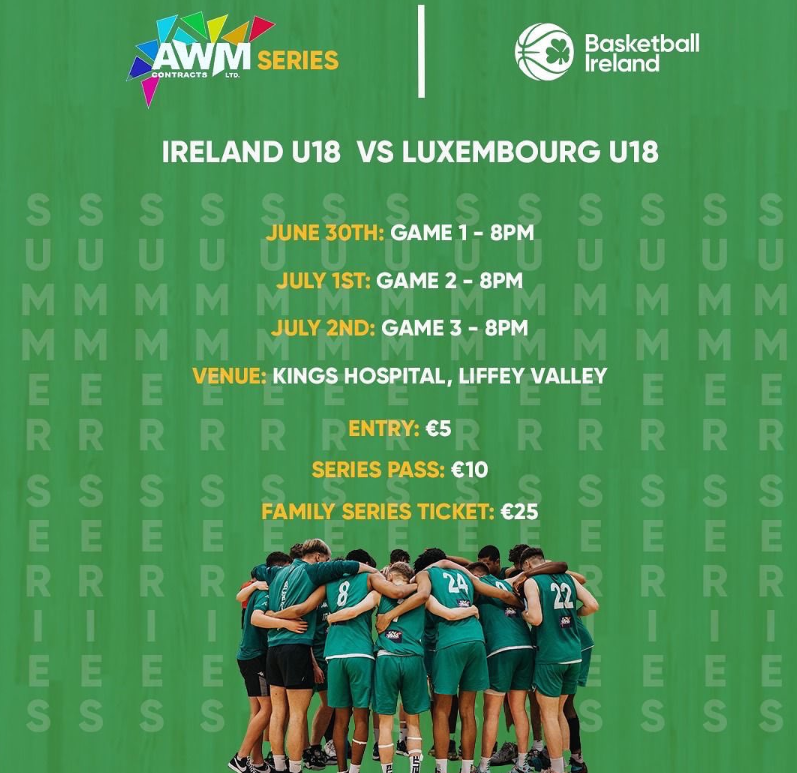 The series will act as preparation ahead of the upcoming European Championships, with all the information of groups, dates and fixtures for the U18 team available here.
The full squad is as follows:
| | | | | | |
| --- | --- | --- | --- | --- | --- |
| First name | Last name | Height | School/Club | Position | |
| Aivaras | Uosis | 6'6" | Pobalscoil Chorca Dhuibhne, Tralee Imperials, Tralee Warriors | Guard | |
| Brendan | Douanla | 6'6" | Ballincollig Basketball Club | Forward | |
| Christian | McDonnell | 6'2" | Malahide BC | Guard | |
| Daniel | Carberry | 6'2" | Templeogue | Guard | |
| Daryl | Cuff | 6'2" | Blue Demons BC, Gaelcholáiste Mhuire AG | Guard | |
| Francois | Nkoy | 6'9" | Fr. Mathews | Forward | |
| Greg | Marinkovic Augustine | 6'5" | NABA, Lanzarote | Guard | |
| Jack | Kehoe | 6'5" | IT Carlow, Old Leighlin | Forward | |
| Jakub | Pasieczny | 6'5" | Phoenix Longford | Guard | |
| Jamie | Cotter | 6'1" | Reading Rockets, JMA | Guard | |
| Joseph | Badejo | 6'7" | Dundalk Ravens | Forward | |
| Max | Tyndall | 6'5" | Drogheda Wolves | Forward | |
| Ruairi | Cronin | 6'4" | Limerick Celtics, Castletroy College | Guard | |
| Ryan | Calo | 6'2" | Belfast Phoenix, St. Malachy's | Guard | |
| Sean | Fitzpatrick | 6'3 | Malahide BC | Guard | |
| Tony | Ezeonu | 6'6" | WT White High School, Dallas, TX | Guard | |
---
U20 vs Birmingham
NCAA Division 2 side are welcomed to Tralee on Saturday evening for an exhibition match ahead of the FIBA European Championships with the game to get underway at 18:30.
The game will prove to be a special occasion for Rap Bulvydas and Leeroy Odiahi, who will be playing on their Garvey's Tralee Warriors home court after a year in the US.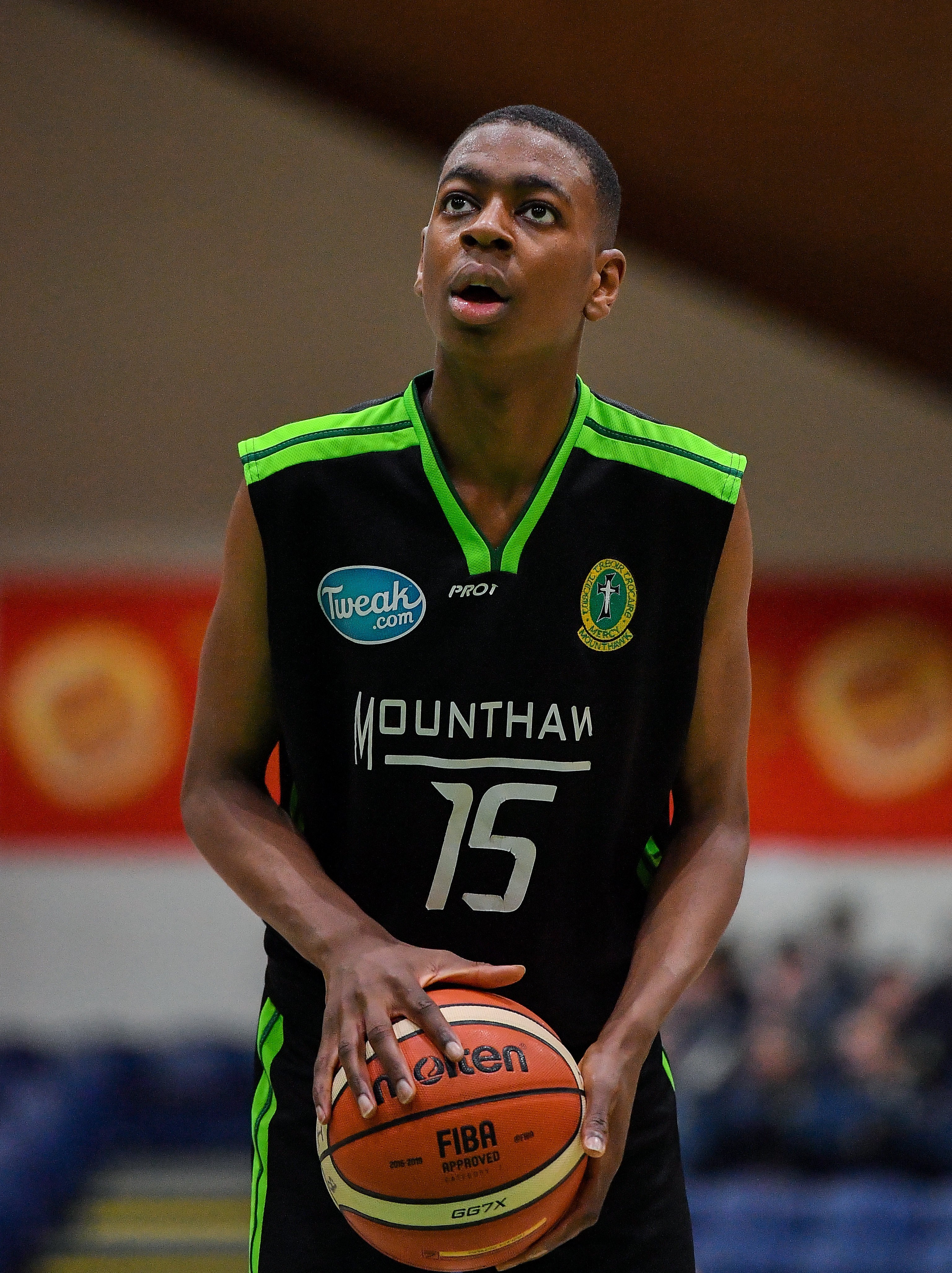 Leeroy Odiahi in Mercy Mounthawk colours.
The Irish team will be without CJ Fulton, who is on duty with the senior men's national team, facing Switzerland on Sunday afther Thursday's game against Austria.
Speaking ahead of the game, head coach Paudie Fleming highlighted the two players playing in their home town.
"We are delighted to be able to play a game in Tralee this weekend. It is another opportunity for us to continue our preparations toward the European Championships in July. It is also very special for Rap and Leeroy to have the opportunity to play in front of their friends and family. We are excited for the game and hopeful that we can get a great crowd in the complex Saturday night."
Tickets
There will be tickets for sale at the door on the night for the 18:30 start. €5 for adults and €2 for U18s, with proceeds going to the team's fundraiser.
Ireland U20 squad:
Samuel Alajiki (University California Berkeley), Rapolas Buivydas (Assumption University), Darragh Ferguson (Belfast Star), CJ Fulton (Lafayette College), Robert Graham (Cheshire Phoenix), Killian Gribben (Sienna College), Eli Lenihan (Spring Hill College), Sean McCarthy (Felician University), Jamie Muldowney (Coker University), Leeroy Odiahi (Indian Hills College), Michael O'Mahony (Dominican College), Jake Verschoyle (DBS Éanna).