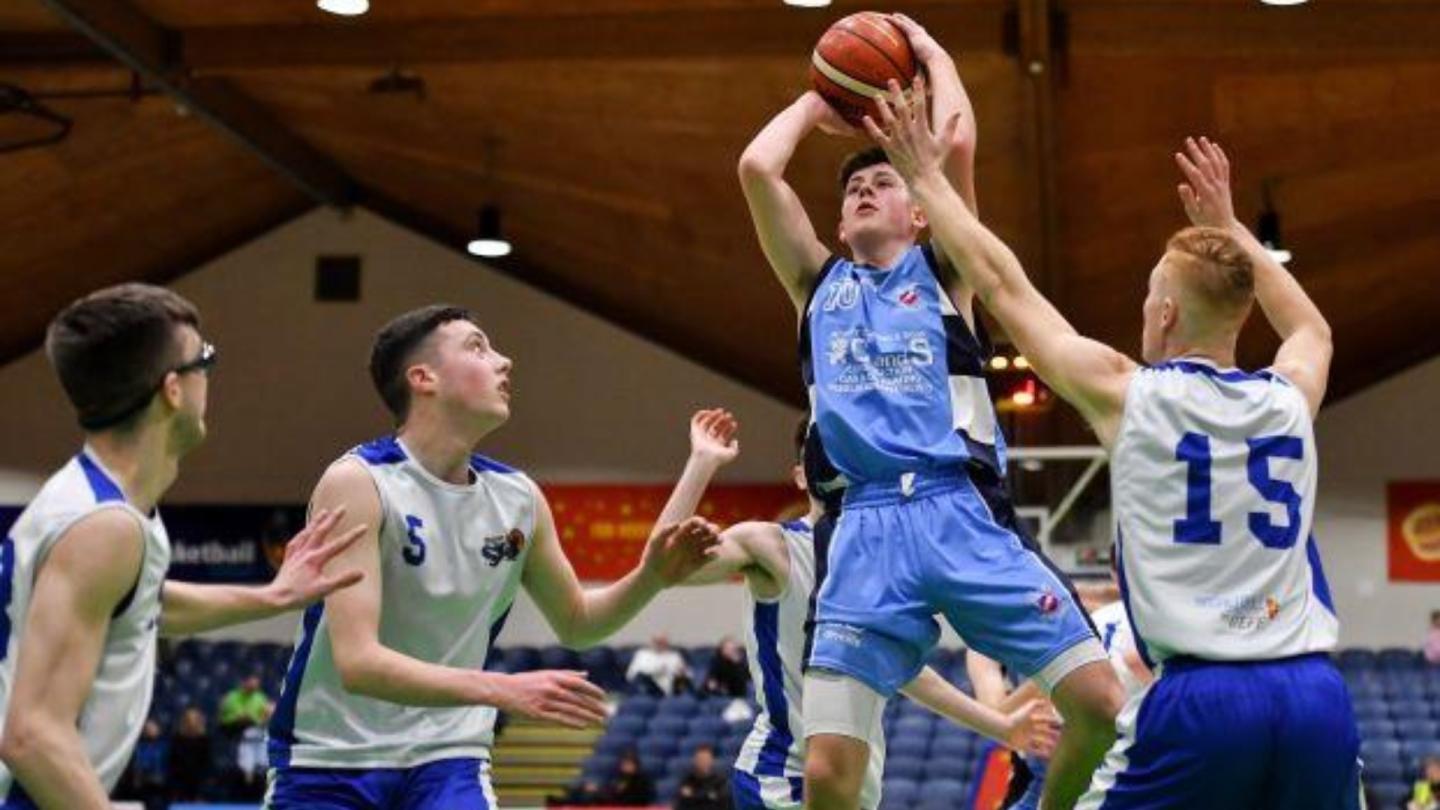 Nov 03 2022
32 teams to line out in qualifying tournaments for the Billy Coffey U18 Men's National Cup
It's a big weekend for 32 teams across Ireland as they bid to qualify for the prestigious Billy Coffey U18 Men's National Cup, with tournaments taking place at four locations.
FORMAT
As mentioned the 31 teams competing will play in four regionalised tournaments, with two pools in each region. Each team will play one another once as well as a cross pool game in some cases, to determine the top two teams in each group, who will advance to the semi-final stages. The semi-final winners of each qualifying tournament will qualify for the knockout stage of the Billy Coffey U18 Men's National Cup, with the tournament finals used to decide seeding.
POOLS
1A - Portlaoise Pathers, Limerick Celtics, UCD Marian, Eanna.
1B - Athlone, UCC Demons, St. Mary's, Titans.
2A - Ballincollig, Kildare Gliders, St. Pauls, Cavan Lakers.
2B - Dublin Lions, Malahide, Neptune, Moycullen.
3A - Phoenix, St. Brendans, Ballina Braves, Ongar Chasers.
3B - Killester, Templeogue, Old Leighlin, Waterford Vikings.
4A - Drogheda Wolves, Limerick Lions, Corrib, Kilkenny Stars.
4B - Belfast Star, Tralee Magic, Fr. Mathews, Dundalk Ravens.
POOL 1 - Portlaoise
Saturday, November 5th
Men's Pool 1 - Portlaoise Panthers (St. Mary's Hall, Portlaoise College)

10:00

St. Marys

Portloaise Panthers

55-67

(30-36)

Limerick Celtics

10:00

Portlaoise College

Athlone

42-91

(26-46)

UCC Blue Demons

11:30

St. Marys

UCD Marian

41-46

(26-23)

Eanna

11:30

Portlaoise College

St.Marys

V

Titans

13:30

St. Marys

Portloaise Panthers

74-52

UCD Marian

13:30

Portlaoise College

Athlone

53-63 AOT

St.Marys

15:00

St. Marys

Limerick Celtics

69-62

Eanna

15:00

Portlaoise College

UCC Demons

43-53

Titans

17:00

St. Marys

Limerick Celtics

64-40

UCD Marian

17:00

Portlaoise College

UCC Demons

76-33

St.Marys

18:30

St. Marys

Portloaise Panthers

50-51

Eanna

18:30

Portlaoise College

Athlone

34-46

Titans
Sunday, November 6th
Men's Pool 1 - Portlaoise Panthers (St. Mary's Hall, Portlaoise)

Semi Finals

10:00

St. Marys

Limerick Celtics

97-94

(47-43)

UCC Demons

11:30

St. Marys

Titans

V

Eanna

Final

13:30

St. Marys

Limerick Celtics

91-71

(52-29)

Titans BC
POOL 2 - Ballincollig/CCBB (Parochial Hall)
Saturday, November 5th
Men's Pool 2 - Ballincollig / CCBB (Parochial Hall)
10:00
Ct1
Ballincollig

73-51

(41-17)

Kildare Gliders
Ct2
St.Pauls
WO
Cavan Lakers
11:30
Ct1
Dublin Lions

63-41

(37-24)

Malahide
Ct2
Neptune

79-42

(38-33)

Moycullen

13:00
Ct1
Ballincollig

84-76

(36-44)

St.Pauls
Ct2
Kildare Gliders
WO
Cavan Lakers
14:30
Ct1
Dublin Lions

62-60

(35-33)

Neptune
Ct2
Malahide

52-46

(21-25)

Moycullen
16:00
Ct1
Ballincollig
WO
Cavan Lakers
Ct2
Kildare Gliders

53-76

(30-47)

St.Pauls
17:30
Ct1
Dublin Lions
59-29
Moycullen
Ct2
Malahide
62-75
Neptune
Sunday, November 6th
Men's Pool 2 - Ballincollig (CBS, Ballincollig)
Semi Finals
10:00
Ballincollig BC

81-59

(45-29)

Neptune BC
11:30
Dublin Lions

78-45

(38-28)

St. Paul's BC
Final
13:30
B

allincollig BC

51-94

(32-46)

Dublin Lions
POOL 3 - Belfast Phoenix (Lisburn Racquets Club)
Saturday, November 5th
Men's Pool 3 - Belfast Phoenix (Lisburn Racquets Club)
14:15
Centre Court
Phoenix

70-38

(41-18)

Ballina Braves
End Court
St.Brendans
71-75
Ongar Chasers
15:30
Centre Court
Killester
47-53
Templeogue
End Court
Old Leighlin
70-35
Waterford vikings
17:15
Centre Court
Phoenix
58-39
St.Brendans
End Court
Ballina Braves
55-64
Ongar Chasers
18:30
Centre Court
Killester
72-71
Old Leighlin
End Court
Templeogue
52-17
Waterford Vikings
Sunday, November 6th
Men's Pool 3 - Belfast Phoenix (TBC)
09:30
Centre Court
Phoenix

46-69

(16-34)

Ongar Chasers
End Court
St.Brendans

67-40

(30-25)

Ballina Braves
10:45
Centre Court
Killester

57-24

(21-10)

Waterford vikings
End Court
Templeogue

95-58

(50-28)

Old Leighlin
Semi Finals
12:30
Centre Court
Ongar Ch

asers

44-55

(26-23)

Killester
End Court
Templeogue

74-52

(43-23)

Phoenix
Final
14:30
Centre Court
Killester
57-63
Templeogue
POOL 4 - Drogheda
Saturday, November 5th
Men's Pool 4 - Drogheda Wovles (Ballymakenny College - BMK)
10:00
BMK
Drogheda Wolves

51-58

(29-27)

Limerick Lions
11:30
BMK
Belfast Star

50-52

(25-30)

Tralee Magic
13:00
BMK
Drogheda Wolves

73-41

(32-28)

Corrib
14:30
BMK
Belfast Star

52-57

(23-31)

Fr Mathews
16:00
BMK
Drogheda Wolves
99-17
Kilkenny Stars
Saturday, November 5th
Men's Pool 4 -Drogheda Wolves (Drogheda Institue of Further Education aka "D.I.F.E")
10:00
DIFE
Corrib

71-29

(39-15)

Kilkenny Stars
11:30
DIFE
Fr Mathews

42-51

(17-29)

Dundalk Ravens
13:00
DIFE
Limerick Lions

68-30

(47-17)

Kilkenny Stars
14:30
DIFE
Tralee Magic

52-34

(31-19)

Dundalk Ravens
16:00
DIFE
Limerick Lions
75-54
Corrib
17:30
DIFE
Tralee Magic
39-37
Fr Mathews
19:00
DIFE
Belfast Star
53-66
Dundalk Ravens
Sunday, November 6th
Men's Pool 4 - Drogheda Wovles (Ballymakenny College - BMK)
Semi Finals
10:00
BMK
Limerick Lions

87-54

(48-31)

Dundalk Ravens
11:30
BMK
Tr

alee Magic

63-59

(28-27)

Droghed

a Wolves

Final
13:30
BMK
Limerick Lions

87-50

(62-28)

Tr

alee Magic