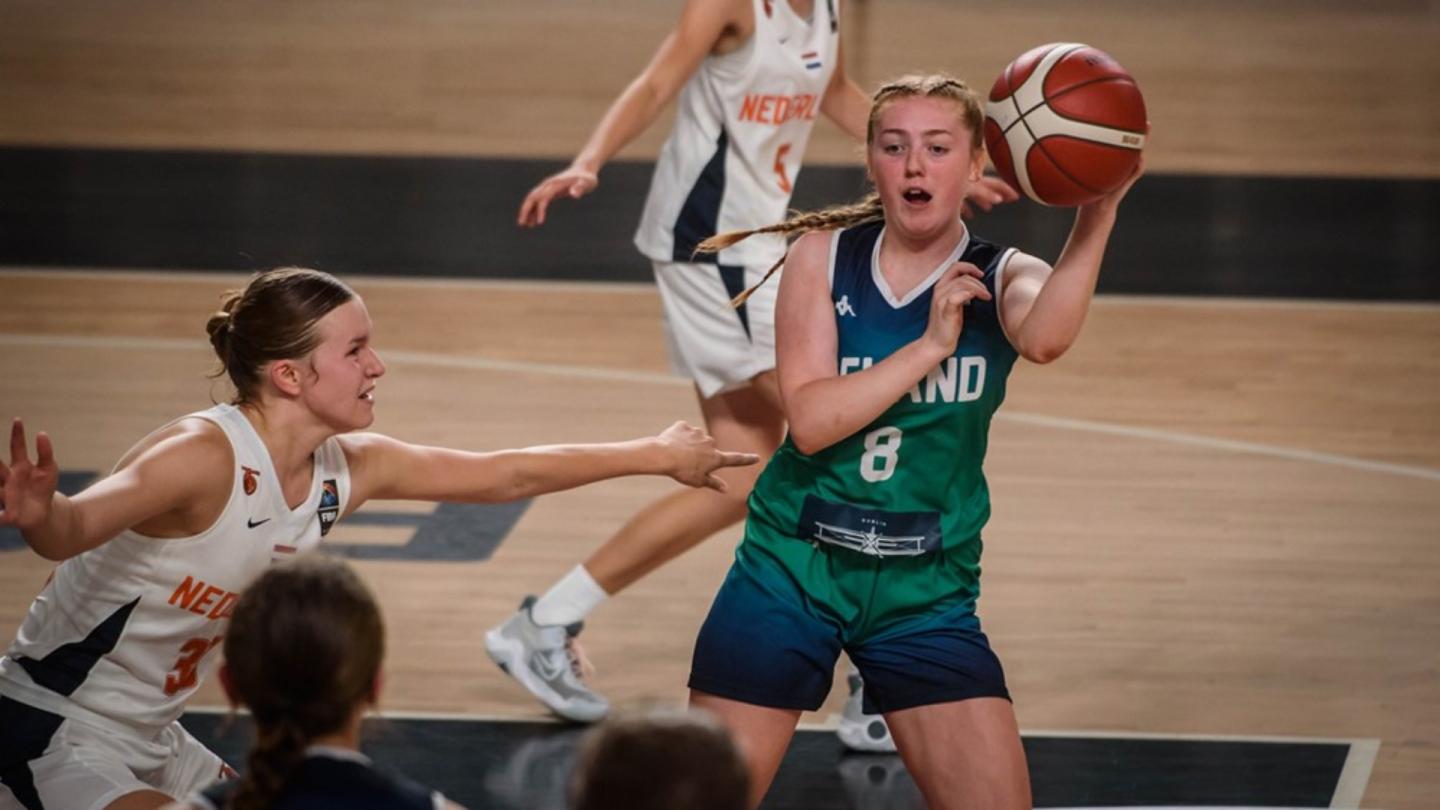 Aug 26 2022
Brilliant Irish performance doesn't yield win against Romania at FIBA European Championship
It was another gut-wrenching result for Ireland U16 women this afternoon in Montenegro, as they lost to Romania by the narrowest of margins, 55-54 in the FIBA European Championship classification round.
This was truly a heart-breaking way to lose a game at this level as Ireland marched down the court with the buzzer about to sound and just couldn't get the ball to drop on the final play. It sets up a final day meeting with Norway tomorrow at 3:30pm Irish time.
Ireland have leaned on the three-point shot at times in this tournament and they went straight back to their party piece to open this contest. The reliable Shauna Curran hitting from the corner inside the opening sixty seconds. From that moment on the game ebbed and flowed fantastically from a neutral perspective. Both teams playing quick end to end basketball and much like yesterday's game, Ireland's spread of scorers was very positive. Kelly Bracken, Clara Boyce, Caoimhe Gilligan, Grace Prenter and Rachel Bowdren all got their names on the scoreboard in the first ten-minutes, with Bowdren nailing a crucial late free-throw to ensure Ireland led heading towards the second period.
Things opened up further as the teams returned to the floor. Bowdren got the ball rolling with the team's second three before a short time later, Aisling Moran added a third. Ireland were once again proving quite adept on the boards. They managed to out rebound the Romanians 31-27 in the first half. The other standout statistic was the disparity in bench points. Ireland leading that category 15-4. Five of Ireland's bench had contributed to that, an important aspect of the high-quality sides in this competition. It wasn't all plain sailing though. Romanian pegged Ireland back at every opportunity, Illinca Belegante led the way with 11-points in 18-minutes. As they trooped back to the changing rooms though, it remained a narrow Irish advantage, 32-29.
It looked as if Ireland's plan was to live and die by the three ball. Shauna Curran was doing her best to make it the former. Ireland's first two scores of the second half came through her hands. Incredibly at the midway point, Andy Gill's side had put up more shots from outside the arc, than inside (26v23). The scoreline was also level at this point for the first time since the contest began. That tie would become a three-point Romanian advantage at the quarter's end. Belegante continued to do the bulk of the damage for Veronica Gavrila's charges, she now had 16-points to accompany 6-rebounds and 4-steals.
So, it all came down to the fourth and final quarter. It seems to be the story of Ireland's tournament. Nail biters. That tension was evident in the play of both sets of players. Only two points were scored in the first three minutes, a driving layup by Romania. Ireland shed those nerves thereafter though. Leah McMahon got them ticking with a driving layup of her own with just under five-minutes remaining and the gap was back to three. Three became one shortly after. Shauna Curran taking her tally to 11-points with a mid-range jump shot. Romania extended the lead back to six as the clocked ticked below three-minutes and Ireland would have been forgiven for thinking the game was now beyond them. Instead, they fought back once more. Aisling Moran hitting her second shot from range followed by a brilliant rebound and put back from McMahon. The game was in the melting pot right up to the final play. McMahon bravely took on responsibility for the final shot, which in the cruellest of circumstances, just wouldn't drop. It was a difficult way to finish an overwhelmingly positive performance.
Emma Tolan finished with a superb 12-rebounds in total. The unselfish nature of this team epitomised in how they attacked the boards in general. Clara Boyce nabbing 7-rebounds and Leah McMahon 7-more to add to her 6-assists and 7-points. The aforementioned Curran ended with 11-points and 3-rebounds on 44% shooting. There were contributions across the floor. Their final game and Ireland's final age grade game of the window comes tomorrow afternoon at the same time against Norway. This team deserves to go out on a high, lets hope they can do so.
Ireland Top-3 scorers:
Shauna Curran (11), Kelly Bracken/Aisling Moran/Leah McMahon (7), Rachel Bowdren (6).
FIBA U16 Women's European Championship Result:
Ireland 54-55 Romania
FIBA U16 Women's European Championship Fixture:
Ireland v Norway, Saturday August 27th, Podgorica, 3:30pm.