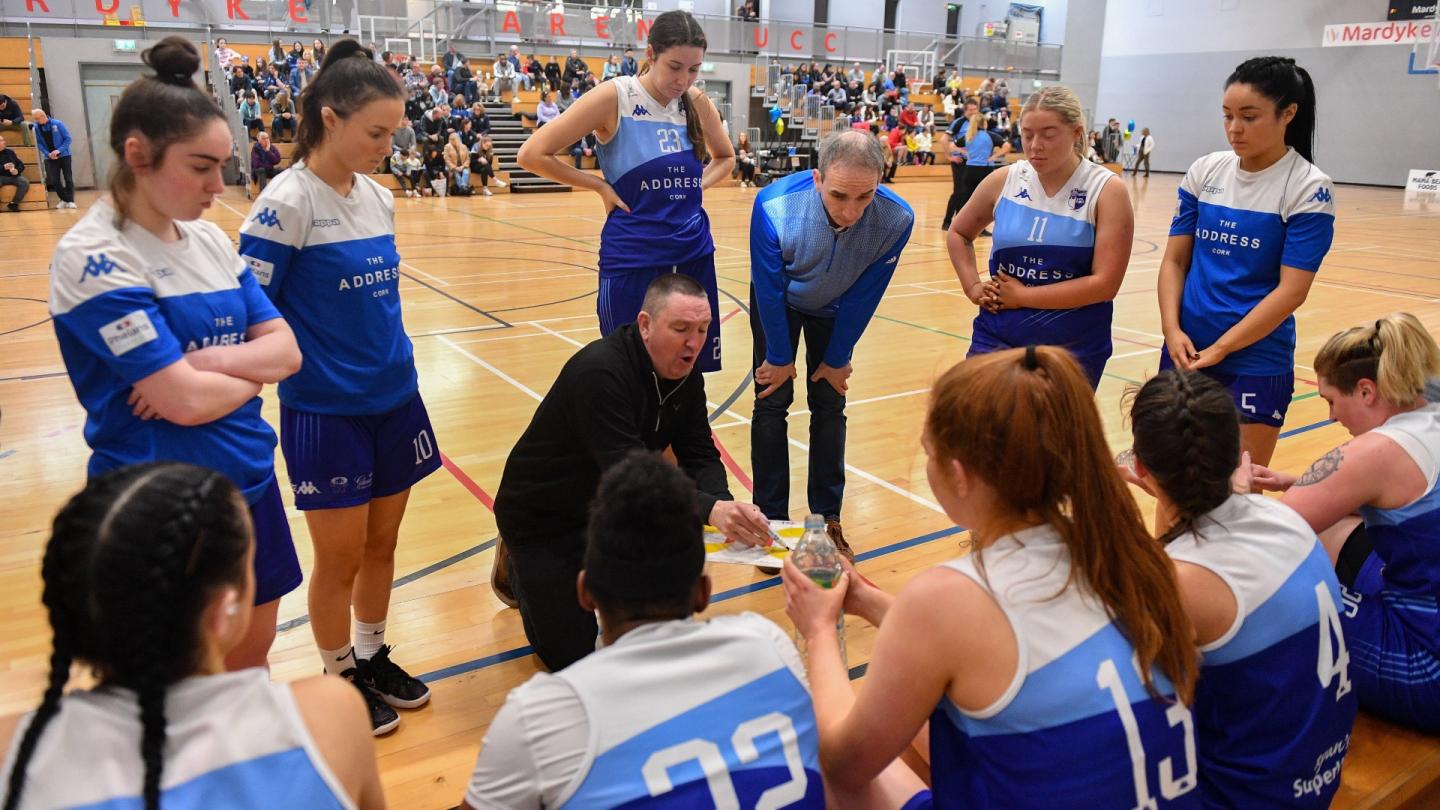 Sep 09 2022
Can The Address UCC Glanmire stay motivated this season? Head coach Mark Scannell thinks so
The Address UCC Glanmire remain on cloud nine after an extremely busy 2021/22 season in which they took him every available trophy to them.
The hardest part of success is maintaining standards and that baton falls on head coach Mark Scannell. He was named MissQuote.ie Super League coach of the year on the back of their efforts and despite the loss of a huge talent in Claire Melia, he believes they are well placed to see some young stars step up to the plate.
You spoke of having a team that was always 'there or there abouts' a few years ago, what was the difference last year that got you over the line?
MS: I think last year we had a very hungry and extremely focused team. Our depth was very important so many of our players stepped up and had huge contributions in different games that made it difficult for other teams. As well as that our experience and our leaders in the dressing room got us over the line.
Last season was obviously a fruitful one for the team as treble winners, is it a challenge to keep the group motivated ahead of the new season?
MS: A new season always brings different challenges our team overcame a lot of adversity last year. The team evolves and the personal changes but in Glanmire we always strive to achieve and usually that is evaluated by winning games. We have a very solid coaching staff a great committee and some of the best players ever to play in this country so the motivation will be there. The teams that went before create a legacy and a will to win and next year, our team will want to do the same.
Claire Melia was a vital player for The Address UCC Glanmire last season, how are you and the team planning for life without her following her move to Trinity Meteors?
MS: It's always very difficult to replace a generational player like Claire. She was brilliant for us and gave our team and our club a great lift and that worked out brilliantly for everyone including Claire. You can't replace her like for like but with Claire O'Sullivan back we're getting a senior international, an all-star and a proven winner. Annalise is recovered from her injury and with the improvement of Mia and Amy Dooley, I expect us to be able to cope.
How do you compensate for replacing someone who was such a heavy scorer in clutch situations for your team?
MS: There is no doubt that the hardest thing any team needs to do is execute when under the most pressure. Thankfully we have done that better than most down through the years. Last year at different times Claire, Aine, Carrie Tierney made huge plays.
Now without Claire, the focus will be different but very often it's a Casey block or rebound or Mia shutting down the best player that is the clutch play and hopefully we will continue to do that.
Mia Furlong will return to the team having experienced senior international basketball with Ireland against Estonia and Portugal, how pleasing is that to see from coach and club perspective?
MS: It means everything. That's why we play, why we coach, to try to help our players to achieve their goals and play at the highest level. Mia was great for us last year and has now stepped up to senior international basketball but almost every player on our roster is a senior or underage international and the coaches in the club and schools deserve great credit for helping all our players.
Do you see a difference in your players who play on the international stage and return to the club scene? What kind of traits does it help develop?
MS: I suppose none of them would be internationals-if they weren't doing all the right things, so it works both ways. When Aine and Claire came into the season last year, they were very sharp and they really set the tone for the season and that goes pretty much across the board.
The traits that separate the international players is their hard work and dedication.
Is there a player within your squad that might not be well known at the moment, but you think will have a breakout season?
MS: I think there are a few we spoke about Mia who continues to improve but also Amy Dooley has a big year ahead. She had to guard Claire Melia in training every night last year and I think that will stand to her this year and going forward. Louise and Annalise will also be big contributors this year.
Both had huge injury setbacks but hopefully they will show their undoubted class again this year.
In any sport, repeating domestic success is almost impossible, do you see the ingredients within this squad which will make going for back-to-back titles is a possibility?
MS: Yes, I do. Last year was fantastic but it's over and we start again my assistant Ronan O'Sullivan had a deal with the girls last year that we would have no regrets. I look forward to what this year will bring and what goals these players will set for each other, but I'm sure holding on to some, if not all of those trophies will be involved.
Who do you see as being the biggest challengers to your crown?
MS: The league was very good last year and even though we got over the line with a few games to go, it was wide open. This year will be very interesting with lots of coaching changes and much player movement. DCU Mercy will always be there as will Singleton Supervalu Brunell.
Trinity Meteors with Claire are probably the favourites, but Waterford Wildcats and Liffey Celtics will be very tough as they always are. It'll be very good, very challenging but that's why we all continue to be involved.
CHECK OUT BASKETBALLIRELAND.TV