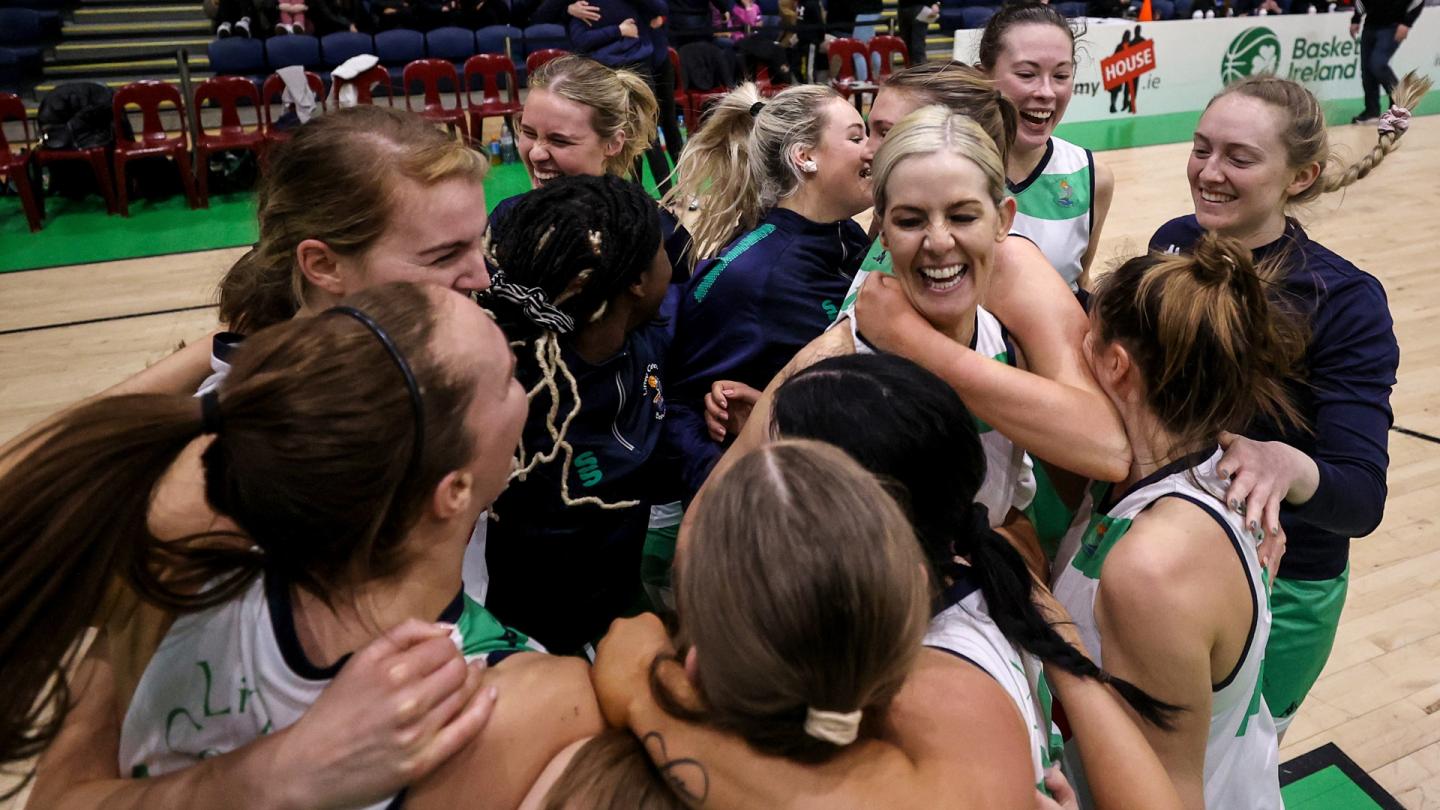 Jan 21 2023
Liffey Celtics edge Glanmire 55-47 to win InsureMyHouse.ie Women's National Intermediate Cup Competition
Liffey Celtics are the InsureMyHouse.ie Women's National Intermediate Cup Competition champions, edging a valiant Glanmire 55-47 at the National Basketball Arena on Saturday.
Glanmire had a 12-8 lead after the opening quarter, Maura Dillon picking up half their points. Dillon would finish the game with 17 points and 21 rebounds, to pick up the MVP award. The second quarter saw Liffey Celtics nudge their way in front, Erin Bracken's three with 50 seconds to go put the County Kildare outfit up 28-25. However, it would be the slenderest of margins at half-time, 28-27, following Orla Kiely's basket for Glanmire.
Liffey Celtics celebrate after their win. 
Liffey Celtics made a fast start to the third, Shauna Homan's three helping stretch their lead to 37-30 in the third minute. A big three from Glanmire's Dillon reduced the deficit to four, 40-36, with a little over three minutes to go in the third. It was followed not long after by Orla Kiely's two point jump shot from deep. The quarter would finish with Liffey Celtics ahead by two, 42-40.
Five points to start the quarter from Karen Mealy, including a three from the corner, helped open up a seven-point lead once more, with Liffey Celtics 47-40 in front. Mealy had a fine performance, she finished with 16 points including three from the three point line, to go with eight rebounds. The Masterson sisters also shone for Liffey Celtics, with Niamh picking up 16 points and Caoimhe 11.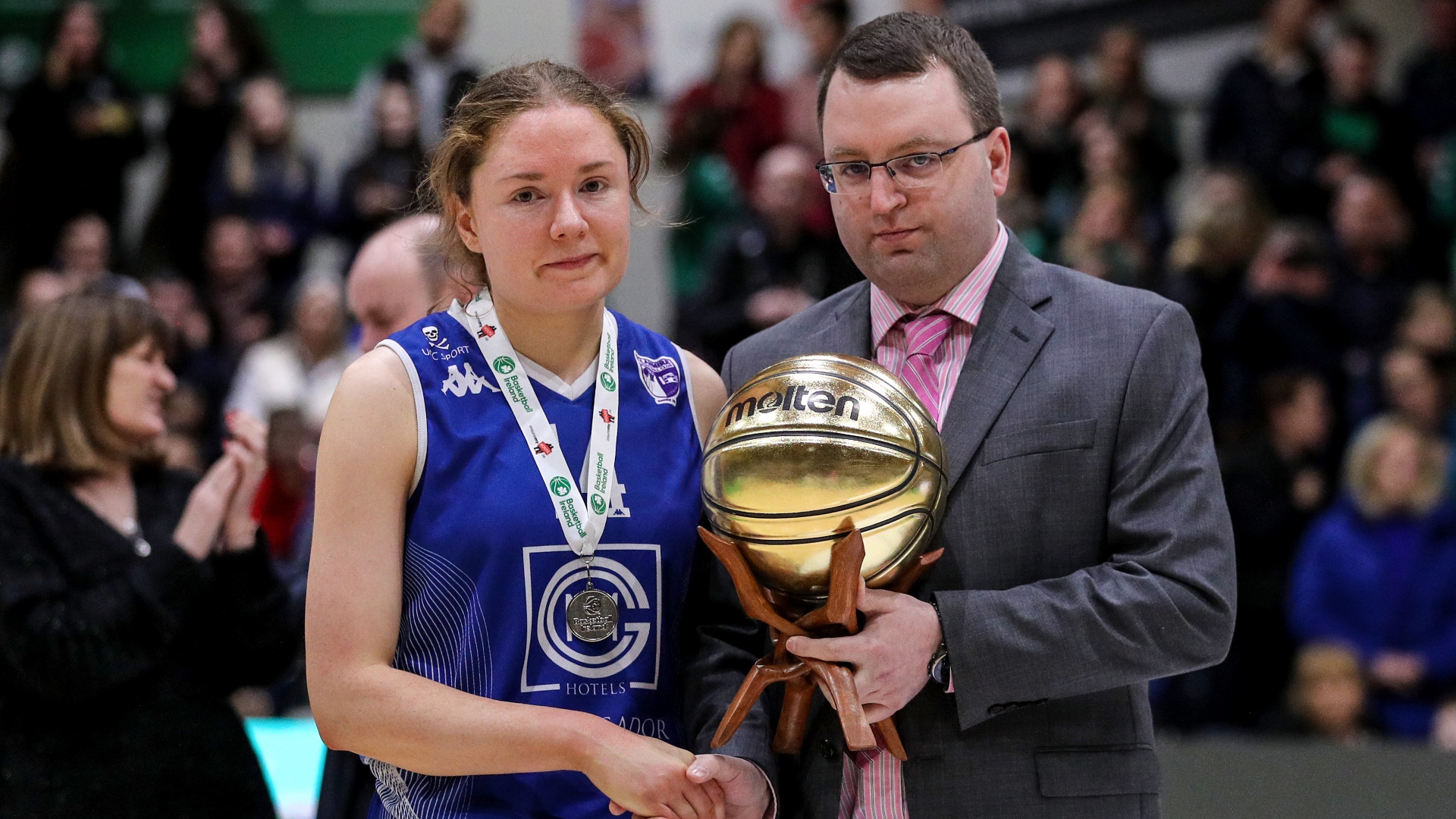 Glanmire's Maura Dillon picks up her MVP award after the game. 
Glanmire responded with a 7-point run to bring it level, at 47-47, with just over three minutes gone – the points coming from Tasha Tully's free-throw and layup, along with baskets from Laura Fitzpatrick and Dillon. Liffey Celtics remained calm, Niamh Masterson scored seven points down the stretch, to help them to a 55-47 win.
Speaking afterwards, head coach Suzanne Maguire praised her team's composure. "I am delighted now, there were definitely periods during the game where you don't know where it is going to go. Credit to Glanmire they are very tough, they're strong, they're physical. We knew they would attack the offensive boards and they did and they caused us a heap of problems in lots of areas. We knew they were going to attack with that, it was about us being a bit more composed and going to our strengths too. We have a good team, a nice and skilled team, that I knew if we got the right opportunities that we'd have a good shot today. It was touch and go and we managed to get our noses ahead and keep it there and that was quite satisfying. But listen, a great game, a tough game, but delighted to be here now."
Glanmire 47–55 Liffey Celtics
Quarter Scores:
Q1: 12-8, Q2: 27-28, Q3: 40-42, Q4: 47-55
Glanmire BC: Shona Bohane, Roisin Quirke, Laura Fitzpatrick, Dearbhla Breen, Orla Kiely, Ruth Patterson, Hansey Sexton, Aoife Gillespie, Maura Dillon, Tasha Tully, Aimee O'Riordan, Ella O'Sulluvan, Fiona Lynch
Coach: Nicky Bohane Asst Coach: Gareth Blount Asst Coach: John Glavin Team Manager: Sarah Kiely
Top Scorers: Maura Dillon (17), Dearbhla Breen (10), Orla Kiely (6), Tasha Tully (6), Roisin Quirke (4)
Liffey Celtics: Tomi Adesina, Alannah Mullins, Caoimhe Masterson, Rachel O'Carroll, Karen O'Shea, Megan O'Sullivan, Aoife Tiernan, Niamh Masterson, Erin Bracken, Karen Mealey, Ailbhe Harrington, Shauna Homan
Coach: Suzanne Maguire Asst Coach: Meagan Hoffman Manager: Mary O'Dwyer
Top Scorers: Niamh Masterson (16), Karen Mealey (16), Caoimhe Masterson (11), Karen O'Shea (4), Shauna Homan and Erin Bracken (3).