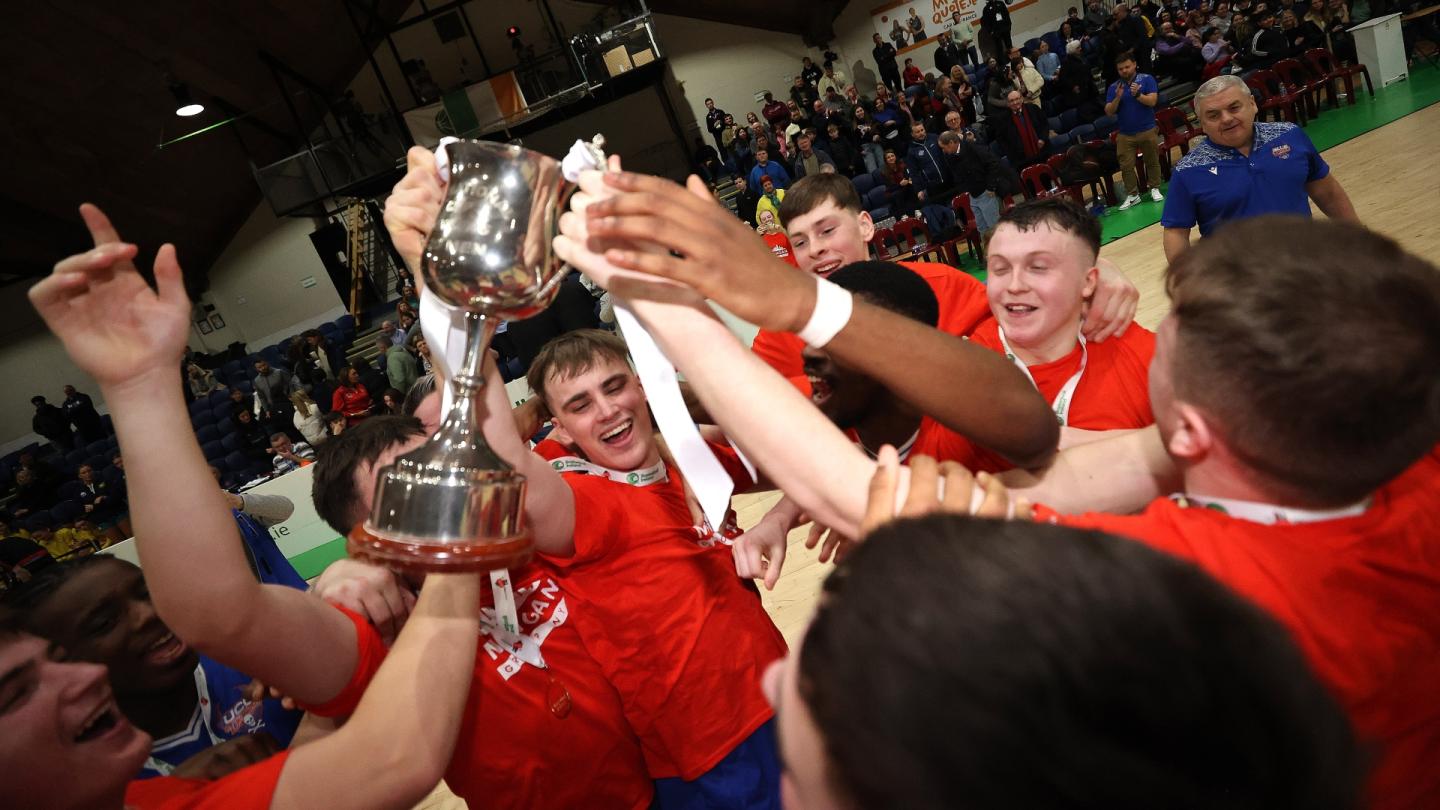 Jan 22 2023
O'Leary helps Blue Demons seal dramatic 76-73 win over Tolka Rovers to lift InsureMyHouse.ie U20 Men's National Cup
Blue Demons captain Jack O'Leary showed nerves of steel, as his composure from the free throw line, making six from six in the final minute, helped seal a 76-73 win over Tolka Rovers to claim the InsureMyHouse.ie U20 Men's National Cup title. It was a thrilling contest, with 14 lead changes - the result in the balance right to the death.
It was a dramatic final quarter, with two minutes to go Tolka Rovers were ahead by six, 73-67, after Elijah Faapito's drive to the basket and layup completed a seven point run for the Dublin club. A timeout ensued and Blue Demons hit the ground running after it, Niall Hannigan launched a three from the corner to make it a one-score game once more.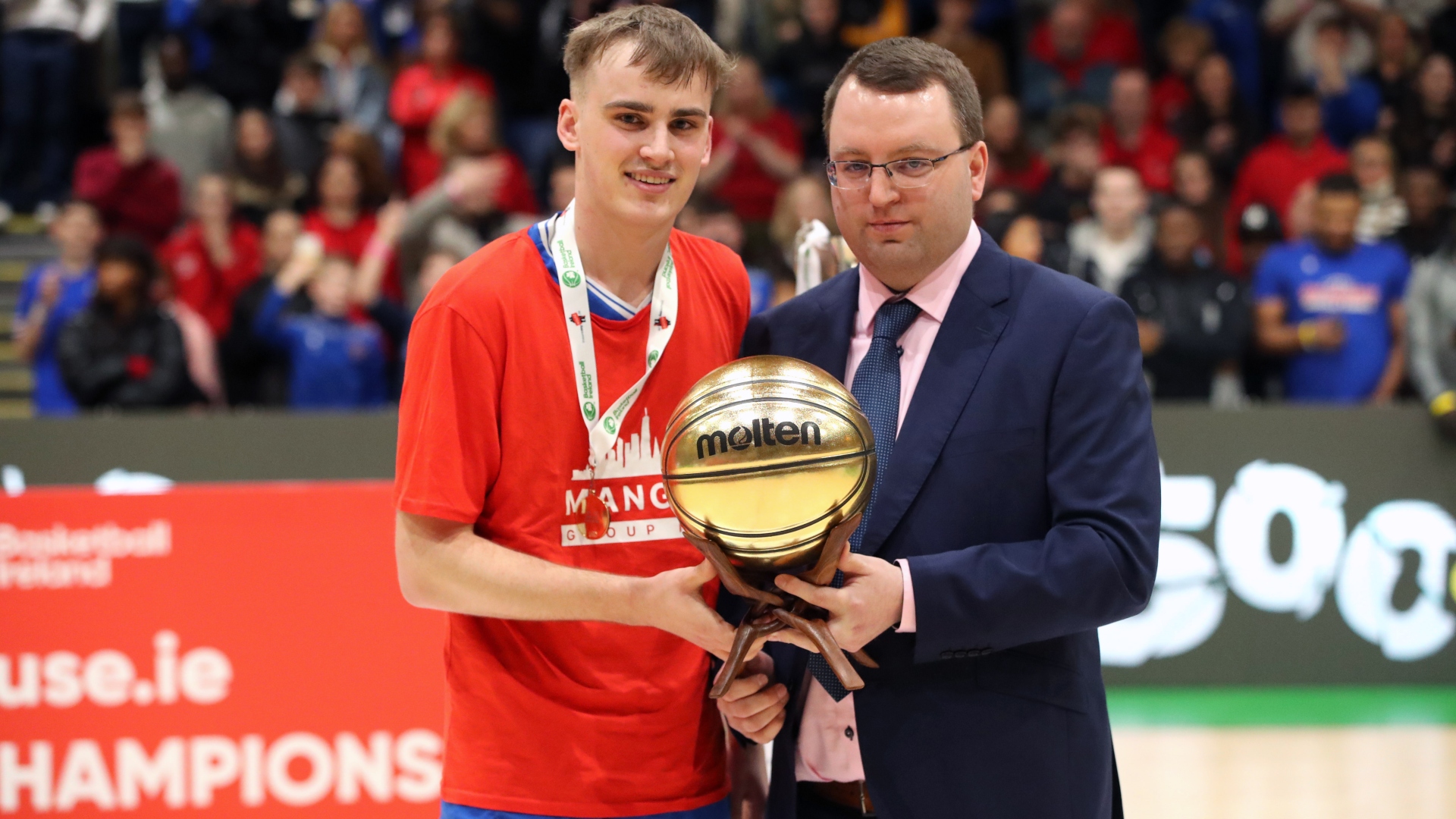 MVP Jack O'Leary receives his prize from NABC Chairman Jason Thornton. 
Two nerveless free throws from O'Leary and there was just one point in it with 1'08" to go, Tolka Rovers ahead 73-72. O'Leary was fouled once more and picked up another two free throws and he calmly slotted both to give Blue Demons a 74-73 lead with 36.9 seconds on the clock.
An unsportsmanlike foul on Brian Curran gave him two free throws attempts with 9.1 seconds remaining, but he wasn't help to convert either of those. Tolka still had possession and an opportunity to win it, but couldn't get the vital basket and with 3.4 seconds left UCC Demons wrestled back possession and O'Leary was fouled once more, he converted both free throws to make it 7/7 from the free throw line overall. In the dying seconds Tolka Rovers couldn't land the three that they needed to force overtime.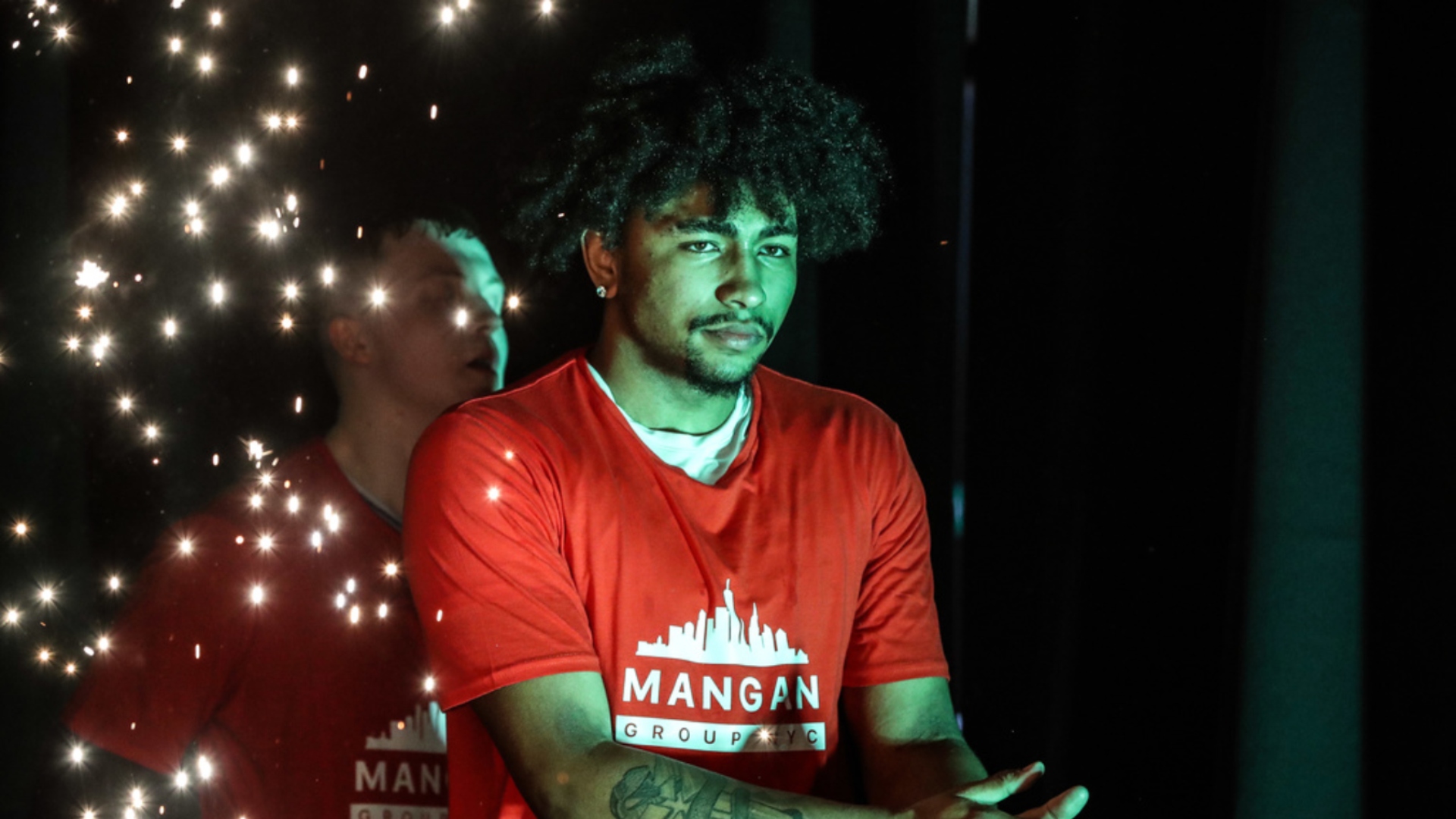 Tolka Rovers make their entrance to the National Basketball Arena. 
The late heroics, along with 13 points, 15 rebounds, seven assists and seven turnovers saw O'Leary naturally chosen as the MVP. Speaking afterwards O'Leary said: "It's unbelievable, the best feeling ever. It was the best basketball match I've ever been involved in, especially after losing last year it makes it even more special. It was always (last year's defeat) in the back of our minds, remembering that pain and knowing we have nothing to lose really. Then when you're down double digit points with 7 or 8-minutes to go you're saying will this ever happen for us, will we find a way to get over the line and we did."
The game overall was played at a frantic pace, Tolka Rovers were ahead 24-20 at the end of the first, Faapito, Curran and Sam Badejo with six points apiece.
Tolka Rovers began the second quarter brightly and opened up a 10 point lead, 31-21, three and a half minutes into it, with another basket form the lively Faapito, who finished with 22 points and 12 rebounds. By half-time that gap had narrowed to a single point, 37-36, after a strong finish by Blue Demons - Matthew McCarthy and Matthew Conlon's baskets sandwiched either side of Ben Horgan's three.
A three point jump shot by Colin Hannigan had Blue Demons up by four, 43-39, three and a half minutes into the third quarter, but it would be level by the end of it, at 54-54.
The fourth quarter saw Tolka Rovers open up an eight point lead, 64-56, following a three point jump shot by Moustsapha Kourouma with six and a half minutes to go. But Blue Demons came right back with a five point run, Horgan's three from the right hand side made it 64-61 midway through the quarter. Layups followed from Jake Orji and Matthew McCarthy to complete the turnaround - Demons now ahead 65-64. Tolka Rovers wrestled back the lead and had that six point lead with 1'56 left, before the late heroics from O'Leary saw the trophy travel to Cork.
Blue Demons 76–73 Tolka Rovers
Quarter Scores:
Q1: 20-24, Q2: 36-37, Q3: 54-54, Q4: 76-73
Blue Demons: Matthew McCarthy, Marvyn Konan, Cian O'Sullivan, Jack O'Leary, Colin Hannigan, Donnacha Barry, James Tobin, Jake Orji, Daryl Cuff,
Ben Horgan, Isaach Eroutteh, Craig Hoare
Coach: Shane McCarthy Asst Coach: Troy O'Mahony Team Manager: Ava O'Mahony
Top Scorers: Matthew McCarthy (16), Jack O'Leary (13), Jake Orji (12), Colin Hannigan (11), Issac Eroutteh (10)
Tolka Rovers: Alessandro Biffi, Moustsapha Kourouma, Ethan Testa-Farrelly, Niall Bartley, Praise Ogunaskin, Dakota Callaly, Elijah Faapito, Sam Badejo, Matthew Conlon, Lorcan O'Brien, Brian Curran, Eoghan Dawson
Coach: Tom Kenny Asst Coach: Kevin Ashton
Top Scorers: Elijah Faapito (22), Brian Curran (16), Ethan Testa-Farrelly (12), Sam Badejo (10), Matthew Conlon (6)