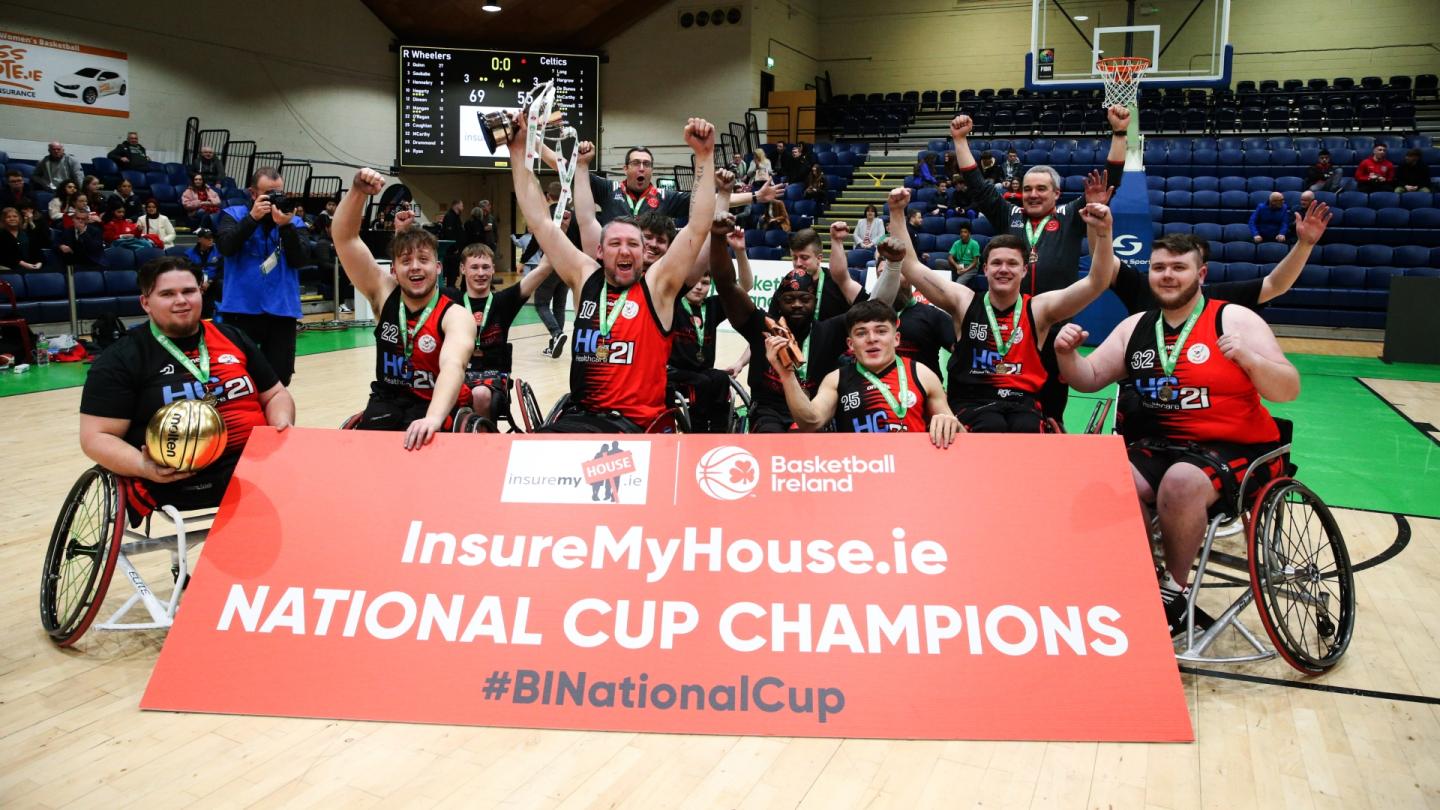 Jan 20 2023
Rebel Wheelers claim fourth InsureMyHouse.ie IWA National Cup in a row with 69-55 victory over Limerick Celtics
Rebel Wheelers claimed their fourth InsureMyHouse.ie IWA National Cup title in a row, defeating Limerick Celtics 69-55 in the final on Friday at the National Basketball Arena. Rebel Wheelers captain Jack Quinn claimed the MVP following a 27 point haul, along with nine rebounds and five assists.
It was a tight opening half, Quinn was a potent threat at the basket, which yielded 15 points by the break for Rebel Wheelers, while Conor Coughlan was also on form with seven by the break to help them to a 32-28 lead. Tiarnan O'Donnell was another to dazzle at the National Basketball Arena he had 16 points by half-time for Limerick Celtics and would finish up with a game-high 33 points, while racking up a massive 22 rebounds and four assists.
The game was level at 34-34 three minutes into the third, the impressive O'Donnell getting the basket to get them there. It sparked an eight-point run in the next two minutes by Rebel Wheelers finished off by Quinn's two pointer, to hold a 42-34 advantage. But again Limerick Celtics came back and by the time Jodie Waite landed her basket it was 48-43, to bring her personal tally up to eight points by that stage, as they trailed 48-43 with a minute to go. But points from Quinn and Coughlan gave Rebel Wheelers a 52-43 lead going into the final quarter.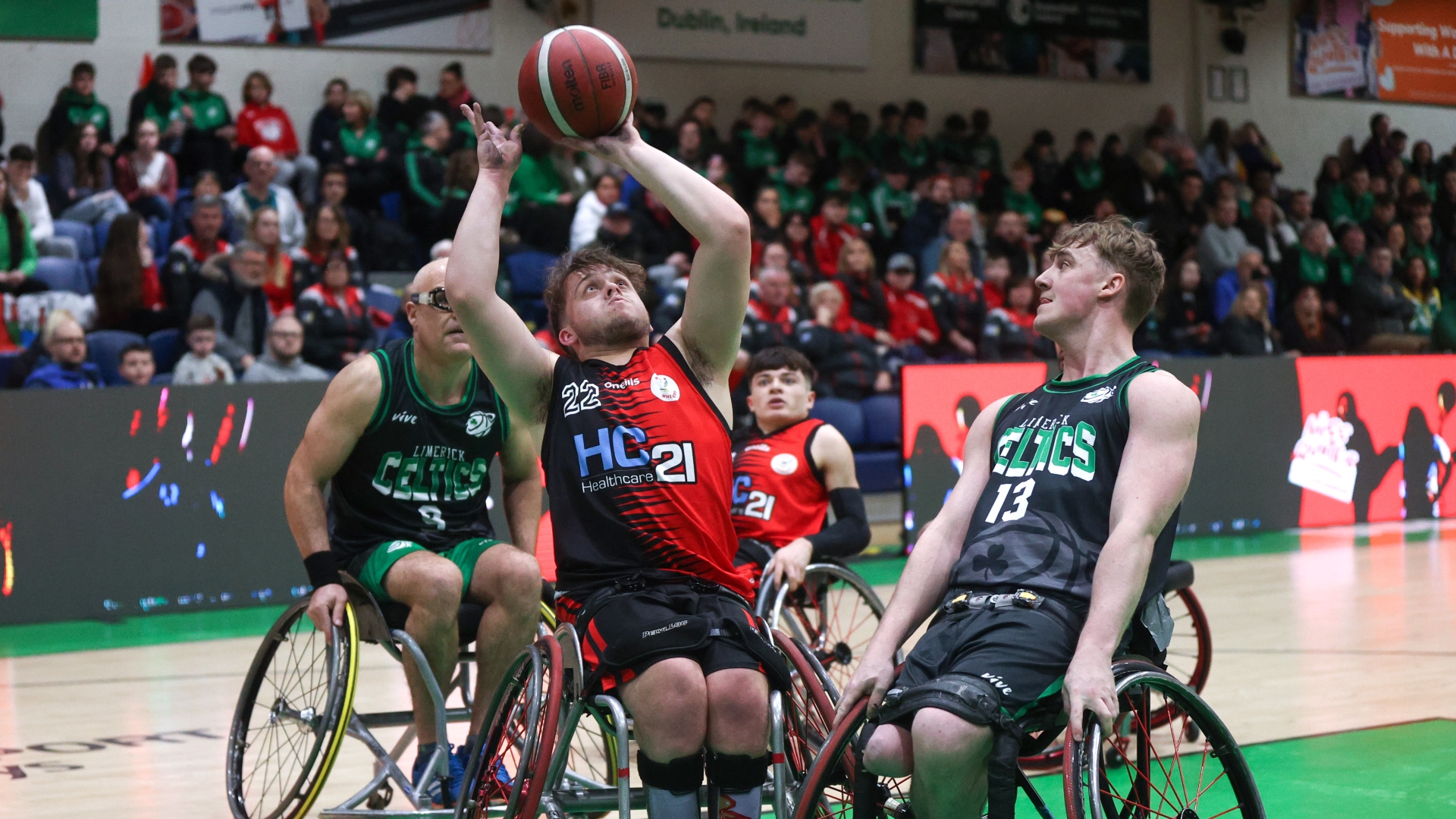 Darragh O'Regan attempts a shot as Limerick Celtics Tiarnan O'Donnell and Carlos De Bunes look on. 
An O'Halloran layup brought it to 57-51 three minutes into the fourth. The deficit was just four points at the midway point, following points by Waite, to make it 59-55. However Rebel Wheelers used their experience in finals and responded with a 10-point run to seal a 69-55 win.


Speaking after achieving the four-in-a-row, Conor Coughlan said: "The work we've put in for the last four or five years to get where we are today, the numbers we have in the panel and the young squad, it's just a joy to come up here and put in a big performance like that. I would take my hat off to Limerick (Celtics), they really put it up to us tonight, they beat our press for the first quarter and possibly into the second quarter, but then we changed to a high line."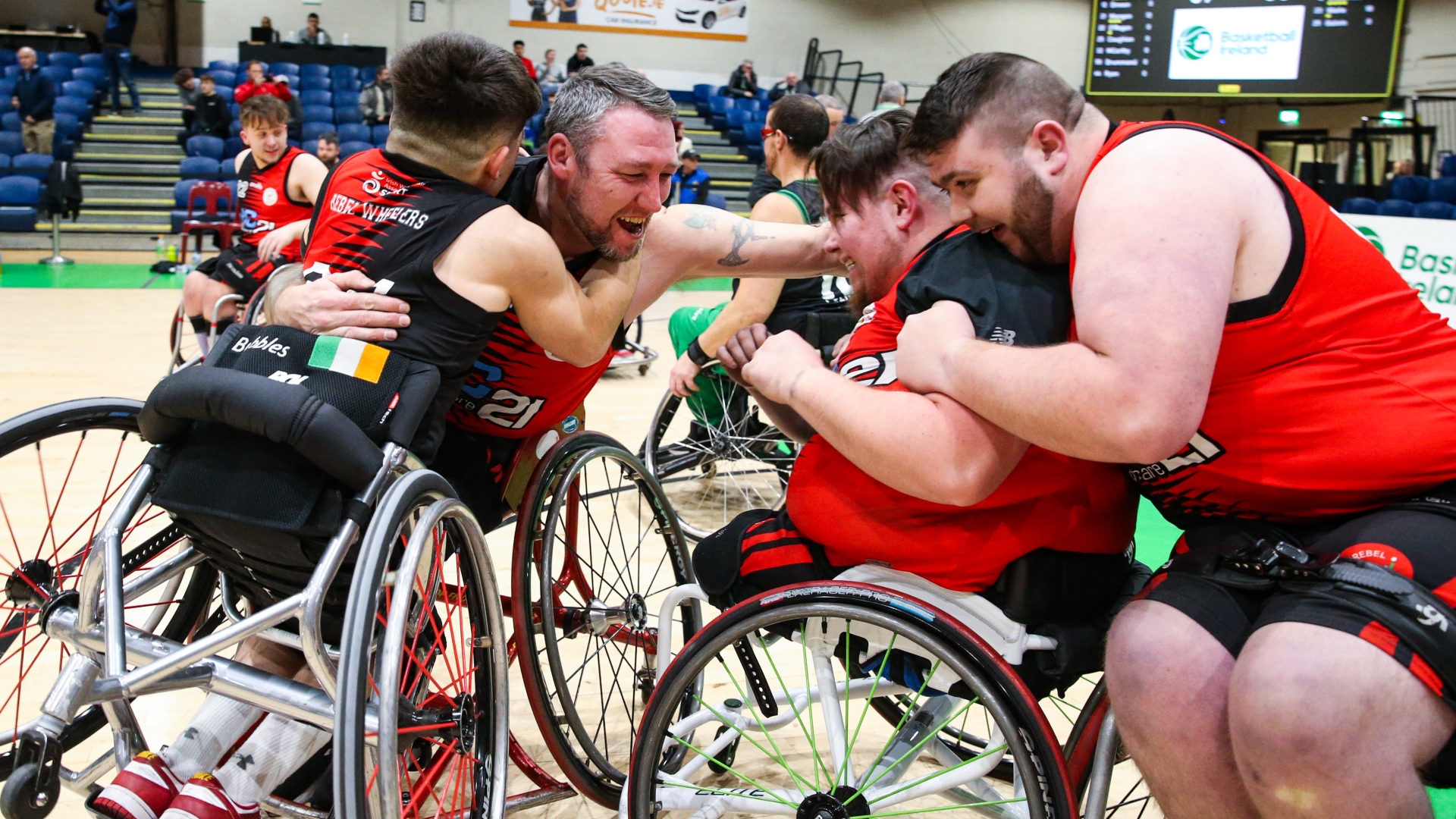 Rebel Wheelers celebrate after winning the InsureMyHouse.ie IWA National Cup Final. 
Coughlan also hailed his captain Quinn, "Mother of God, Jack Quinn really put in a savage effort the last number of years and today he's produced the fruits of that. He has been doing this in training the last number of weeks and I am delighted to see him reproduce that on the court on the big stage."


View this post on Instagram
Rebel Wheelers 69–55 Limerick Celtics
Quarter Scores:
Q1: 14-12, Q2: 32-28, Q3: 52-43, Q4: 69-55
Rebel Wheelers: Con Coughlan, Jack Quinn, Yacine Soubabe, Alex Hennebry, Derek Hegarty, Alan Dineen, Neil O'Sullivan, Conor Simpson, Oisin O'Connor, Jack Mangan, Darragh O'Regan, Slaowomir Juranek, Conor Coughlan, Dylan McCarthy, Adam Drummond, Sean Ryan, Hannah Walsh
Coach: Alan Dineen Asst Coaches: Con Coughlan, Jerry O'Regan
Top Scorers: Jack Quinn (27), Conor Coughlan (11), Jack Mangan (10), Dylan McCarthy (10), Derek Hegarty (9)
Limerick Celtics: Seamus Long, Joseph Hargrow, Carlos De Bunes, James McCarthy, Tiarnan O'Donnell, Jodie Waite, Aaron Galvin
Coach: Joseph Hargrow Asst Coach: Tiarnan O'Donnell
Top Scorers: Tiarnan O'Donnell (33), Jodie Waite (10), Joseph Hargrow (6), Carlos De Bunes (4), Seamus Long (2)