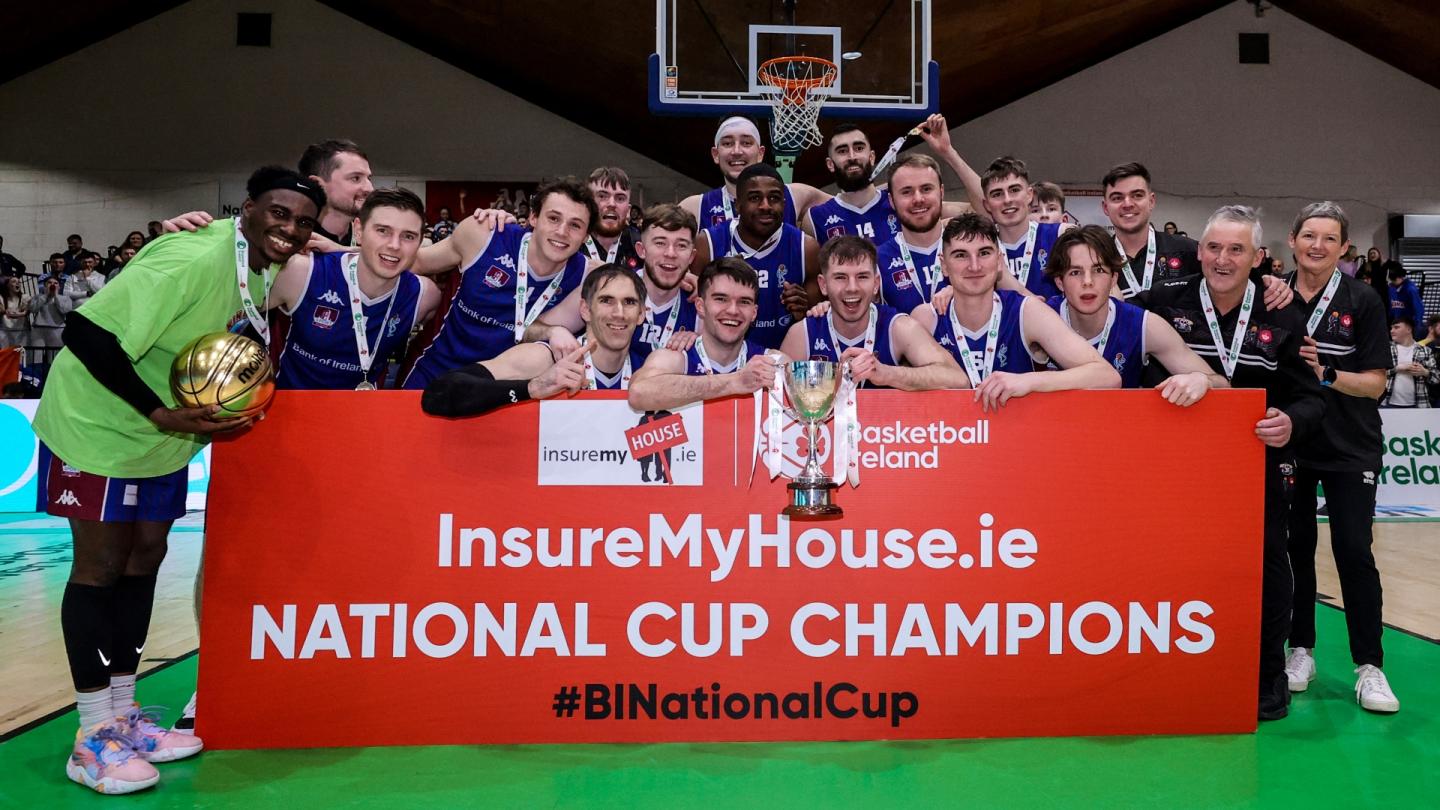 Jan 21 2023
University of Galway Maree win their first InsureMyHouse.ie Pat Duffy National Cup title after 74-69 win over DBS Éanna
University of Galway Maree won their first ever InsureMyHouse.ie Pat Duffy National Cup title, after a Jarett Haines inspired them to a 74-69 victory over DBS Éanna. The pacey Haines hit 35 points on the way to claiming the MVP. The game itself was in the balance throughout, with 10 lead changes, which had spectators at a sold out National Basketball Arena on the edge of their seats.
University of Galway Maree made an excellent start, Stephen Commins got them off the mark with a three point jump shot from the corner and they were 9-0 up after a basket from Zvonimir Cutuk and a fast-break and layup by Haines.
With four minutes gone DBS Éanna finally got their first points from Neil Lynch's three. It was level at 12-12 with two and a half minutes to go in the first, following Joshua Wilson's layup and a long range three by Mark Tomic, which put DBS Éanna ahead 15-12. However it was University of Galway Maree who had the slenderest of advantages, 21-20, at the end of the quarter following Haines' layup.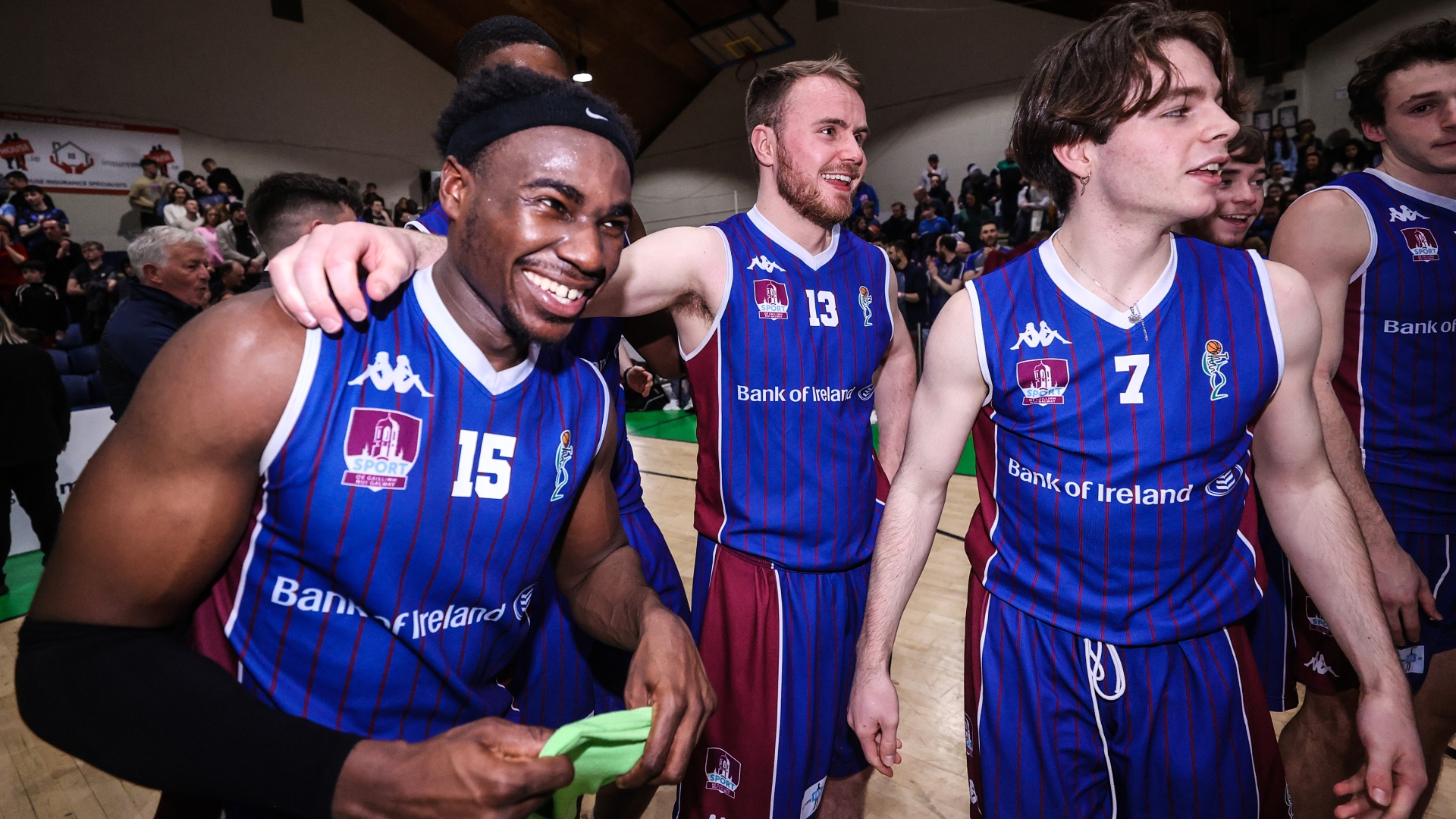 Jarret Haines celebrates with team mates after the final buzzer. 
The second quarter was a lower scoring affair, a three from the corner with 6'50 left from Scott Kinevane made it a one-point game once more, 24-23. DBS Éanna lost the influential Mark Reynolds midway through the second quarter after an accidental clash of heads with Zvonimir Cutuk, which led to a broken nose. There was just two points between the sides at half-time, DBS Éanna leading 34-32.
DBS Éanna made a fast start to the third quarter and were up by eight points in the fourth minute of it, 44-36, following a lovely three by Stefan Desnica. But University of Galway Maree - inspired by Haines - wrestled their way back in front 45-44 with a nine point run, seven of those points from the electric Haines, including one as he tumbled to the floor, and it led to DBS Éanna calling a timeout.
The fourth quarter was frantic with the lead changing several times once more. With 4'51 to go Haines landed another three, to put University of Galway Maree ahead, 60-57. It sparked yet another rendition of Fields of Athenry by their fans at the other end of the court. A three from the corner by John Burke had the Galway club 67-61 up with 2'33 on the clock and Darren McGovern called his players in for a timeout once more. Haines was the driving force throughout, another three with 49.8 seconds remaining put University of Galway Maree 72-63 up and that seemed to be that. A nerveless three by Jenkins at 10.2 seconds left kept DBS Éanna afloat and they trailed 72-66, but two Haines free-throws ended all hope.
American Haines said: "This is so amazing, I worked so hard for this for years, even before I came to Ireland. My team mates and my coaches are everything to me, along with the whole community of Maree. I don't have the words, it's just amazing. I knew that I was going to have to dig deep after starting a bit slow in the first quarter. I had to keep driving and driving. I had to use my teammates to score and when those shots started dropping I just gained more confidence."
Head coach Charlie Crowley added: "I'm a man with a lot of words a lot of the time, but I am speechless. It was just unbelievable. It takes you back to all the times you were thinking, is this worth it? We were pushing the ball fast and that's our game. When we get away from our game we're not good to be honest. We practice a certain way and when you deviate from that I personally think you're setting yourself up for failure. The fans were incredible. I've never seen a basketball crowd like it, I don't think the Arena has seen a crowd like it. It was amazing from start to finish."
A disappointed DBS Éanna head coach Darren McGovern reflected: "It's really difficult to see what went wrong. Obviously their zone defence in the second half caused us a lot of problems, you know you take 47 three pointers, which is probably not good enough, we needed to get in the paint. Mark Reynolds was a big loss gone to hospital with a big broken nose, which really didn't help the situation for us either trying to get the ball inside, but credit to Maree you know they brought the tempo, they brought the fight and they won it."
DBS Éanna 69–74 University of Galway Maree
Quarter Scores:
Q1: 20-21, Q2: 34-32, Q3: 48-50, Q4: 69-74
DBS Éanna: Hillary Netsiyanwa, Romonn Nelson, Scott Kinevane, Kristijan Andabaka, Stefan Desnica, Neil Lynch, Sean Jenkins, Alex Dolenko, Conor Dikcius, Joshua Wilson, Mark Reynolds, Marko Tomic
Coach: Darren McGovern Asst Coach: Dave Doran, Robert Keane Team Manager: Andrew Herbst
Top Scorers: Sean Jenkins (14), Marko Tomic (14), Kristijan Andabaka (11), Joshua Wilson (11), Stefan Desnica (8)
University of Galway Maree: Cathal Finn, John Burke, Stephen Commins, Eoin Rockall, Ben Burke, Zach Light, Matthew Sweeney, Rodrigo Gomez, Jarett Haines, Malik Thiam, Zvonimir Cutuk, Paul Freeman
Coach: Charlie Crowley Asst Coach: Jack Finn, Colm O'Hagan Team Manager: Ross Doyle, Nutritionist: Eileen Finn
Top Scorers: Jarett Haines (35), Zvonimir Cutuk (15), Rodrigo Gomez (13), John Burke (5), Stephen Commins (3).