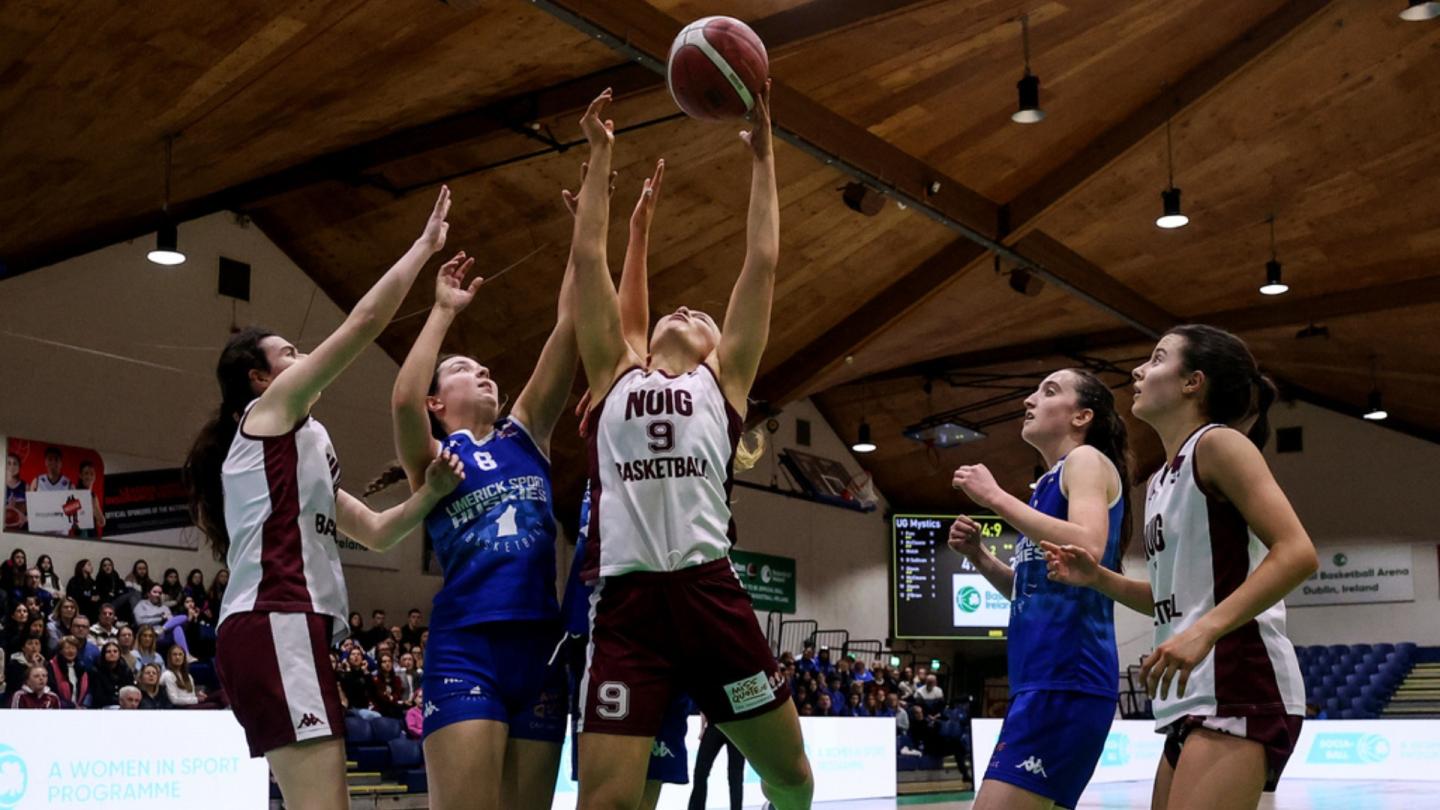 Jan 21 2023
University of Galway Mystics 97-48 winners over Limerick Sport Huskies to lift InsureMyHouse.ie U20 Women's National Cup
University of Galway Mystics claimed the InsureMyHouse.ie U20 Women's National Cup with a comprehensive 97-48 win over Limerick Sport Huskies at the National Basketball Arena.Captain Kara McCleane delivered a polished performance with 19 points, eight rebounds, seven assists and five steals, which saw her handed the MVP.
All eight of the University of Galway Mystics squad are playing in the MissQuote.ie Super League and that experience certainly told. Kara McCleane and Hazel Finn also played with Ireland's U20's at last summer's FIBA U20 Women's European Championship and they were influential in sparking a 49-28 half-time lead, with 16 and 12 points respectively by the break.
Limerick Sport Huskies started with an early 4-0 lead, thanks to baskets from Sophie Moore and Hannah Cremin, before Hazel Finn got going, scoring all six of University Galway Mystics' opening points, to edge them in front 6-5. Abbie Pigott got Limerick Sport Huskies back ahead 7-6, before a 16-point run by Paul O'Brien's team put them in control and they never looked back and led 28-12 by the end of the first.
The second quarter followed the same vein, University of Galway Mystics in the ascendancy. A three point jump shot from Pigott in the fourth minute saw Limerick Sport Huskies reduce the deficit to 11 points, 33-22. But Mystics kept their opponents at arms-length and were 21 points ahead by half-time, 49-28.
University of Galway Mystics scoring threat was evenly spread throughout the team, Ava McCleane hit two from the three-point line in the third quarter and scored eight points in the quarter, while Maedhbh O'Brien had 7 points and Emma Glavin 6 points to hand them a 79-36 lead going into the final quarter. O'Brien and Emma Glavin would post game totals of 20 and 16 points.
Limerick Sport Huskies kept plugging away, Cremin picked up seven points in the final quarter to bring her to a team-high 13, but it was to be University of Galway Mystics' day.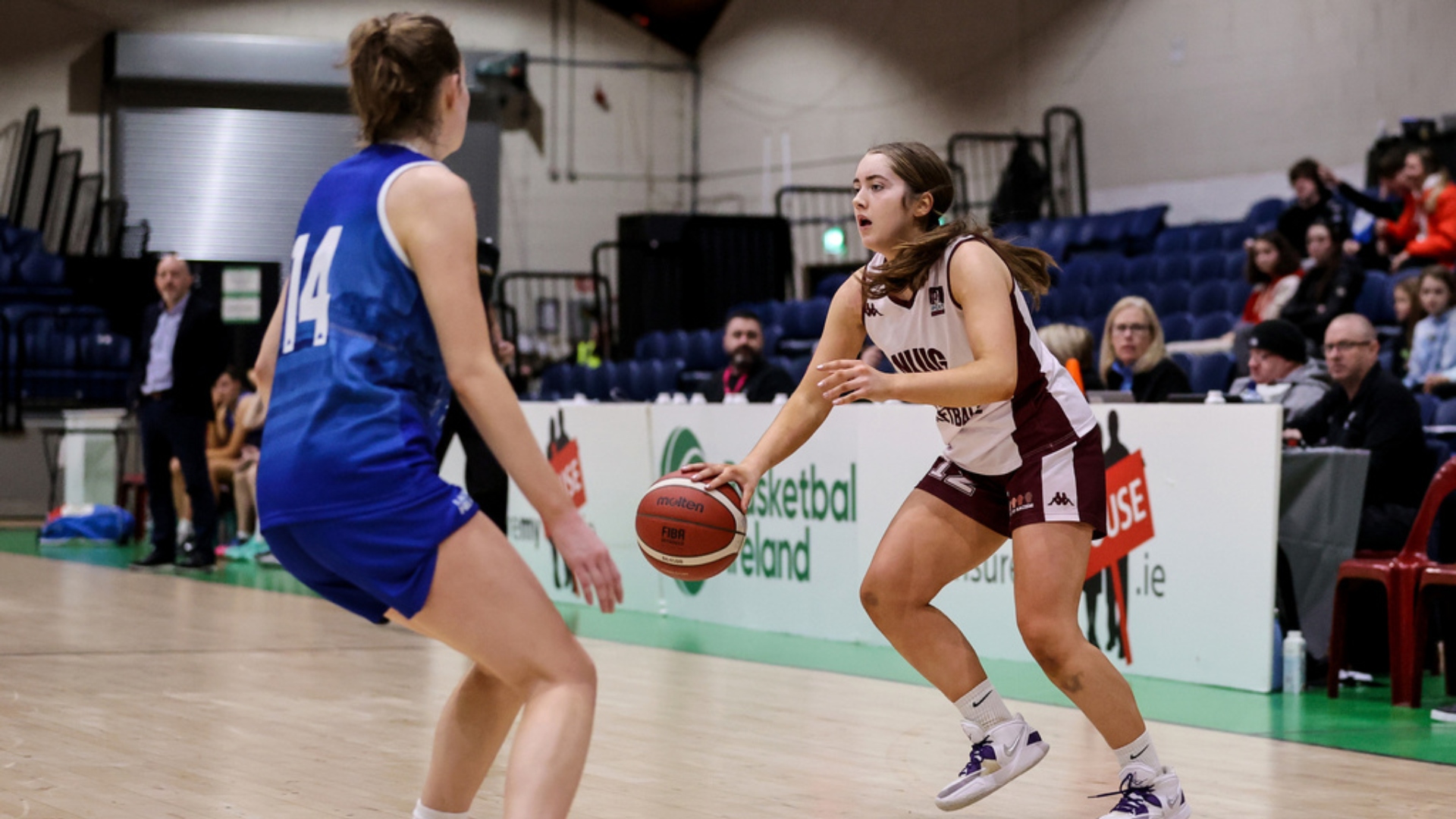 University of Galway Mystics and Limerick Sport Huskies in action during the InsureMyHouse.ie U20 Women's National Cup final. 
Head coach Paul O'Brien "We had six players in double figures, they were fantastic and they have been fantastic all year. I have to say thanks to the clubs they have come from, you look at Tullamore here, the amount of fans they have here brought down, where Ellie and Emma (Glavin) and Maedhbh (O'Brien) are from. Titans, Kara and Ava (McCleane) and Aoibhinn (Walsh) and Moycullen and Maree, so thanks to all them for trusting us with them at this stage in their careers.
"The players have been great all year and Super League experience definitely stood to them. Huskies are a very, very good team as well, I think that we just had that little bit more physicality from that Super League experience that we've had this year. Credit to them for making the final and we're just delighted to win."
University of Galway Mystics 97–48 Limerick Sport Huskies
Quarter Scores:
Q1: 28-12, Q2: 49-28, Q3: 79-36, Q4: 97-48
University of Galway Mystics: Hazel Finn, Kara McCleane, Aoibhinn Walsh, Caoimhe O'Sullivan, Ellie Glavin, Ava McCleane, Emma Glavin, Maedhbh O'Brien
Coach: Paul O'Brien Asst Coach: Kyle Walsh Team Manager: Maura O'Malley
Top Scorers: Hazel Finn (20), Maedhbh O'Brien (20), Kara McCleane (19), Emma Glavin (16), Ellie Glavin (12)
Limerick Sport Huskies: Hannah Cremin, Keira Shyne, Jessica O'Shea, Bronagh Dollard, Emilie Hamel, Emma O'Sullivan, Sara Brazil, Sophie Moore, Niamh Fahy, Abbie Pigott
Coach: Des O'Sullivan Asst Coach: Trevor Moore Team Manager: Kevin Shyne Physio/Medic: Phil Deegan
Top Scorers: Hannah Cremin (13), Sophie Moore (10), Abbie Pigott (8), Jessica O'Shea and Sara Brazil (both 5)