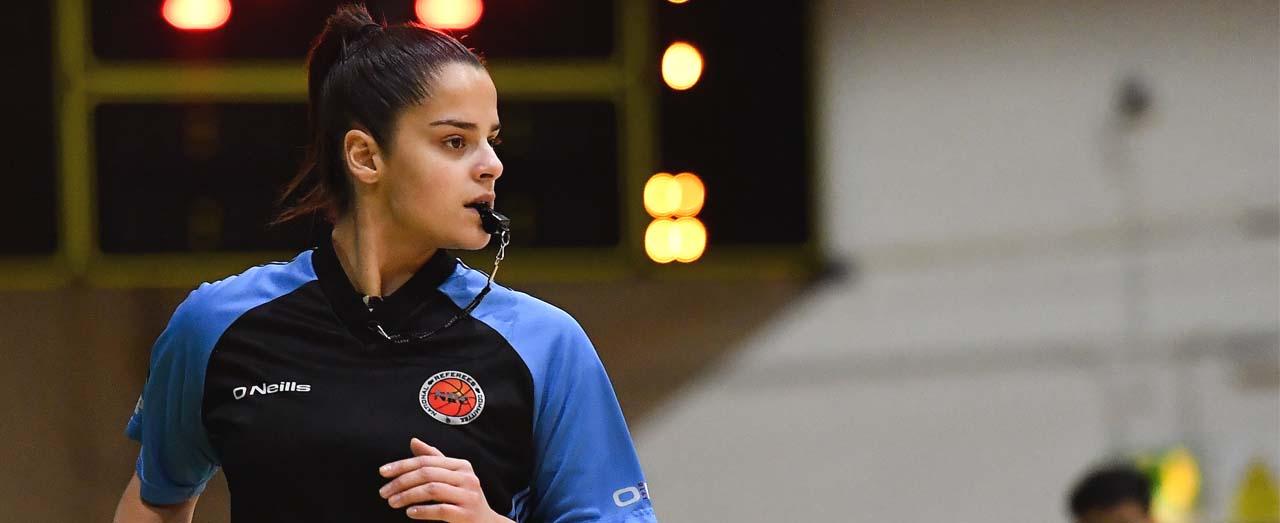 Referee Level: underage, Dublin League, National League, Super League
Interview
"Don't take anything personal, people will complain no matter how good you are, it gets easier to handle any sort of critic and there is always guidance and help. You are never alone."
---
Can you talk us through your playing background?
Basketball was always a huge part of my life, I spent every weekend since a young age either training, playing or watching basketball games. I started playing basketball from a young age with Swords Basketball club and later moved to DCU Mercy where I was coached by Joan Black. I started with DCU from U16s and our team became Cup and League winners all the way up.
---
How did you get involved in refereeing?
My mother started to referee when I was playing underage and motivated me to want to do it myself. My brother Tariq started to referee the year before me, they both enjoyed it a lot and of course I couldn't be the only one in the house to not referee.
---
What kind of games have you refereed over the years?
I have refereed all types of games such as; school games, school cup finals, underage games, local league games, National League games, Venice masters and I am currently living in Dubai and have just started refereeing in a local Dubai league. I refereed my first National cup final this year, it was a privilege to referee such an important game in my second year of being on the national referee panel.
---
Who would you say was a role model for you as a referee and why?
It is very hard to narrow down one individual as my role model. Before I started to referee, I always looked up to all the National League women referees such as Lynda Cassidy, Catriona White, Emma Perry and Tara Dunphy and now it is an honour that I am now refereeing alongside these ladies and they have helped me so much in not only my development but to really enjoy what we do since I started refereeing at the highest level.
---
What is the most important thing for you when refereeing younger/teenage boys and girls?
Communication is key, they are only learning so if they ask a question or are confused about decisions or calls it is important to be able to communicate and explain why you made the decision.
---
Have you any tips you'd like to share on keeping girls engaged in sport - particularly at the 14-18-year-old age group?
I would try involve young teams in as many tournaments as possible. When I was a teenager playing basketball, I loved weekends away with my team mates, not only because there were so many games to play but because you get to spend all day and all night with your teammates and really build a connection with them and have a lot of fun.
---
Any tips you would like to give to young referees who are starting out?
Don't take anything personal, people will complain no matter how good you are, it gets easier to handle any sort of critic and there is always guidance and help. You are never alone.
---
When you first stepped up to National League/International level, were you nervous about the step up and how did you deal with that if so?
My first National League game was very nerve wrecking, but once the ball was thrown up I realised it was just another basketball game and it was nowhere near as bad as I thought it would be. Of course I was still nervous, but I was never thrown in the deep end at the start, I was always refereeing with a more senior referee in my first few games so they always put me at ease and protected me on the court.
---
What would you say to other female referees who are considering moving up a level in their refereeing careers?
Just go for it, it was the best decision I made. I was only refereeing two years before I stepped up and I was so nervous. I didn't have the confidence and belief in myself. I got so much support in the first year I started and learned so much. You are not alone and if you ever have a bad game or even one debatable call, there is always people there to help and guide you.
---
How do you measure the success of a game?
Success of the game is when us as officials finish the game and know that we have done everything we could in our officiating for the good of the game. Success of the game as a player is of course winning, but if not winning, knowing that as a team they did everything they could and never gave up.
---
How important do you think it is for referees to keep learning and developing regardless of level of experience?
There are new rules to the game every year, the game is constantly changing and developing, all experienced referees need to keep an open mind.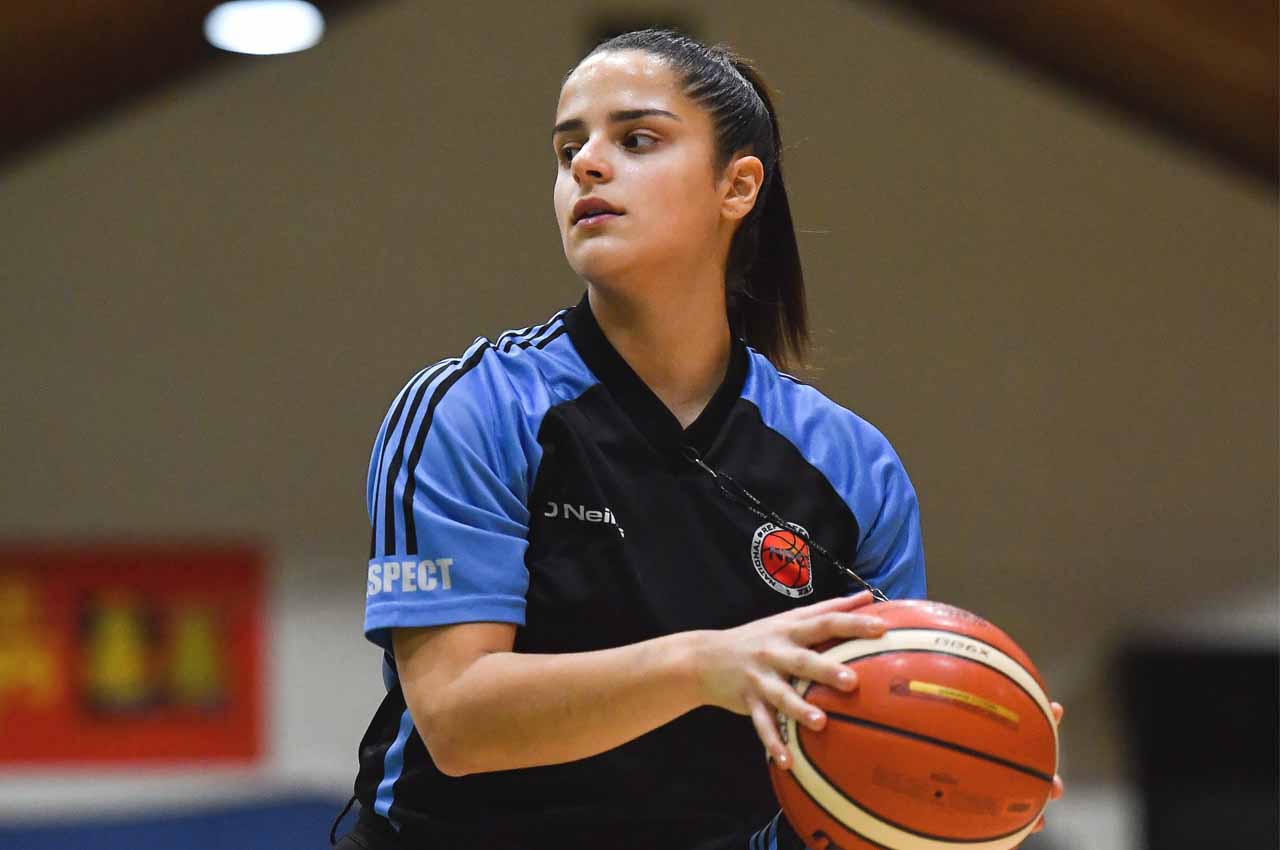 ---
Have you noticed many changes in Ireland in referees over the years? If so, what?
I have noticed a lot more younger referees refereeing the higher-level games than previous years, and a greater emphasis has been put on the development of young referees, which is great.
---
What changes would you like to see in basketball refereeing in Ireland in the future?
It would be great to see more young referees moving up to National League level, as Niamh O'Callaghan says 'refereeing is not only for players who have retired'.
---
What is the most valuable lesson you have learned as a player?
As a player I have learned to love the game. I have learned that it is not always about winning or losing, it is about putting 100% into each training session and each game as a team and seeing the rewards from putting the work in.
---
What is the most valuable lesson you have learned as a referee?
I have learned that referees are a very important aspect of the game. I have learned that us referees are only human and we will not make every single call correctly and that is okay once we learn from our errors. I know now as a player that refereeing is not an easy job and every referee deserves respect, referees are on the court just like the players and coaches because they love the game of basketball.
If you know referee who deserves to be recognised in this series, please send their details to Jenny at jkelly@basketballireland.ie
See below upcoming webinars that will be hosted by Basketball Ireland National Referee instructor, Paul Dempsey. To register, email paul.saxafone1@gmail.com.
-Tuesday, 17th November at 7pm: WNBA FIBA Referee and Tutor from America, Amy Bonner discussing video breakdown and self-evaluation.
-Tuesday, 24th November at 7pm: FIBA Referee and Tutor from Portugal, Sonia Teixeira. Topic to be confirmed ahead of the 24th November.
Basketball Ireland have a homepage for your refereeing education and development requirements. This page contains all relevant FIBA documents along with training videos and additional material supplied by Basketball Ireland FIBA National Referee Instructor, Paul Dempsey to aid your development/education. Click here to view the page.