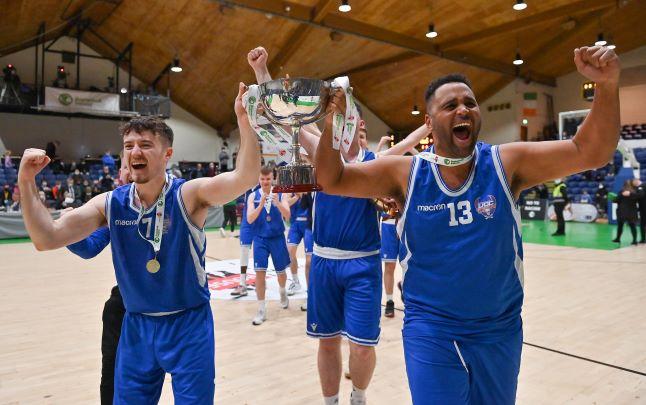 Jan 22 2022
UCC Demons defeat Drogheda Wolves 83-64 to win the InsureMyHouse.ie Presidents' Cup Final
UCC Demons are the InsureMyHouse.ie Presidents' Cup champions, defeating Drogheda Wolves 83-64 at the National Basketball Arena on Saturday. David Lehane was awarded the MVP after top scoring on 24 points, including 11 of his 12 free throws, along with seven rebounds. Tobias Christensen also impressed with a 21 point haul.
Drogheda Wolves started well, consecutive threes from Padraig McGroggin and Adam Mullally gave them a 13-4 lead four minutes in. With two and a half minutes to go Christensen drove to the basket for a layup and drew a foul in the process and UCC Demons trailed 19-18 after he'd added the extra from the three throw line. A big three from Tiago Dos Santos Pereira made it 22-19 to Drogheda Wolves with 1'40 to go in the quarter. A couple of free throws from Lehane and it was one point game going into the last minute, before Christensen's layup in the final seconds nudged Demons in front, 23-22, he'd notched up 13 points in the opening quarter.
UCC Demons were 32-24 up two and a half minutes into second, following a three from the side by Lehane, the ten point run from Demons prompted a timeout from Drogheda Wolves. Kevin Moynihan made it a 10 point game from under the basket four minutes into the quarter. Jack O'Leary added a layup, another three from Lehane and it was 39-24 to UCC Demons. Guilherme Alves Vilela's free throw and a three by Adam Mullally, who finished the game with 17 points, snapped that scoring sequence and Drogheda Wolves trailed 39-28 midway through the quarter. By half-time that deficit was just six, 41-35.
Mullally's basket in the second minute of the third quarter made it a four point game, 41-37.
A big three by Stevan Manojovic in the fourth minute of the quarter stretched UCC Demon's advantage to 44-37 and it was the same player who had the last say in the quarter landing another three pointer with 17 seconds left to put the score at 67-45 going into the fourth.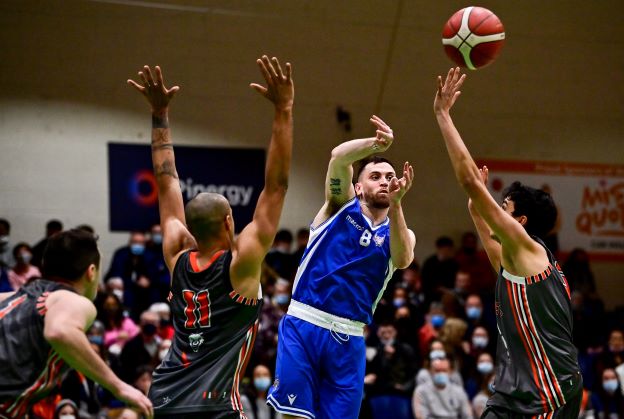 Christiansen's three in the opening minute of the fourth quarter saw Demons establish a 25 point lead, 70-45. A three by Kevin Moynihan made it 73-51 in the third minute and it was followed shortly afterwards by a lovely one handed basket by Tala Fam Thiam, who lit up the second half, scoring all of his 13 points in the last two quarters. Ryan Murphy's three at the midpoint was UCC Demon's last score, their lead 83-59 at that stage. Drogheda Wolves kept plugging away, but could only manage to score five more points, as UCC Demons ran out 19 point winners, 83-64.
Speaking afterwards MVP David Lehane said: "It's an unbelievable feeling, we went back training as soon as we were allowed by the government with the restrictions, we got a good group together and to be honest it has been a long season, very tough, taking it game-by-game and we're undefeated so far and to be honest coming into today we really wanted to keep that going – no one wants to lose a Cup final, particularly when you are undefeated. Drogheda Wolves started off quickly and has us back on our heels and we had to respond and we did, we got the job done and obviously couldn't be prouder of the team, it was a great win."
Head coach Daniel O'Mahony added: "I took this Demons team two years ago, we got to the U20 National League semi-final, it didn't go ahead and there was no Cup, and the core group, the likes of Tala, Dave Lehane, Cian Looney, Moynihan, Seamus, a lot of those guys I've had for nearly three years, this is our third season, and they've never gotten to play at that national level because of COVID.
"When we went back training in pods, one per basket on June 17th, that was the goal, get to the Cup final. We treat every single league game like it's a Cup final. Win, move on, win, move on. And we never take anyone for granted, Drogheda are a hell of a team, they've really impressed over the last couple of weeks, went on a winning record and came good at the right time, but in fairness the guys adjusted, they followed the instruction and we got the job done.
"I was really proud of Dave (Lehane), Coming into the season we were expecting big things of him. The last couple of weeks the couple of shots weren't dropping, he was still playing excellent defence, but for such a prolific scorer for the last couple of years at under 20 level, you know, we knew he could do it, he just wasn't knocking in the shots. Last night we actually ran a shooting competition over in Coláiste Éanna, and he won it, and we said that probably gave him the confidence then to go on and take the extra shots today. So yeah really proud of him."
Top scorers:
Drogheda Wolves – Adam Mullally (17), Lucas Walford (14), Padraig McGroggin (8)
UCC Demons – David Lehane (24), Tobias Christensen (21), Tala Fam Thiam (13)
Rosters:
Drogheda Wolves: Denzel Eboze (0), Ciaran McGroggin (0), Kevin O'Hanlon (4), Padraig McGroggin (8), Steven Safo (5), Adam Mullally (17), Guilherme Alves Vilela (7), Cian Crowley (20), Jubril Alade (2), Max Tyndall (0), Tiago Dos Santos Pereira (5), Lucas Walford (14).
UCC Demons: Jack O'Leary (2), Stevan Manojlovic (9), Seamus Carney (0), Ryan Murphy (5), Kyle Hosford (4), Tobias Christensen (21), David Lehane (24), Tala Fam Thiam (13), Matthew McCarthy (0), Cian Looney (0), Conor Ryan (0), Kevin Moynihan (5).