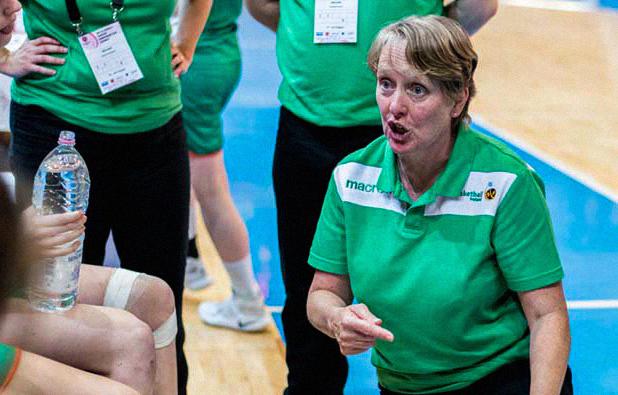 Mar 11 2022
The Big Interview Women In Sport Series - Maeve Coleman
As part of Women In Sport Week 2022, we caught up with Irish basketball legend Maeve Coleman to discuss her career, from coaching, aspirations for Drogheda Wolves to her own playing days.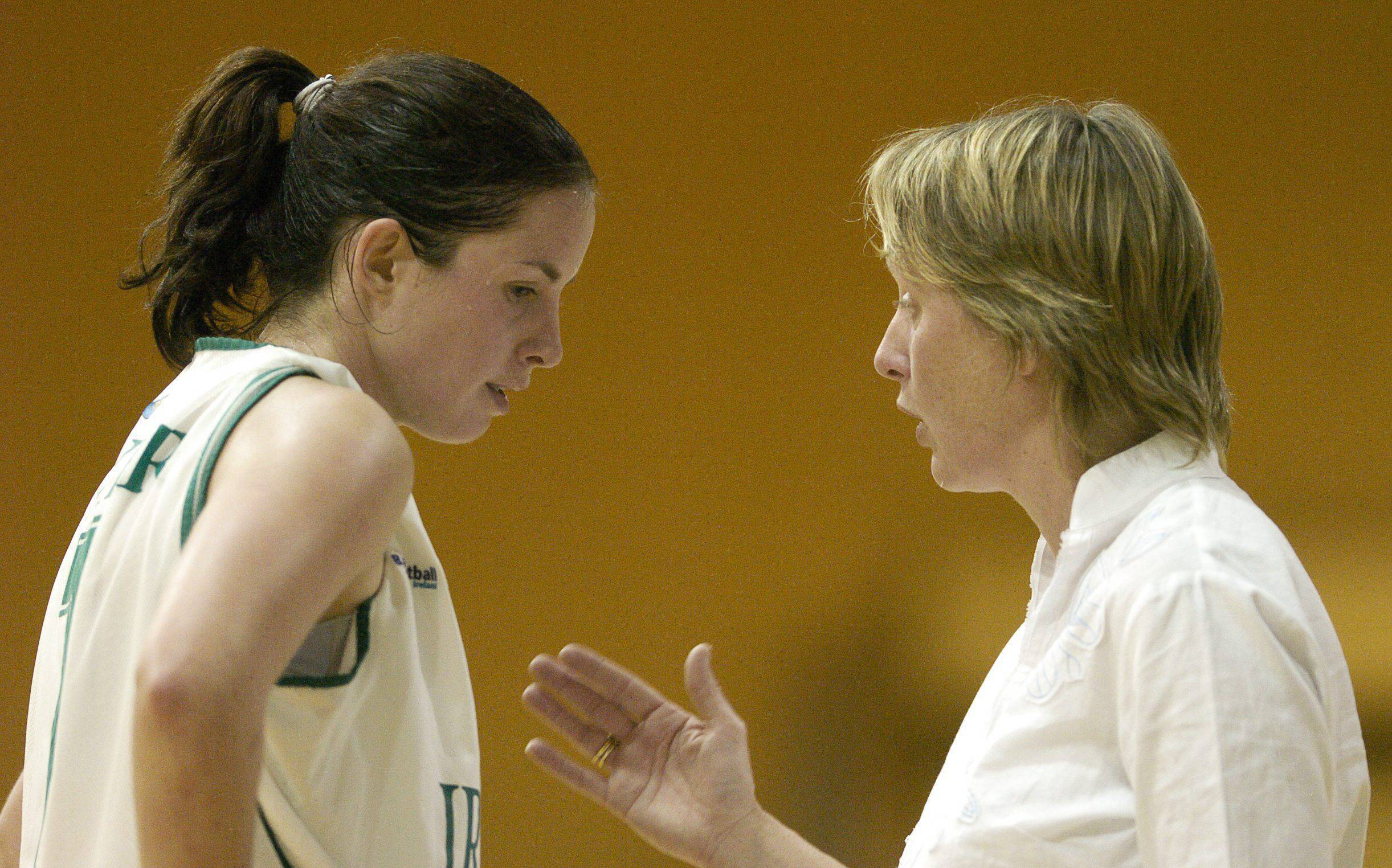 Maeve Coleman sharing some wisdom in a 2006 European Championship game against Holland.
Q: Maeve, you've had a long involvement in basketball, where did you start playing, was it schools or clubs and tell us about your playing career?
The first time I touched a basketball was in first year in secondary school. It was on outdoor courts no matter what the weather was, wearing fingerless gloves to keep warm. When I was 15/16, I moved to join Whitehall Basketball Clubs and played for a couple of years with them. I went to Dungarvan for over three years and in the last year met two girls from Marian BC who asked me and another girl to join. We travelled to Blackrock a couple times a week to train and I got to play with the most wonderful players such as Ann O Dea, Pauline Meany, and against equally wonderful players like Eilis Ni Laoire, June Blount, Caroline Ford.
Q: You've moved into coaching, why did you do so? What was the driving force?
When in Marian BC, I coached the U19 boys team and I took to it straight away. I completed my first coaching badge with Larry O'Reilly and kept coaching. I was involved with Tolka Rovers and coached a variety of teams including U15 boys, I also coached Dublin Men's teams in the Inter Area Boards and then Mid-Sutton Men's team. I don't mind who I coach, once I get full commitment from them.
Q: You've coached in the National League with Tolka Rovers, Killester and Meteors, would stepping back into National League coaching appeal again at some stage?
I have been lucky enough to be asked twice over the last few years about returning to National League, but I felt It wasn't the right time for me with my commitments to my own club and I also felt I had been out of the league for a long time. I have fabulous memories of the girls I coached in all three clubs and the success we all had.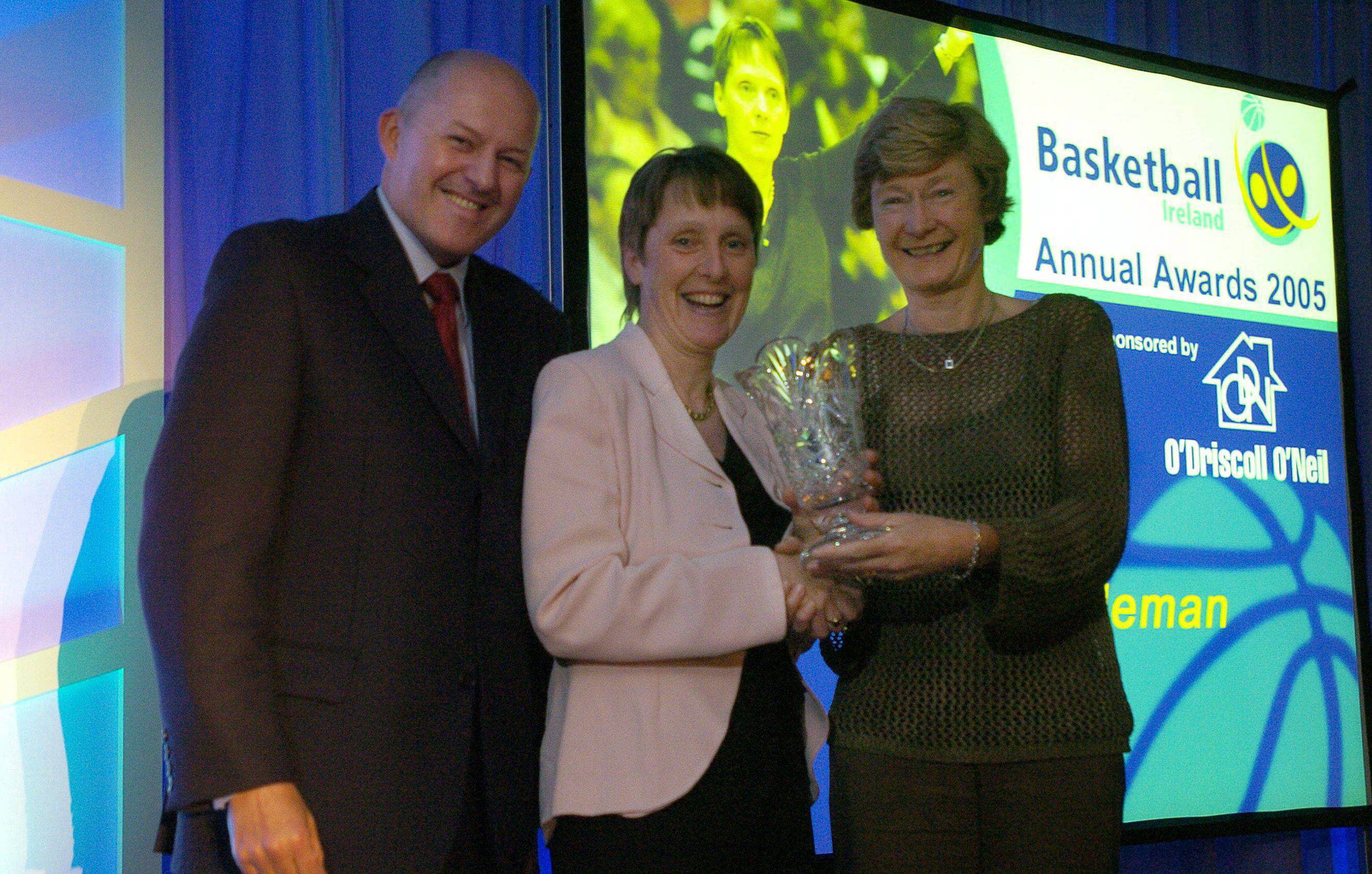 Coleman receiving the Senior Coach of the Year in 2005.
Q: As a coach, what do you think are the things that we could do more to keep girls and women involved in basketball and sport in general?
Our own club has started an initiative called 'Future Five' where we are putting plans in place to develop our girls in the club, and hopefully plan to enter the National League with them in a few years. Our club, Drogheda Wolves is made up of Drogheda Sparks BC and Bullets Basketball Club, and one of the main reasons for this was to get the young people together and to develop a social outlet for our teenage boys and girls. Retention is a big part of our club philosophy and development is the key.
Q: You've coached internationally, at underage at U16 and U20 along with the Irish senior women – is there a common trait among players that propels them to international honours, apart from the obvious on-court ability?
Commitment from both the players and the parents is key. As a coach, you're asking the parents to travel the length and breadth of the country and the players are being asked to work on their own S&C, nutrition and psychology when they are at home on their own. I always remember having training sessions after a month apart and it was very obvious who had been doing the workouts and who didn't. It made my job easier when it came to picking my final 12's on each team as I sought these skills alongside their basketball skills.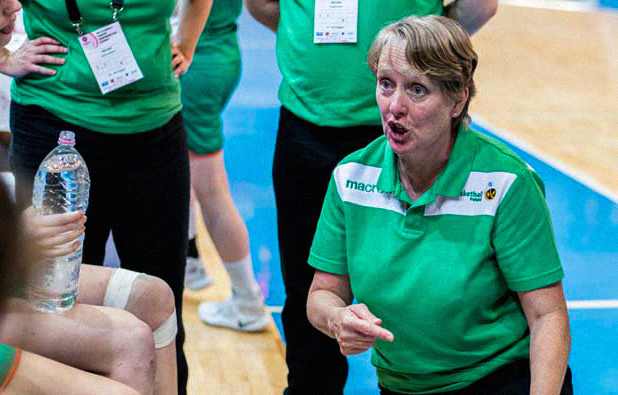 International mode. Coleman coaching the Irish international team.
Q: You've been heavily involved with the set-up of Drogheda Wolves, how did that come about?
I have lived in Drogheda for 20 years, and have three sons who play basketball. I have been part of Bullets BC since 2001 and we developed from a small group into a large club, and we were lucky enough to play in the Dublin Leagues which is an amazing standard of basketball. Three years ago, we broached Drogheda Sparks with a view to us joining up and creating a new club and a new brand, Drogheda Wolves. We then developed a strategic plan and it has gone from there. We have 450 signed up members and we use 5 gyms in the town for training slots.
Q: As one of the leading figures in setting up the club and it's move to the National League, what were the challenges you faced?
We had tried two years before this season to join the National League, but we were not in the position financially. We have a fabulous National League committee who run the show and nearly all of them were new to this level of the game, so credit must go to them for all their work. This committee is supported by the Executive committee in Wolves who run the rest of the club. We have wonderful volunteers who give of their time freely.
Q: How important is it to have female figureheads in leadership roles at clubs and in the sport in general?
Last week, I watched Erin Bracken coach her team against our National League team. Before this game, we had a coaches meeting and we have 15 TY students who coach in the club, and we encouraged them to watch Erin coach, to realise that we can all coach at all levels.
Our club is definitely female dominant in the committee, volunteers roles and again we are all role models to our younger members. I am back coaching U11 girls and I am trying to pass on my passion for the game to them and their parents.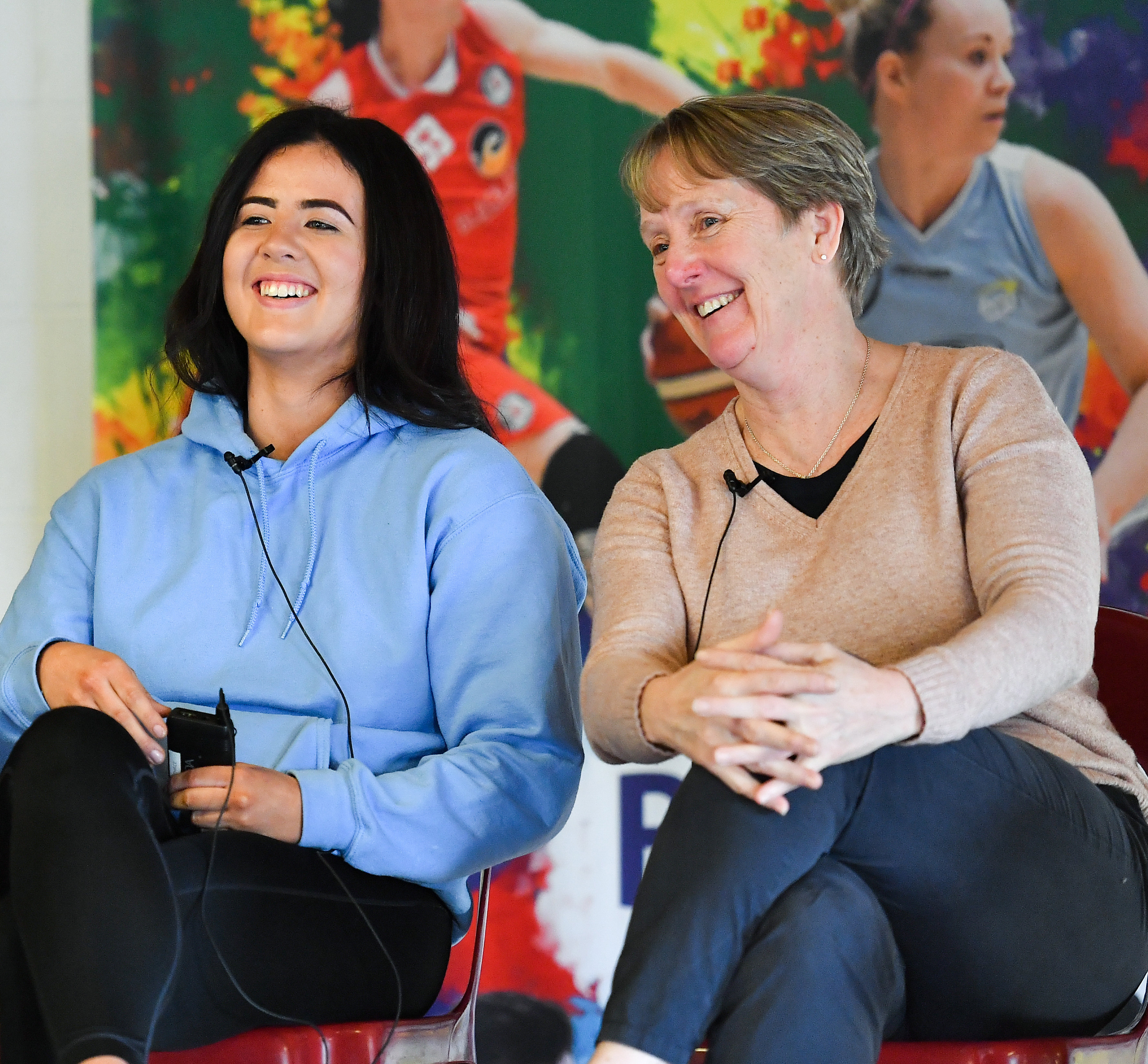 Erin Bracken & Maeve Coleman enjoying the moment at the 2019 coaching forum.
Q: The club reached the President's Cup final and are in the InsureMyVan.ie Division 1 playoffs – how much did that exceed expectations in your debut year?
We had hoped in year one, that we would win three or four games and stay up. We saw year one as a development year, but we have certainly passed our expectations and a lot of the credit needs to go to our coaching team of Gavin Garland and Noel Kierans who are ably supported by the rest of the club. We have four wonderful pros, who have brought their warmth and personality to the club and have embedded themselves in coaching U12, U18, U16 and Academy. The kids love them and come to watch their home games on Saturday evenings.
Q: And finally, is there a plan to have a senior women's team competing in the National League?
As I said in the beginning, it's on the cards and we are in preparation/development for this. Our aim is 24/25 season and we hope to achieve this.
---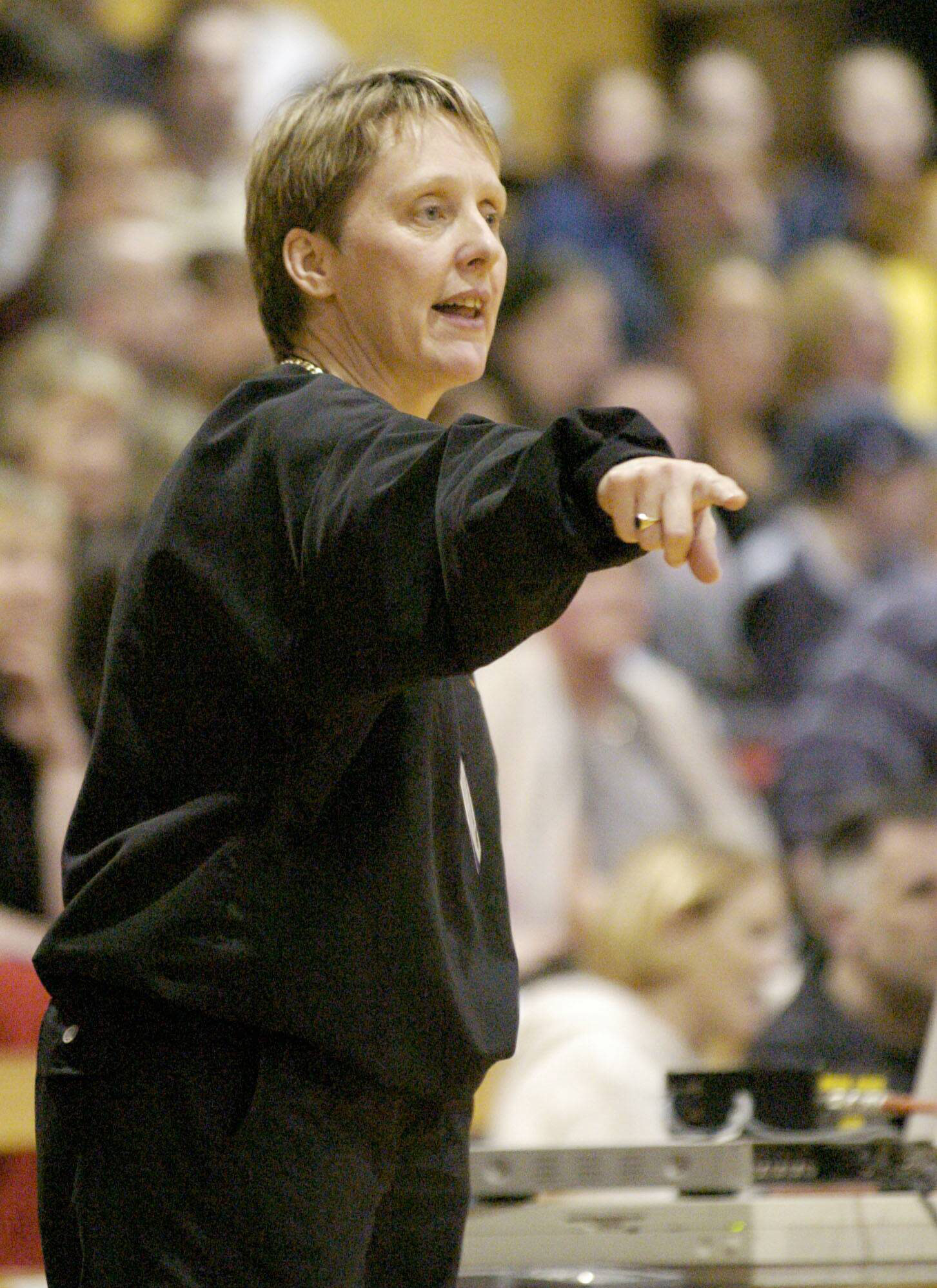 Coleman coaching her Killester side in a 2004 National Cup semi-final