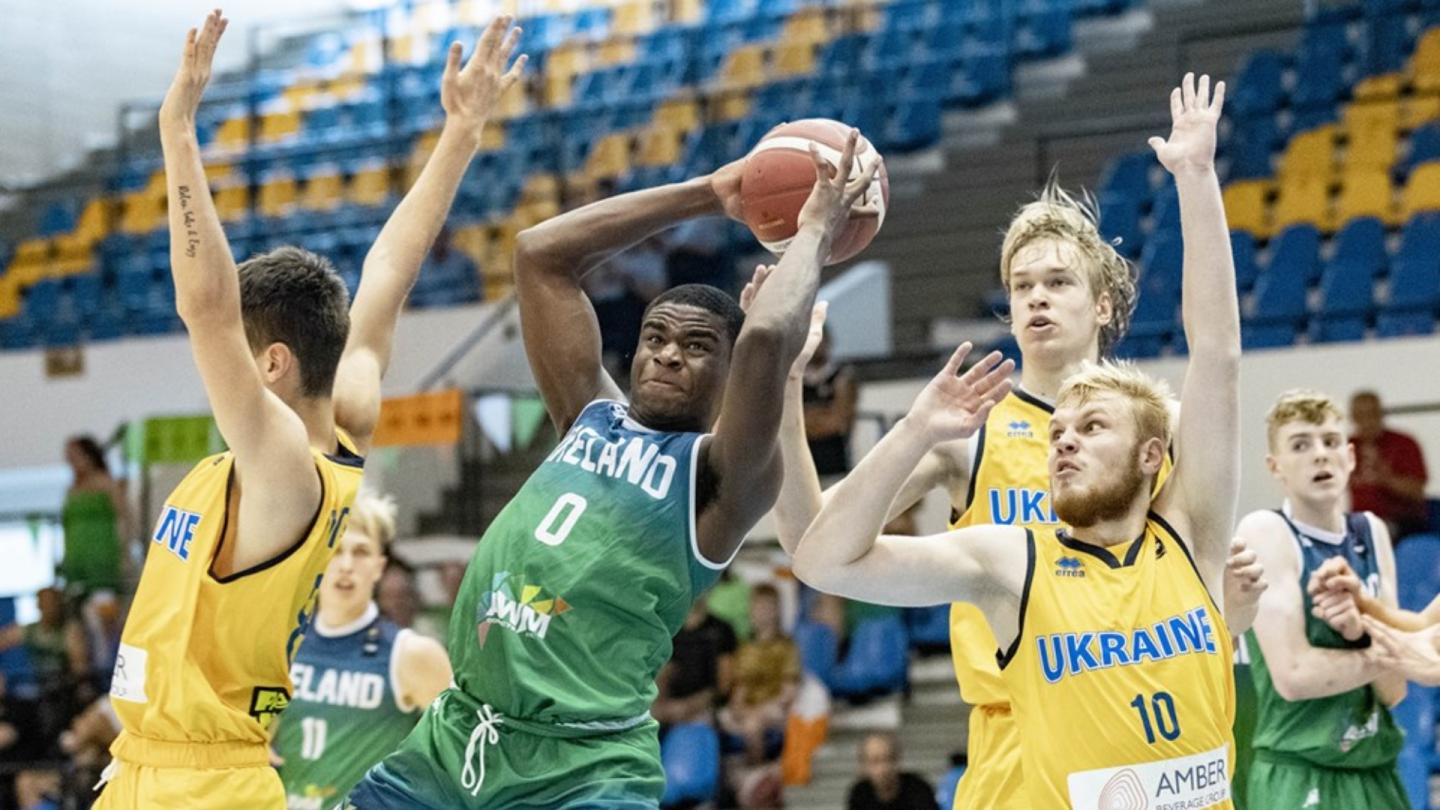 Aug 02 2022
Ireland have 'a lot to work on defensively' following Ukrainian defeat, says Kelleher
Ireland U18 men have fallen to a third-successive defeat at the FIBA European Championship, after a disappointing final quarter performance against Ukraine saw them beaten 102-65.
Paul Kelleher's side entered the fourth trailing the Ukrainians by just 8-points but were outscored 36-7 in the final 10-minutes to give the score a lobsided feel. That's despite the teams being evenly matched throughout. Garvey's Tralee Warriors Aivaras Uosis showed sustained glimpses of his potential to amass 18-points and 5-rebounds, coming up big for his team in both the second and third quarters.
The game ebbed and flowed tremendously despite the final score, as a chess match developed on the sideline. Ireland led for much of the first before a strong finish from the Ukrainian shooters, including a buzzer beating shot from thirty feet, allowed the team in yellow to take a narrow advantage into the second. Uosis came into his own over the next period, aided by Joseph Badejo and Brendan Douanla, who all drained pressure shots to keep Ireland in touch throughout the half. The second quarter culminated similarly to the first, Ukraine hitting a last second shot to give them a narrow advantage at the interval, 42-40.
Ukraine continued to make adjustments as the team emerged for the second half and the third quarter played out in an eerily similar fashion to the two previous. Anthony Ezeonu made a layup to leave two points between the teams with a minute to go in the third, but from there on Ireland were unable to match their opponents. Ukraine went on to hit two shots in the final 60-seconds, before a clinical final quarter allowed them to establish a significant margin by the game's conclusion.
---
Ireland's Top Scorers:
Aivaras Uosis (18pts), Joseph Badejo (9pts), Anthony Ezeonu (9pts).
FIBA U18 Men's European Championship Result:
Ireland 65-102 Ukraine
FIBA U18 Men's European Championship Fixture:
Ireland v Denmark, Bucov, Romania, Wednesday August 3rd, 4pm.