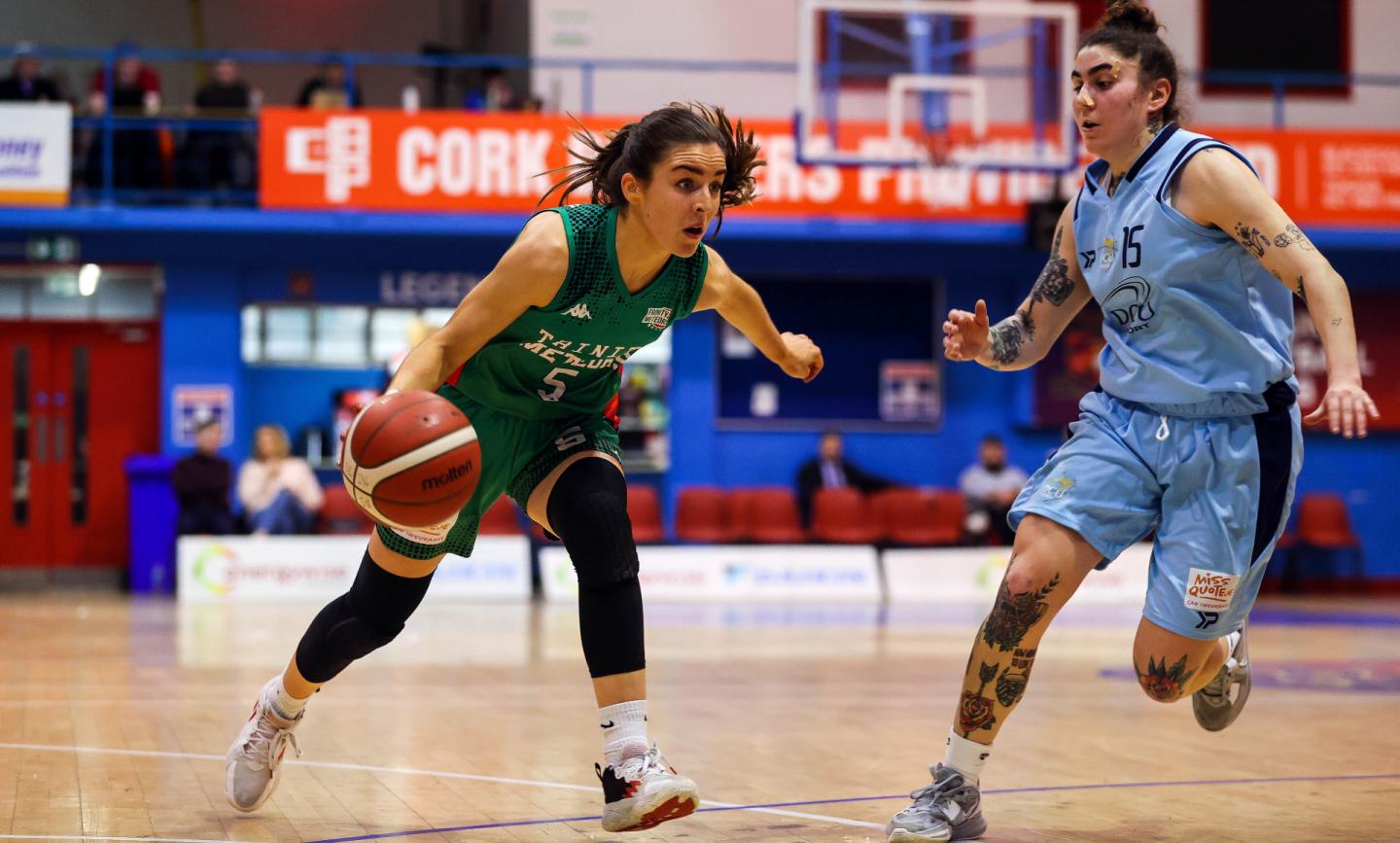 Jan 07 2023
Impressive Trinity Meteors get past DCU Mercy to reach InsureMyHouse.ie Paudie O'Connor Cup final
Trinity Meteors will play Killester in the InsureMyHouse.ie Paudie O'Connor Cup final, after a dominant 82-60 win over DCU Mercy at Neptune Stadium, helped by a 24-point and 13-rebound performance from Ireland international Dayna Finn. Trinity Meteors, who've started the league season with a 9-1 record, continued their impressive form at Neptune Stadium against their Dublin rivals, who were looking to reach their second Cup final in a row.
It was an even opening quarter, which saw the sides level pegging at 17 points apiece. Meteors, looking to win their first Paudie O'Connor Cup title since 1996, upped the tempo in the second, Claire Melia scored eight points in the quarter, while Celena Taborn had nine points, to help drive them to an 11 point lead by the break 39-28. DCU Mercy's American's Tyra Johnson and Lindsey Abed headed their offence, with 11 and 7 points respectively by the break.
Next to step up for Trinity Meteors was Finn, she started the second half brilliantly, a three point jump shot 90 seconds in, was followed up with three more layups, to stretch the Meteors lead to 18 points, 50-32. Celena Taborn closed out the quarter, when she was first to the rebound with a second to go, to make it 62-45.
DCU Mercy needed a fast start to the fourth quarter to give themselves a chance, however when Sarah Kenny landed a lovely three point jump shot from the corner to make it 67-49, a little over two minutes into the fourth, it looked ominous for Mark Ingle's side. Melia once again delivered a virtuoso performance in Meteors' victory, she closed out with 19 points, 12 rebounds and 13 assists.
"I couldn't be happier after that performance from our girls, they really played like a team for the full 40 minutes. DCU play great team basketball and we knew we'd have to play together to give us a chance at winning the game. Delighted we were able to do that and very excited to be in a National Cup final." - Niall Berry, Trinity Meteors head coach
The Paudie O'Connor Cup final will be played on Sunday 22nd January at the National Basketball Arena and will be live on TG4 and basketballireland.tv.
Quarter Scores:
Q1: 17-17 , Q2: 28-39 Q3: 45-62, Q4: 60-82
DCU Mercy:
Megan Connolly, Ciara Mulligan, Rachel Huijsdens, Maeve Phelan, Micaiah Fubara, Nicole Clancy, Maria Clavijo, Hannah Thornton (c), Lindsey Abed, Tyra Johnson
Head coach: Mark Ingle
Top Scorers: Lindsey Abed (16), Tyra Johnson (15), Rachel Huijsdens (12), Hannah Thornton (4), Maria Clavijo (3)
Trinity Meteors:
Dayna Finn, Sinead Keane, Sarah Kenny, Rebecca Hynes, Lisa Blaney, Aisling Marmion, Eva Moloney, Claire Melia, Saoirse Clarges, Mireia Riera Serda, Celena Taborn, Rebecca O'Keeffe (c), Niamh Kenny
Head coach: Niall Berry
Top Scorers: Dayna Finn (24), Celena Taborn (20), Claire Melia (19), Sarah Kenny (13), Mireia Riera Serda (6)