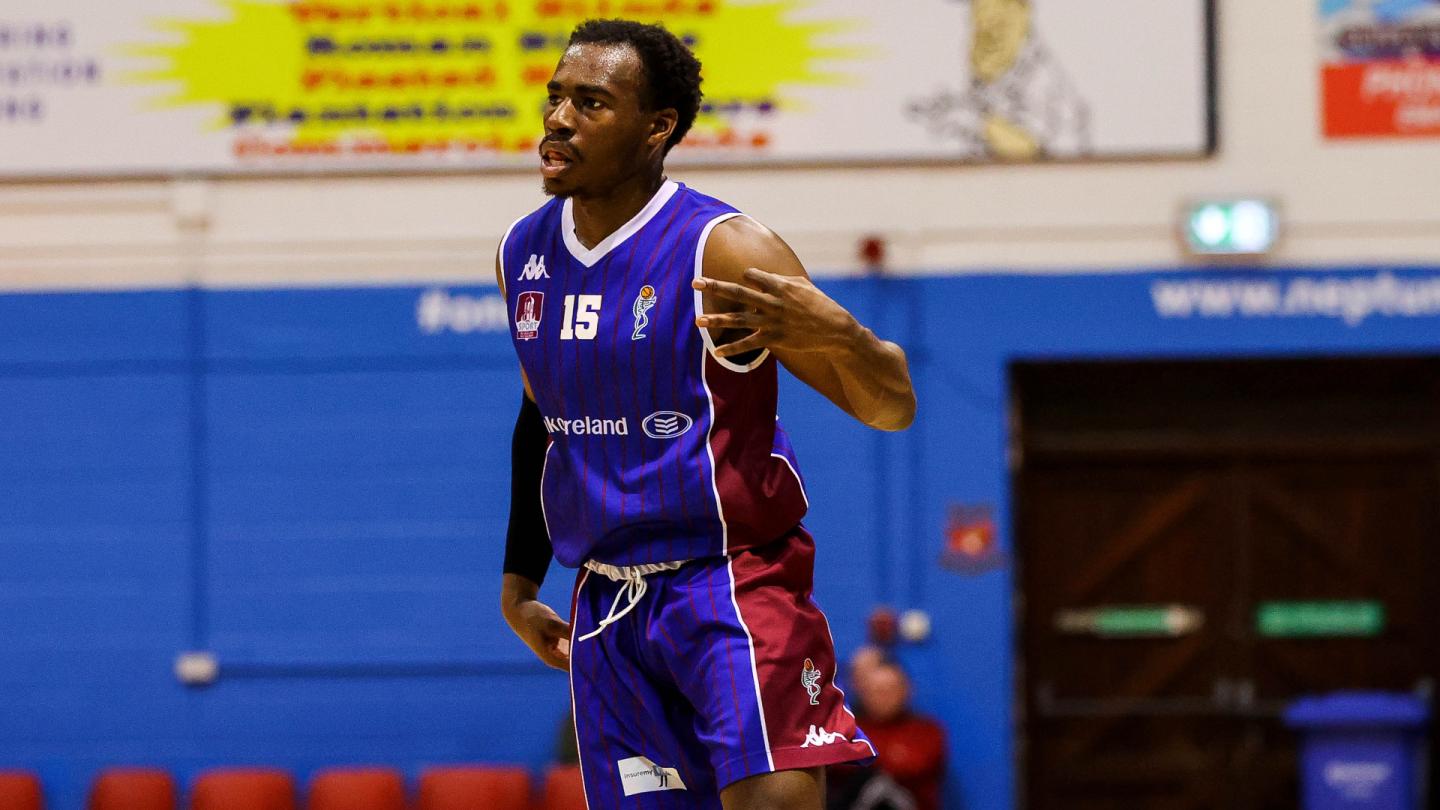 Jan 07 2023
University of Galway Maree reach first InsureMyHouse.ie Pat Duffy Cup final
University of Galway Maree are into their first ever InsureMyHouse.ie Pat Duffy Cup final following a 86-68 win over Bright St. Vincent's at Neptune Stadium. Jarett Haines notched up 28 points, three rebounds and five assists in their victory, while captain Eoin Rockall also shone, with nine points, eight rebounds and eight assists.
Bright St. Vincent's were without the influential Stefan Zecevic, who picked up an ankle injury earlier this week, and his absence was solely felt by the Dublin club, who were featuring in a Cup semi-final for the first time in 17 years. University of Galway Maree raced to a 29-16 lead by the end of the quarter, Haines proving hard to contain landing 14 points in the opening 10 minutes.
Bright St. Vincent's needed a response, and Giorgi Tvalabeishvili led that, he shot 15 points in the second quarter, but University of Galway increased their lead to 19 points by half-time, 53-34, Haines was on 19 points, while Rodrigo Gomez had 13 points and nine rebounds.
Donovan Fields who scored 70 points en-route to reaching the last four, got into his flow in the third, his shotclock beating jump shot from reduced the deficit to 60-40 in the fourth minute of the third, he had 11 points in the third quarter. But it was the Haines show, he landed a three with a little over a minute to go in the third to bring his personal tally to 28, extending University of Galway's advantage to 71-54.
There was to be no dramatic comeback from Josko Srzic's side and University of Galway Maree kept the scoreboard ticking over win by 18 points.
"Delighted to get the win versus Vincent's. We had a good start and that set the tone for the match. Credit to Vincent's nothing was easy out there for us. We've a game against Killester next week and all attention is turned to that." - Charlie Crowley, University of Galway Maree head coach
The Pat Duffy Cup final will be played on Saturday 21st January at the National Basketball Arena and will be live on TG4 and basketballireland.tv.
University of Galway Maree 86-68 Bright St. Vincent's
Quarter Scores:
Q1: 29-16 , Q2: 53-34 Q3: 71-54, Q4: 86-68
University of Galway Maree:
Cathal Finn, John Burke, Stephen Commins, Eoin Rockall, Ben Burke, Zach Light, Matthew Sweeney, Garry Fernan, Rodrigo Gomez, Jarett Haines, Zvonimiir Cutuk, Paul Freeman
Head coach: Charlie Crowley
Top Scorers: Jarett Haines (28), Stephen Commins (15), Rodrigo Gomez (13), Eoin Rockall (9), Zvonimiir Cutuk (8)
Bright St. Vincent's:
Donovan Fields, Jake Verschoyle, Charlie Coombes, Jordan Bakeban Nsimba, Donal Monaghan, Alex Devitt, Stefan Zecevic, Martin Neary, Alin Costache, Robert Graham, Paul Ryan, Giorgi Tvalabeishvili
Head coach: Josko Srzic
Top Scorers: Giorgi Tvalabeishvili (21), Donovan Fields (18), Charlie Coombes (13), Robert Graham (8), Donal Monaghan (5)