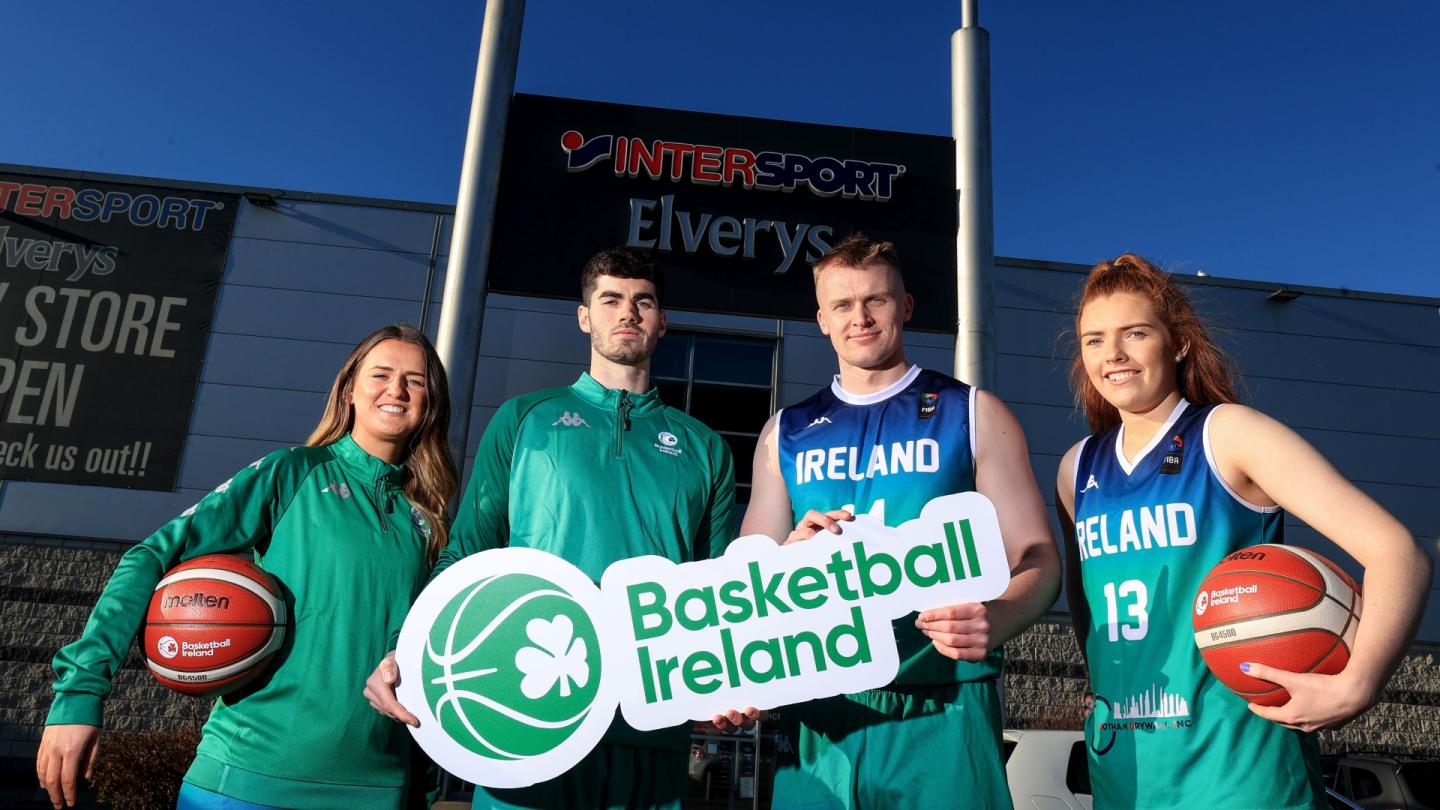 Jan 25 2023
Basketball Ireland and Intersport Elverys formally launch retail partnership
Basketball Ireland and Intersport Elverys formally launched their official retail partnership on Wednesday, with news that Irish replica kit and the official Molten balls are now available to purchase online and in-store, in selected outlets nationwide.
Philip Staunton, Head Buyer confirmed: "We are now stocking the official Molten ball used for all levels and a range of Basketball Ireland-branded balls in the coming months. For the first time we will be stocking the official Kappa national team kit in selected stores and they will also be available online."
Speaking at the launch, Ireland men's captain John Carroll welcomed the news that Ireland replica jerseys are available to purchase: "Yeah it is good, so many people before were asking where they get the jersey's before, so it's good that I don't have to part with my jerseys now, they can go and get their own! It's good for the sport, there's been huge demand."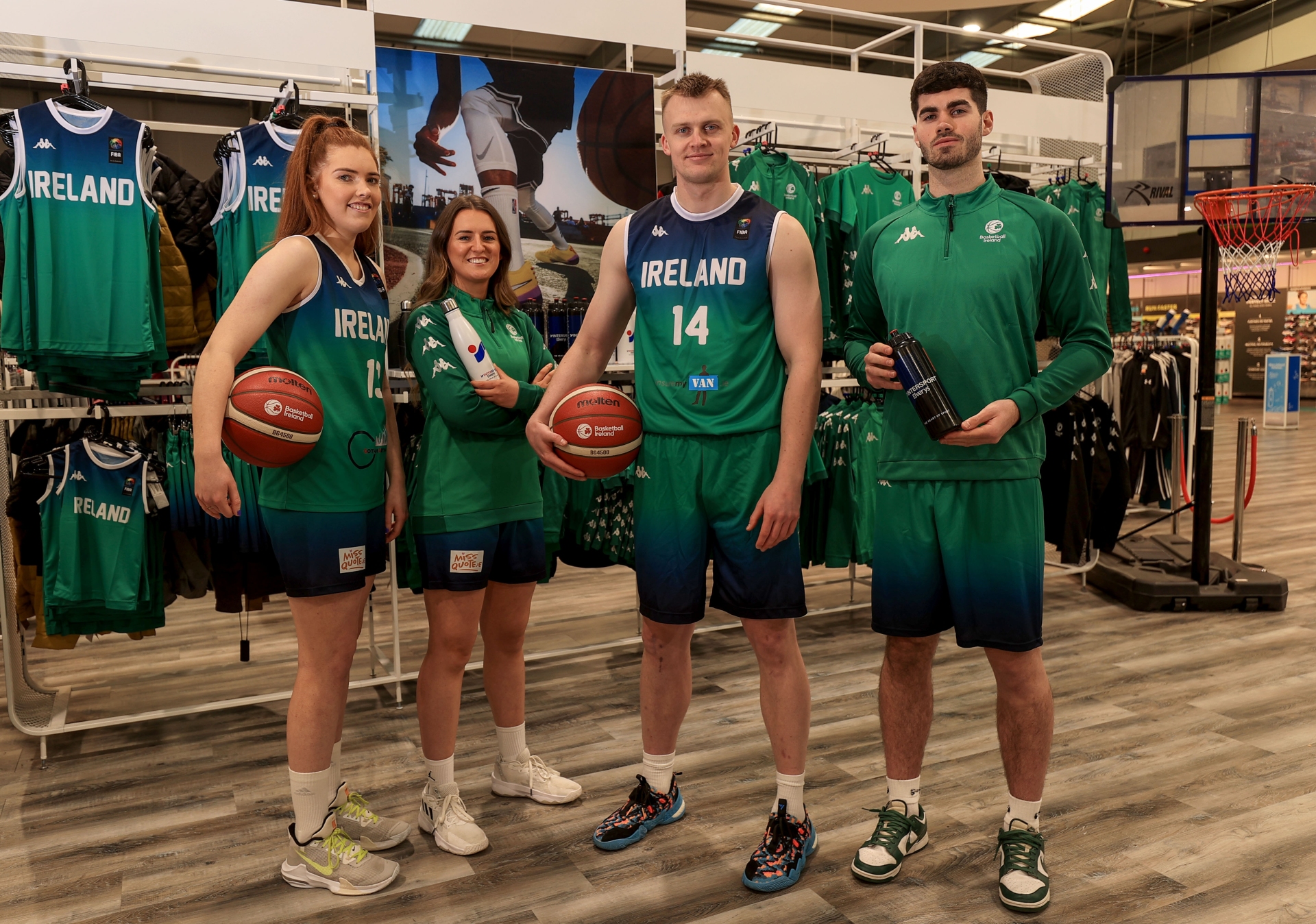 Claire Melia, Michelle Clarke, John Carroll and Matt Treacy at Intersport Elverys in Fonthill, Dublin for the formal launch of the retail partnership between Basketball Ireland and Intersport Elverys 
Intersport Elverys and Basketball Ireland's retail partnership has been a huge success since it began in October, with the on-court uniform and off-court gear for adults and children proving to be hugely popular.
Bruce Wood, Basketball Ireland Head of Commercial and Brand, added: "Having the official Molten balls and the Ireland kit from Kappa available to purchase is the latest step in our partnership. Demand has been huge from the basketball and wider sporting audience for this, as has been proven over the last number of months since we joined forces with Intersport Elverys, with the products flying off the shelves and we're excited to be bringing in official Basketball Ireland-branded balls soon too."
Anne-Marie Hanly, Intersport Elverys Senior Marketing Manager, added: "There are huge numbers playing the sport around the country, with a 50/50% gender split when it comes to participation and engagement in basketball. We are emersed in performance and authenticity in sport, so this partnership is an ideal fit for us.
"We will work with Basketball Ireland throughout the year to help grow the Basketball Ireland brand and to deliver an even better experience to the growing community of both players and fans."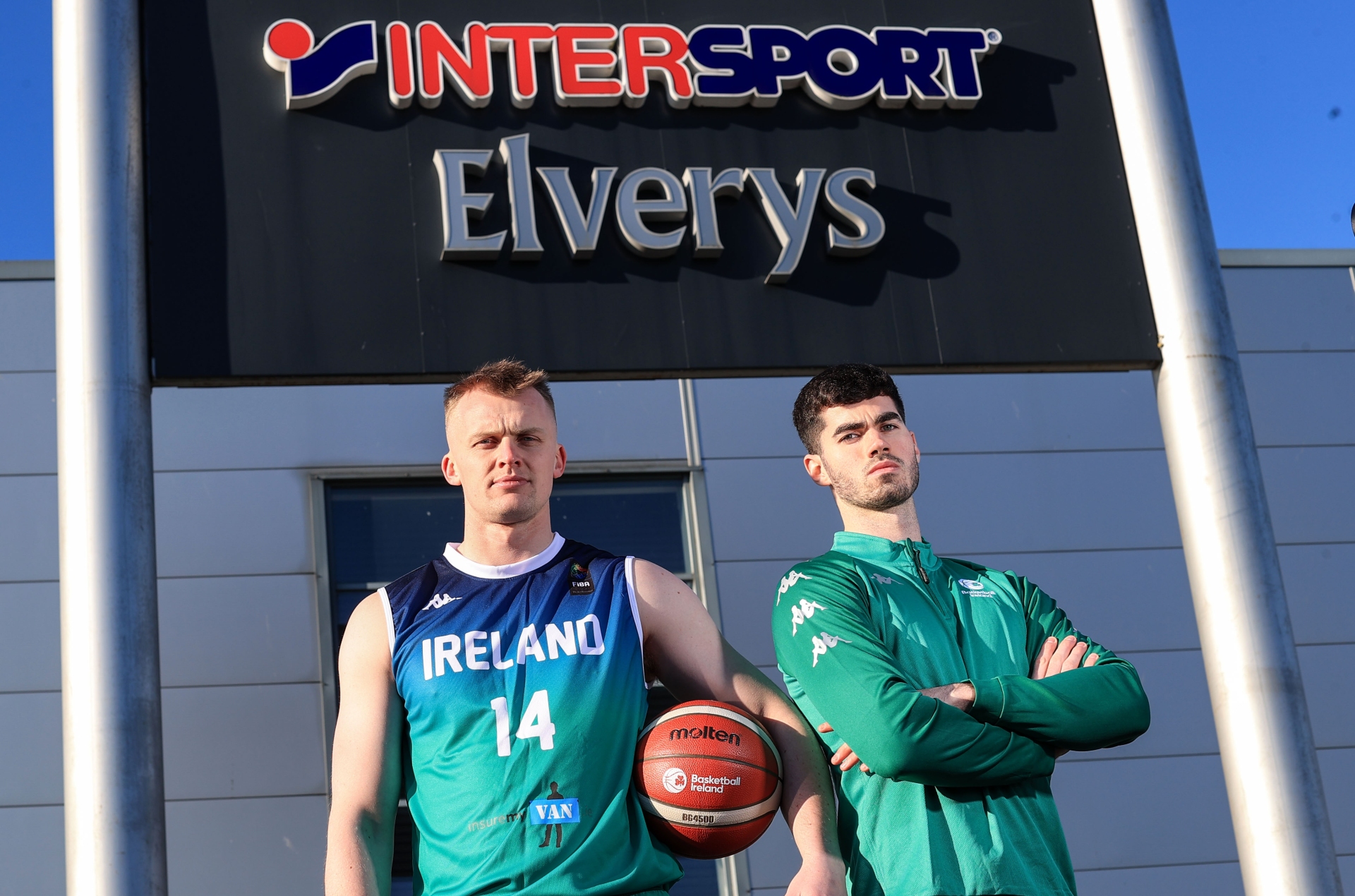 John Feehan, Basketball Ireland CEO, said: "Our partnership with Intersport Elverys has been a great success and is another example of the visibility of our sport growing massively. Our playing population has increased 48% in the last five years and the popularity of the sport is showcased by the fact that our recent internationals have been sold out, along with huge numbers attending this month's InsureMyHouse.ie National Cup semi-finals and finals. Basketball in Ireland is on the rise and it's wonderful to have Ireland's leading sports retailer, Intersport Elverys, on board as part of this journey."
View this post on Instagram
Ireland international Michelle Clarke, who also took part in the launch, added: "It's great to have Intersport Elverys as a one-stop shop for all things basketball. I have had so many people asking about where they can get their hands on Basketball Ireland kit and it's great to see it now in store. There is a real buzz about the sport, I was lucky enough captain Killester to the InsureMyHouse.ie Paudie O'Connor Cup success last weekend and seeing a packed and vibrant National Basketball Arena was amazing. This retail partnership is another illustration of the growth and excitement around our game."
Intersport Elverys will also stock scorebooks for clubs, which will be available online and also in some stores.