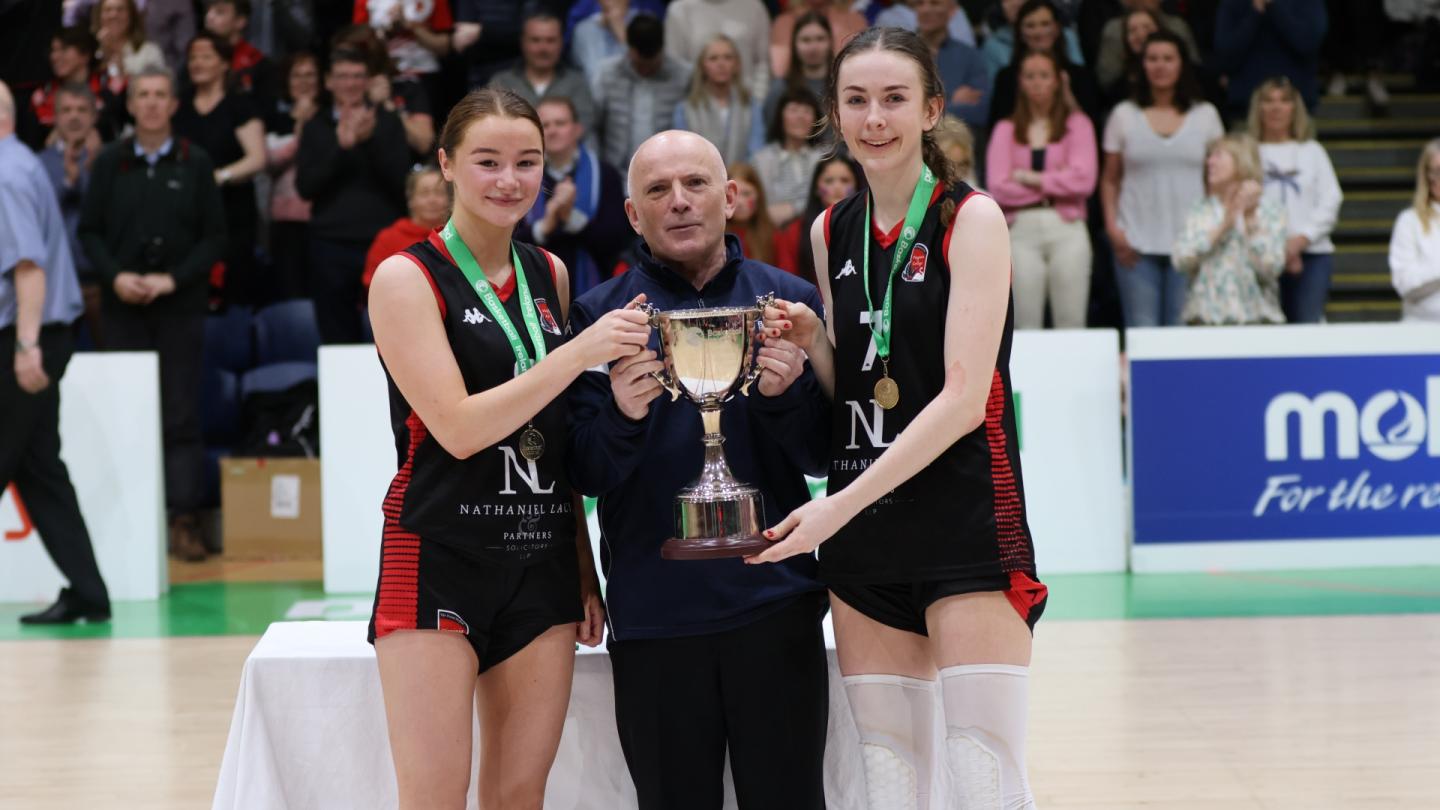 Feb 24 2023
Virginia College Cavan beat Mount Sackville to win U19 'A' Girls All-Ireland Schools League
Virginia College Cavan are the U19 'A' Girls All-Ireland Schools League champions after a dominant 50-27 win over Mount Sackville at the National Basketball Arena.
Sisters Emma and Niamh Tolan put on a clinic on both ends of the floor, amassing 32 points between them, adding to a strong a strong rebounding performance that Mount Sackville couldn't come to terms with. The Dublin school dug in well in the third quarter, but Viriginia College put the game beyond doubt with an early flurry of points in the final quarter.
Mount Sackville were the first to register points, Elise Reilly finding herself on the end of a well worked set to a rapturous reception from a packed National Basketball Arena. Reilly would top score for her school with 9 points at the close of play. It didn't take the Cavan school long to reply though, Niamh Tolan and Ciara Brady notching four of the next five baskets to establish an early 11-6 advantage at the close of the quarter.
Both teams played hard defence in the second, which made scoring hard to come by. Niamh Sherlock hit Mount Sackville's only points with a free-throw, while Katie Noble showed her shooting prowess for Virginia College, her 5 points capped with a fine effort from range to leave it 19-7 at the half.
With their coaches' words ringing in their ears and roared on by a capacity crowd, the sides played without fear in the second half. Niamh Fallon, Niamh Sherlock and Freya Reilly clawed back some momentum with early baskets for Mount Sackville, only for the energetic Emma and Niamh Tolan to reply with three of their own. Viriginia College were able to keep their opponents at arm's length for the remainder of the period, matching score for score to extend their lead to 32-19 entering the final quarter.
Elise Reilly reduced the gap to 10 points with a three-point dime almost immediately as played resumed, but Virginia College swiftly reasserted control through Katie Noble and Brady jumpers which proved to be the final blow to Mount Sackville's challenge.
Niamh Tolan picked up the MVP Golden Ball with 20-points.
---
Quarter Scores:
Q1: 11-6
Q2: 8-1
Q3: 13-12
Q4: 18-8
---
Top Scorers:
Virginia College Cavan: Niamh Tolan (20), Emma Tolan (12), Ciara Brady (8)
Mount Sackville: Elise Reilly (9), Niamh Fallon (5), Alannah O'Connell (7)
---
Virginia College Cavan:
Meabh Kelly, Sydney Gregg, Ciara Brady, Niamh Tolan, Katelyn McElhinney, Lauren Smith, Emma Tolan, Roisin Flanagan, Katie Noble, Sinead Kelly, Keelin Fay, Ellen Murray.
Coach: Niamh Ní Chearra
Ass. Coach: Aideen Coyle
Mount Sackville:
Freya Reilly, Elise Reilly, Alannah O'Connell, Aoife Connolly, Caitlin Carrigan, Niamh Sherlock, Niamh Fallon, Aisling Mulligan, Grace McGrath, Perin Winders, Sophia Gascon, Caoimhe O'Connor
Coach: Sean Mulligan
Ass. Coach: N/A