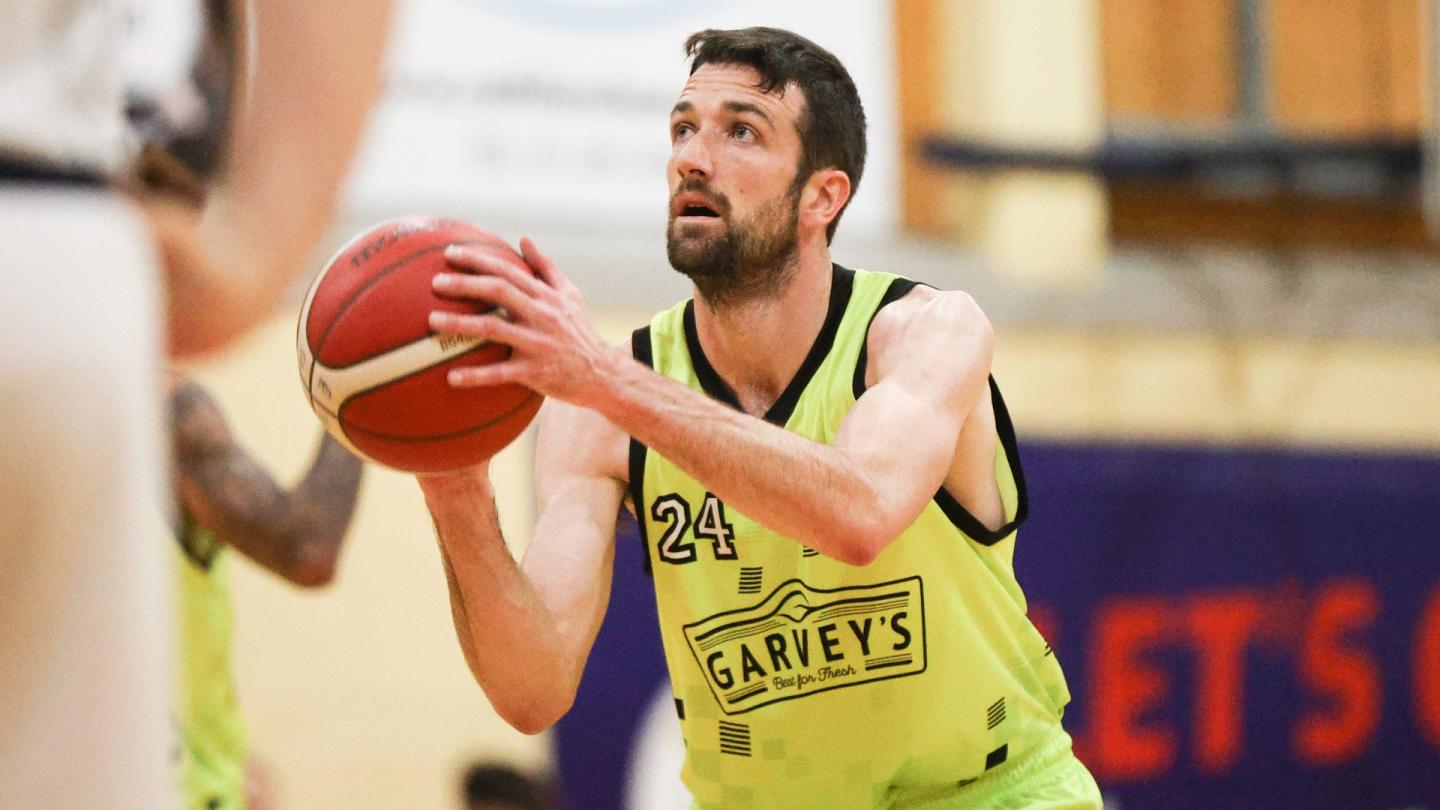 Mar 05 2023
Garvey's Tralee Warriors remain in hunt for playoffs, while Ej Sligo All-Stars seal berth
Defending InsureMyVan.ie Super League champions Garvey's Tralee Warriors picked up their seventh win in a row to remain in the hunt for place in the end-of-season playoffs, courtesy of an 88-70 victory at UCD Marian.
The Kerry club trailed 40-35 at half-time, but a strong third quarter saw John Dowling's side outscore their hosts 31-11 to help propel them to another win.
"It's a big win from us, UCD we're excellent and we really had to dig deep in the 3rd quarter. Once again our defence was the difference on the road. I'm delighted to be back in the (Tralee Sports) Complex next week, winner takes all." Dowling said.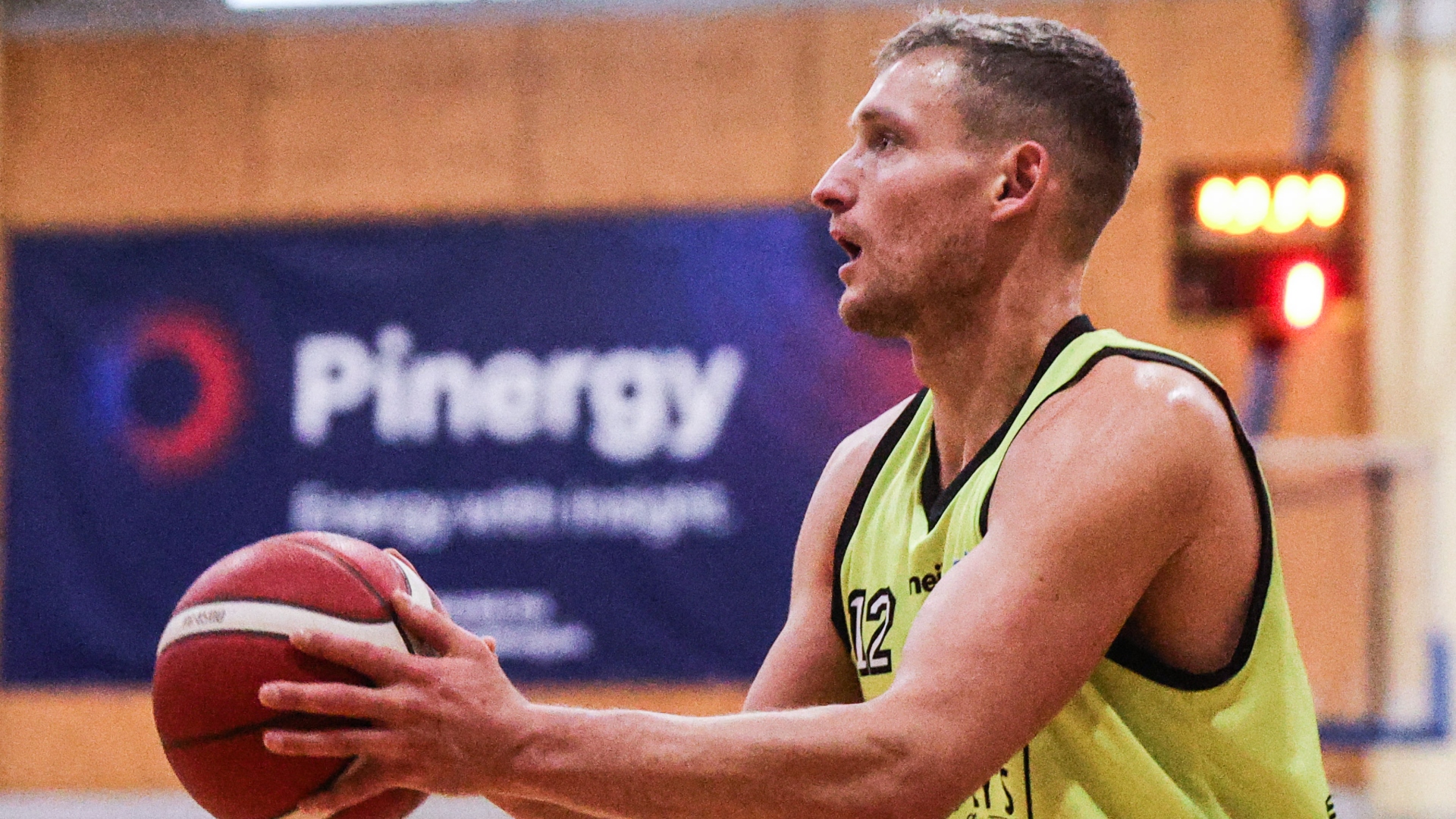 Daniel Jokubaitis scored 23 points for Garvey's Tralee Warriors in their over UCD Marian
Garvey's Tralee Warriors host Energywise Ireland Neptune in their final regular season game of the season. A win for either side will secure a playoff berth, as both are poised on 11-7 records, following Energywise Ireland Neptune's 94-63 defeat against Griffith College Templeogue.
Griffith College Templeogue led from start to finish in this game, the recently returned Lorcan Murphy leading the charge with 23 points. Despite the win the Dublin club's hopes of fourth spot in the North Conference and a place in the playoffs were ended by Ej Sligo All-Stars' victory.
"Absolutely delighted for the guys. They were fantastic from start to finish tonight and at both ends of the court also. We knew we couldn't make the playoffs after losing last week, but we wanted to finish the season strong. The win gives us great confidence and belief and hopefully we can back it up again in Belfast next week for our last game." - Mark Keenan, Griffith College Templeogue head coach
EJ Sligo All-Stars are into the InsureMyVan.ie Super League playoffs, courtesy of a hard-fought 89-83 win over Moycullen. Christian Williams and Tom Child scored 33 and 29 points respectively for the home team.
On reaching the playoffs on their return to the Super League, head coach Shane O'Meara said: "Absolutely delighted for the players and the fans after our first season back. We have won the hearts of a very energetic fan base and regardless of our results going forward, we know that the club is in a healthy place.
Major thanks to our committee, sponsors and volunteers who make the home games so entertaining. Tonight's game was a hard fought one and we were expecting as much, as Moycullen were hungry to avoid a relegation battle. They have stifled a lot of teams defensively this year, so we were happy with our offense, but we need to be better defensively to be in with a chance of progressing in the playoffs."
Grant Olsson racked up a game-high 37 points for Moycullen, who suffered a blow to their hopes of avoiding the end-of-season relegation playoff with news that South Conference rivals Flexachem KCYMS picked up an 89-78 road win at Killester.
Flexachem KCYMS head coach Declan Wall said: "Massive away win for us in Killester. We went into the game down two major players, but I thought our young Irish lads stepped up and fought to get the win that looks like securing Super League for our club and town to enjoy for another season. For me I feel this team was too good to be mentioned about relegation playoff stuff the last few weeks, as we have been really competitive with all the teams this year, losing close games by less than three or four points. For us it's a case of what might have been if we got wins in a few of those games. Moycullen now at home next Saturday is something we can go out and finish the season strong in front of our brilliant home crowd."
View this post on Instagram
In-form UCC Demons made it 10 InsureMyVan.ie Super League wins in a row on Sunday, defeating Belfast Star 110-104, which was a third loss in a row for Adrian Fulton's side. Michael Randolph Jr., fresh from claiming the InsureMyVan.ie Player of the Month for February, was again to the fore, draining 34 points.
"Always happy with the win. We played good in patches, but credit to Belfast (Star) they shot the ball extremely well. We will learn from our mistakes and back to training court this week in preparation of (University of Galway) Maree next weekend." – Daniel O'Mahony, UCC Demons head coach
Kristijan Andbaka slotted 24 points and Joshua Wilson had 22, as DBS Éanna outlasted Emporium Cork Basketball 86-83 on Saturday. Emporium Cork Basketball were on course for a vital win following a pair of Keelan Cairns free throws to put them 83-80 up with one minute 14 seconds to go, but five points from Ukrainian Alex Dolenko and a free throw by Wilson turn the result in the Dublin club's favour.
"We are thrilled with the win. We battled hard all game and pulled it out down the stretch. The guys played some excellent clutch basketball. One more to go next week and it's into the next part of the season." Darren McGovern, DBS Éanna head coach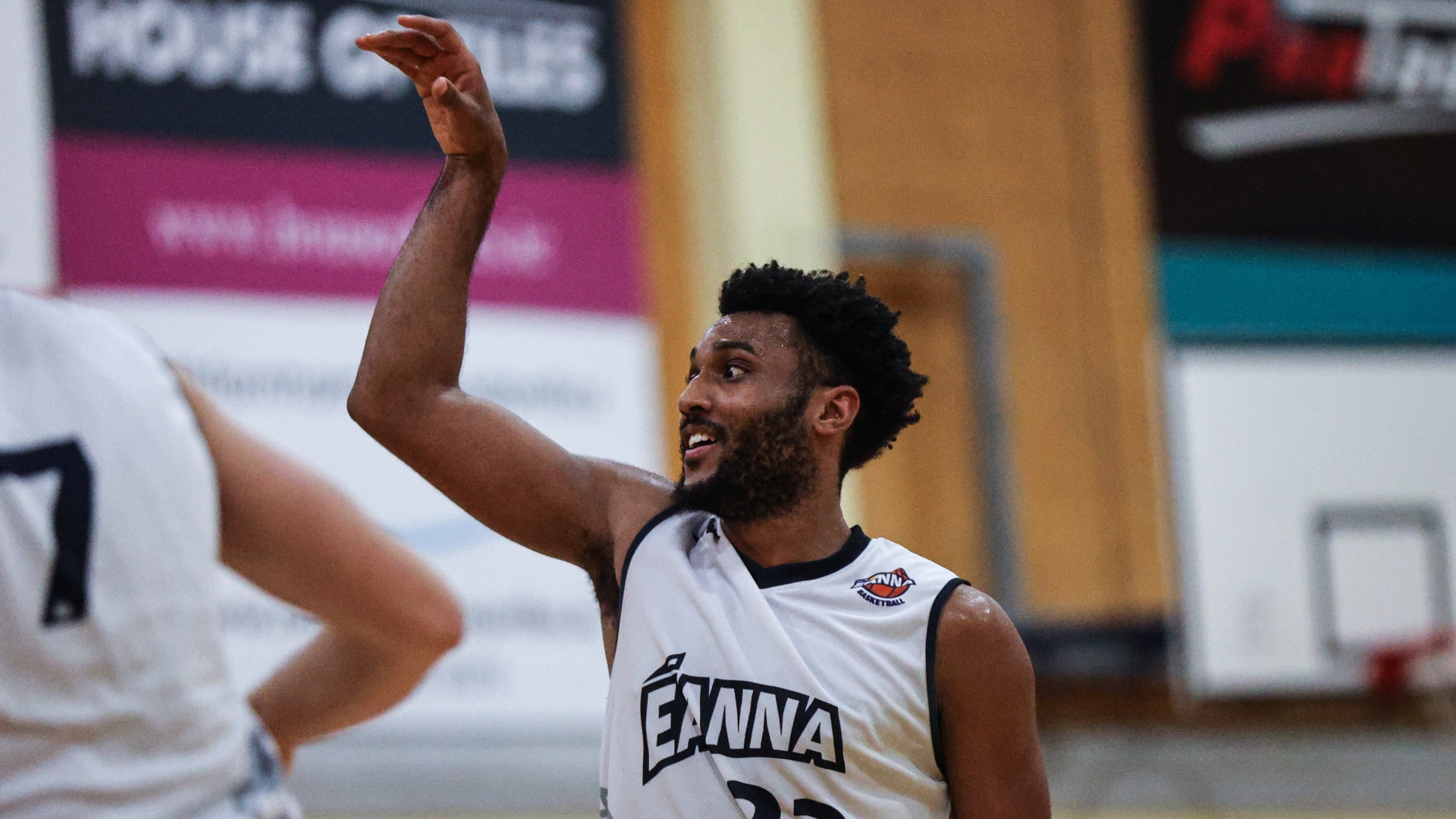 Joshua Wilson scored 22 points for DBS Éanna in their 86-83 victory against Emporium Cork Basketball 
Emporium Cork Basketball bounced back from that loss by overcoming Killester 93-86 on Sunday to keep them in the playoff shake-up. Keelan Cairns (25) John Dawson (24) led their offence for the Cork club, while Paul Dick was potent at the basket for Killester, on 32 points.
"Hard fought win. It was a must-win game, so getting over the line was obviously the number one priority. We are looking forward to another must-win game against Bright St. Vincent's next week to get into the playoffs." – Ciarán O'Sullivan, Emporium Cork Basketball player/coach
University of Galway Maree needed a fourth quarter fightback to defeat Bright St. Vincent's 81-72. Zvonimir Cutuk was the Galway club's leading scorer on 18, while for Bright St. Vincent's Stefan Zecevic hit 30 points, including five from the three-point line.
"Happy to get over the line is the main feeling after a game like that. Vincent's played excellent and asked savage questions of our team. With no point guard at our disposal and down six (points), it wasn't looking the best for us. The guys knuckled down and sorted out our defensive end, that was the difference. Zach (Light) has been a big leader this season and is a fan favourite amongst our squad, his contribution today epitomised what we ask of a player coming in. Demons next week and with all our traditional point guards out of action, we'll have to head back to the drawing board." - Charlie Crowley, University of Galway Maree head coach
Killester sealed their berth in the end-of-season Champions Trophy with a 73-70 win at University of Galway Mystics in the MissQuote.ie Super League. Chanell Williams and Michelle Clarke were to the forefront of their win, with 30 and 24 points respectively.
"It was a big win for us. It secured our playoff spot. They had us on the ropes in the second half but our girls dug deep and found a way to bounce back and win it. The young Mystics team are fearless and play hard, which forced us to up our game this week. We look forward now to Fr. Mathews next week, as we chase 4th spot." - Mark Grennell, Killester head coach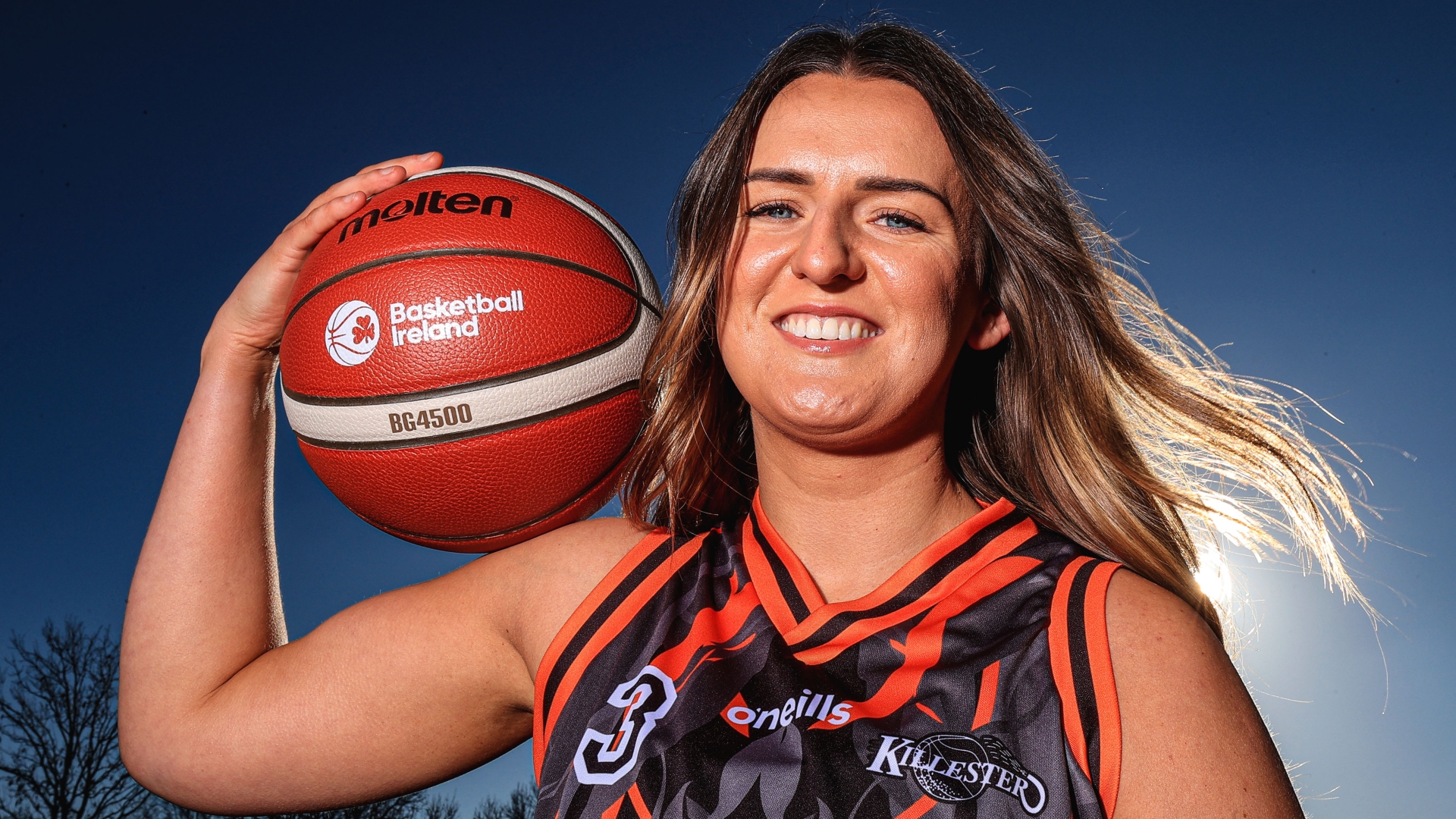 Killester captain Michelle Clarke scored 24 points in their 73-70 win at University of Galway Mystics 
Leixlip Amenities Liffey Celtics are also into the Champions Trophy, after defeating Waterford Wildcats 80-69. Trailing 38-28 at half-time, the game turned in the third quarter when Karl Kilbride's team outscored their opponents 26-9, with Ciara Bracken grabbing 10 of her 15 points in the quarter.
"Delighted with the win, it secures us a playoff spot.We really didn't play well in the first half, Wildcats were much the better team. We had far too many turnovers and Wildcats were just that bit tougher. I thought we did a much better job of winning the fight in the second half. Defensively, we did a much better job rebounding and limiting their second chance points, and that really limited their scoring. Then in the front court, we simply took care of the ball and did a really good job of executing in the half court. We now go into DCU (Mercy) next week looking to get to .500 for the season and coming from where we were a month ago, it's a goal we'd be really happy with." - Leixlip Amenities Liffey Celtics head coach Karl Kilbride
Ulster University's fine form since the turn of the year continued, taking the scalp of Trinity Meteors. The 81-76 victory was their fourth win in eight games.
"Thrilled for the team - after last week it would have been easy to lose focus, also with both teams missing key players, but we stood up and stayed composed to close the game out. Credit to Trinity, they kept coming back in the second half and answered our runs, they showed their depth with their bench stepping up big. It's been fantastic seeing all our squad grow as this season has gone on and we have had a solid second half of the season. Looking forward to Galway next week and closing out our first season at this level." - Patrick O'Neill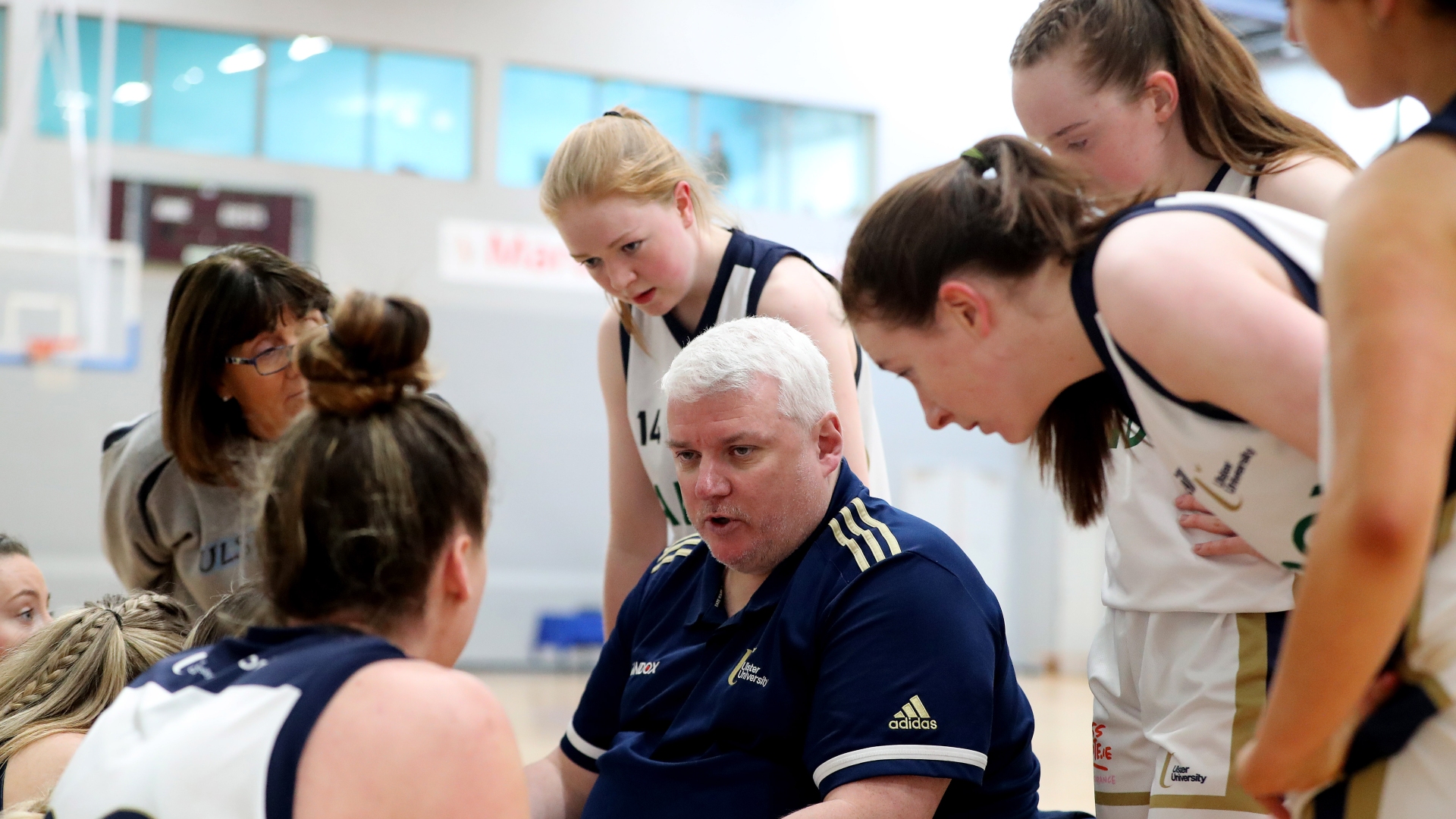 Ulster University head coach Patrick O'Neill 
On Sunday recently crowned MissQuote.ie Super League champions The Address UCC Glanmire edged DCU Mercy 66-62, with Brittany Byrd, Khiarica Rasheed and Claire O'Sullivan to the fore with 19, 18 and 14 points respectively.
The Address UCC Glanmire head coach Mark Scannell said: "Great game of basketball, we had to dig really deep. Both teams were brilliant defensively and we struggled on offence 'til the last three minutes, but any time you get out of DCU with a win you are happy. I think DCU (Mercy) will be there or thereabouts come the Champions Trophy."
Singleton SuperValu Brunell overcame i3PT Fr. Mathews 87-75. Captain Edel Thornton was their top scorer with 18 points, while Gráinne Dwyer scored a game-high 26 points for i3PT Fr. Mathews.
"Delighted to come through a very tough Cork derby with a win. It was a close game throughout. We were very sloppy especially in the third quarter and we had to dig really deep. Katie Walshe and Danielle O'Leary shot extremely well in the last quarter and we finished the game with great momentum, so we're delighted to get another win." – Liam Culloty, Singleton SuperValu Brunell head coach
View this post on Instagram
In MissQuote.ie Division 1 McEvoy's Cavan Eagles slipped to just their second league defeat of the season, losing 69-59 at Limerick Celtics on Sunday. On Saturday both Moy Tolka Rovers and Phoenix Rockets moved to 12-5 records in the North Conference. Moy Tolka Rovers followed up Thursday's 93-86 win at Oblate Dynamos by defeating Marble City Hawks 62-57, while Phoenix Rockets had a comprehensive 91-50 success at Limerick Sport Huskies. In the South Conference St. Paul's Killarney move level on points with Portlaoise Panthers, the Kerry club winning 80-73 at Griffith College Templeogue, while Portlaoise Panthers slipped to a 72-58 defeat at Abbey Seals Dublin Lions. Elsewhere SETU Carlow won 80-46 at Swords Thunder.
In InsureMyVan.ie Division 1 Malahide picked up two from two, with victories at home over Drogheda Wolves (95-80) and away at Dwyer's of Cork Fr. Mathews (82-70). Limerick Celtics and Portlaoise Panthers picked up two road wins in two days. Limerick Celtics claimed derby bragging rights against Limerick Sport Eagles, 87-83, followed by 87-69 win over Drogheda Wolves. Portlaoise Panthers' trip to Kerry proved to be fruitful edging Scotts Lakers SPK 85-83 and Killarney Cougars 89-73. Elsewhere Limerick Sport Eagles bounced back from Friday's derby disappointment with a 85-60 success on Saturday over Abbey Seals Dublin Lions.
Elsewhere SETU Waterford Vikings defeated Team North West by the slenderest of margins, 88-87, North Conference leaders Moy Tolka Rovers defeated SETU Carlow 83-73 and Ulster University won 94-77 at Scotts Lakers SPK. On Sunday SETU Carlow defeated Team North West 80-59.
Fixtures/Results
InsureMyVan.ie Super League
Saturday, March 4th
Bright St. Vincent's 72-81 University of Galway Maree
UCD Marian 70-88 Garvey's Tralee Warriors
DBS Éanna 86-83 Emporium Cork Basketball
Griffith College Templeogue 94-63 Enerygywise Ireland Neptune
Killester 78-89 Flexachem KCYMS
EJ Sligo All-Stars 89-83 Moycullen
Sunday, March 5th
UCC Demons 110-104 Belfast Star
Killester 86-94 Emporium Cork Basketball
InsureMyVan.ie Division 1
Wednesday, March 1st
Malahide 95-80 Drogheda Wolves
Friday, March 3rd
Limerick Sport Eagles 83-87 Limerick Celtics
Scotts Lakers SPK 83-85 Portlaoise Panthers
Saturday, March 4th
Dwyer's of Cork Fr. Mathews 70-82 Malahide
SETU Waterford Vikings 88-87 Team North West
Limerick Sport Eagles 85-60 Abbey Seals Dublin Lions
Drogheda Wolves 69-87 Limerick Celtics,
Killarney Cougars 73-89 Portlaoise Panthers
Moy Tolka Rovers 83-73 SETU Carlow
Scotts Lakers SPK 77-94 Ulster University
Sunday, March 5th
SETU Carlow 80-59 Team North West
MissQuote.ie Super League
Saturday, March 4th
University of Galway Mystics 70-73 Killester
Ulster University 81-76 Trinity Meteors
Waterford Wildcats 69-80 Leixlip Amenities Liffey Celtics
Sunday, March 5th
DCU Mercy 62-66 The Address UCC Glanmire
Singleton SuperValu Brunell 87-75 i3PT Fr. Mathews
MissQuote.ie Division 1
Thursday, March 2nd
Oblate Dynamos 86-93 Moy Tolka Rovers
Saturday, March 4th
Limerick Sport Huskies 50-91 Phoenix Rockets
Moy Tolka Rovers 62-57 Marble City Hawks
Griffith College Templeogue 73-80 St. Pauls Killarney
Swords Thunder 46-80 SETU Carlow
Abbey Seals Dublin Lions 72-58 Portlaoise Panthers
Sunday, March 5th
Limerick Celtics 69-59 McEvoy's Cavan Eagles