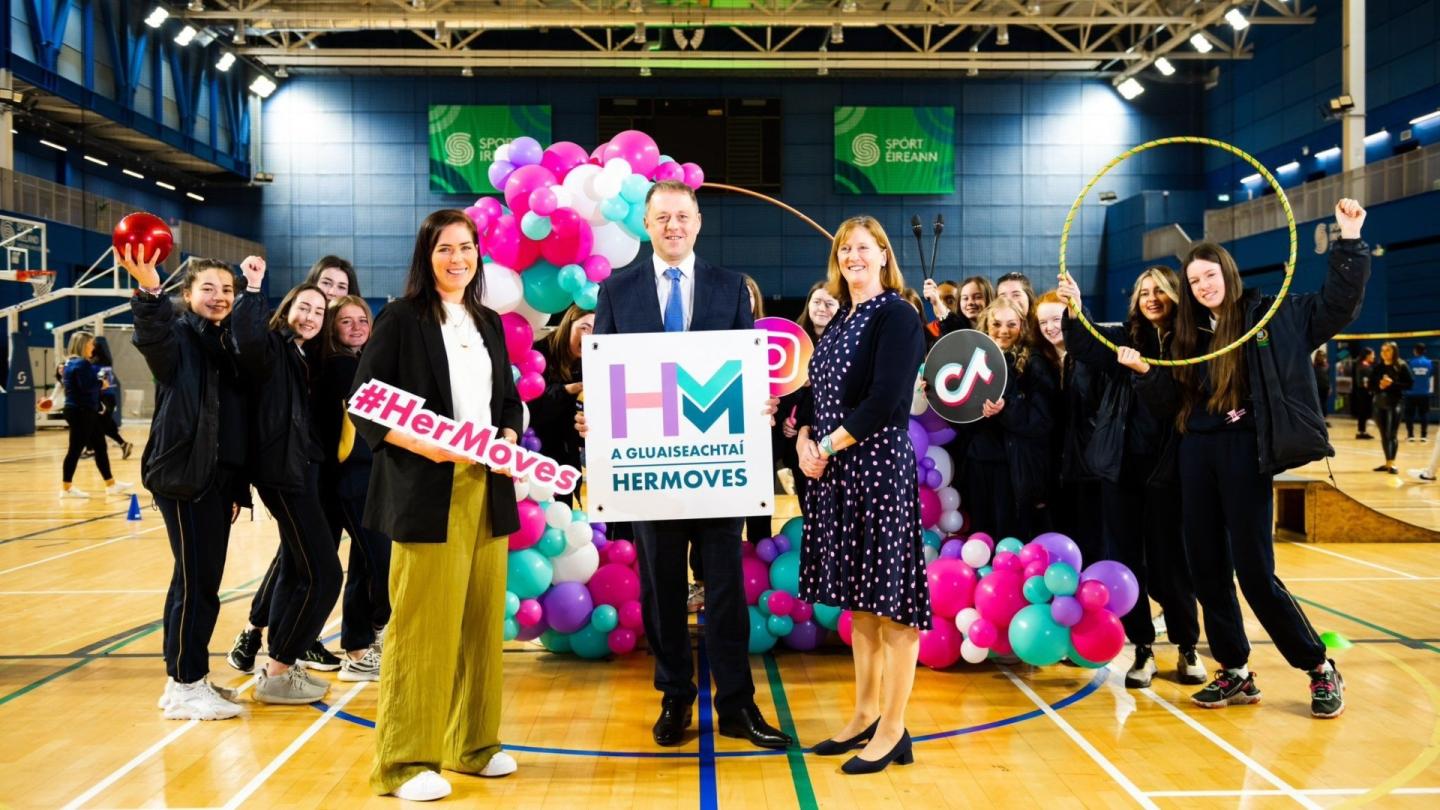 Mar 09 2023
Basketball Ireland attend launch of new Sport Ireland initiative 'Her Moves'
On International Women's Day, representatives from Basketball Ireland attended the launch of Sport Ireland's newest initiative, Her Moves.
It's designed to inspire and support more teenage girls to be active. It's about empowering all young women, building confidence, and providing motivation to find something that gets you moving. This is a community for all teenage girls to join and find something that moves you!
Over 70 teenage girls attended, along with Nora Stapleton (Sport Ireland's Women In Sport lead), Thomas Byrne (Minister of Sport and Physical Education), Una May (CEO of Sport Ireland), Titan Experience and six National Governing Bodies to display their movements.
Basketball Ireland's Women In Sport lead Erin Bracken and Paul Carr attended on behalf of Basketball Ireland, along with four ambassadors of the programme Ciara Bracken, Mya Pardy, Stephanie Nnabuihe, Maya Kohli, to interact and engage with the teenage girls. All participants received a free basketball on the day, plus the opportunity to shoot around and have some fun.
Basketball Ireland's programme will be 'SOCIA-Ball' for teens, which will launch in the coming weeks.
Sopeaking at the 'Her Moves' Initiative; Erin Bracken said :
"We are very grateful as an organisation to be a part of the 'Her Moves' programme. Addressing the dropout rate and lack of activity in teenage girls is very important. Creating a space for them in which we limit any barriers to participation is the goal, along with facilitating a fun, social and inclusive environment. I look forward to this taking off around the country and having more girls play our sport."