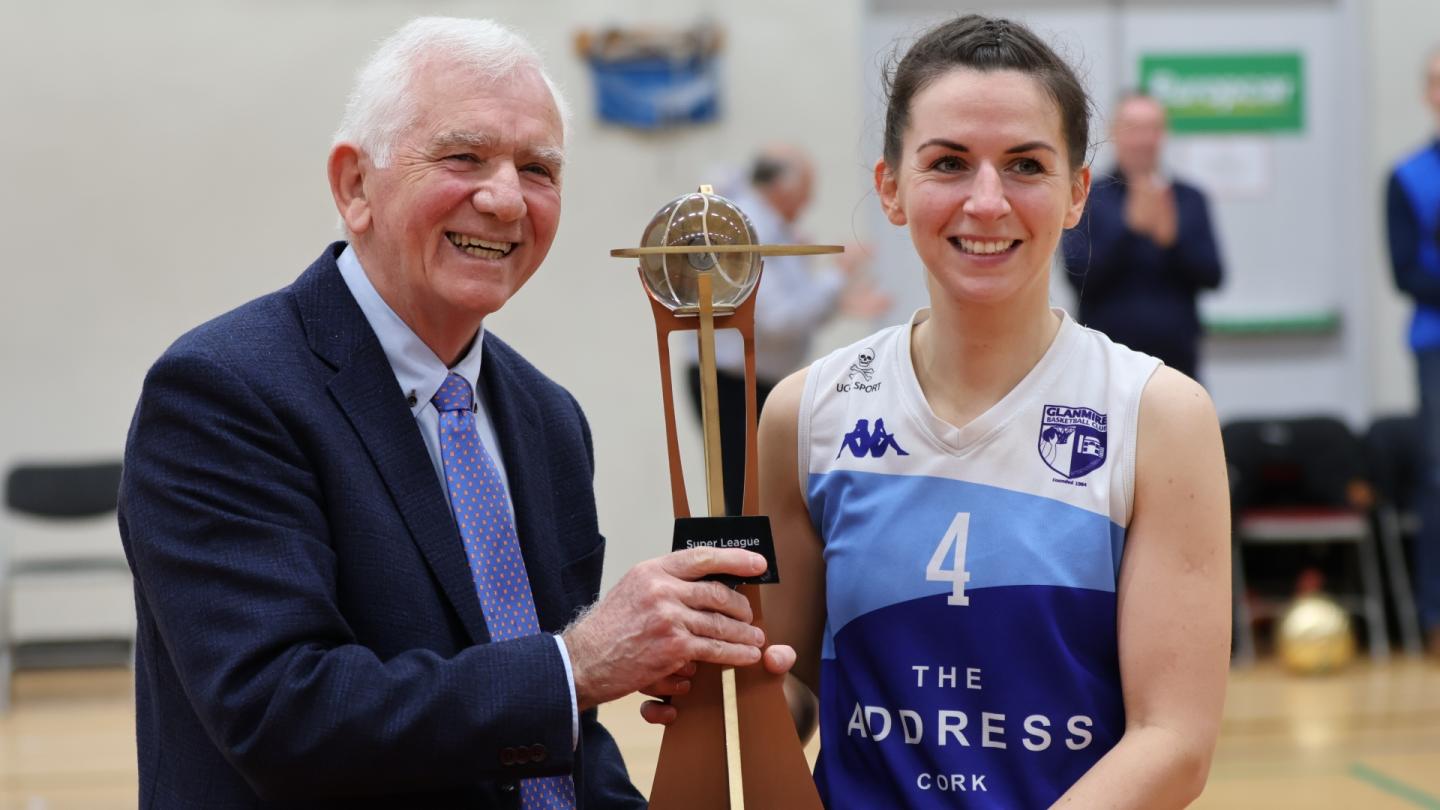 Mar 12 2023
The Address UCC Glanmire pick up MissQuote.ie Trophy; Cork duo secure final InsureMyVan.ie Playoff spots
Emporium Cork Basketball and Energywise Ireland Neptune clinched the final two spots in the InsureMyVan.ie Super League playoffs, in a weekend that saw defending champions Garvey's Tralee Warriors dumped out.
The Kerry side played out a classic against rivals Energywise Ireland Neptune on home court. A DeOndre Jackson three had the teams level, 71-71 with just 37-seconds left on the clock in Tralee, both teams knowing it was win or go home. Up stepped Irish international Jordan Blount to ice the game with a three of his own, swiftly followed by a pair of Roy Downey free-throws in a 77-73 win for Colin O'Reilly's side. It sets up a mouth-watering clash on the road against Belfast Star in the first round of the playoffs next weekend.
Earlier in the day Emporium Cork Basketball ensured their season will last at least one more game by beating Bright St. Vincent's by 30-points, in the first game played at the MTU Arena. Jose Gonzales and John Dawson combined for 39 points, with head coach Ciaran O'Sullivan now eyeing up a meeting with DBS Éanna for their next assignment.
DBS Éanna tuned up for that with a comfortable 89-75 win against relegation playoff bound UCD Marian. No fewer than six players hit double figures for Darren McGovern's team, led by Joshua Wilson. Strong shooting performances in both the second and fourth quarters proved too much for Ioannis Liapakis' team, who's top flight survival has been dependent on next weekend's meeting with Moycullen for some time.
The aforementioned Belfast Star avoided the ignominy of three consecutive defeats heading into the post-season by grinding out a 90-80 win against a resurgent Griffith College Templeogue. Chrishon Briggs had a big night from the mid-range, scoring 34 points including 10 in a strong Star first quarter. Francis Mulvihill continued his fine season for Mark Keenan's outfit, who might feel they could have made a playoff push without suffering some key injuries at the midway point of the campaign.
It took overtime in Clontarf to separate Killester and EJ Sligo All-Stars, the home side running out eventual winners 78-73. It cements Brian O'Malley's team in third place in the Northern Conference and a meeting with UCC Demons in the upcoming playoffs. EJ Sligo All-Stars will have to defeat the winners of the Southern Conference University of Galway Maree if they're to progress beyond next weekend.
Charlie Crowley's team will enter that contest full of confidence after ending the 10 game winning streak of UCC Demons. Maree entered the final quarter trailing 62-58 before unleashing a 29 point barrage on the Demons' basket, while only giving up 9 points of their own. Rodrigo Gomez and Jarett Haines coming up big once more. They combined for 22 of those 22 points in an 87-71 win.
Elsewhere Moycullen's recent good form came to a shuddering halt in Killorglin. Flexachem KCYMS ensuring Paul Cunningham will have plenty to think about this week with a 79-67 win. Robert Alan Kelly Jr capping a great individual season for Declan Wall's team by hitting 26 points to lead them to victory.
The Address UCC Glanmire were crowned MissQuote.ie Super League champions at the Mardyke Arena, but tasted defeat for just the third time all year in doing so.
An energetic Waterford Wildcats silenced a boisterous home crowd temporarily, Jasmine Walker nailing a game-winning jumper with just 25 seconds left on the clock to ensure they held onto fourth place in the MissQuote.ie Super League with an 83-81 win. That could prove crucial in more ways than one for Champions Trophy seeding.
The crowd in the Mardyke Arena were treated to a very entertaining game throughout and soon reagained their voice to salute the players and management as they were presented with the MissQuote.ie Super League trophy by former President of Basketball Ireland (1981-84) Liam McGinn.
Elsewhere on Sunday, DCU Mercy highlighted their Champions Trophy credentials in an 88-50 win over Leixlip Amenities Liffey Celtics. Mark Ingle's side were already assured of a second place finish in the MissQuote.ie Super League, but didn't let it affect their performance. Amelia Motz top scored with 18 points, ably assisted by Nicole Clancy, Lindsey Abed and Ciara Byrne.
Singleton SuperValu Brunell ended their season on a high with a 82-79 victory over Trinity Meteors. Akilah Bethel was unplayable at times so it was fitting that she scored four ice cool free-throws in the last 1:07 to snatch victory from the jaws of defeat. The result is a minor setback for Trinity Meteors who lost to Ulster University a week ago, though head coach Niall Berry will likely see plenty to work on ahead of their meeting with Leixlip Amenities Liffey Celtics in the Champions Trophy.
Chanell Williams and Mimi Clarke hit 49 points between them, as Killester earned a 103-75 win over i3PT Fr.Mathews to enter the Champions Trophy in style. Mark Grennell's team will go in as the 5th seed, as Waterford Wildcats own the tiebreaker over them but having already secured an InsureMyHouse.ie National Cup, the Clontarf outfit won't fear any team on the road to the finals weekend in April.
The weekend's other fixture saw University of Galway Mystics pick up a third win of the season, 86-75 over Ulster University. The result means that Patrick O'Neill's UU may yet face a relegation playoff depending on the outcome of the MissQuote.ie Division 1 playoff picture.
---
InsureMyVan.ie Super League
Saturday, March 11th
Emporium Cork Basketball 86-56 Bright St. Vincent's
Belfast Star 90-80 Griffith College Templeogue
DBS Éanna 89-75 UCD Marian, Colaiste Eanna
University of Galway Maree 87-71 UCC Demons
Flexachem KCYMS 79-67 Moycullen
Killester 78-73 EJ Sligo All-Stars
Garvey's Tralee Warriors 73-77 Energywise Ireland Neptune
Friday, March 10th
SETU Carlow 77-70 Dwyer's of Cork Fr. Mathews
Saturday, March 11th
Team North West 83-66 Scotts Lakers SPK
Dwyers of Cork Fr. Mathews 62-80 Abbey Seals Dublin Lions
Drogheda Wolves 118-65 Killarney Cougars
SETU Waterford Vikings 102-104 Moy Tolka Rovers
Limerick Sport Eagles 89-72Portlaoise Panthers
Sunday, March 12th
Limerick Celtics 88-71 Ulster University
SETU Carlow 82-97 Malahide
MissQuote.ie Super League
Saturday, March 11th
University of Galway Mystics 86-75 Killester
Trinity Meteors 79-82 Singleton SuperValu Brunell
Killester 103-75 i3pt Fr.Mathews
Sunday, March 12th
DCU Mercy 88-50 Leixlip Amenities Liffey Celtics
The Address UCC Glanmire 81-83 Waterford Wildcats
MissQuote.ie Division 1
Saturday, March 11th
Limerick Sport Huskies 70-55 Swords Thunder
Marble City Hawks 48-61 Abbey Seals Dublin Lions
Griffith College Templeogue 86-68 Limerick Celtics
St. Pauls Killarney 75-54 Moy Tolka Rovers
Sunday, March 12th
SETU Carlow 72-108 Oblate Dynamos
Portlaoise Panthers 63-67 Phoenix Rockets