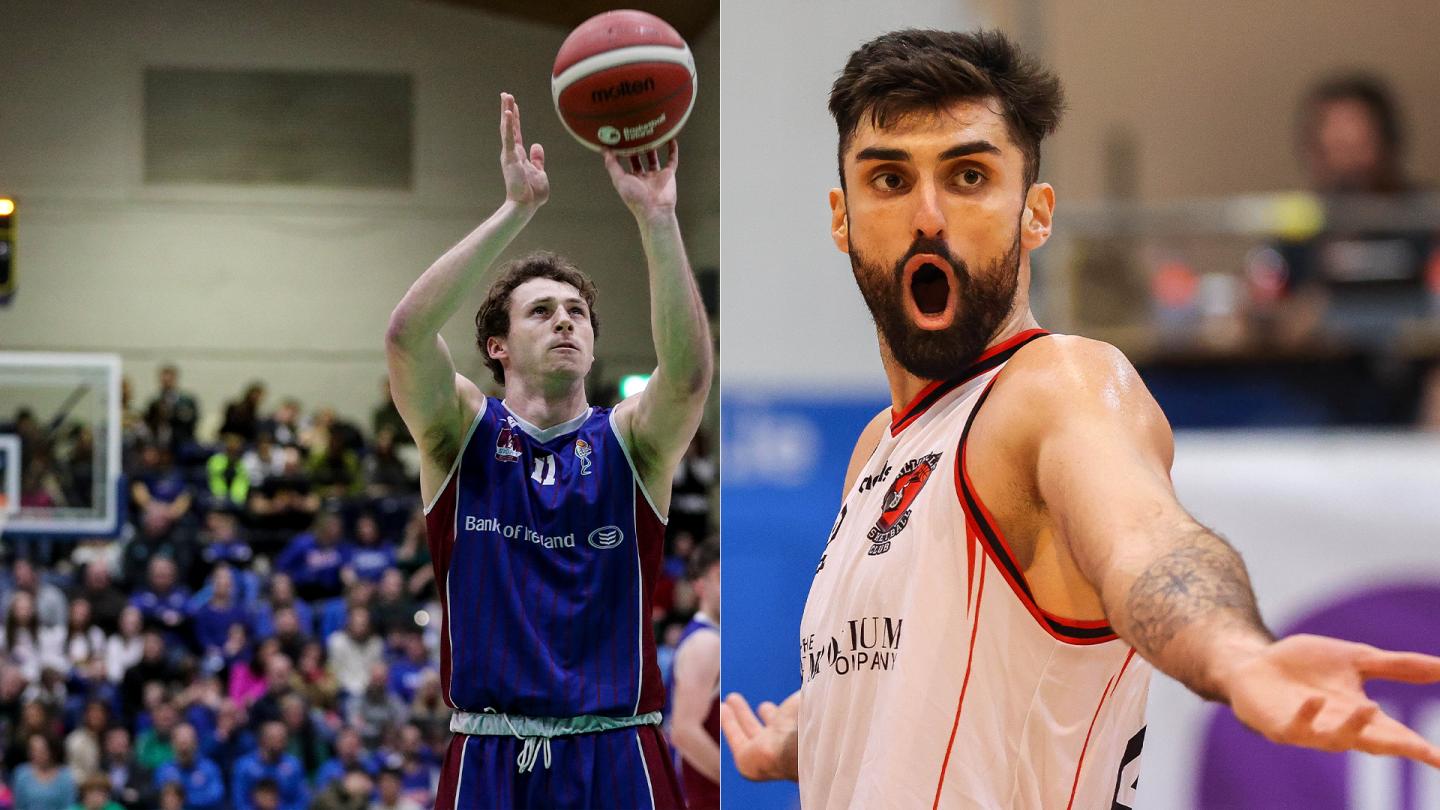 Mar 26 2023
University of Galway Maree and Emporium Cork Basketball reach InsureMyVan.ie Super League Playoff final
University of Galway Maree and Emporium Cork Basketball will contest the InsureMyVan.ie Super League playoff final, coming out on top of two, highly charged semi-finals this weekend to set up a 'Super Saturday' showdown live on TG4 at the National Basketball Arena.
Charlie Crowley's InsureMyHouse.ie National Cup winners trailed by four points entering the final quarter, before running out 87-75 winners on home court against Belfast Star. Meanwhile Emporium Cork Basketball also needed to overturn a half-time deficit to take the bragging rights 84-76 against a valiant UCC Demons in the Mardyke Arena.
University of Galway Maree showed unerring accuracy to finish with a 29-14 advantage over Belfast Star at the end of the opening quarter of their matchup. Bigs Zvonimir Cutuk and Rodrigo Gomez began with early intent, hitting a pair of threes, while Jarett Haines continued his strong form, getting to the basket no fewer than four occasions in the opening ten minutes.
Belfast Star have plenty of experience in their ranks though and the 2020 Super League champions showed that gritty spirit in abundance over the next two quarters of play. Chrishon Briggs has been among the form players in the league in recent weeks and he once again stood up for Adrian Fulton's men. Briggs scored 22 points in 15 minutes, ably assisted by Aidan and Conor Quinn who added 18 points of their own.
The gap was 10 points, 50-40 at the half but when Briggs scored the final seven points of the third, the game had flipped in Star's favour and it was 65-61 as the teams emerged for the fourth quarter.
It wasn't long before both sets of fans at the Kingfisher gym witnessed another turn. University of Galway Maree scored the first eight points through Gomez, Cutuk and a Stephen Commins brace and the lead changed hands for the second and final time in the game, 69-65 with eight minutes on the clock.
It was at this moment that the University of Galway Maree players appeared to believe that this game was theirs for the taking and despite continued resistance from the visitors, it was the Galway outfit who march on in their quest for a league and cup double.
Their final roadblock will be Emporium Cork Basketball, after the Ballincollig based outfit ran out 84-76 winners of a tense Cork derby with UCC Demons.
There was little to separate these sides on paper and that proved correct in the opening half. UCC Demons showed no signs of nerves as they stormed to an early 17-9 lead through some excellent shooting by Kingsley Nwagboso, James Hannigan and Michael Randolph Jr. A Pau Galera three seemed to jolt Emporium Cork Basketball to life and a 14-6 run of their own, finished off in style by a Jose Jiminez Gonzales three, left it 23-23 after one.
The frenetic pace didn't let up in the second. Gonzales restored Emporium Cork Basketball's advantage with a second three right out of the blocks, but lead changes were proving a theme and a pair of Nwagboso free-throws soon flipped the score once more. In total the teams would be tied six times and the lead exchanged seven times throughout.
It looked as if UCC Demons were going to take a semblance of control when a 9-0 run, including a Kyle Hosford shot from distance which extended their lead to 42-34 at the midway point in the second quarter, but that proved foolhardy and a seven-point run of their own for Emporium Cork Basketball narrowed that deficit to just a solitary point, 44-43 as the teams hit the locker rooms.
The decisive moment arrived in the third.
Ronan O'Sullivan held his nerve with two free-throws with the teams tied 55-a-piece at the 5-minute mark, before Keelan Cairns stepped into a three that had UCC Demons head coach Danny O'Mahony calling for timeout down 60-55. David Lehane pulled Demons back to within two with a three-point shot of his own, before Gonzales and Cairns closed the quarter with back-to-back buckets, giving Ciaran O'Sullivan's team the 69-63 lead heading to the final quarter.
In keeping with proceedings Scott Hannigan, Nwagboso and Randoplh Jr kept fans on the edge of their seats by reducing the game to the minimum with 7-minutes left, but that was as close as they would get. Player/head coach Ciaran O'Sullivan with the three-point shot that finally established a four-point lead they would not relinquish.
Raucous scenes at the finish in the Mardyke Arena, with Emporium Cork Basketball ended as eight-point victors. For UCC Demons it has been a marvellous season on their return to the InsureMyVan.ie Super League and their fans can look forward to next season brimming with optimism, but for now it is Ballincollig eyes who are lighting up with the toughts of silverware at the National Basketball Arena next weekend.
In the InsureMyVan.ie Division 1 playoffs there were wins for Limerick Sport Eagles and Ulster University over Moy Tolka Rovers and Malahide. Brendan Barry was on song, scoring 25 points while playing every minute for Limerick Sport Eagles, who took the lead at the close of the first quarter and never looked back in a controlled performance. Jason Killeen chipped in with 17 points, while Nikola Ivkovic and Stephen King also made significant contributions. Elsewhere upset kings Ulster Univeristy proved last weekend's road win against Limerick Celtics was no fluke by downing Malahide in North Dublin. Conor O'Sullivan led the charge on 25-points, as Ryan McCormick's team kept their hopes alive of a league and cup double at the InsureMyVan.ie Division 1 level.
---
Results:
InsureMyVan.ie Super League Playoff Semi-Finals:
University of Galway Maree 87-75 Belfast Star
UCC Demons 76-84 Emporium Cork Basketball
InsureMyVan.ie Division 1 League Playoff Semi-Finals:
Moy Tolka Rovers 72-81 Limerick Sport Eagles
Malahide 72-88 Ulster University