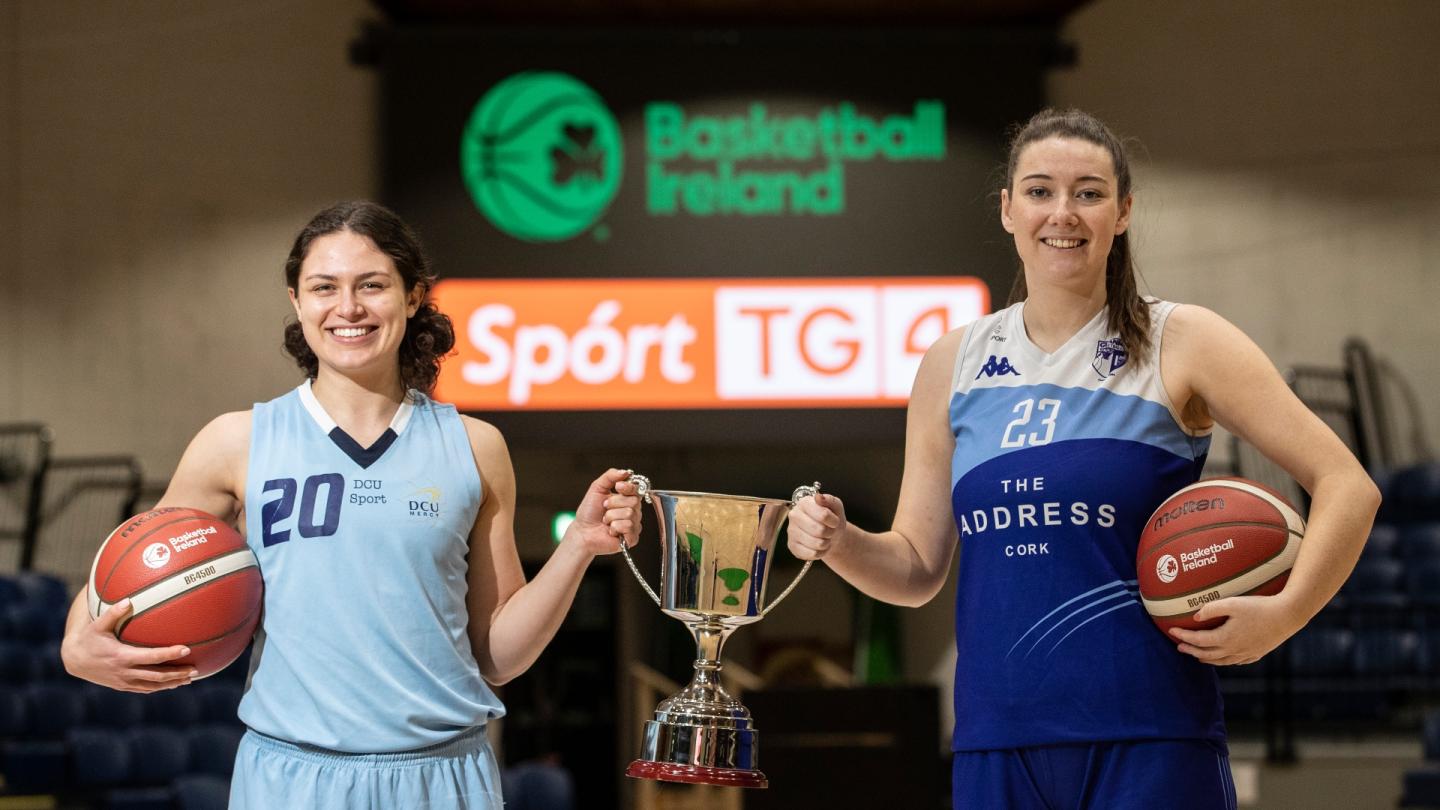 Mar 26 2023
The Address UCC Glanmire and DCU Mercy secure MissQuote.ie Champions Trophy Final spots
The Address UCC Glanmire will defend their MissQuote.ie Champions Trophy against DCU Mercy live on TG4 at the National Basketball Arena on 'Super Saturday'.
Mark Scannell's team were dominant in the second half of their 94-67 win against Waterford Wildcats, while Mark Ingle's DCU Mercy showed resilience when required, as Trinity Meteors tried to rally in the closing stages of a 67-58 win for the home side at DCU Arena.
It's only a fortnight since Waterford Wildcats came to the Mardyke Arena and took the spoils against The Address UCC Glanmire and head coach Tommy O'Mahony must have sniffed another upset as his team entered the huddle with a 24-22 lead at the end of the first.
Both teams shot the ball exceptionally, but it was the road team who hit 7 points in the last 90 seconds via Sarah and Kate Hickey and Karli Seay to close a pulsating first ten minutes. It was a case of role reversal in the second.
The teams traded scores until a super three-point play by Aine McKenna triggered a 9-0 run for the home side during a four-minute spell in the middle of the quarter. Khiarica Rasheed piled on the pressure with a brace of buckets, before Claire O'Sullivan got in on the act with a basket of her own. Waterford won't going to roll over though. Sarah Hickey, Helena Rohan and a long-range Jasmine Walker three ensuring the gap was just five-points, 45-40 at the interval.
The sharpshooting of The Address UCC Glanmire from range proved to be the dagger in the third quarter. They made five three-point shots in total, outscoring their opponents 17-0 in the first five minutes of play, to move the score to 62-40. Three of those shots from beyond the arc came from the lively Brittany Byrd, who would top score with 28-points at the final buzzer.
Wildcats continued to try and claw their way back into the contest for the remainder but just couldn't put together a scoring burst to rival their more experience opponents. Jasmine Walker led their team with 22 points, with Sarah Hickey (14), Karli Seay (12) and Kate Hickey (10) all showed up for their team. The defending champions saw nine players register points in the box score, Byrd and Rasheed combined for 47, with Claire O'Sullivan (13), Amy Dooley (9) and Aine McKenna (9) all making crucial shots.
Old foes DCU Mercy and Trinity Meteors met for the fourth time this campaign and it was an incredible shooting display from behind the three-point line by Lindsey Abed that helped Mark Ingle's side avenge their InsureMyHouse.ie National Cup semi-final defeat.
Abed topped the stat sheet with 25-points, 18 of which came from beyond the arc. Ingle will be pleased by his team's league best defence, but his opposite number Niall Berry might rue an ineffectual second quarter on offence. A 17-9 run allowing DCU Mercy to build a 10 point gap at half-time from which Meteors could not recover.
Both sides enjoyed spells of pressure in the first, but when Claire Melia made a lay-up with just over a minute remaining, it looked as if Trinity Meteors would hold a slender advantage heading into the second. That was until Ciara Mulligan and Amelia Motz assisted one another in two quick fire plays to leave it 23-21 in favour of the home side.
Motz continued that momentum into the second where she opened the scoring along with Ciara Byrne, who made her custom corner three sandwiched between Celena Taborn and Mireia Riera buckets and the lead was suddenly six. Scores from Rebecca O'Keeffe and Dayna Finn reduced the arrears to the minimum for Trinity Meteors before what was arguably the deciding run of the contest.
Ireland international Hannah Thornton hit four points before Abed nailed her third three point shot of the game and when Maeve Phelan capped a 9-0 run, DCU Mercy suddenly enjoyed a 40-30 lead at the break.
Scoring proved more even in the third but crucially, DCU Mercy were able to interrupt any potential scoring runs by their opponents with pressure shots. Dayna Finn on her final appearance for the team before departing for Australia, tried to take control and combined with her fellow international star Claire Melia for 12 points. However, Abed had now caught fire and a further two threes made it her most productive quarter with 11 points with the game in the melting pot, 59-44 in favour of DCU Mercy as they began the final 10 minutes of play.
Claire Melia will have given DCU Mercy fans a scare when she reduced the gap to 12 with a three-point play to start the fourth, but the home side were always able to keep Trinity Meteors at arm's length as the clock wound down to a nine point success.
It sets up an intriguing meeting between the best offence and defence in Irish women's basketball at the National Basketball Arena in six days' time. The Address. UCC Glanmire took both meetings in the MissQuote.ie regular season, what a time this would be for DCU Mercy to break that duck.
The quarter-finals and semi-finals of the MissQuote.ie Division 1 League Cup took place in a packed Virginia Show Centre over the course of the weekend. The favoured Phoenix Rockets and Portlaoise Panthers emerged from last eight ties with Limerick Celtics and Moy Tolka Rovers to advance to play St. Pauls Killarney and McEvoy's Cavan Eagles in two last four ties that proved enthralling for totally opposing reasons. Overtime was required before Phoenix Rockets edged St. Pauls Killarney 105-103 in a shootout on Sunday afternoon. Charley McGratha and Jessica Fairweather coming up with the clutch buckets in the added minutes on a day where three players, Fairweather along with SPK pair Sofia Paska and Yuleska Ramirez Tajeda all surpassed 35 points. In the days other semi-final it was Portlaoise Panthers who came out on top to reach their second final in a month. Sarah Flemming scoring their final points of a 52-49 win over the home side McEvoy's Cavan Eagles.
---
Results:
MissQuote.ie Champions Trophy Playoff Semi-Finals
The Address UCC Glanmire 94-67 Waterford Wildcats, Mardyke Arena
DCU Mercy 67-58 Trinity Meteors, DCU Arena
MissQuote.ie Division 1 League Cup
Saturday, 25th March - Quarter-finals
Phoenix Rockets 85-82 Limerick Celtics
Portlaoise Panthers 75-50 Moy Tolka Rovers
Sunday, 26th March - Semi-finals
St. Paul's Killarney 103-105 Phoenix Rockets
McEvoy's Cavan Eagles 49-52 Portlaoise Panthers