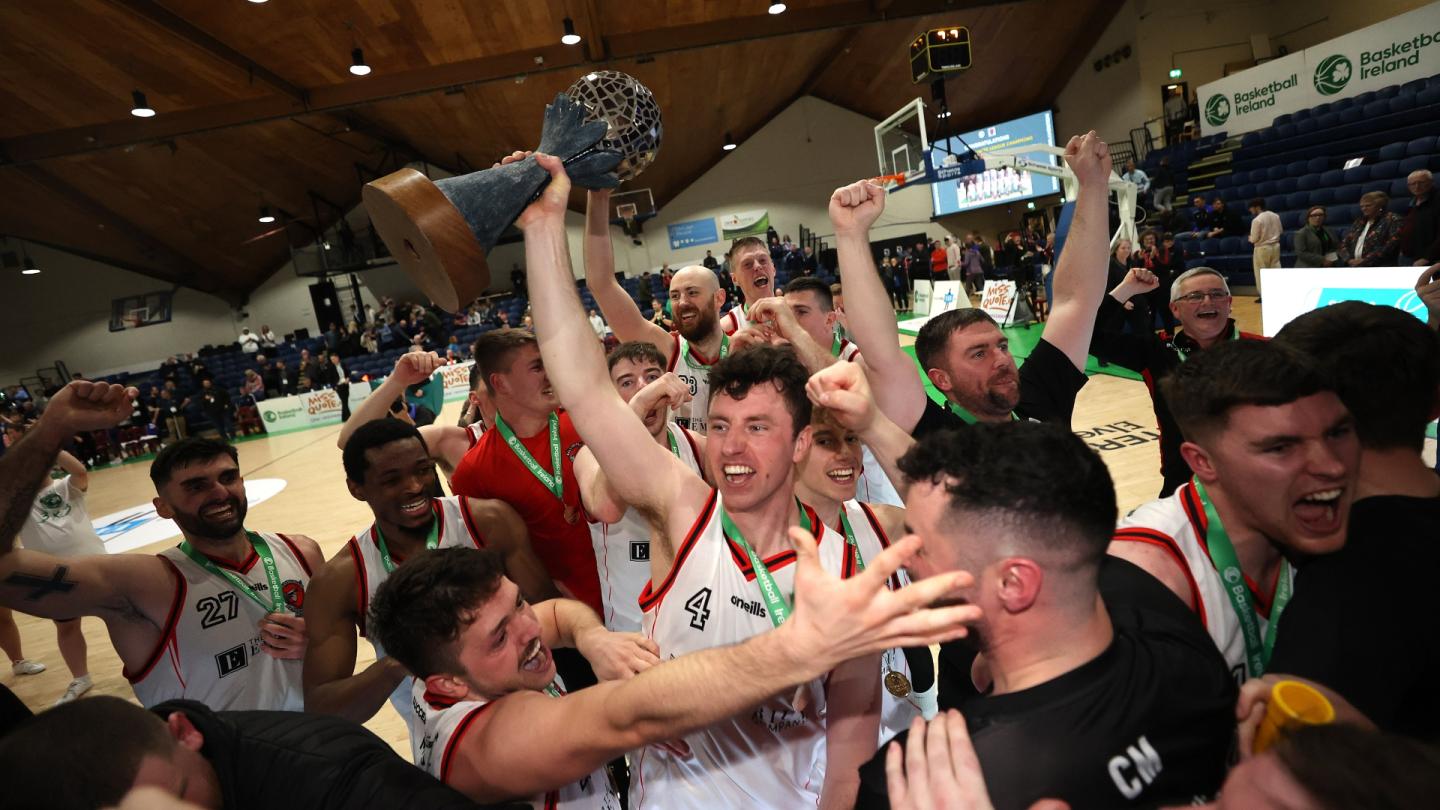 Apr 01 2023
Emporium Cork Basketball defeat University of Galway Maree 78-64 to win first InsureMyVan.ie Super League title
Emporium Cork Basketball picked up their maiden InsureMyVan.ie Super League title in just their second season in the top flight of Irish basketball, defeating University of Galway Maree 78-64 at the National Basketball Arena. John Dawson picked up the MVP after 31 points, nine rebounds and three assists.
There was little between the sides in a close opening quarter, Keelan Cairns three had Emporium Cork Basketball 8-3 up in the fourth minute. But it would be University of Galway Maree who'd lead by the end of the first, 18-15 .
University of Galway Maree made a lively start to the second quarter, the highlight being a one-handed dunk from a fired-up Rodrigo Gomez in front of a bank of their fans. It remained tight, a layup from Dylan Corkery brought it level at 27-27 four and a half minutes left in the second.
A five point run by Dawson, two layups and a free throw had Emporium Cork Basketball 34-29 up. But University of Galway Maree responded straight afterwards with a three from the corner by Cathal Finn. Emporium Cork Basketball player/coach Ciarán O'Sullivan launched a big three from deep and threw his arms up in celebration towards their supporters. It would put them 39-32 up, the game balance was appearing to shift in the Ballincollig club's favour.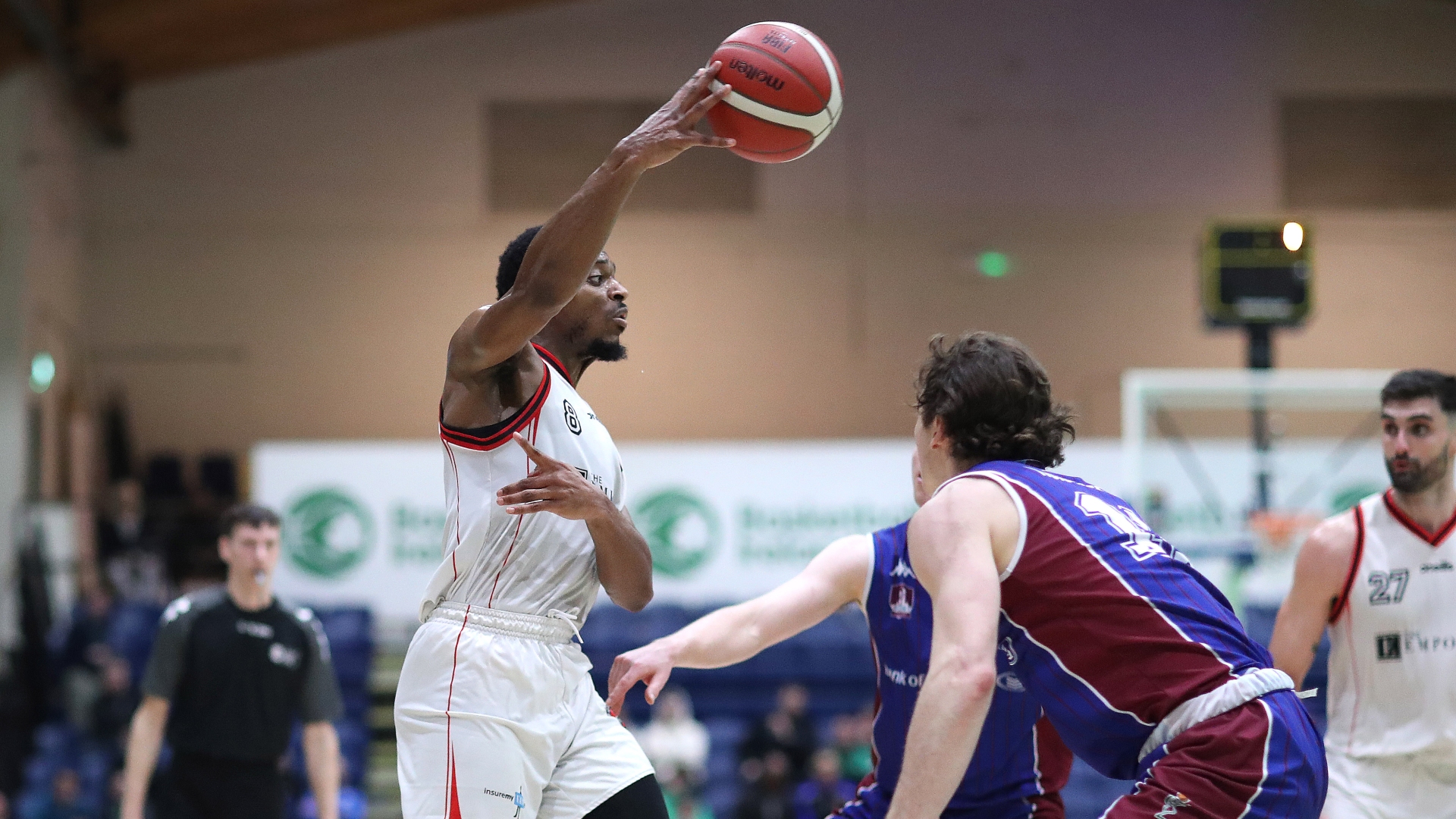 John Dawson scored 31 points for Emporium Cork Basketball on the way to claiming the MVP
The third quarter saw Emporium Cork Basketball start well, John Dawson's three point jump shot 90 seconds in stretched their lead to 44-32. A three from the corner by Jarett Haines, followed by a pair of Cathal Finn free throws and University of Galway Maree trailed 45-37. Emporium Cork Basketball responded with another three point jump shot by Dawson to make it 48-37 midway through the third. Emporium Cork Basketball would lead 60-46 by the end of the quarter.
Corkery was delivering a polished performance, his layup 2'17 into the quarter drew a foul and he converted the free throw to make it 65-51 to Emporium Cork Basketball. When Jose Jimenez Gonzales's three landed to increase their lead to 72-53 with 3'37 to go, it was looking ominous for University of Galway Maree. They kept plugging away, Haines had been kept quiet for most of the game, he unleashed a three to reduce the deficit to 72-61 with 90 seconds to go, but there was to be no late dramatic comeback, Emporium Cork Basketball winning 78-64.
An elated Emporium Cork Basketball player/coach Ciarán O'Sullivan said: "We're all in a bit of shock. Six years ago we were in the third tier, our top team in the club was playing local league in Cork. This is our second year at this level and to be at the top of the pile is amazing. I can't really put it into words at the moment, the scenes there at the end were just special, euphoric, emotional you know. These guys are playing for more than just themselves, a few guys lost family members during the year and we just got that emotion right today and we feel that we had the talent to match anyone and look, we're here!"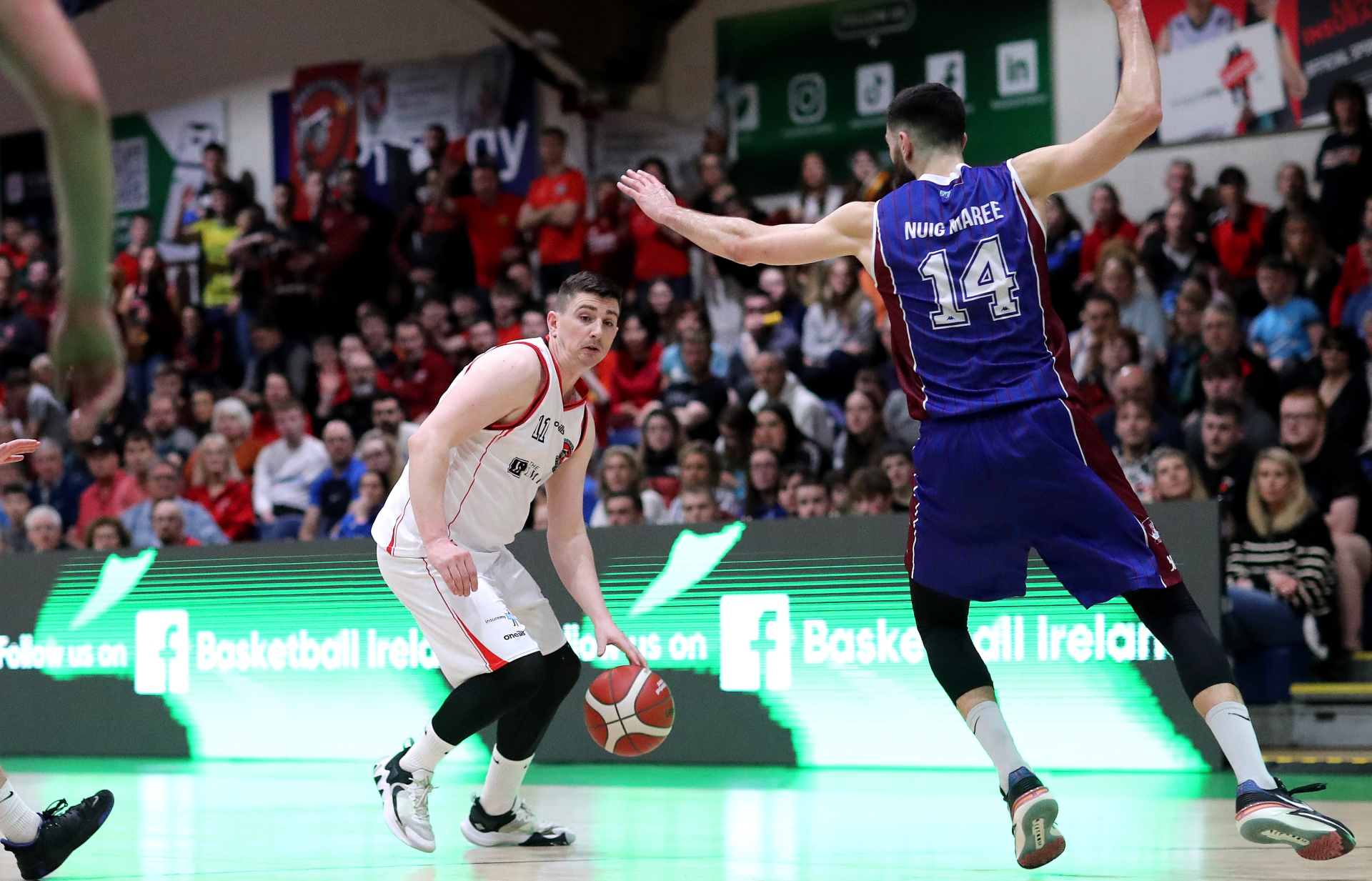 Emporium Cork Basketball player/coach Ciarán O'Sullivan
University of Galway Maree head coach Charlie Crowley stated: "Let's get the record straight, I'm not going to stand here and say pity us. We've lost, they're a great team and we've been beaten by the better team on the day. I thought we started well and then we began fatiguing. A lot of that will probably be on me when I start looking back at the game, but you know they were great. Ciarán (O'Sullivan) hit big shots, Dawson coming up with 31 points. The last time we played Emporium Cork Basketball, we held John Dawson to two and this time you flip the script and they win by 14."
Q1: 15-18 Q2:39-32 Q3: 60-46 Q4: 78-64
Emporium Cork Basketball: Adrian O'Sullivan (5), Dylan Corkery (11), John Dawson (31), Sean O'Flynn (DNP), Pau Cami Galera (6), Ciarán O'Sullivan (7), Ronan O'Sullivan (2), Colm Blount (DNP), Luke O'Sullivan (DNP), Jamie Cotter (DNP), Jose Jimenez Gonzales (11), Keelan Cairns (5)
University of Galway Maree: Cathal Finn (13), John Burke (3), Stephen Commins (4), Ben Burke (0), Zach Light (2), Matthew Sweeney (1), Garry Fernane (DNP), Rodrigo Gomez (16), Jarett Haines (14), Malik Thiam (DNP), Zvonimir Cutuk (11), Paul Freeman (0)