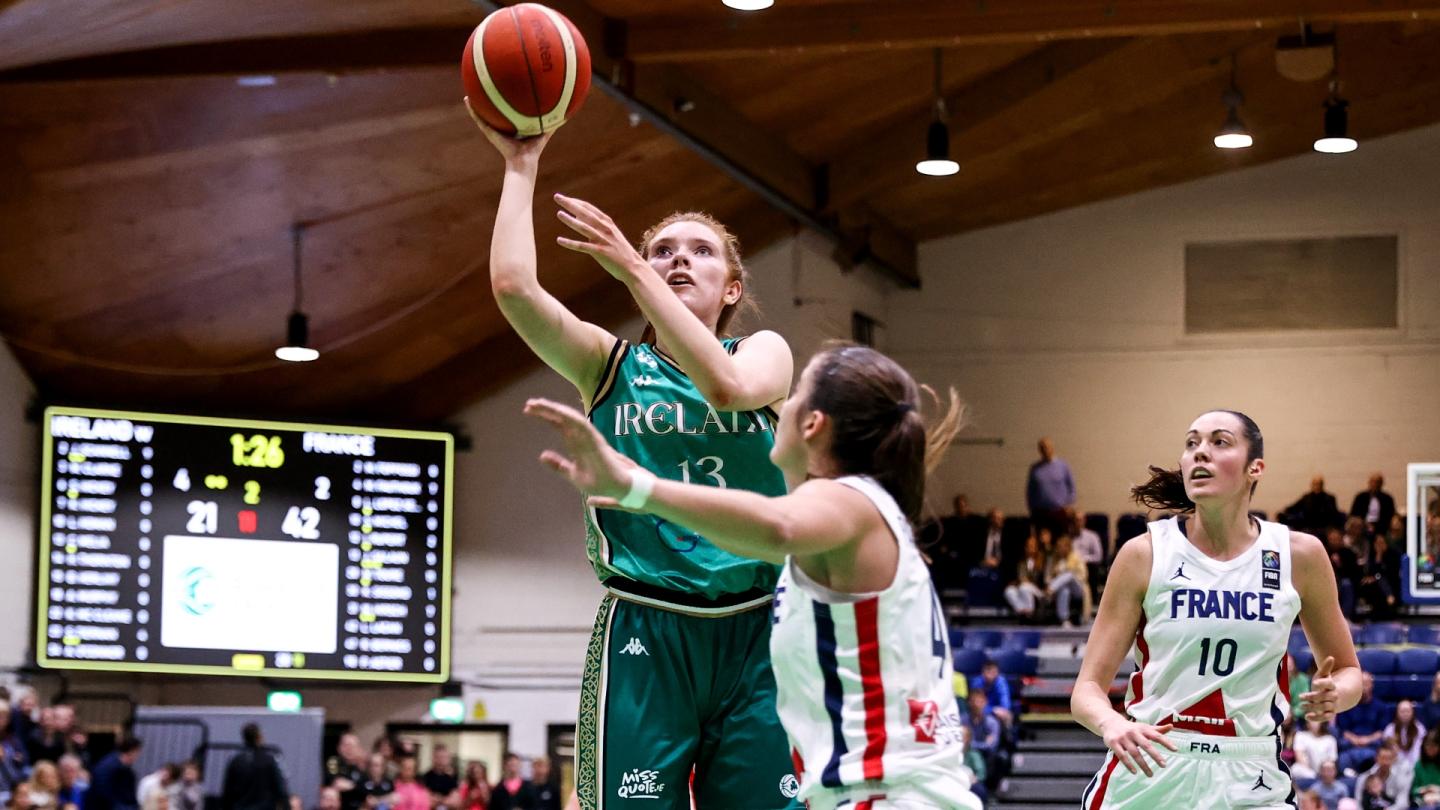 Nov 12 2023
Ireland lose 100-48 to France in FIBA Women's EuroBasket 2025 Qualifiers opener
Ireland lost 100-48 to France FIBA Women's EuroBasket 2025 Qualifiers opener at the National Basketball Arena on Sunday. Ireland put it up to their illustrious opponents, who are 7th in FIBA world rankings, trailing by just a point at the end of the first quarter. A commanding second quarter put France in control of proceedings and they never looked back.
Ireland made a brilliant start, matching France both offensively and defensively in the opening quarter. Claire Melia, chosen as captain due to the absence of the injured Edel Thornton, got Ireland off the mark 2'20 into the game to trail 5-2. Jessica Scannell, playing her first game for Ireland since 2009 and making her FIBA Women's EuroBasket debut, landed a pair of three's. A Melia layup and Ireland were in front 10-9 in the seventh minute. Ireland kept pace with their opponents, Sorcha Tiernan landed a lovely three from out left and was fouled in the process late in the quarter, she converted the free throw to see Ireland trail 18-17 by the end of the first quarter.
A third three from Scannell in the opening minute of the second quarter saw Ireland within a point once more, 21-20. France responded, back-to-back threes from Leila Lacan and Maia Hirsch's opened up a 27-20 lead for France to prompt an Irish timeout. France continued to build a score, Melia picked up an offensive foul to snap the 12 point run when she converted one of her free throws - Ireland were behind 33-21 at the midpoint in the second quarter.
France didn't let up, a Melia layup was the only respite, as France opened up a 49-23 half-time lead. The French finished off the half with a buzzer beating three from the corner by Mamignan Toure, who'd finish with a game-high 20 points.
Kara McCleane came on during the second quarter for her international debut, while Kate Hickey and Lauryn Homan made FIBA Women's EuroBasket debuts in the quarter, with Annaliese Murphy appearing in the third for her EuroBasket bow.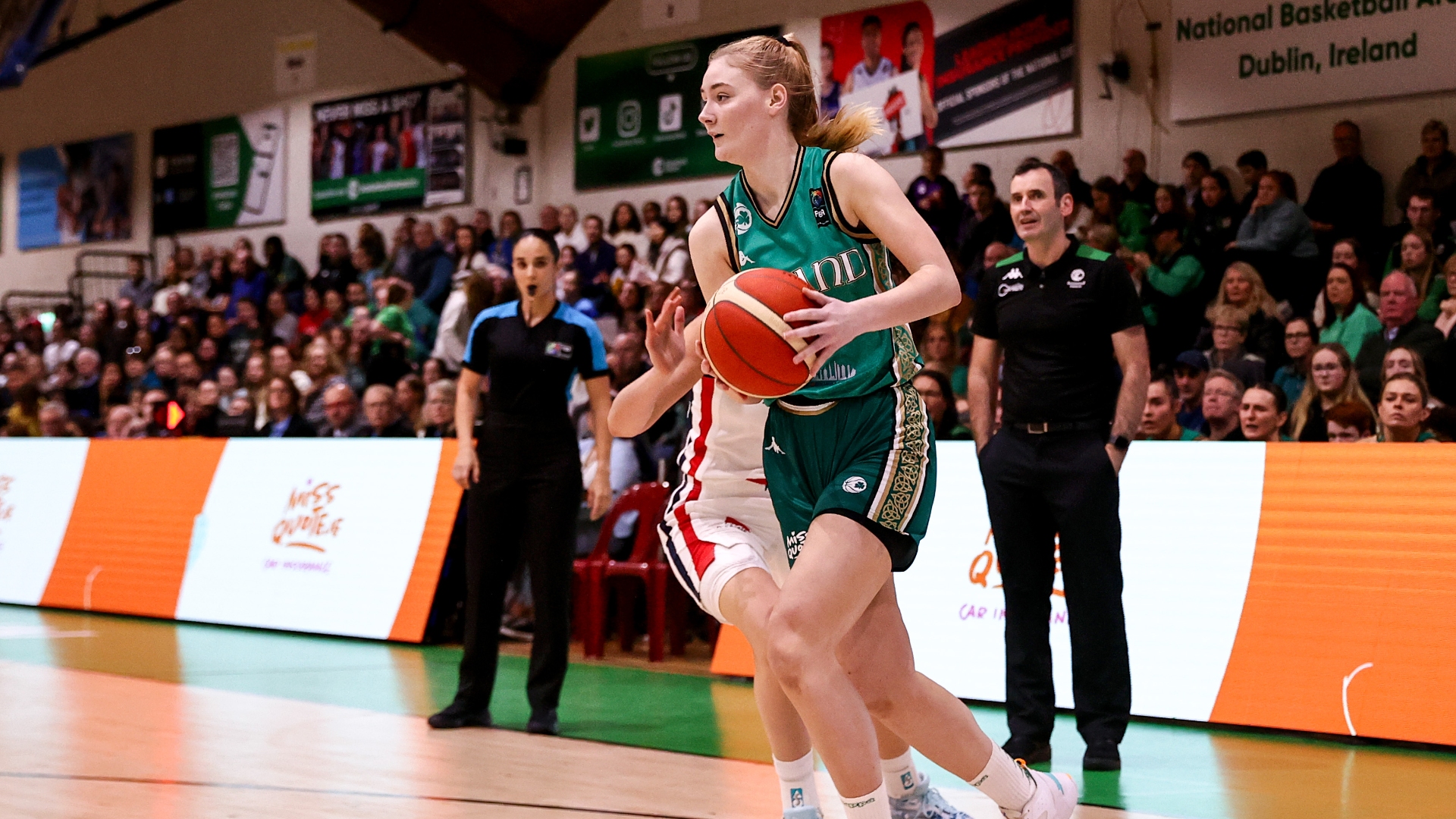 Lauryn Homan made her FIBA Women's EuroBasket debut against France on Sunday.
Sorcha Tiernan started the third quarter with a three pointer from the corner in the opening seconds to make it 49-26. Scannell brought her personal tally to 12 when she landed her fourth three, to see Ireland trail 61-29. Scannell would end on 14 points on an impressive return to the international fold.
Ireland tried to get some momentum, an Áine O'Connor layup made it 63-31 midway through the third. France continued to be ruthless at turnover ball and would lead 80-35 by the end of the third. A Melia layup finished off the quarter, the Killester player ended the contest with 16 points, six rebounds and three assists.
Ireland had a strong finish, Bridget Herlihy scoring eight points in the fourth quarter, but it was to be France's day.
Ireland head coach James Weldon said: "Look, there's 73 places in the world rankings between the two teams, the depth and the athleticism (of the French) it was always going to be hard to keep up with that kind of pace. I am extremely proud of the players, I thought they were outstanding in the first quarter, missed a couple of little things there in the second quarter that would have kept us in the game a little longer. I am very happy with the effort, the intensity, it never dropped and when you are playing a quality team like that, it's very easy to drop your head and we didn't."

"We'll take the learnings going forward, they're the higher ranked team. Last Thursday Latvia, who are world number 16, only scored 49 against them. Defensively we struggled when we got tired and faded, but offensively I thought it was pretty good. There were some more young players coming through there again today, so the future is bright", Weldon added.
Ireland's next game is away against Israel on February 8th, followed by a home games against Latvia and Israel on November 7th and 10th.
Quarter Scores:
Q1: 17-18, Q2: 6-31 Q3: 12-31, Q4: 13-20
Game Scores:
Q1: 17-18, Q2: 23-49, Q3: 35-80, Q4: 48-100
Ireland:
Jessica Scannell (14), Michelle Clarke (0), Bridget Herlihy (8), Sarah Hickey (0), Kate Hickey (1), Lauryn Homan (0), Annaliese Murphy (0), Claire Melia (16), Áine O'Connor (2), Kara McCleane (0), Hannah Thornton (0), Sorcha Tiernan (7).
France:
Marie-Paule Foppossi (DNP), Marine Fauthoux (12), Lou Lopez Senechal (6), Sarah Michel Boury (0), Iliana Rupert (6), Janelle Salaun (18), Carla Leite (), Mamignan Toure (20), Kadiatou Sissoko (1), Maia Hirsch (9), Leila Lacan (13), Romaine Bernies (5), Pauline Astier (10).
FIBA Women's EuroBasket 2025 Qualifiers Result:
Sunday, November 12th
Ireland 48-100 France
FIBA Women's EuroBasket 2025 Qualifiers Fixtures:
Thursday, Februray 8th 2024
Israel v Ireland
Thursday, November 7th 2024
Ireland v Latvia
Sunday, November 10th 2024
Ireland v Israel
Thursday 6th February 2025
France v Ireland
Sunday 9th February 2025
Latvia v Ireland