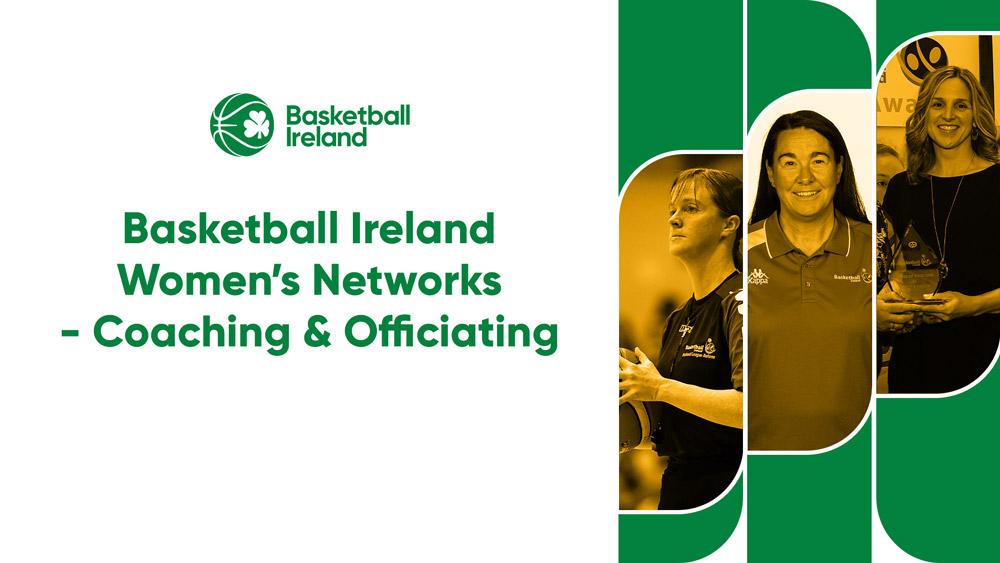 Aug 26 2021
Basketball Ireland launches Women's Coaching & Officiating Networks
Basketball Ireland has today launched the Basketball Ireland Women's Networks - Coaching & Officiating. This is a proud step for Basketball Ireland, which builds on our commitment to raising the profile & participation of women in sport. These networks will serve female coaches and technical officials (referees, commissioners, and table officials), both past and present, who wish to engage with their peers to help themselves and others to continuously develop within their roles.
The focus of the programme is to develop a support network for women in coaching and officiating positions, which will enable members to draw on each other's experiences, to enhance their abilities as coaches and technical officials, and to tackle problems that may arise. This programme will develop opportunities for peer-learning in the form of mentorships, CPD (Continuous Professional Development), workshops, talks and more.
Besides serving current coaches and technical officials, these networks will also act as a gateway for women looking to re-engage as a coach or technical official following a break in participation.
The functions of these networks will be largely user-led, and we will be asking members to provide feedback on areas that they wish to see addressed within the network.
Basketball Ireland Women in Sport Lead Louise O'Loughlin explained why these networks were important.
"We need to offer support to women already involved in our sport at all levels and to tackle drop-out rates, particularly as we come out of the pandemic. While our participation on the court is 50/50, that does not translate to off the court activities such as coaching, officiating, governance, and administration of our game; therefore it is one of the key priority areas for the women in sport programme. We want to broaden the coaching and officiating base from grassroots to high performance and provide support for those on that pathway."
Louise explained the advantages of the networks for coaches and officials:
There is a vast wealth of knowledge and experience within our community, and we want to provide a platform for this to be shared by the women currently making strides in our sport. These networks will also provide external resources, as we will be bringing in women from further afield to share their insights. This programme will also hopefully serve women who have spent some time away from basketball in Ireland or abroad. We know it can be particularly difficult for women to come back to the sport after starting a family or a period away from the sport due to injury or career commitments, so we wanted these networks to act as a starting point of return for these women. They can re-engage amongst their peers until they feel confident enough to step back into their role fully. Going forward, the aim of these networks is to keep those who are unable to actively participate as a coach or official engaged in some capacity.
Former WNBA star and Basketball Ireland Hall of Fame inductee Susan Moran also voiced her support for these networks:
"Our game needs more women to take leading roles. A program like this will not only empower women to take on leadership roles in coaching, it will also provide them with the tools and mentorship that will give them the confidence to step up and reach their potential at the top of the bench! I am really looking forward to being involved in this program and helping to push this initiative forward."
Due to the ongoing impact of COVID-19, this programme will initially operate virtually, with a hybrid combination of virtual and in-person events scheduled post-COVID.
These networks are open to those aged 16 years + and must have completed a minimum of an introductory course in either coaching or technical course.
To register for these networks:
Basketball Ireland Female Officiating Network
Basketball Ireland Female Coaching Network