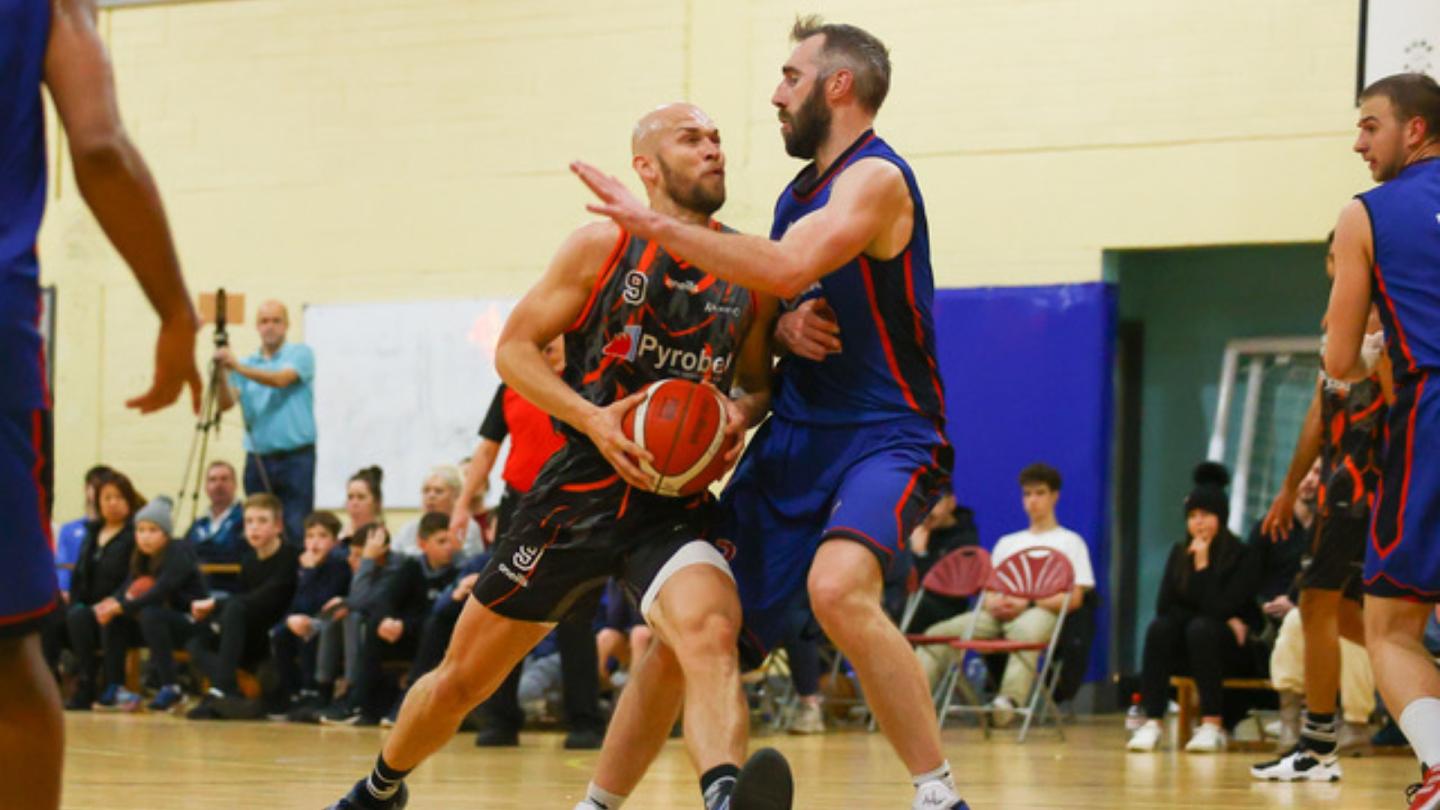 Nov 27 2022
All four National League leaders taste victory in 'Week 8'
University of Galway Maree head coach Charlie Crowley believes his side showed 'grit' and 'character', as they outlasted Garvey's Tralee Warriors to remain pace setters in the InsureMyVan.ie Super League.
The Galway side defeated the defending champions 80-72 in the Tralee Sports Complex, recovering from a half-time deficit to do so. 'Obviously happy to get over the line. It was a real gritty performance and was one where our character was tested. We stuck to what we know and believed that that would carry us over and it did. Some big individual plays towards the end to close it. All focus now is on the cup where records mean nothing, everyone is the same,' said Crowley.
That result came hours after the pressure turned up a notch following Emporium Cork Basketball's narrow victory, 97-96 against Energywise Ireland Neptune in an enthralling derby. Emporium Cork Basketball head coach Ciaran O'Sullivan was ecstatic with his side's mental strength; 'We had contributions from all over the floor and our mentality from the tip gave us the start and momentum we needed to compete. Neptune are a top side and showed all their class down the stretch, but we had enough of a lead to survive by the narrowest of margins,' added O'Sullivan.
DBS Eanna kept up their superb run of form to move to 6-2 and continue joint top of the Northern Conference. Paul Dick went off for 33-points in defeat for a Killester team who drop to 5-3 for the season. 'Look a win is a win,' said DBS Eanna head coach Darren McGovern. 'It's been a great month for us. We have worn teams down and stuck to worrying about ourselves which has helped our mentality. We've an exceptional group of players with a fantastic attitude. They are a joy to show up every week to play with. I also want to wish Adon (Gregorio Adon Encarnacion) from Killester a speedy recovery.'
It was a case of pouring it on early for Belfast Star. They scored 32-points in the opening quarter en-route to a 91-81 defeat of Flexachem KCYMS which keeps them in the hunt for silverware. Head coach Adrian Fulton thought his team were at their best for stretches of the game: 'Very pleased with the win tonight against a very talented KCYMS side. We played some of our best basketball of the season but our ability to stay focused for as close to 40 minutes as possible will define how competitive we are. We had a good scoring spread tonight. The only disappointment was an ankle injury to Darragh Ferguson. Darragh has been playing very well this year and is going to have a very good SL career. His performances for our U20 team have been terrific. We hope he will not be out for too long.'
Moycullen picked up their first win of the season in an all-Southern Conference clash with UCC Demons. The Galway team putting in a strong first half to win a defensive struggle, 60-53. Their head coach John Cunningham was suitably thrilled with the outcome: 'Great to get over the line. The defensive performance last week gave us a bit of hope that, if we could find some more offense, we might have a shot tonight. We shot well in training during the week and carried that into the first half. Second half was a bit 'ropey,' but our defense held up and we got a much-needed win. Delighted for everyone because it's been a struggle. We'll keep working hard and improving and hopefully the first win won't be the last one,' added Cunningham.
Stefan Zecevic hit 25-points and Donovan Fields 22, as Bright St.Vincents moved to 3-5 with an 87-79 win over Griffith College Templeogue. 'Good team effort especially from players coming off the bench, against never easy Templeogue team,' said head coach Josko Srzic. 'I am happy that two of our young players contributed big time for us in decisive moments on both ends of the floor, controlling the team and making some important scores for us,' He added.
The performance of the week goes to UCD Marian's Jonathan Jean, who notched 48-points including 15 field goals in leading his team to an 87-80 victory of EJ Sligo All-Stars. The win gives the college side their second win of the year, while EJ Sligo All-Stars slip to 4-4 and 4th place in the Northern Conference after 'Week 8'.
The solitary game in the MissQuote.ie Super League allowed The Address UCC Glanmire to lay down a marker and move joint top of the table alongside Trinity Meteors. Basketball Ireland's MissQuote.ie Super League 'Player Of The Month' for October Brittany Byrd top scored with 27-points in a 108-66 defeat of Ulster University. The win comes ahead of a potential season defining stretch of games in the coming weeks. 'Happy with the win. We were good from start to finish, shot the ball really well in a tough shooting gym and had contributions from all of our players and that is key going forward. We now have a couple of weeks to get ready for DCU Mercy and Waterford Wildcats,' said head coach Mark Scannell.
In the MissQuote.ie Division 1, Portlaoise Panthers solidified their standing as the only undefeated team in the country with an 82-53 success over SETU Carlow. Elsewhere, St. Pauls Killarney, Moy Tolka Rovers and Swords Thunder all picked up much needed wins. Four sides are in action Sunday. Limerick Sport Huskies and McEvoy's Cavan Eagles clash at noon and Abbey Seals Dublin Lions face off against Phoenix Rockets at 3:30pm.
Moy Tolka Rovers recorded a 7th win of the InsureMyVan.ie Division 1 campaign to stay top of the table. 91-62 the final score over Drogheda Wolves. Limerick Celtics, SETU Waterford Vikings, Malahide, and Dwyers of Cork Fr. Mathews also picked up wins. Limerick Sport Eagles take on SETU Carlow at 3pm.
---
Week 8 Results:
InsureMyVan.ie Super League Results
Saturday November 26th
Griffith College Templeogue 79-87 Bright St. Vincent's
Emporium Cork Basketball 97-96 Energywise Ireland Neptune
Belfast Star 91-81 Flexachem KCYMS
DBS Éanna 87-73 Killester, Coláiste Éanna
Moycullen 60-53 UCC Demons
UCD Marian 87-80 Ej Sligo All-Stars
Garvey's Tralee Warriors 72-80 University of Galway Maree
MissQuote.ie Super League Result
Saturday November 26th
Ulster University 66-108 The Address UCC Glanmire
InsureMyVan.ie Division 1 Results:
Saturday November 26th
Portlaoise Panthers 63-71 Dwyers of Cork Fr. Mathews
Malahide 91-65 Abbey Seals Dublin Lions
SETU Waterford Vikings 87-65 Killarney Cougars
Limerick Celtics 102-84 Scotts Lakers SPK
Moy Tolka Rovers 91-62 Drogheda Wolves
Sunday November 27th
Limerick Sport Eagles L-L SETU Carlow, UL Arena, 3pm
MissQuote.ie Division 1 Results
Saturday 26thy November
SETU Carlow 82-53 Portlaoise Panthers
Limerick Celtics 79-84 St. Paul's Killarney
Moy Tolka Rovers 58-50 Griffith College Templeogue
Swords Thunder 57-52 Oblate Dynamos
Sunday November 27th
Limerick Sport Huskies L-L McEvoy's Cavan Eagles, UL Arena, 1200pm
Abbey Seals Dublin Lions L-L Phoenix Rockets, Coláiste Bride, 3.30pm