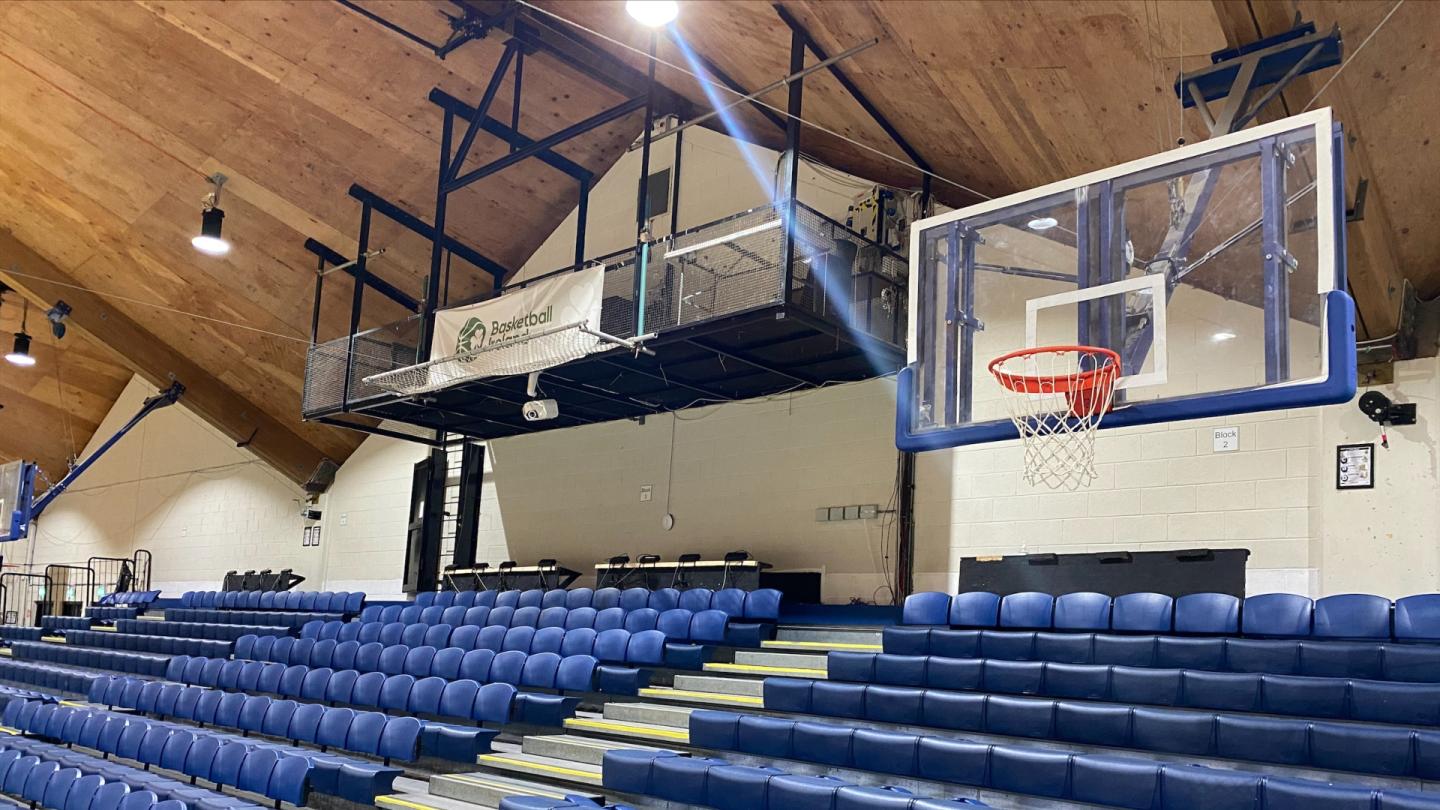 Dec 22 2022
Basketball Ireland install Artificial Intelligence led broadcast camera at the National Basketball Arena
Basketball Ireland has installed a new state-of-the-art AI (Artificial Intelligence) led automated broadcast camera at the National Basketball Arena.
The fixed-camera solution from AI-automated sports production specialists Pixellot, is situated at half-court. It incorporates ball tracking software to deliver dynamic coverage, while focusing on relevant in-game action. Pixellot's automated video solutions are in use by a variety of sports, broadcasters and associations in 72 countries globally, including the USA, United Kingdom, Spain, Japan, Germany, Argentina and Mexico.
Basketball Ireland CEO John Feehan, said:
"This is another progressive step for the game of basketball in Ireland. It will facilitate a high-quality broadcast of all events at the National Basketball Arena, working in tandem with our digital scoreboards and LED courtside signage to take the accessibility, fan experience and commercial opportunities of the sport to a new level. Pixellot's technology has the potential to become a viable broadcasting solution for our clubs, allowing them to showcase their teams, from grassroots right through to the InsureMyVan.ie and MissQuote.ie Super League and Division 1 on basketballireland.tv. I look forward to seeing the full benefits of its installation during the coming weeks and months."
The first broadcasts using new Pixellot system took place on Saturday, with the InsureMyVan.ie Super League fixture between Griffith College Templeogue and Garvey's Tralee Warriors and the MissQuote.ie Division 1 game between Griffith College Templeogue and Abbey Seals Dublin Lions being shown live on basketballireland.tv.
National Basketball Arena Manager Philip Nolan, added:
"This is the latest in a series of infrastructural additions to the National Basketball Arena that diversify our capabilities as a host to all events, not only basketball. The ability for vendors to broadcast their event around the world, alongside the increased branding opportunities provided by our recently installed big screens, makes the National Basketball Arena an incredibly desirable venue for a whole range of different uses."
Alon Werber, CEO of Pixellot concluded:
"We are thrilled to be partnering with Basketball Ireland to bring our technology to the National Basketball Arena in Dublin. This collaboration will allow the Women's and Men's National teams, as well as other teams, to benefit from the automated production capabilities of the Pixellot Show system. We are excited to see how this partnership will enhance the experience for both players and fans, and look forward to growing the popularity of the sport with Basketball Ireland".