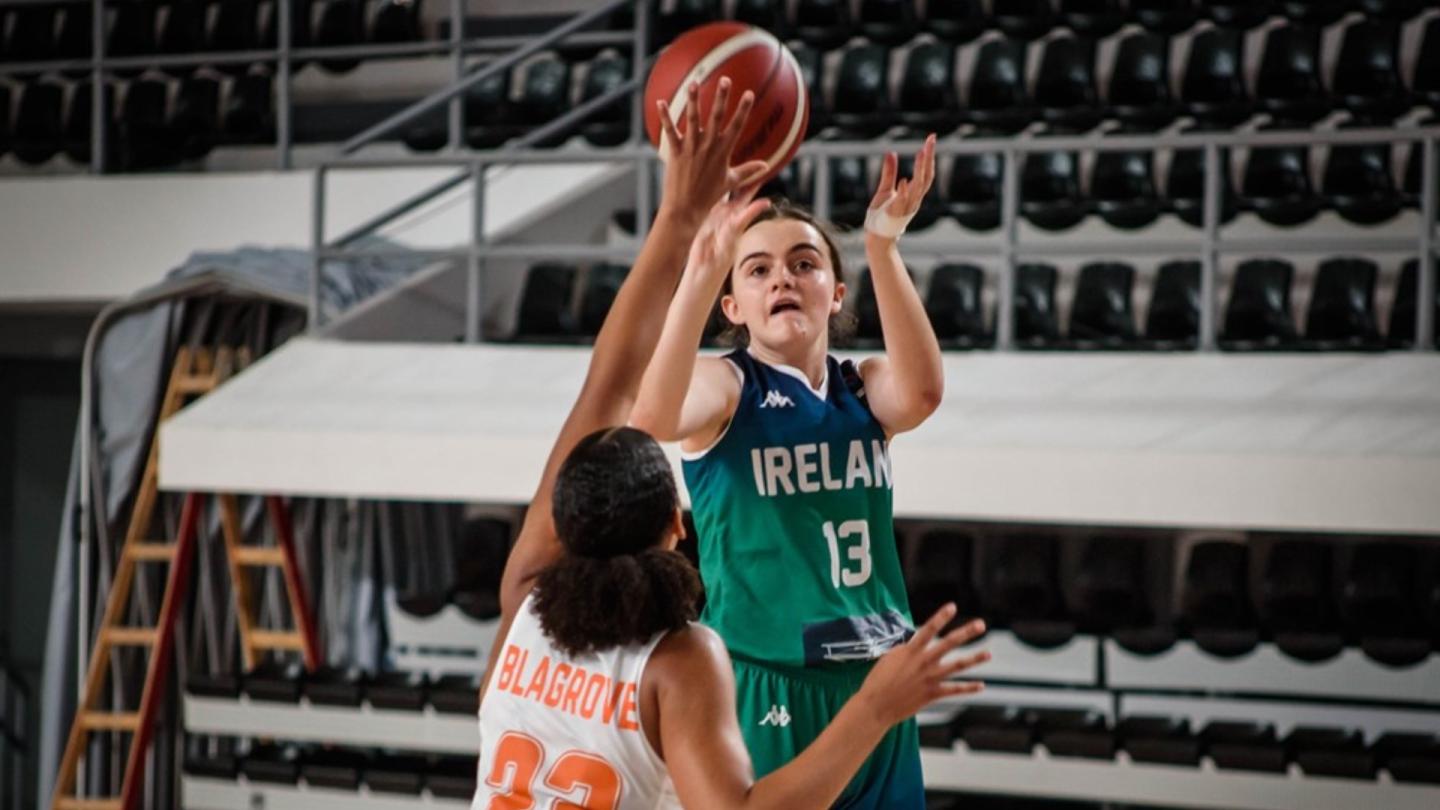 Nov 08 2022
Continuity in selection of 24 strong Ireland U18 women's squad for 2022/23
A 24 person squad will compete for the chance to represent Ireland at the FIBA U18 Women's European Championships, after head coach Tommy O'Mahony finalised his selections for the 2022/23 season.
O'Mahony calls upon eight representatives of the Ireland U16 women's team who gained experience of competing at FIBA European Championship level earlier this summer. Emma Tolan, Caoimhe Gilligan, Clara Boyce, Grace Prenter, Shannon Quigley, Karolina Gierszal, Shauna Curran and Aisling Moran.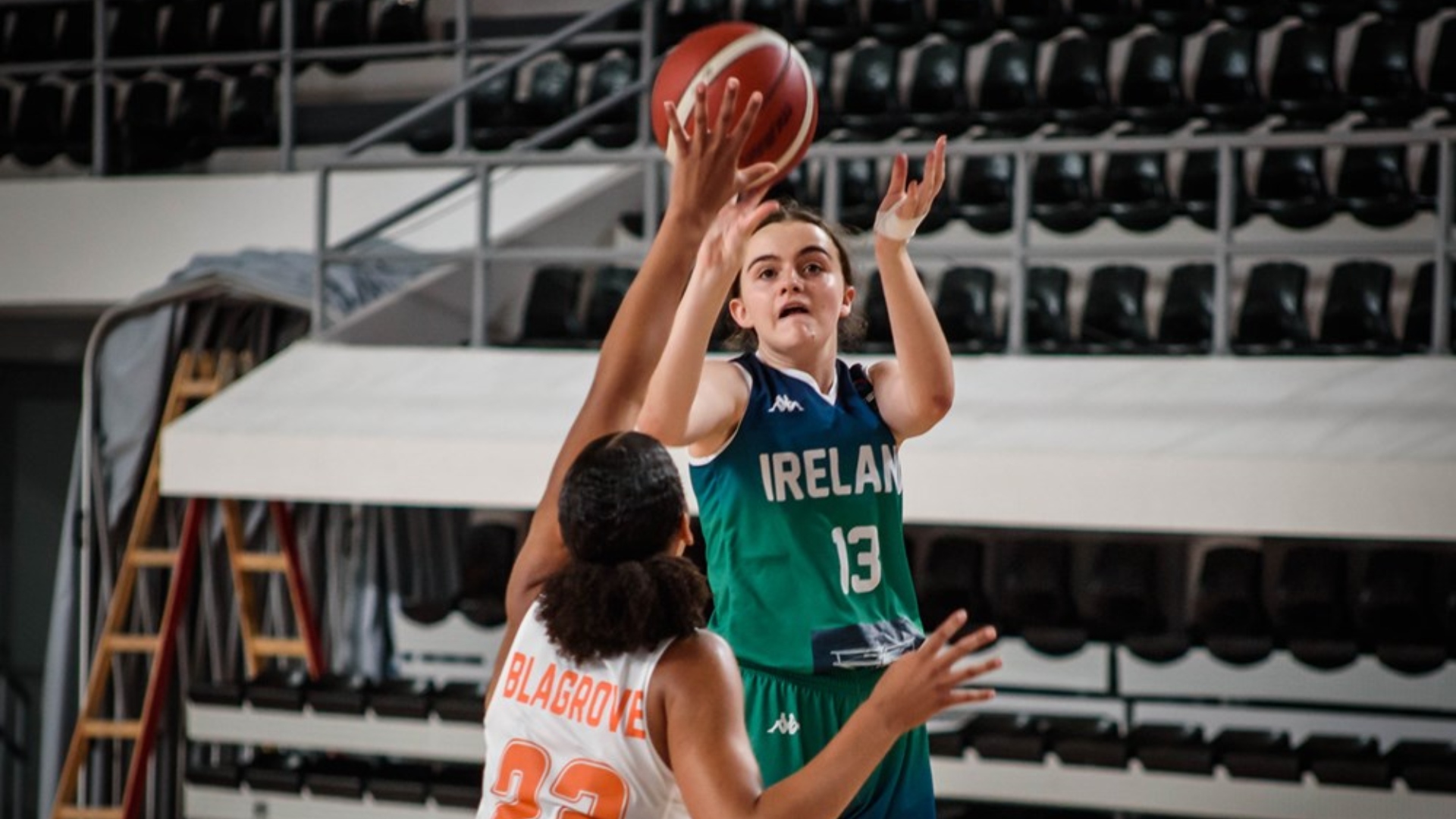 Caoimhe Gilligan shoots during this summer's FIBA U16 Women's European Championship. 
They're joined by Limerick Celtics Lucy Devoy, Brunell's Rebecca Sexton and Waterford Wildcats Caitlin Gloeckner who were a part of coach O'Mahony's squad that achieved a fantastic 9th place finish at FIBA's U18 European Championship in Bulgaria. There's further continuity in the inclusion of three players who played international 3x3 basketball at U17 level.
It's a fifth international cycle in a row at this grade for head coach Tommy O'Mahony, who was pleased with how the selection process panned out:
"We had a thorough selection process over the last few weeks and we are delighted with the current squad of players. We are eager to get started, as we understand there is a lot of work to be done in preparation for the FIBA U18 Women's European Championships next summer."
Seven counties have representation in the squad, Cavan, Dublin, Donegal, Kilkenny, Laois, Limerick and Waterford. Liffey Celtics are the most prominent club, with four players chosen, followed by Meteors, Limerick Celtics, Killester and Brunell.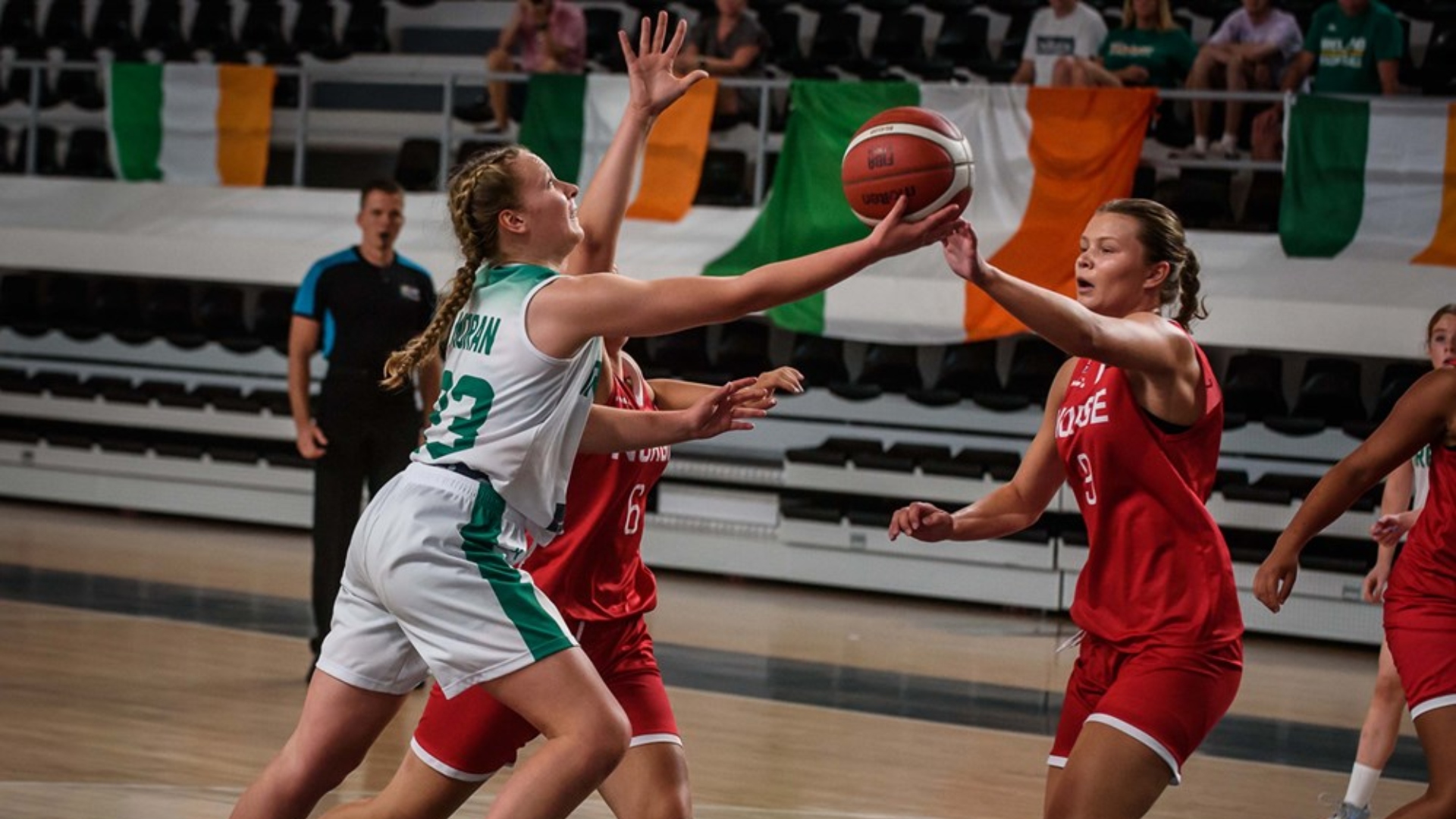 Aisling Moran in action at the FIBA U16 Women's European Championship. 
Ireland U18 Women's Squad 2022/23
NAME

DOB

POS

CLUB/SCHOOL

HEIGHT

Aisling Moran

23/11/06

PG

Meteors, Colaiste Isogain

5"6

Alannah O'Connell

17/07/05

SG

Templeogue, Mount Sackville

5"7

Anna O'Sullivan

31/01/06

F

Meteors, Muckross park

5"10

Aoibhin Dunphy

31/10/06

F

Kilkenny Stars, Presentation Secondary School Kilkenny

5"10

Ava Crean

24/1/06

SG

Limerick Celtics

5"4

Bree Shelly

18/06/05

SG

Killester, Sutton Park

5"6

Caitlin Glockner

10/03/05

PG

Waterford Wildcats, Yeats College

5"7

Caoimhe Gilligan

07/10/06

SG

Colaiste Brid Clondalkin, Liffey Celtics

5"9

Clara Boyce

03/03/06

F

Liffey Celtics, Colaiste Chiaran

5"8

Emer Dunne

29/10/05

C

SETU Carlow, Mountmellick MCS

5"10

Emma Gribben

08/04/05

F

Ulster University, Loreto Secondary School Letterkenny

5"11

Emma Tolan

23/03/06

F

East Cavan Eagles, Virgina College

5"11

Esther Nlebeumo

28/01/06

F

Dublin Lions, Kisghoe Community College

6"0

Georgia Munnelly

09/10/05

SG

Liffey Celtics, Our lady Bower Athlone

5"9

Grace Prenter

05/12/06

PG

Meteors & Mount Anville

5"9

Karolina Gierszal

24/04/06

PG

MUKS Bydgoszcz

5"8

Katie O'Sullivan

26/11/05

PG

Ongar Chasers, Castleknock Community College

5"7

Lucy Devoy

09/03/05

SG

Ard Scoil Mhuire Corbally, Limerick Celtics

5"8

Nina Stijacic

10/06/06

F

Limerick Celtics, St. Flannans College

5'10

Rachel Lynch

21/12/05

C

Brunell BC, Colaiste na Chroi naofa

6"1

Rebecca Sexton

17/08/05

SG

Brunell, Carrigline Community School

5"7

Sarah Courtney

18/12/06
SG

Killester

, Holy Faith School Clontarf

5"8

Shannon Quigley

25/10/06
F
Portlaoise Panthers
5"11

Shauna Curran

02/02/06
SG

Liffey

Celtics,

Celbridge

Commons
5"8