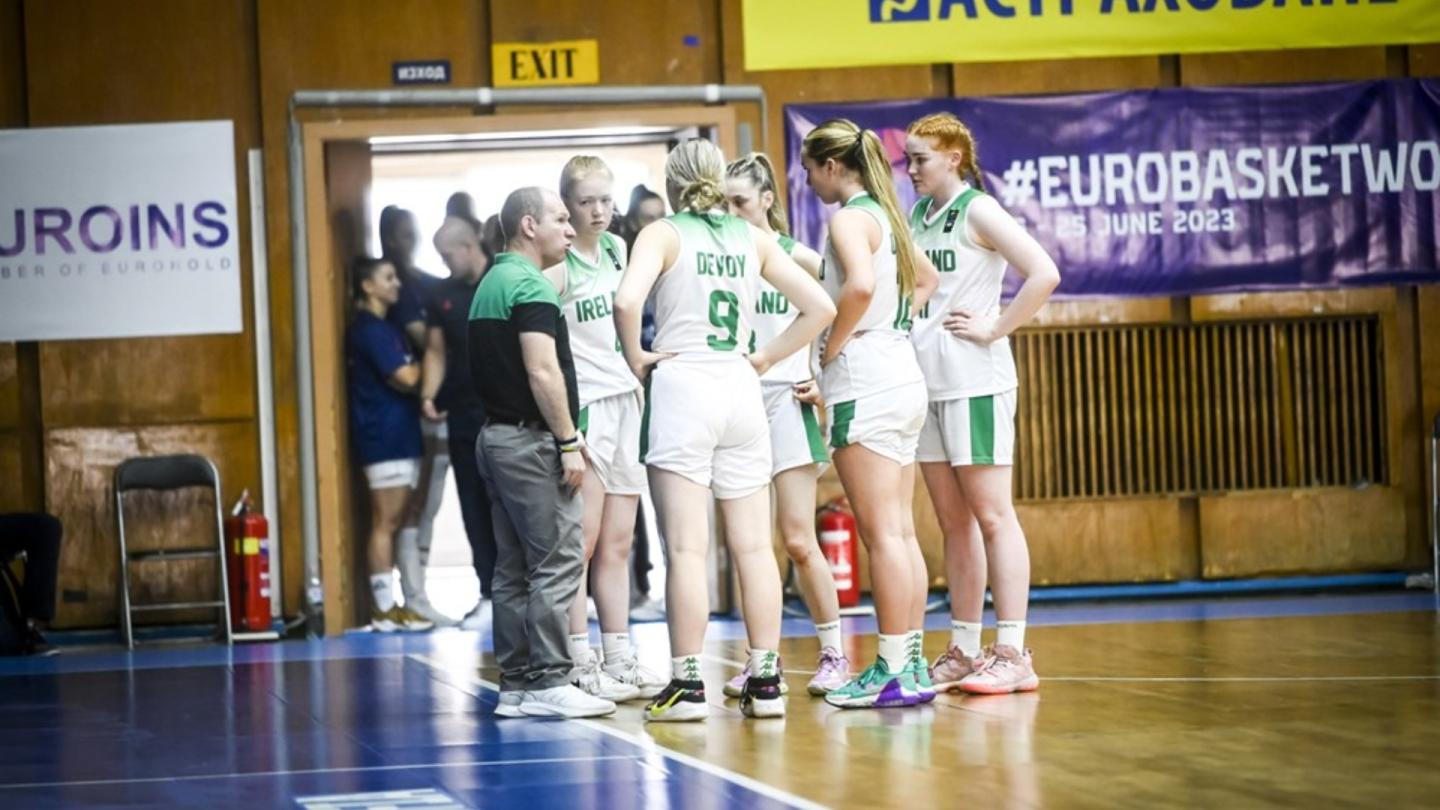 Aug 02 2022
Ireland fall just short following Inspired performance by Sarah Hickey
An inspired performance from Sarah Hickey was not enough for Ireland, as they suffered a heart-breaking defeat to Austria, 66-64 at the FIBA U18 Women's European Championship this afternoon.
Waterford Wildcats' Hickey was unplayable for much of the game, racing to 24-points and 9 rebounds in a first-half which the Irish dominated. Tommy O'Mahony's team took a deserved 16-point lead into second half. However, a sticky fourth quarter offensively allowed the Austrians to fire themselves back into contention and ultimately take the game at the death. The win lifts them to 2-2, while Ireland drop to 1-2 in group phase play.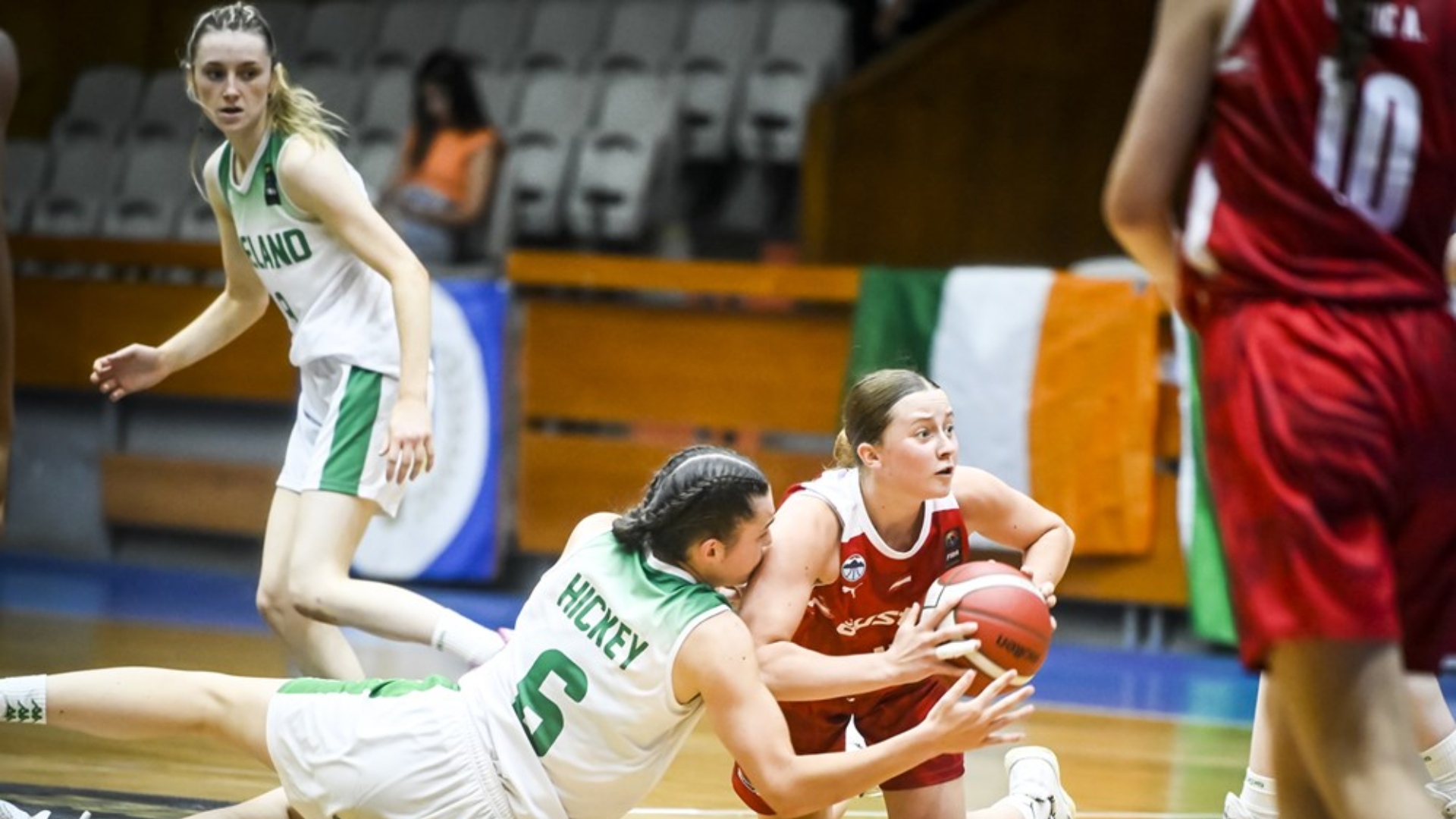 Sarah Hickey fights for possession at the FIBA European Championship. 
The story of the opening exchanges was some nervous shooting. Both sides missed chances they would expect to make, but as the quarter wore on and players settle into their patterns, both found their feet and the contest settled into a good rhythm. Niamh Tolan and Maria Alice Kealy bagged Ireland's opening baskets and Sarah Hickey began a historic shooting performance by hitting the Austrians for six in the first. Ireland's opponents gave as good as they got and the first period ended as it began, with the sides level.
The second quarter was entirely Ireland's. Sarah Hickey's shooting was irresistible during this ten-minute spell and would have graced any court in the world with aplomb. Hickey put her team's hopes on her back, going for 18-points on 72% shooting from the field and a perfect 2/2 from the free-throw line. Her direct opponent had no answer for her footwork and prowess on the turn. The Austrian coach recognising this, went on to rotate her defensive assignment for the rest of the contest, but this truly was an exhibition of basketball and left Ireland with a 40-24 advantage at its conclusion.
Ireland picked up where they left off following the break and appeared to be keeping Austria at arm's length throughout. Matching their scoring and allowing the bench players to pick up some valuable minutes. That optimism was short-lived in the fourth. Ireland's efficiency from the first three periods deserted them as the Austrians moved through the gears. O'Mahony will be disappointed with the scoring he received from his bench, only Niamh O'Leary and Caitlin Gloeckner troubled the scoreboard for two-points apiece.
This was a game of positives though and a very young Irish team will have learned a lot about closing out a game and the pitfalls of a large lead. Hickey finished the game with 31-points, 9-rebounds, 2-steals and 2-blocks, while Maria Alice Kealy notched 13-assists and facilitated her team-mates fantastically.
Next on the horizon for Ireland is a meeting with a Romania team protecting a perfect record tomorrow. Ireland know it is still all to play for in terms of the group. A win would be huge for the morale of the team going forward in the tournament.
---
Ireland's Top Scorers:
Sarah Hickey (31pts), Amy Duggan (10pts), Niamh Tolan (8pts).
FIBA U18 Women's European Championship Result:
Ireland 64-66 Austria
FIBA U18 Women's European Championship Fixture:
Ireland v Romania, Sofia, Bulgaria, Wednesday August 3rd, 6:30pm.