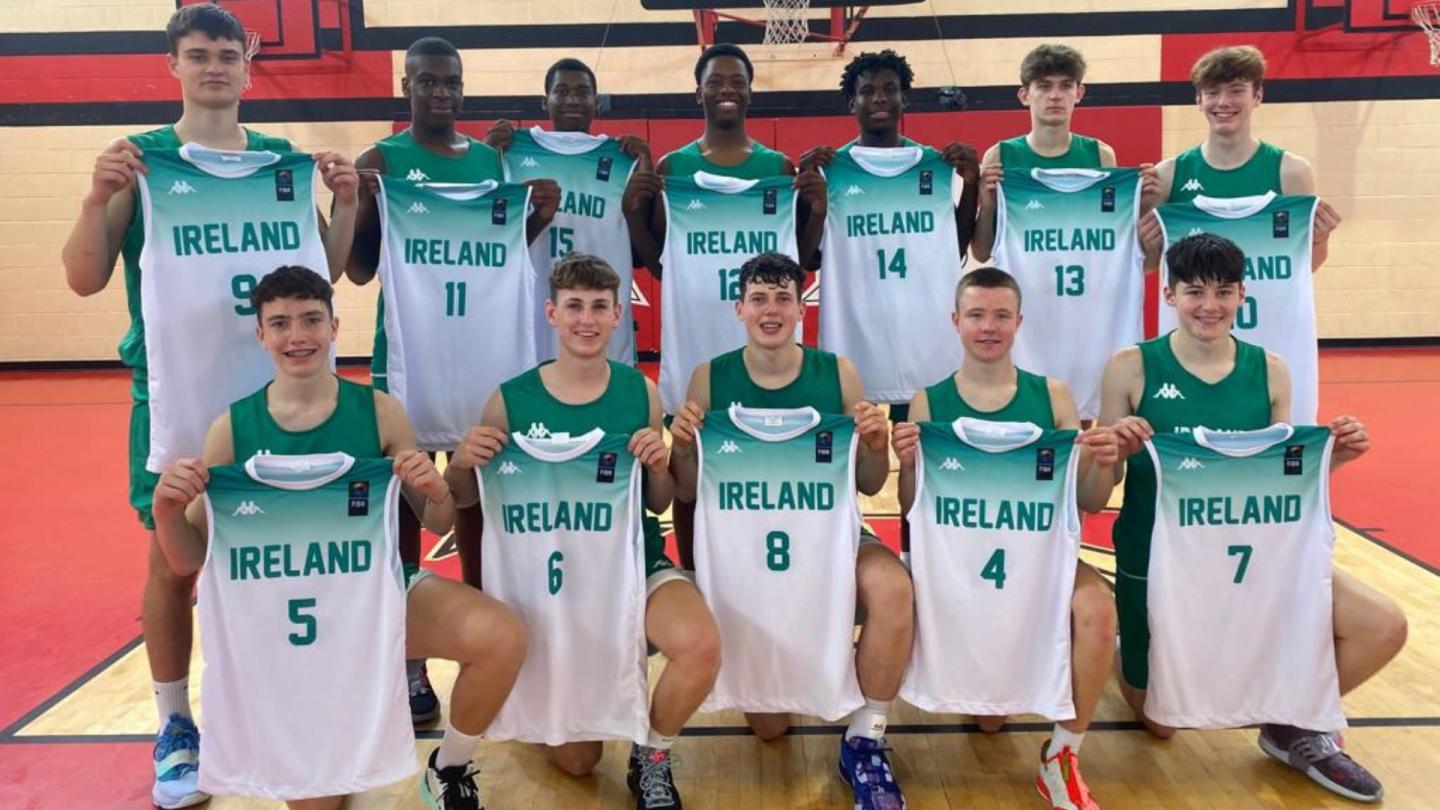 Aug 10 2022
Ireland U16 men ready to make FIBA European Championship bow
Ireland U16 men will become the fifth Irish age grade team to compete at FIBA European Championship this summer, when they take to the court against Romania tomorrow.
It will cap a journey of almost nine months for most of the squad since head coach Pat Price named a 31-person panel for 2022 last November. That panel has been whittled down to 12 and now it's their turn to follow in the footsteps of the U20s and U18s and test themselves against Europe's best.
The preparation to date has looked superb. Back in May they travelled to Dundee to take part in the Four Nations tournament, achieving a 2-1 record, the only blemish coming in a narrow 69-67 defeat to a teak tough English team. Their wins against Wales and Scotland were all the more impressive given that it was the first time the majority of the squad played together as it was Ireland's first outing at an age grade this young in almost three years.
The following month another significant moment for the group was their participation in the vaunted Dussman Trophy against Portugal, Netherlands, Romania and the hosts, Luxembourg. Ireland once more showed they have all the ingredients to be competitive at any level. Team captain Harry Scully led the way, securing a place in the 'Super All-Star 5' at the competition. This is a team full of leaders though and one that continues to gel with every passing day. Nine clubs are represented across seven counties and three provinces, so no stone has been left unturned by coach Price.
Leading up to the FIBA European Championship, the Ireland U16 men's head coach said:
Our preparations have gone well and the fellas are obviously excited about the challenges ahead. Every day will write its own story but eyes on Romania for now - they are a talented, well coached side and we'll need a very strong 40 minutes to get the result on Thursday.
That opening game with Romania will take place at 6:30pm Irish time and can be viewed on the Basketball Ireland website. It'll kickstart a gauntlet of intense basketball that'll see Ireland compete against the Romanians, Germany, Slovakia, Ukraine and Finland over just six days. It is going to be very testing for Ireland and will increase the importance of the depth within Pat Price's squad, no doubt a task they're all ready to step up to.
The top two sides from Group 'D' will advance to the quarter-final stages, with the remaining teams entering the classification bracket. It's a tasty target for Price's young guns to aim at and with two Irish teams already placing 9th, the U20 women showing up superbly in the 'A' Division and the U18 men holding their own with a very young squad for their age grade, the mood should be strong in the camp that anything is possible over the next ten days.
---
Fixtures
Ireland v Romania, Thursday 11th August, Time: 18:30, Venue: Sofia
Ireland v Germany, Friday 12th August, Time: 16:15, Venue: Sofia,
Ireland v Slovakia, Saturday 13th August, Time: 14:00, Venue: Sofia,
Ireland v Ukraine, Monday 15th August, Time: 18:30, Venue: Sofia
Ireland v Finland, Tuesday 16th August, Time: 16:15, Venue: Sofia
---
Ireland Men's U16 Squad:
Declan Gbinigie (Titans BC), Darragh Horkan (Limerick Lions), Fortune Igbokwe (BC Taurus), Tomas Kennedy (Tralee Imperials), Conor Mac Críosta (Drogheda Wolves), Jakub Malecki (Drogheda Wolves), Cillian O'Connell (Portlaoise Panthers), Pharrell Osagie (Mallow BC), Joshua Osayanrhion (Tralee Tigers), Harry Scully (Dublin Lions), Luke Seltzer (Templeogue BC), Finn Walsh (Drogheda Wolves).