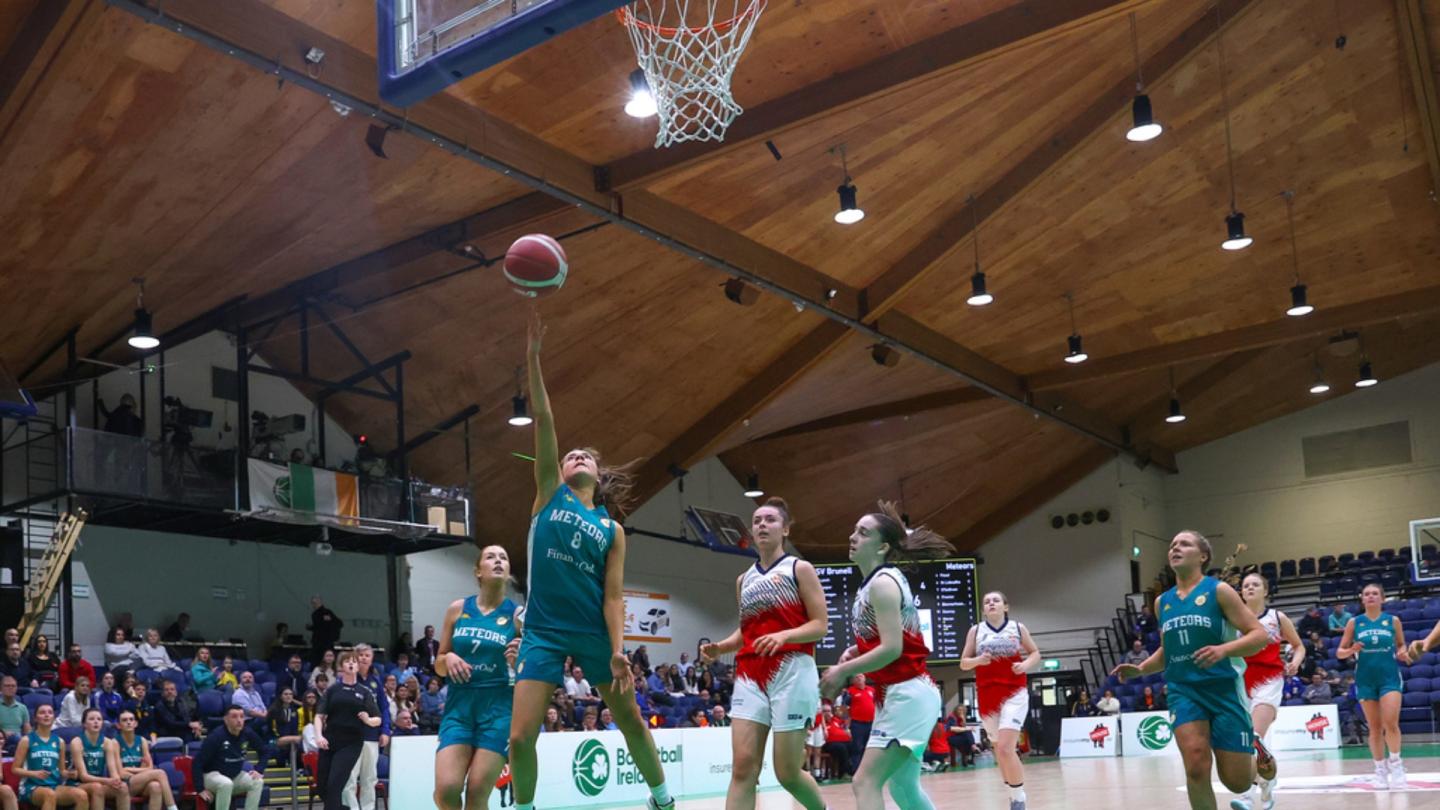 Jan 22 2023
Meteors lift InsureMyHouse.ie U18 Women's National Cup after 70-53 win against Singleton SuperValu Brunell
Meteors won the InsureMyHouse.ie U18 Women's National Cup defeating Singelton SuperValu Brunell 70-53 at the National Basketball Arena. Grace Prenter stole the show with a 30 points, along with eight rebounds, five steals and three turnovers on her way to securing the MVP.
Meteors opened up an early four point advantage through Freya Blennerhassett and two Grace Prenter free throws, before Singleton SuperValu Brunell's Rachel Lynch and Issy McSweeney's scores nudged the Cork club 5-4 ahead in the fourth minute, however that would be last time they'd be front.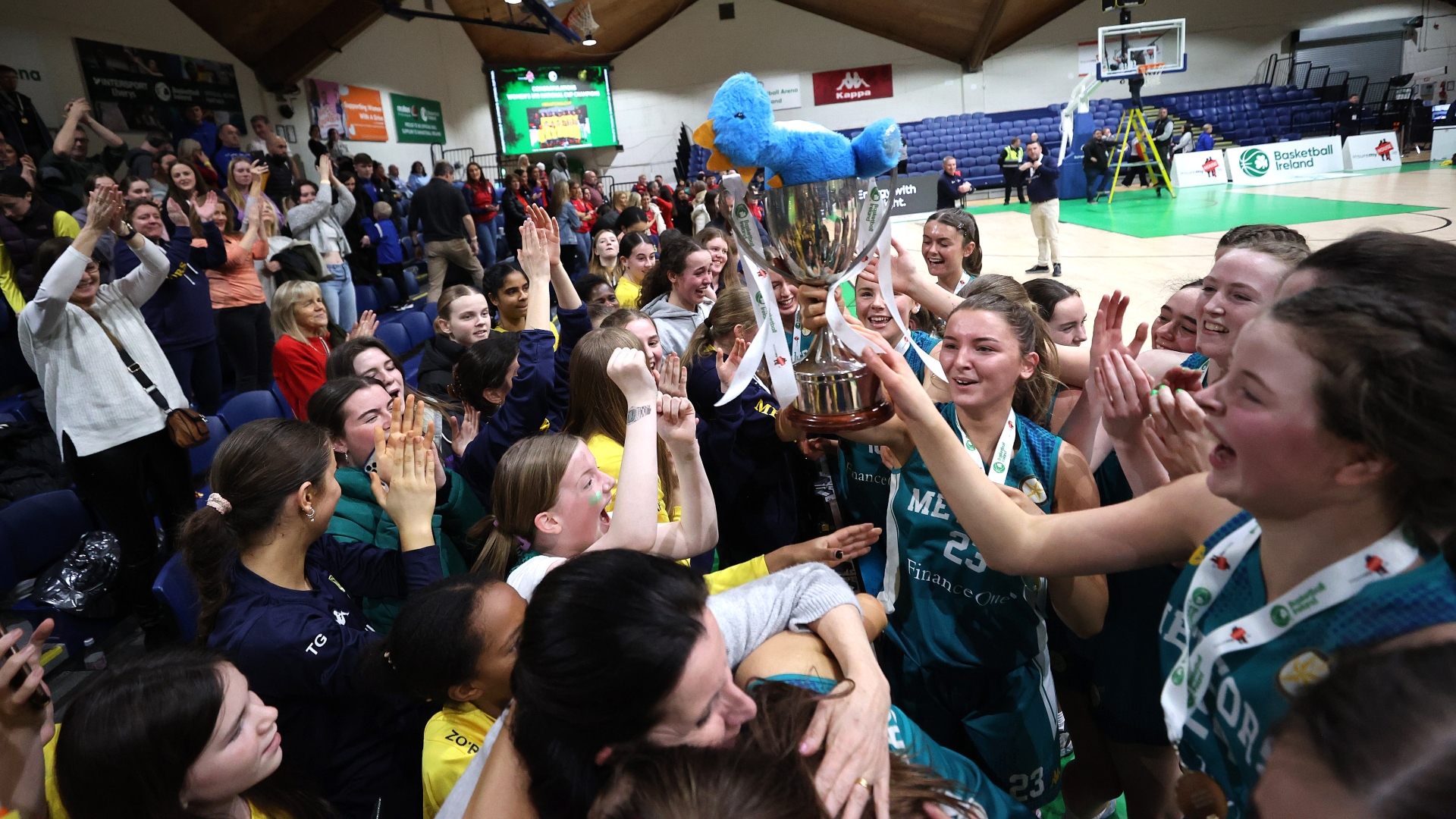 Meteors celebrate a famous win in the InsureMyHouse.ie Women's U18 National Cup Final. 
It was a tight first quarter, but it was Meteors who ended it 18-12, Prenter had the last say, she'd racked up 10 points already. The second quarter Singleton SuperValu got within four points through McSweeney and with a little under three minutes to go they trailed 25-21. Meteors extended their advantage to eight by half-time, 31-23, Prenter again with the final points of the quarter, a two-point jump shot.
It was the third quarter where Meteors took a stranglehold, outscoring their opponents 24-9, to lead 55-32. Prenter was central to that third quarter push with nine points, while Aisling Moran had six. Moran was another who caught eye, finishing the game with 15 points, seven rebounds, five assists, five steals and four turnovers.
Singleton SuperValu to their credit kept plugging away in the fourth, guard Rebecca Sexton, who played with Ireland's U18's at the FIBA U18 Women's European Championship last summer, shot 10 points in the quarter, including two from the three point line. It was to be Trinity Meteors day, running out 17-point victors in the end.
Speaking afterwards a thrilled MVP Grace Prenter said:"I'm so delighted. It's been a long time coming, we've been fighting so hard in every match and we beat everyone. We were always the underdogs so it's such a good feeling right now. It's a positive (being underdogs), it doesn't put as much pressure on us because we're not expected to win by anyone, but it has happened to us this time so that's amazing." - Grace Prenter MVP Meteors
Singleton SuperValu Brunell 53–70 Meteors
Quarter Scores:
Q1: 12-18, Q2: 23-31, Q3: 32-55, Q4: 53-70
Singleton SuperValu Brunell: Mia Lynch, Kelsey Cooper, Laura Hannigan, Saoirse Breen, Niamh Cullinane, Issy McSweeney, Rachel Lynch, Ava Walsh, Rebecca Sexton, Michelle Angozi
Coach: Kieran O'Leary Asst Coach: Kevin Harris, Edel Thornton & Jodie Black Team Manager: Paula Lynch
Top Scorers: Rebecca Sexton (14), Ava Walsh (12), Saoirse Breen (10), Issy McSweeney (9), Rachel Lynch (8)
Meteors: Jenny Flood, Ebie Ni Lideadha, Anna O'Sullivan, Grace Prenter, Freya Blennerhassett, Jodi Geaney, Aisling Moran, Ailbhe Ryan, Caoimhe Curran, Riona Grealy, Sophia Fearon, Ava Gilligan
Coach: Seamas Donnelly Asst Coach: Alan Fearan Team Manager: Dolores Geaney & Mandy Clarke
Top Scorers: Grace Prenter (30), Aisling Moran (15), Ailbhe Ryan (10), Freya Blennerhassett (8), Anna O'Sullivan (3)