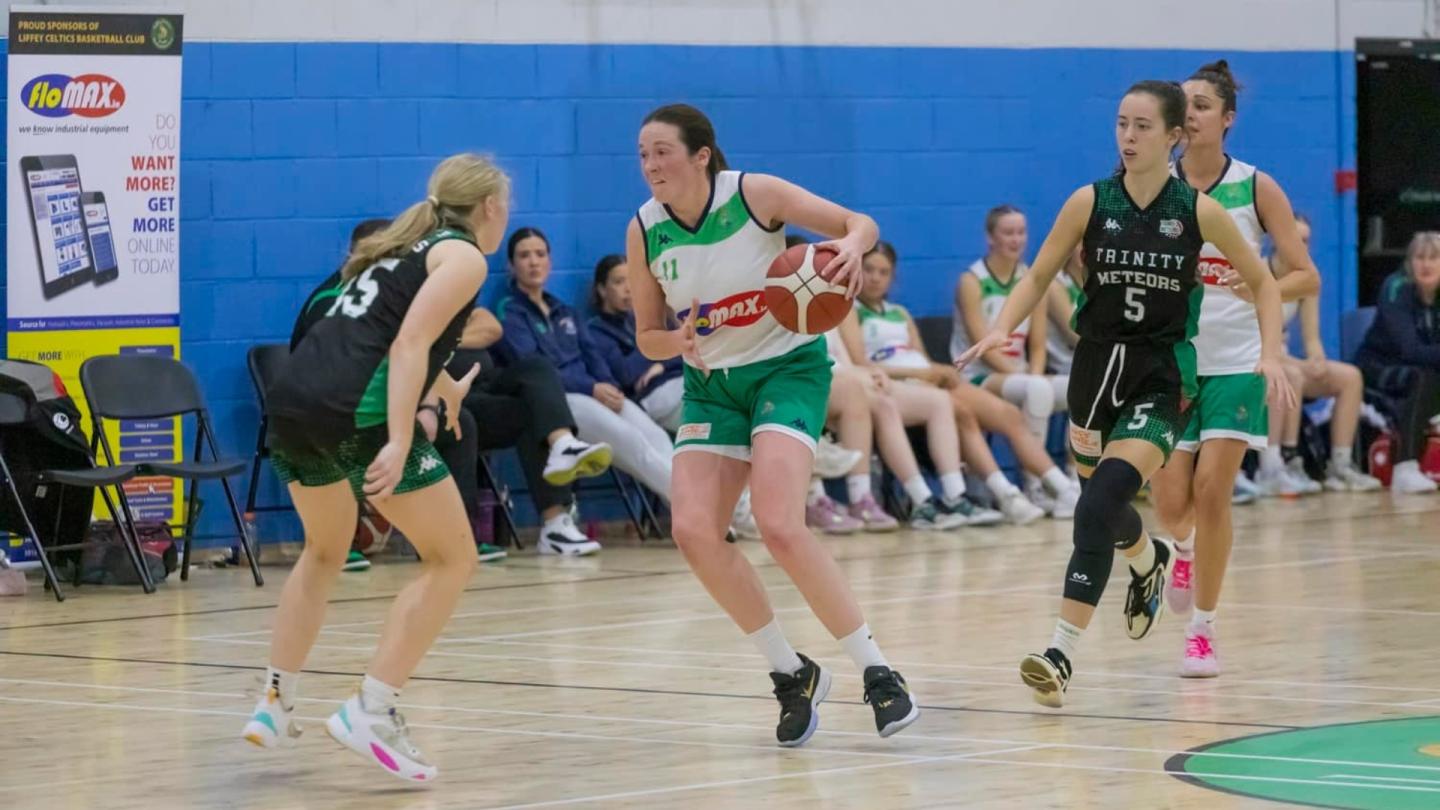 Nov 16 2023
Preview: Can FloMAX Liffey Celtics seize opportunity at top spot?
Photo Credit: Trinity Digital Media Studio
The MissQuote.ie Super League returns with a bang following the international break this weekend.
Gurranabraher Credit Union Brunell's bye week gives FloMAX Liffey Celtics the chance to take top spot in the table for themselves, if they continue their unbeaten start against Catalyst Fr.Mathews.
The Kildare outfit had three players in James Weldon's Ireland squad, but the majority haven't played meaningful minutes since October 30th and Rachel Huijsdens picked up an injury in the build-up to the FIBA Women's EuroBasket qualifier with France that could keep her out. On the flip side, Catalyst Fr. Mathews arrive in Leixlip on the back of a four-game winning streak in league and cup, full of confidence in the knowledge that inflicting a first defeat of the season on Karl Kilbride and company will see them move as high as fourth.
Killester and SETU Waterford Wildcats lead the pack chasing the top two, only wins over Ulster University and DCU Mercy will be good enough for them to stay in touch. The latter pair are each looking to end a run that sees them winless since the start of October and with the window into the top four closing fast, they are getting into must win territory if they are to keep their MissQuote.ie Super League ambitions alive.
At the other end of the table, wins have been like gold dust for University of Galway Mystics and Portlaoise Panthers so far this campaign. The Panthers did get off the mark against DCU Mercy last time out though and despite losing out in the opening round of the Paudie O'Connor Cup, that winning feeling should remain fresh in the memory.
"I think both teams will be looking forward to it because of what's at stake," said Portlaoise head coach Niall Berry. "They have that bit more experience in the league and you can see that in how they play. We're hoping our hard work will start gaining us the results we deserve, starting this weekend."
Kara McCleane returns to the west after earning her first senior Ireland cap, looking to put that experience to good use for her club. McCleane has made a huge mark on the MissQuote.ie Super League in the absence of a professional in Mystics' ranks and her head coach Paul O'Brien thinks their reward is just around the corner. "We aren't happy with our record currently, but we feel we have been playing much better as the weeks have gone on," said O'Brien. "Not having a pro has obviously affected our team, but our young Irish players have really stepped up and played at a high level."
Elsewhere, The Address UCC Glanmire can secure back to back wins for the first time this season and close the gap on the top four with a home win over Trinity Meteors. Hillary Netsiyanwa takes his young team on the road to Cork knowing a win for them on Sunday will move them ahead of the defending champions and into fifth place should other results go their way.
Fixtures | MissQuote.ie Super League
Saturday November 18th
University of Galway Mystics v Portlaoise Panthers, Kingfisher Sports Arena, 1600
Killester v Ulster University, IWA Clontarf, 1800
FloMAX Liffey Celtics v Catalyst Fr. Mathews, Leixlip Amenities Centre, 1900
Sunday November 19th
DCU Mercy v SETU Waterford Wildcats, DCU Arena, 1430
The Address UCC Glanmire v Trinity Meteors, Mardyke Arena, 1430