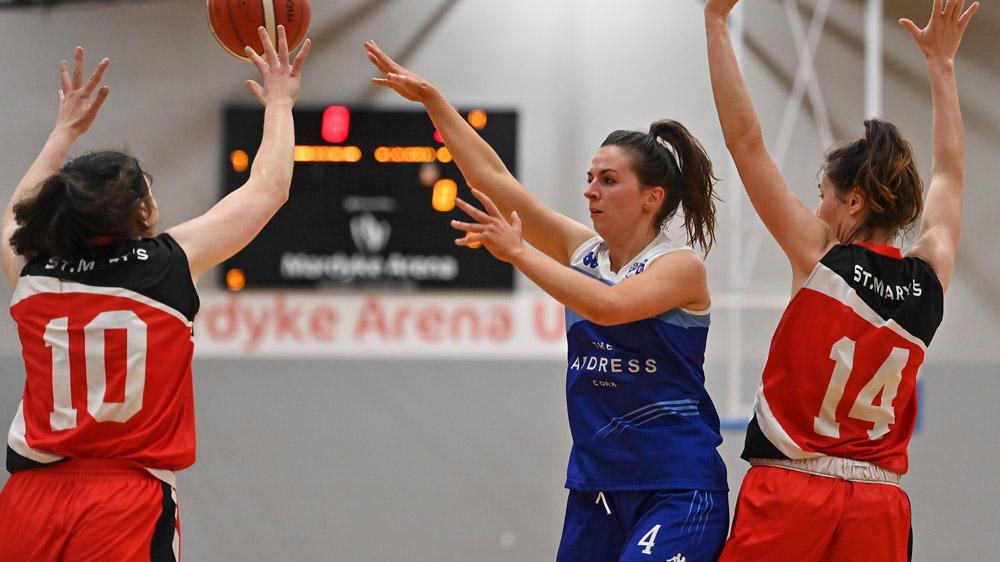 Oct 22 2021
MissQuote.ie Super League Round 3/4 preview
It's a double header weekend in the MissQuote.ie Super League, with a . The Address UCC Glanmire are the current leaders on points difference and face Killester on Saturday, followed by Leixlip Amenities Liffey Celtics on Monday.
"It's going to be a really tough weekend, we play two of the best teams in Killester and then Leixlip Amenities Liffey Celtics. Three games in eight days will test everyone, so we need to take one game at a time and hope we've prepared well", head coach Mark Scannell stated.
Defending champions DCU Mercy have two games in two days, they host Team Garvey's St. Mary's on Sunday, followed by a trip to Cork on Monday to take on Singleton Supervalu Brunell. Head coach Mark Ingle is looking forward to the challenge: "We have a big weekend ahead with games against St Mary's home on Sunday, and Brunell away on Monday. A tough double header that will test our resources this weekend."
For Singleton Supervalu Brunell, they travel to Fr. Mathews for a local derby before their game with DCU Mercy. Tim O'Halloran Singleton Supervalu Brunell knows the task at hand will be a difficult one for his side. "I'm really looking forward to what's going to be a very tough weekend for us, as we play two very good teams in Fr. Mathews and DCU. I'm also excited as it will give myself and the girls a good indication as to where we are right now as a team."
After facing DCU Mercy, Team Garvey's St. Mary's host Trinity Meteors, their head coach Liam Culloty, assessed his team's fixtures. "We are looking forward to the challenge of playing back-to-back this weekend. Every game is a learning curve for us, so we hoping to maintain the high standards we set ourselves last weekend. Hopefully everyone pulls through injury free before the first round of the (InsureMyHouse.ie National) Cup the following weekend."
WIT Waterford Wildcats will be looking to build on last week's victory over Leixlip Amenities Liffey Celtics this weekend, when they face Trinity Meteors away on Saturday, followed by IT Carlow at home on the Bank Holiday Monday. Head coach Tommy O'Mahony gave his thoughts ahead of busy weekend schedule. "Big weekend ahead for a lot of teams, including ourselves. This weekend will really shake up the league, as a lot of teams are just finding their feet from a long layoff. We are coming up against two tough teams, and we know we need to be at our best in order to compete and be in with a chance."
Leixlip Amenities Liffey Celtics are away at IT Carlow on Saturday, followed by the early game on Bank Holiday Monday, tipping off at 1200 against The Address UCC Glanmire. Their head coach, Yiannis Liapakis, was unhappy after defeat to WIT Waterford Wildcats and sees the weekend as an opportunity to make amends ."After a very poor and embarrassing performance last Saturday we're getting ready and we hope to bounce back this Saturday in Carlow. We have a double header this weekend, but unfortunately we're not having the time to prepare for both games, so we're focusing only for Saturday's game against Carlow! It's going to be a very tough game and we're hoping for the best."
Killester face two Cork-based sides this weekend, The Address UCC Glanmire away and Fr. Mathews at home in Dublin. Killester head coach Karl Kilbride knows it's going to be a challenge. "We've got a really tough weekend ahead. Glanmire are probably the overwhelming favourites to win everything this year and with the new American girl Carrie Shephard, they've brought in for the weekend, they're probably that bit stronger again.
"Going down there is always a tough ask. But our performance last week was much improved from the week before. We've had a good week in practice and we'll be going down looking to keep that improvement going. The fact that we play each other in the (InsureMyHouse.ie National) Cup the following week adds another little element to it and will be in the backs of people's minds, but we're going down looking for a performance this weekend and hopefully the result will follow.
"Monday brings another really tough game against Fr. Mathews. They're probably a little disappointed with their start to the league. I think they're a actually a lot better than their record suggests. On paper, they're as good as anyone in the league, they're really well coached and we know they'll be coming to the IWA with a chip on their shoulder on Monday looking to prove a point. Obviously Aisling McCann, a Killester stalwart, is in Cork for the year playing with them and along with having to contend with their talent inside with Grainne (Dwyer) and Shannon (Brady), we'll need to make sure Ash (McCann) doesn't get too comfortable while she's back in Clontarf for the day!"
MissQuote.ie Super League – Round 3/4 fixtures
MissQuote.ie Super League – Round 3 fixtures
Saturday 23rd October
Trinity Meteors v WIT Waterford Wildcats 14.30
IT Carlow Basketball v Leixlip Amenities Liffey Celtics 15.30
Fr. Mathews v Singleton Supervalu Brunell 17.00
The Address UCC Glanmire v Killester 17.00
Sunday 24th October
DCU Mercy v Team Garvey's St. Mary's 14.30
MissQuote.ie Super League – Round 4 fixtures
Monday 25th October
Leixlip Amenities Liffey Celtics v The Address UCC Glanmire 12.00
WIT Wateford Wildcats v IT Carlow Basketball 13.00
Singleton Supervalu Brunell v DCU Mercy 14.30
Team Garvey's St. Mary's v Trinity Meteors 15.00
Killester v Fr. Mathews 15.00