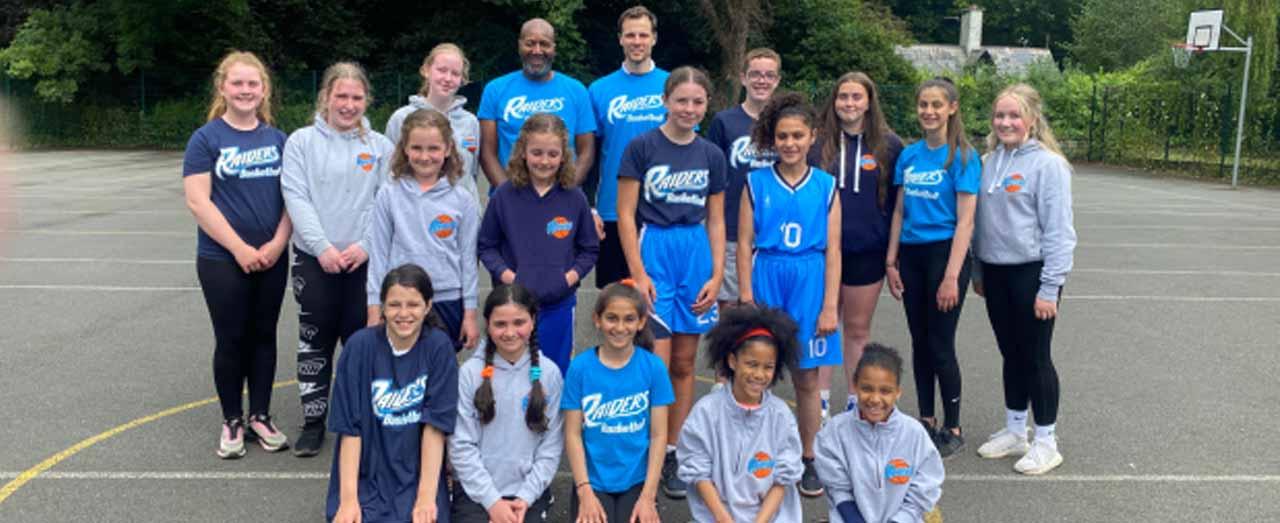 Jul 30 2021
Bronze Club Mark Awarded - Dublin Raiders
Interview with Dublin Raiders Founder/Chairperson
The Dublin Raiders are the most recent club to be awarded the Basketball Ireland Bronze Club Mark. We sat down with club founder and chairperson Ed Randolph to find out how the club found the process.
---
What made you want to try and achieve the Basketball Ireland Club Mark?
"As a committee, we decided to achieve Basketball Irelands Club Mark as we wanted to ensure that Dublin Raiders Basketball Club is providing a high standard of coaching to our players of all ages while also ensuring good governance is adhered to in relation to club management."
---
How did you find the Basketball Ireland Club Mark process?
"During the process it became apparent that while we were compliant in the majority of the standards, the process helped us tidy up some loose ends ensuring we were now fully compliant across all the relevant areas."
---
Can you tell us a bit about your club - how many teams do you have, when the club was founded and some achievements/highlights?
"Dublin Raiders was founded in 1989 by our Head Coach Ed Randolph. Over the years the club has grown to over 350 members. We have a Junior and Senior Academy, two Senior Ladies teams (D2 & D5) U18 down to U12 girls. We also have two Senior Men teams (D2 & D6) and again U18 down to U13 boys. Dublin Raiders is managed by volunteers and it is our ambition and goal to have a National League Men's & Women's Team one day. Throughout the years, Dublin Raiders have had numerous achievements including winning leagues and cups with various teams. We have had a number of players selected to play for Irish underage boys and girls teams. Dublin Raiders had a number of players start their basketball career with the club who have gone on to play at National league and Super league level, most notably Neil Randolph and Lorcan Murphy, both of whom are current members of the senior Men's Irish team. Our future is looking bright with a number of very promising players who have come through the ranks having graduated from our Academy and now playing on our underage teams."
---
What challenges do you face in the club if any?
"The biggest challenges we face every year is finding volunteer coaches and securing gym time. In the geographical area that we live in, gym time is scarce and times that are available usually don't work for training as players are either in school or work. In addition, if we are lucky enough to securing courts, the cost of hiring them is a massive financial burden on the club. As a club, we are consentient of not passing this extra financial burden onto families as we don't want any players to stop playing the game due to the high costs."
---
What difference is the Basketball Ireland Club Mark going to make for your Club?
"By achieving this award, it demonstrates that Dublin Raiders Basketball Club is a fully pledged member of Basketball Ireland. It shows that as a club we are fully transparent in all aspects of the management and operations within Dublin Raiders while also ensuring that we continue to strive to provide basketball to all our members, including those with additional needs."
---
Do you think you will engage with the Club Mark system and achieve all the way up to Platinum Club Mark? If so, what do you need to do to get your club tothis stage?
"We are going to take one step at time and are now looking at achieving the silver award. "
---
What are the goals for the season ahead?
"Our main goal is to get back training and playing indoors. As a management team we are working extremely hard to ensure that we do not lose any players as a result of Covid-19. This is a particular worry with underage girls but we are and have been actively working on bringing them back. For the past year, we have been very proactive in trying to keep players engaged. When in lockdown we provided individual training plans and sessions via Zoom. Once allowed back training, we secured 4 outdoor courts where we ran training for all our underage teams including our Academy. Every Saturday morning we had the 4 courts booked from 10am – 2pm, all while being fully compliant with Covid-19 guidelines. We were delighted with the response with majority of players attending team training each week."
---
What would you say to other clubs thinking about getting involved in the Basketball Club Mark?
"Yes we would recommend this process as it is a step by step process of achieving good governance which we believe is extremely important when fundraising and managing club finances etc. It is also a good way to ensure that your club is operating with effective management while also guaranteeing the health and safely and development of your members. In addition, by achieving the Bronze Club Mark, we are hoping this will help when applying for grants in the future."