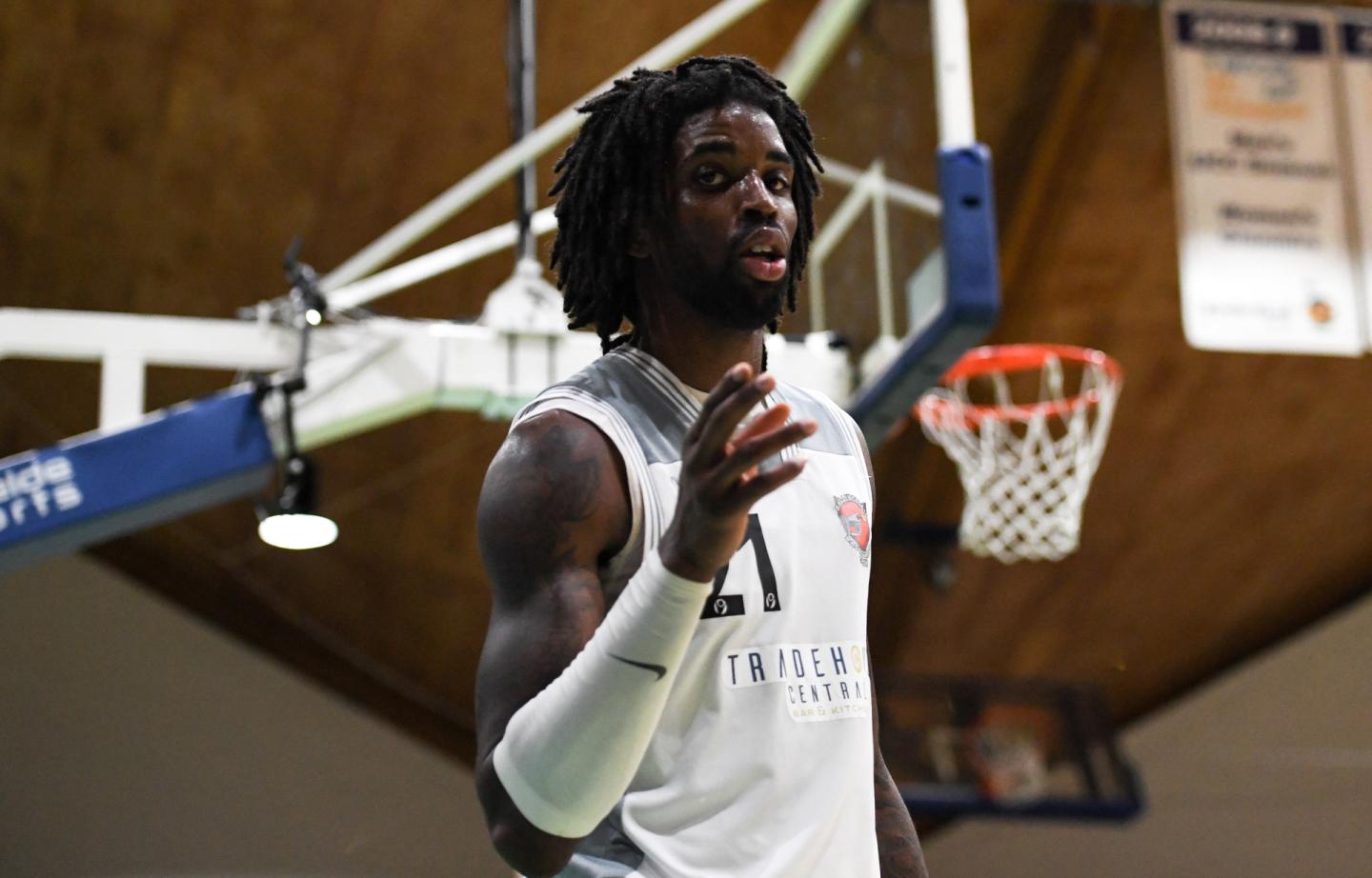 Nov 13 2021
National League round-up, Tradehouse Central Ballincollig remain unbeaten
Tradehouse Central Ballincollig made it five wins from five in the InsureMyVan.ie Super League with a 15 point, 87-72 cross conference win over Killester on Saturday. Andre Nation scored 25 points in the win, with Ireland international Adrian O'Sullivan and Milorad Sedlarevic scoring 19 points each.
Afterwards head coach Kieran O'Sullivan hailed his players. "We are delighted with the win and the performance was hugely encouraging. Offensively we moved the ball a lot better and getting a good start was paramount in the victory. Andre Nation showed his overall game is one of the finest in the league. Adrian O'Sullivan broke loose in the second quarter and gave us a good cushion at half-time. Ciaran O'Sullivan and Pau Cami's creation and craft helped us greatly throughout the game. Milorad (Sedlarevic) finished superbly and showed his superb shooting pedigree. Next up is Éanna, one of the deepest teams in the league and one we have had great battles with in the last few years. We look forward to another battle next Saturday at home."
Kason Harrell led scoring for Killester with 14 points, followed by John Behan (12), Tomas Fernández Zerolo (11). Brian O'Malley, Killester head coach, said: "Congrats to Ballincollig, they were full value for the win today. We can't have any complaints. They dictated the tempo of the game and we weren't able to break up their rhythm. They switched up their starting line-up and I probably got our match-ups wrong and from the early stages we were always chasing."
Belfast Star beat in-form NUIG Maree 81-73, but the victory came at a cost, an injury to Paul Dick in the fourth quarter. Adrian Fulton lamented this latest injury blow to his squad. "Paul Dick is in A&E with a possible fracture of his foot. Our only thoughts are with Paul right now. And yes, he was a massive factor in our win tonight. He is such a terrific player. He was at about 70% tonight and was still able to take over the game for a four minute period in the 4th quarter before getting hurt. He makes us so much better. Outside of that, we had six players in double figures and Conor Quinn was huge down the stretch for us, making some big plays when Paul got hurt."
Quinn had 15 points on the night, followed by Max Cooper (13), James Claar (12) and Austin Beech (12).
NUIG Maree led by three, 42-39, at the break, but failed to push on and head coach Charlie Crowley wasn't happy with his side's display. "Very disappointed with today's game. Listen Belfast are a really well-coached team with some great players, but we were too slow in a lot of our stuff today, both from a management side and players side. We went away from the good stuff we had done against Tralee and Templeogue and went back to average basketball. As I said, all credit to Adrian and his team, they made our lives difficult, but we didn't help ourselves. To win a Super League game you've got to be at your best and unfortunately tonight we weren't."
Luka Kraljic was top scorer for NUIG Maree with 16, while Lovre Tvrdic had 12 and Deondre Jackson 11.
After being somewhat contained by NUIG Maree last week, Aaron Calixte was back to his free-scoring best for Garvey's Tralee Warriors picking up a sizeable 38 points in their 86-72 win over Bright DCU Saints. The Dublin club, who are still awaiting a first win this season, trailed by only five at the break 49-44, before Garvey's Tralee Warriors pulled away to win by 14 points.
Garvey's Tralee Warriors head coach John Dowling said: "Aaron (Calixte) was disappointed with his performance last week and he has been fantastic all week in training, he lead the guys tonight defence and his offence speaks for itself, he is a truly special player, with more to come."

"We are delighted to get back to winning ways and once again delighted that our young guys stepped up. Saints were outstanding, they threw our game and pushed us all the way, they are not far off their first win. We must get to work now for Templeogue next week and hopefully get some guys back."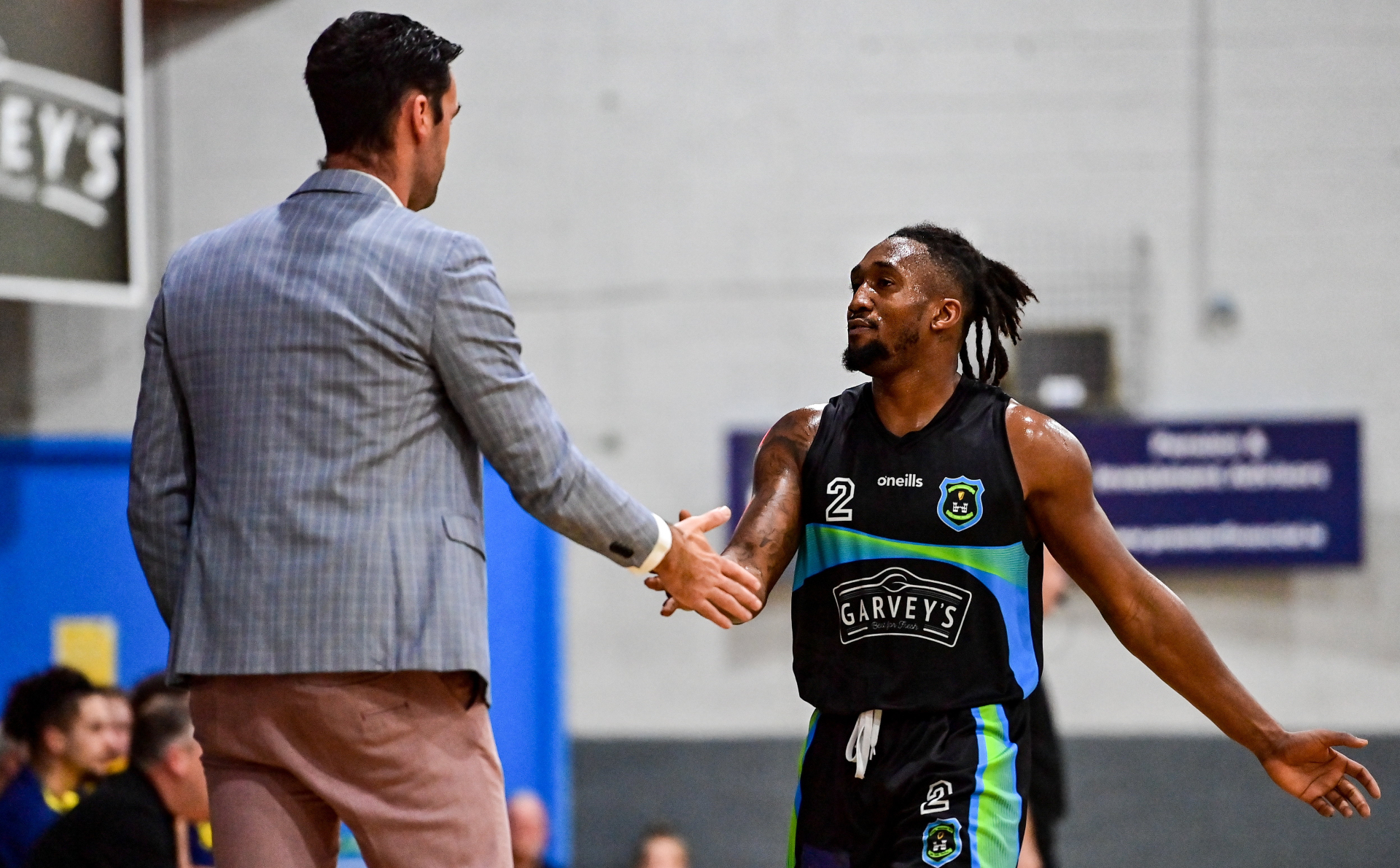 Garvey's Tralee Warriors head coach John Dowling with Aaron Calixte
Benjamin Durox scored 20 points for Bright DCU Saints, while Martin Neary had 14 and Kevin Lacey 9. Head coach Gareth Winders was pleased with the efforts of his team. "Tough place to come and play. Our players stood up tonight and delivered a strong performance. This young group of players are beginning to show signs of what they can do and we look forward now to the next game and a different challenge."
C&S Neptune edged a close affair with Griffith College Templeogue, winning 83-80. They were level pegging at half-time at 41 apiece. Cian Heaphy had 21 points for the home side, with Mile Washington (17) and Nil Sabata making significant contributions to the victory.
Jason Killeen topped the scoring charts for Griffith College Templeogue on 24, while Vladimir Tokishin had 17 and Stephen James 12.
Colin O'Reilly, C&S Neptune head coach, was happy with the come-from-behind victory. "Really nice win and one our performance deserved. They hit us hard early and were up 14 points in the first quarter, but we hung tough and clawed our way back into it and finished the job in the last two minutes. Roy Downey, Cian Heaphy and James Hannigan really stood up for us when it was needed and it's a win that keeps us in the hunt for a playoff spot."
Griffith College Templeogue head coach Mark Keenan said: "Another tough close loss for us tonight. We played great at the start and then very poorly at times. Consistency has been our issue lately. Good one minute and poor the next. If we can learn from and put right the mistakes we are making we'll be fine going forward. Fair play to Neptune also. They made some big shots down the stretch tonight."
Srdjan Stankovic and Jonathan Jean both scored 37 points to lead UCD Marian to a 97-81 win over Team 360 Financial Killorglin. The Kerry side led 22-16 at the end of the opening quarter, and the teams were level at 42-42 at half-time, before a strong third quarter saw UCD open a 10-point advantage, 68-58 and they didn't look back after that.
UCD Marian head coach, Josko Srzic, said: "We started the game better then in our previous two games. Both Jon (Jean) and Srdjan (Stankovic) had very good offensive performances tonight, but the team defence in second half made a difference for us."
Simon Francis was Team 360 Financial Killorglin's top scorer on 25, followed by Alan Thomas (15) and Declan Wall (13). Head coach Declan Wall hailed his teams efforts. "Yes it was always going to be a tough game tonight, considering the week we had with injuries and traveling with only eight fit players. I thought we did well in the first half, going in level, but in the second half foul trouble and UCD being able to rotate better than us off the bench probably wore us down. We ran out of steam a bit in the last quarter, when we were looking for a final push when there was a like a 10 point gap with like nine minutes to go. To be fair to UCD Marian, they shot the ball massively well hitting 19 3-pointers on the night, so I think most teams would have struggled to beat them doing this."
"Hopefully this week we get a few bodies back from injury and prepare well for a home game against Belfast and have our big home crowd there to try and get us another home win."
DBS Éanna won 86-84 at Moycullen on Sunday. Devin Gilmore had 22 points, backed up by, Stefan Zecevic (17) and Romonn Nelson (13). Despite picking up 34 points, Grant Olsson finished on the losing side. Ayberk Taylan shot 19 points for Moycullen and Josh Marvesley 9.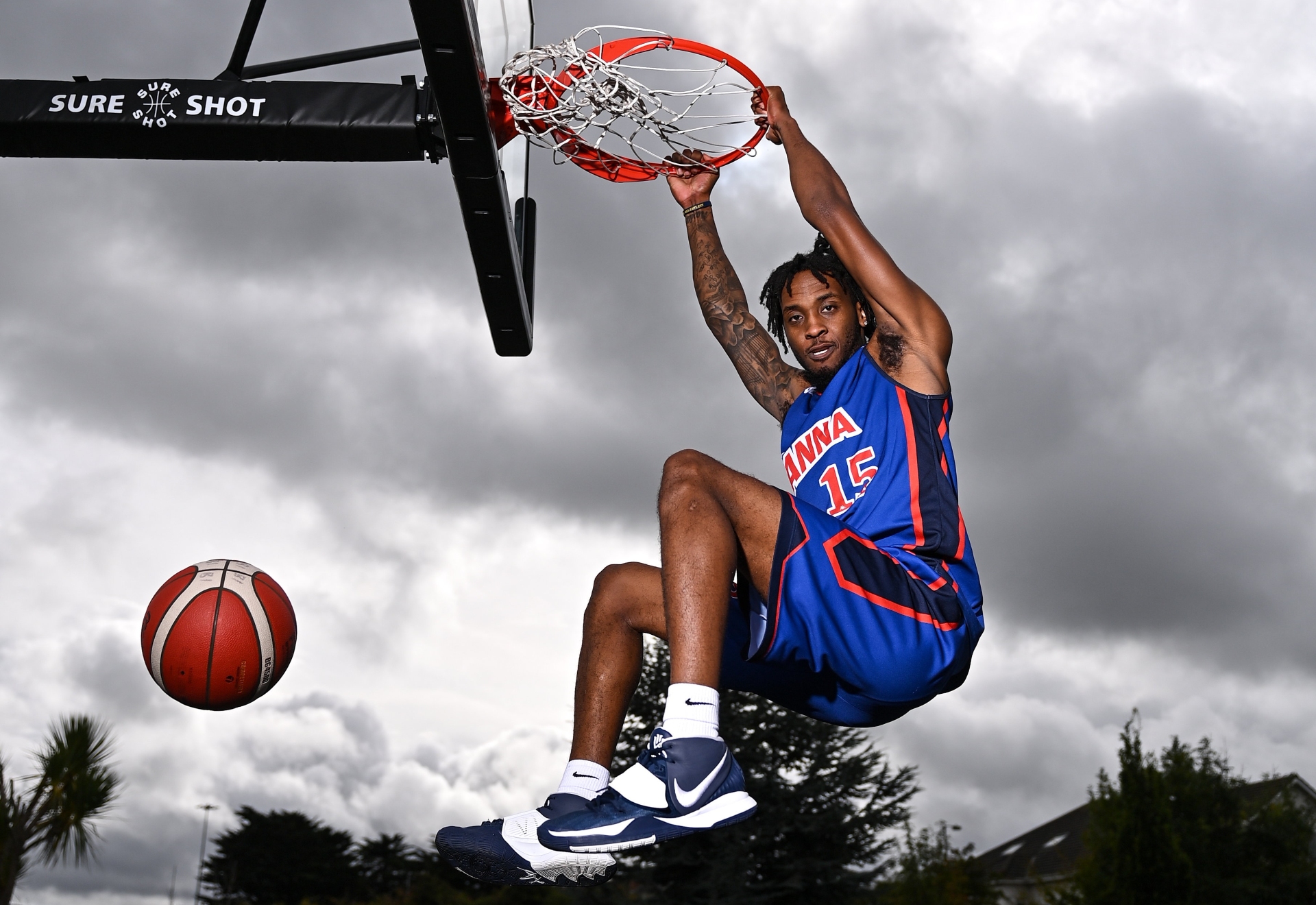 Devin Gilmore of DBS Éanna at the National League launch in September. He scored 22 points at Moycullen in the InsureMyVan.ie Super League on Sunday.
DBS Éanna head coach Darren McGovern was relieved afterwards. "Another nail bitter that we managed to get through in the end, so again we are delighted the result. Again we finished the game out with our 'D'. Road wins come with tough and gritty performances. Now we have a huge test next weekend in Cork (against Tradehouse Central Ballincollig). We will ice bath everyone and fingers crossed the guys make it to next weekend healthy."
In the InsureMyVan Division 1 UCC Demons and Limerick Sport Eagles remain unbeaten. Matt Hall's Limerick Sport Eagles were forced to overtime by Fr. Mathews, before winning 83-74. Manny Payton, who was the InsureMyVan.ie Division 1 October player of the month, accumulated almost half of Limerick Sport Eagles' points, with 41.
UCC Demons were 92-71 winners at Scotts Lakers Killarney. Tala Fam Thiam once again top scored for the victors, with 26 points, while Ireland international Kyle Hosford had 17 and Stefan Manojovic 14.
Elsewhere McGowans Tolka Rovers picked up their fourth win in a row, 67-56 over Ulster University, to replace their opponents at top of the North Conference. Michael Bonaparte (13), Tom Kenny (12) and Sean Moore (11) were the leading scorers for the Dublin club
New National League club Grand Hotel Malahide slipped to their first league defeat, 99-77 at Abbey Seals Dublin Lions. IT Carlow Basketball also tasted defeat for the first time on Saturday, beaten 93-62 at Limerick Celtics, who had Andre Wolford (32) and Ruairi Cronin (24) in good shooting form for the home side.
Titans BC registered their first win of the season, beating LYIT Donegal 85-77, meanwhile the wait for a victory for LYIT Donegal goes on.
Elsewhere Portlaoise Panthers beat WIT Vikings 83-74 and EJ Sligo All-Stars won 98-81 at Drogheda Wolves, Keith Jordan Jr. with another 35 points for the Connacht club.
In the MissQuote.ie Division 1, the last two remaining unbeaten clubs, NUIG Mystics and Ulster University faced off at Claregalway Secondary School and it was Patrick O'Neill's side who edged the contest, 77-74.
American Lexi Posset top scored with 28 points, Abigail Rafferty contributed 18, while Aoife Callaghan and Aleandra Mulligan both hit 9.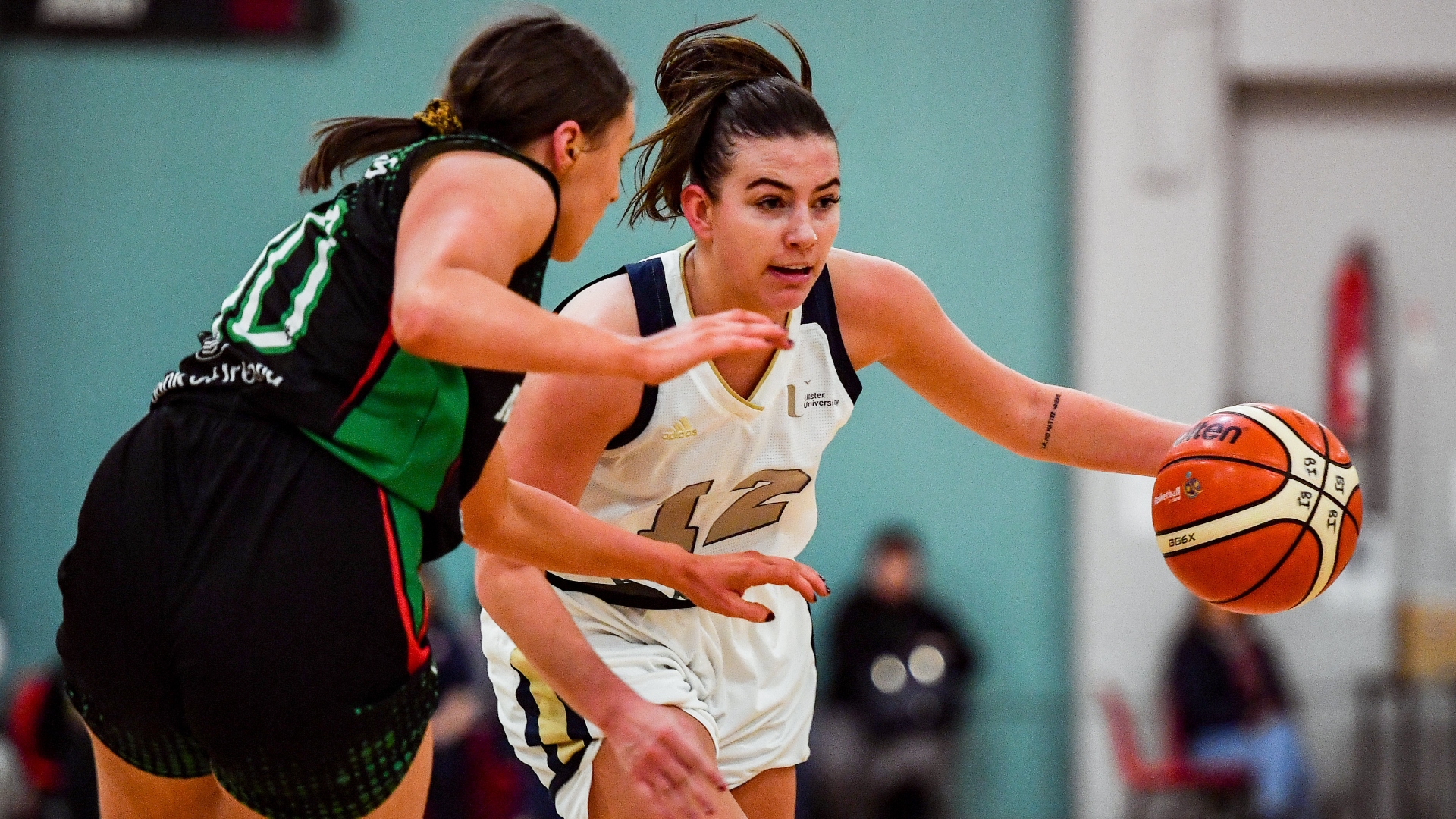 File - Lexi Possett in action for Ulster University during 2019/20 season
NUIG Mystics scoring was led by Kara McCleane (18), Aine McDonagh (16) and Hazel Finn (15).
Ulster University head coach Patrick O'Neill said: 'What an advertisement for women's basketball. It was always going to be a tight game and credit to Mystics they never backed down and fought to the end, but I am so proud of how we executed and stayed focused for the 40 minutes. All the team contributed and it's a great win after a disappointing (InsureMyHouse.ie National) Cup loss two weeks ago."

Paul O'Brien, NUIG Mystics head coach added: "It's a tough loss against a very good team. We feel like we played well for most of the game, but some poor finishing and execution cost us in the end. Ulster played really well and made big shots to get the win. We are a very young team and while we are disappointed, we will use this as a learning experience and hope to get back on track next weekend."
Limerick Sport Huskies had a double header this weekend and picked up two wins. They began with a 78-55 home win against Griffith College Templeogue on Saturday, with Yuleska Ramirez Tejeda leading their offence on 29 points. They followed it with a 73-55 road success at Tipperary Knights on Sunday. Yuleska Ramirez Tejeda shone again for Huskies, with 32 points. Rosie Tobin top scored for Tipperary Knights on 21.
Marble City Hawks got over the line in a close encounter against Swords Thunder, 53-49. Sofia Pakas proved instrumental for Limerick Celtics, as they picked up their first win of the season 67-56 at Phoenix Rockets, the Canadian landing 25 points.
Portlaoise Panthers beat LYIT Donegal 93-74 at St. Mary's Hall on Sunday. The Laois club had a 20-point lead at half-time, 61-41 and never looked back, their top scorers were Antigonie Sanabria (19), Sarah Fleming (15) and Ciara Byrne (13). Shannon Cunningham had 25 points for LYIT, followed by Maria Kealy (15) and NaKeeya Goodman-Boddie (12).