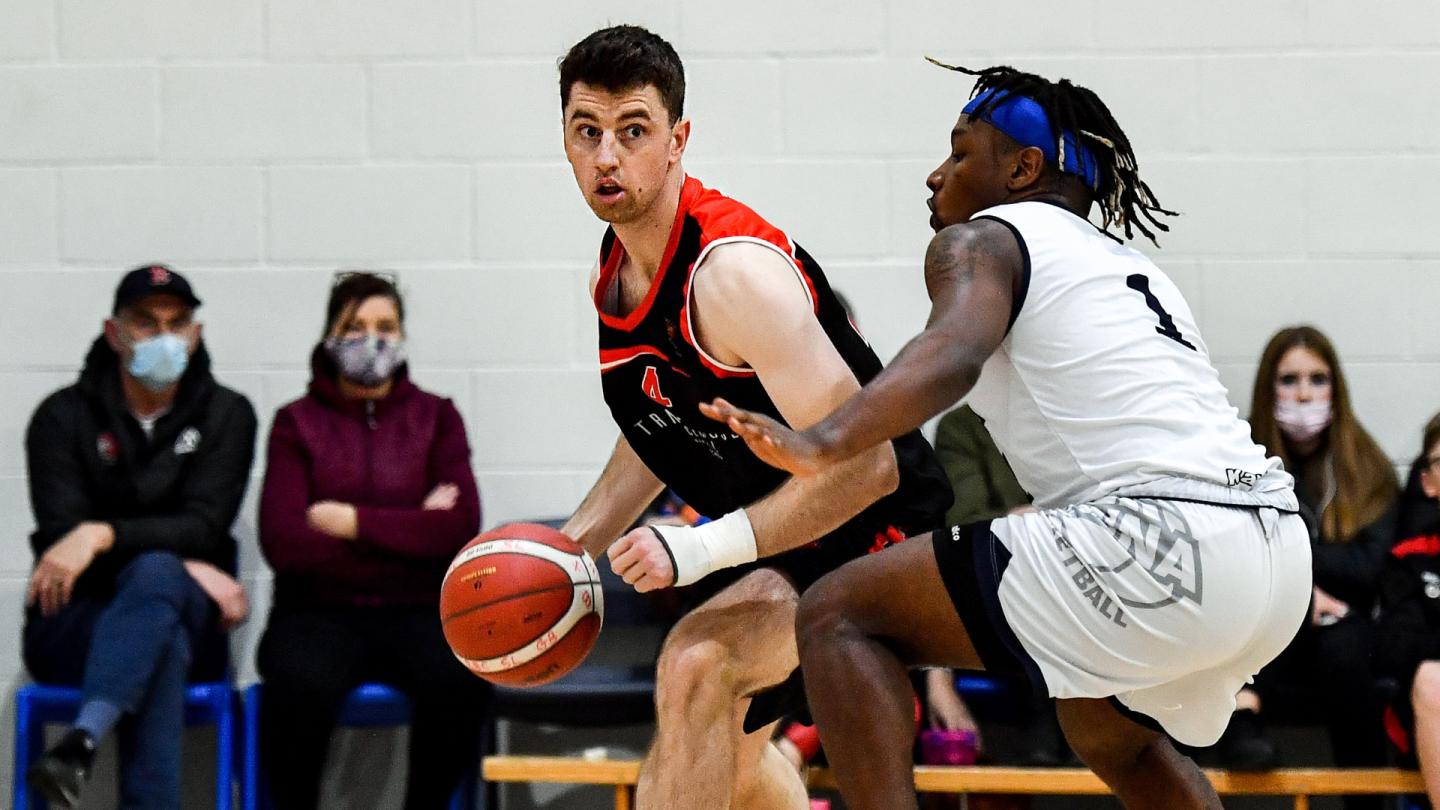 Nov 21 2021
Tradehouse Central Ballincollig make it six wins from six in InsureMyVan.ie Super League
Tradehouse Central Ballincollig make it six wins from six as they continued their excellent start in the InsureMyVan.ie Super League. They beat DBS Éanna 76-60 at Ballincollig Community School. Andre Nation was once again top-scorer for Tradehouse Central Ballincollig, racking up 24 points, followed by Adrian O'Sullivan and Ciaran O'Sullivan, with 12 each. For DBS Éanna, it was Neil Lynch who led the scoring, on 14 points, followed by Stefan Zecevic with 10.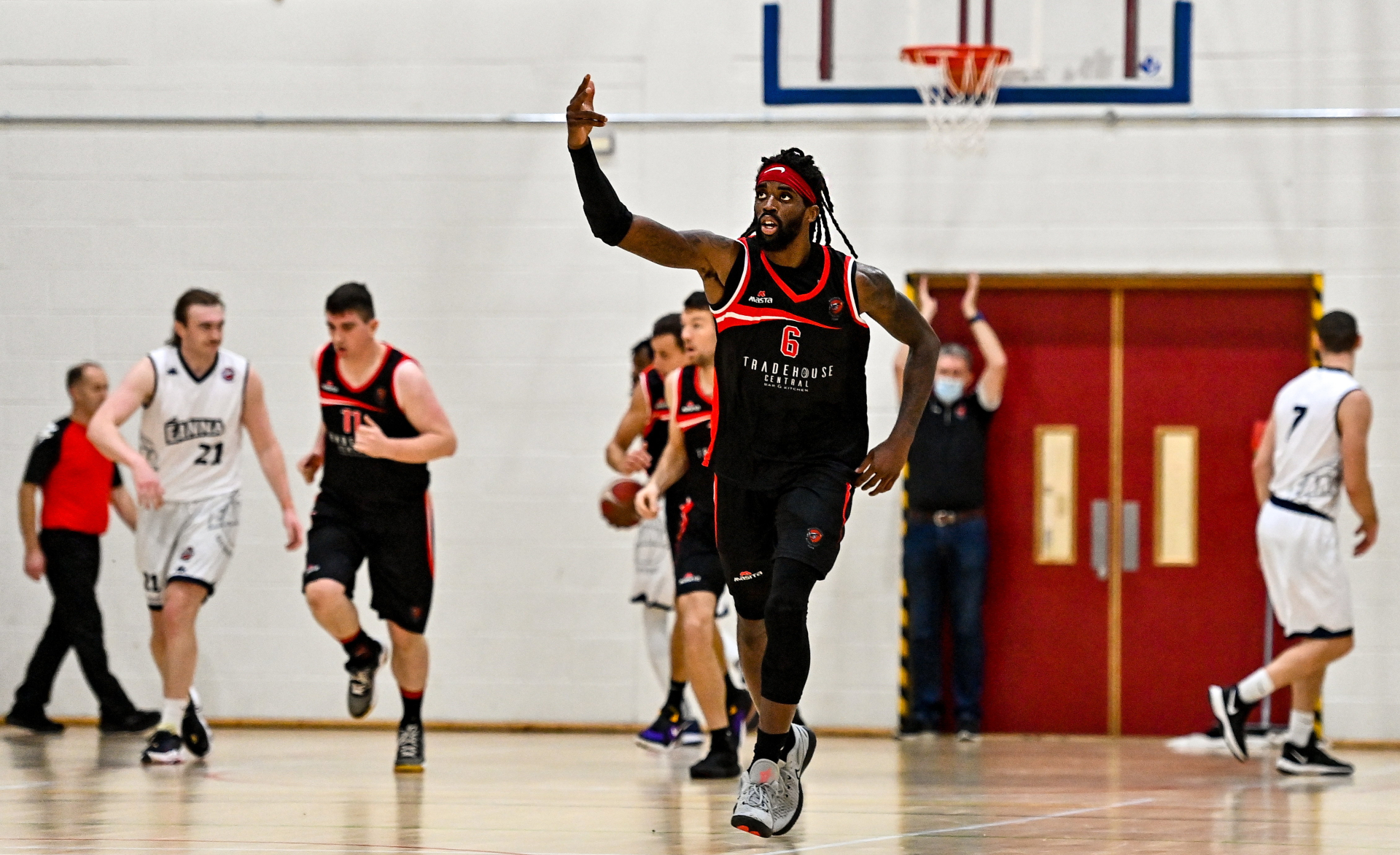 Andre Nation of Tradehouse Central Ballincollig celebrates after scoring a three pointer in the fourth quarter during the InsureMyVan.ie Super League match between Tradehouse Central Ballincollig and DBS Éanna at Ballincollig Community School
Tradehouse Central Ballincollig head coach Kieran O'Sullivan said: "Éanna came out the traps well and got ahead in the first quarter, but we settled through good play from Ciaran and Adrian O'Sullivan in the second quarter. We are generally a good second half team and our defence again came to the fore from the dynamo Dylan Corkery, Adrian (O'Sullivan) and Andre Nation. This was a fight to the finish and a physical battle. We are pleased with the win now, we are off for a few weeks so need some of the injuries to heal and go again. We have a lot of tough away games coming up, but we are happy with our start of the league."
Garvey's Tralee Warriors overcame Griffith College Templeogue 99-90. Aaron Calixte once again top scored with 21 points, followed by Daniel Jokubaitis (17) and Eoin Quigley (16). Lorcan Murphy shot 26 points ahead of joining up with the Irish senior men's team for their FIBA EuroBasket 2025 Pre-Qualifiers, while Enrique Melini wasn't far behind on 23 points.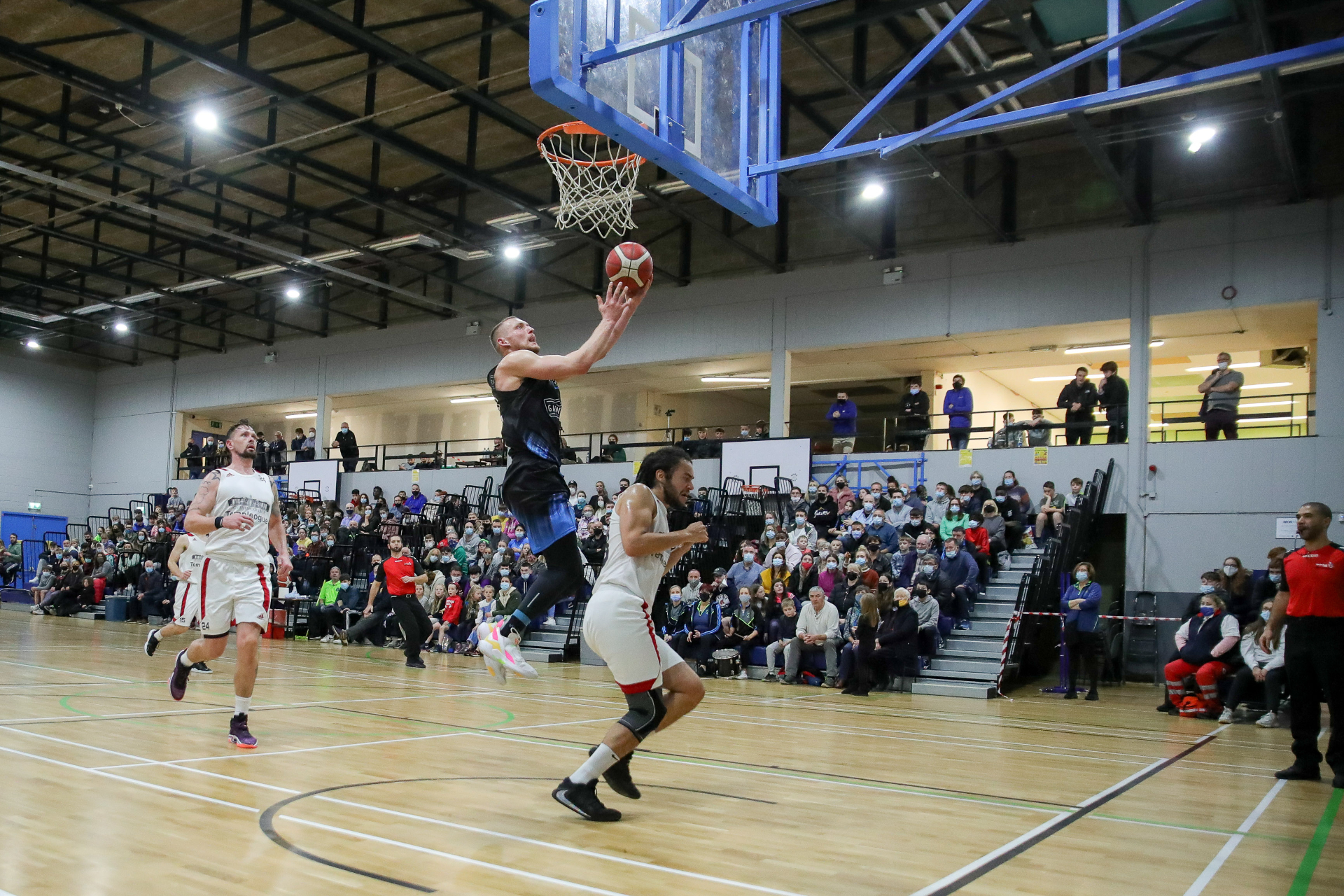 Daniel Jokubaitis scored 17 points for Garvey's Tralee Warriors against Griffith College Templeogue on Saturday. Photo credit: Liam Ryan
Garvey's Tralee Warriors head coach John Dowling said: "We are delighted with the team performance, our scoring was very balanced, which is something we have been looking for. Our third quarter defence was as good as we played all year and we needed all of it. Griffith College Templeogue are always tough to beat and we had to be at our best to do so. We would like to wish Mark (Keenan) and Quigs (Eoin Quigley) all the best next week, we'll be watching and shouting for them in the EuroBasket."
NUIG Maree's formidable home form continued, with a 80-64 victory over UCD Marian, it was their fourth win from four league and cup games in Galway. Lovre Tvrdic top scored for NUIG Maree, on 23 points, backed by Jeryn Lucas (16) and Deondre Jackson (12). UCD Marian were headed by Srdjan Stojanovic (25) and Jonathan Jean (14). NUIG Maree head coach Charlie Crowley was pleased with the win. "Nice job by our guys. All players in, everyone contributing, exactly what we're trying to get done here. We asked the lads to play a certain style and they executed well. UCD Marian have some great players and our defence did a good enough job to secure the win. We've got them again now in two weeks and we're well aware they will be a different beast. Time to knuckle down and work towards the (InsureMyHouse.ie National) Cup game".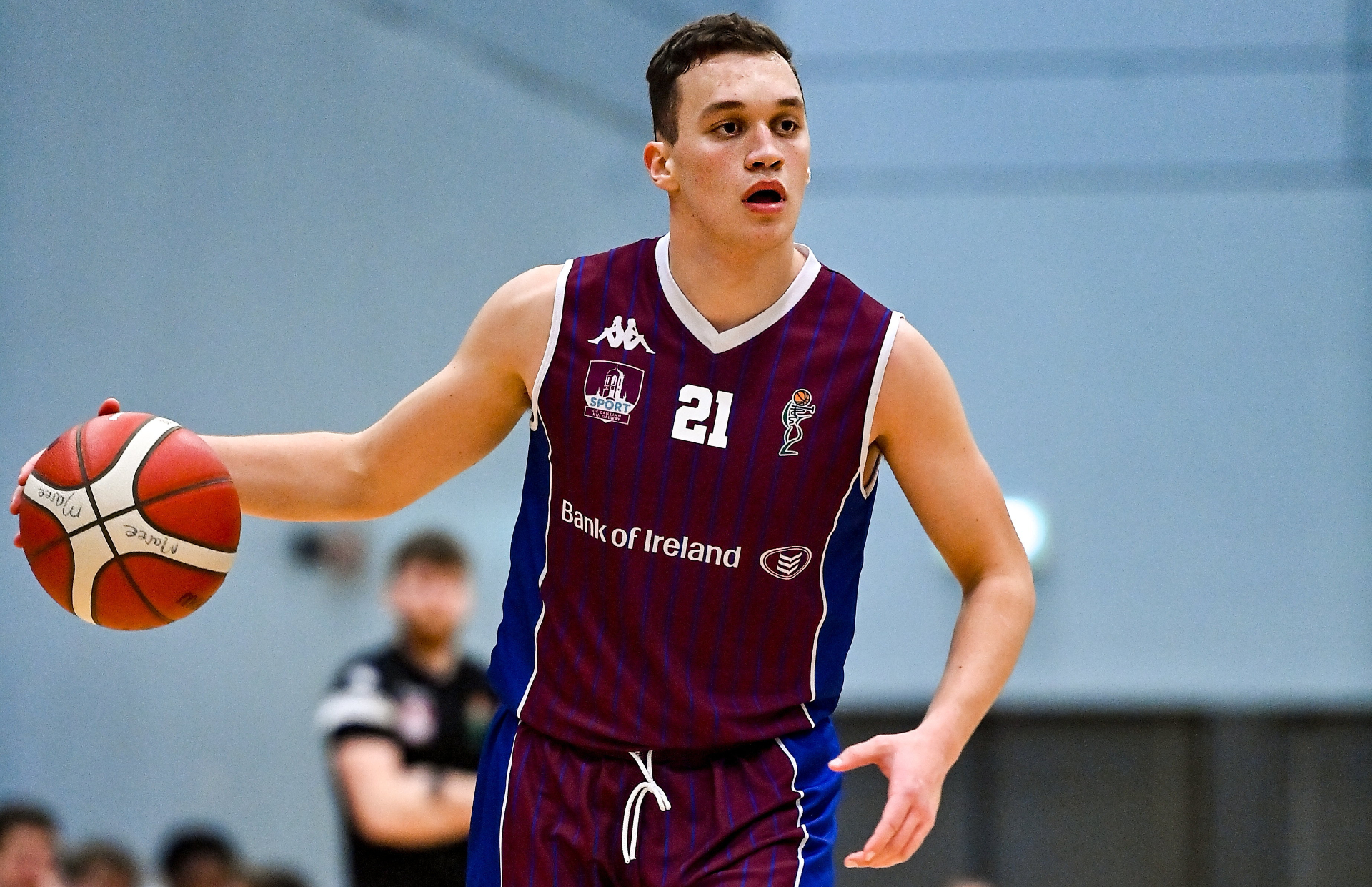 Lovre Tvrdic scored 23 points for NUIG Maree against UCD Marian
C&S Neptune won 100-76 at Killester, helped by the impressive shooting of Nils Sabata (27), and Roy Downey (20), backed up by 11 points each for James Hannigan and Miles Washington. Killester owed the bulk of their scores to Kason Harrell (28), Tomas Fernandez Zerolo (16) and Farouq Raheem (15).
C&S Neptune head coach Colin O'Reilly felt the scoreline was flattering to his side. "Really nice win, but the scoreline doesn't tell you how much trouble Killester caused us throughout, but we will take it. This wasn't our prettiest performance and the player led review after has given us nice starting points for this week's training sessions. Roy Downey has really stepped up over the last few weeks as a vocal leader on court and it's clear that all the players are following his example and putting in a good shift. We'll enjoy the few days off before we are back training, but we have a big two weeks preparing for Killester in the (InsureMyHouse.ie National) Cup."
Team 360 Financial Killorglin got the better of Belfast Star, winning by 82-76. Allan Tomas (25) scored well for the home team, as did Simon Fransis (23). Max Cooper and Conor Quinn were top shooters for Belfast Star, with 16 points each. Declan Wall, Team 360 Financial Killorglin head coach, reflected on another home success. "A good solid home win against a side like Belfast Star. At home here in Killorglin our aim is to try and make it a hard place to come and get a win and I think this season we are once again doing this. We seemed to be in control of the game from the off, having the lead the whole way through. I thought we had our chance a few times to push away, but didn't do that, which is something we need to maybe work on. But all credit to Belfast Star, they stuck to the task in keeping it close down the stretch, but we managed the game well and got the win we deserved. A lot of good performances from our young squad tonight, who are beginning to find their feet in the Super League and looking forward now to preparing for a Cup quarter-final against a good side in (DBS) Éanna in two weeks' time."
The fixture between Bright DCU Saints and Moycullen scheduled for Saturday was postponed due to Covid-19 and will be played at a later date.
In the InsureMyVan.ie Division 1, Kyle Hosford marked the day he was named as Ireland senior men's captain for the FIBA EuroBasket 2025 Pre-Qualifiers with a 29 point haul in UCC Demons 95-77 win over Portlaoise Panthers on Sunday. Tala Fam Thiam also bagged 30 points for the home side, who remain unbeaten.
Speaking afterwards Hosford said: "Yeah obviously I had an extra buzz for today knowing what was coming up for the week ahead. Demons was my priority this weekend. We were down a few bodies and knew the task we were facing. We know what way we can play, being at home is obviously a nice help in that regard. We have a weekend off now. The team will still train away. And come next Monday we are into Cup week and the camp will be buzzing."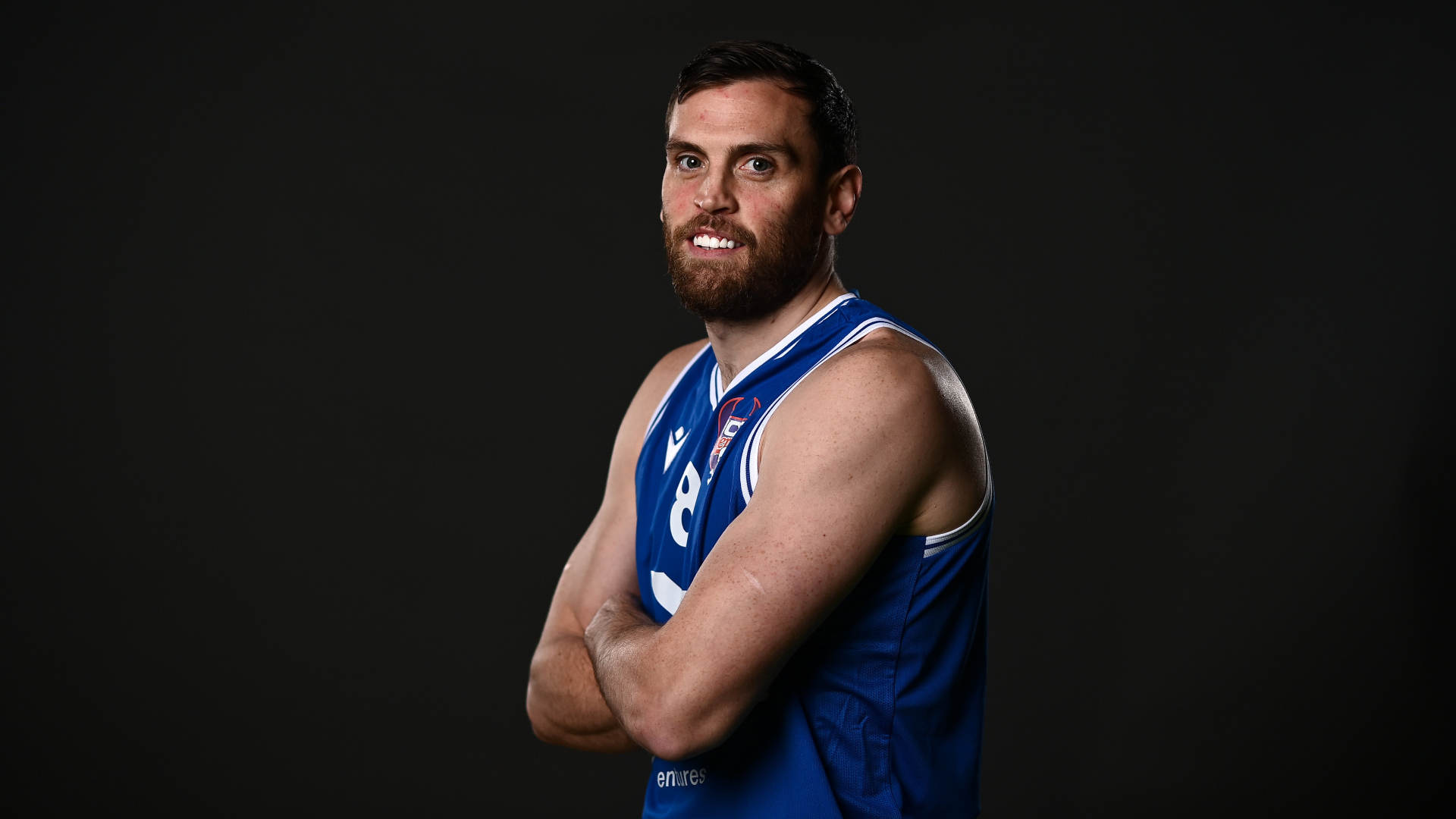 Kyle Hosford scored 29 points for UCC Demons on the day he was named as Ireland senior men's captain 
Portlaoise Panthers' scoring was headed by Nelson Larkins (26), Luke Thompson (20) and Sean Condon (11).
Limerick Sport Eagles also have four wins from four, they edged WIT Vikings 82-75. Osi Oshiogwemoh scored 30 points for WIT Vikings, while Jay Kavanagh also shot well (26). However the strong offence of Manny Payton (24), Diarmuid O'Shea (16) and Dosso Vadji (12) for Limerick Sport Eagles proved too much for WIT Vikings.
North Conference leaders McGowans Tolka Rovers made it five wins in a row with a 80-70 win at LYIT Donegal. Ramunas Ramanauskas led the way with 18 points, while Paul Caffrey, Daniel Ayoade and Michael Bonaparte each slotted 10. Calvin Whipple was excellent for LYIT Donegal, coming away with 30 points, backed up by Luke Cassidy (15) and Andy McGeever (11).
Good scoring by Nate Shafer (31) and Kevin Donohoe (20), gave IT Carlow a 74-64 win over Killarney Cougars. Justin Tuason (18) and Jaime Fernandez (16) top scored for Killarney Cougars.
Grand Hotel Malahide comfortably beat Titans, winning 94-66, helped by the contributions of Trevor Recio (22), Cian Daly (12) and Sean Daly (12). Titans scoring charts were headed by Comhghall McCormack (20), while Brendan Hardiman and Malik Thiam each scored 10.
EJ Sligo All-Stars beat Abbey Seals Dublin Lions 83-71. Zack Powell scored 29 for the home side, with Keith Jordan Jr. close behind on 26. Finn Hughes (19) and Tiernan Howe (16), led the offensive charge for Abbey Seals Dublin Lions.
Limerick Celtics had a 73-64 win at Fr. Mathews, with Andre Cernel (19) and Ruairi Cronin (17) to the fore. Jack O'Mahony scored most for Fr. Mathews, with 22 points, followed by Jonathan Garcia (14).