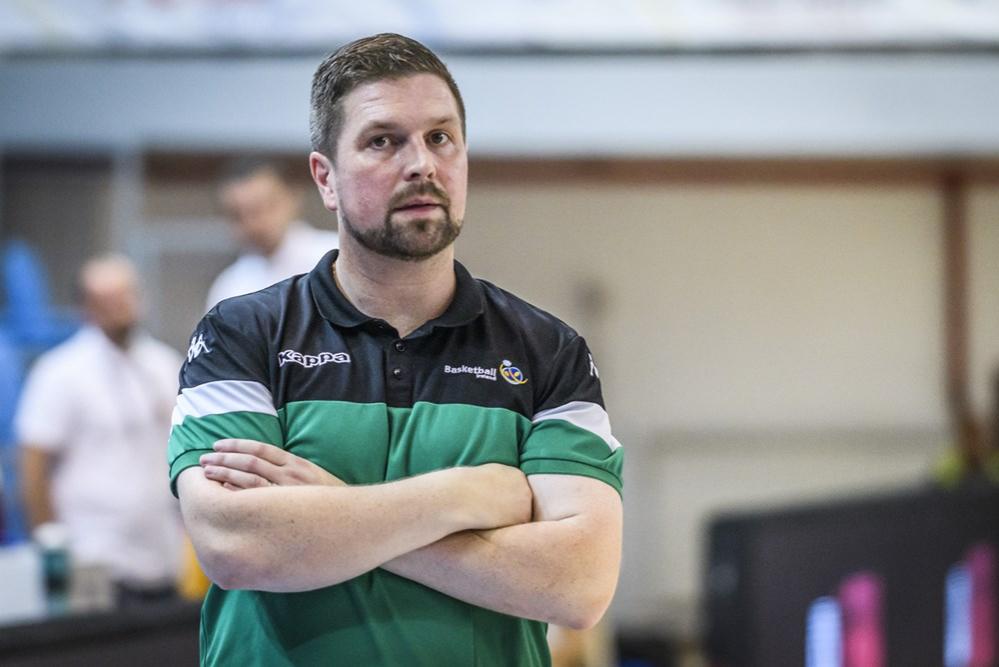 Nov 23 2021
Head coach Kelleher selects Ireland U18 men's panel
Ireland U18 men's head coach Paul Kelleher has made his selection of 29 players for the Ireland U18 men's panel. In the panel, there are 7 players currently abroad, with 22 Ireland-based players. Also of note is is the youth of the panel, with 11 of the players selected having been born in 2005.
Head coach Paull Kelleher spoke on the selection process, and what this group of players have to offer:
"We have had a nice trialing process and one that we feel has brought 29 players to the fore. This is a young group, a group with a lot of dynamism, talent, and flexibility. We are excited to start getting into real work with them in December."
The Ireland U18 men's team will compete in the FIBA U18 European Championships in 2022, which take place in Oradea, Romania at the end of July 2022.
Ireland U18 Men's Squad 21/22
Players Name

Surname

DOB

Age

Height

School/Club

Position

Aaron

Dooley

2004-05-11

16

6'4"

Portlaoise Panthers

Forward

Aivaras

Uosis

2005-03-02

16

6'6"

Pobalscoil Chorca Dhuibhne / Tralee Imperials / Tralee Warriors

Guard

Amaan

Sanni

2004-02-20

17

6'2"

St.Mary's C.B.S

Guard

Aodhan

Daly

2004-01-16

17

6'6"

Barking Abbey London Lions

Forward

Ben

Burke

2004-01-01

17

6'1"

NUIG Maree

Guard

Brendan

Douanla

2004-01-23

17

6'6"

Ballincollig Basketball Club

Forward

Brian

O'Leary

2005-08-23

16

6'6"

St. Brendans

Forward

Caolan

Lynch

2004-02-21

17

6'5"

Cavan Lakers

Guard

Christian

McDonnell

2004-01-16

17

6'2"

Malahide BC

Guard

Dáire

Murray

2004-08-13

17

6'0"

Templeogue Basketball Club / Templeogue College

Guard

Daniel

Carberry

2005-01-04

16

6'2"

Templeogue

Guard

David

Nwanolue

2005-09-19

16

6'5"

Dundalk Ravens

Forward

Davies

Ojo

2005-05-05

16

6'5"

Dundalk Ravens

Forward

Desmond

Ward

2004-09-29

17

6'6''

Candace Mulready-Ward

Forward

Francois

Nkoy

2005-08-09

16

6'9"

Fr. Matthews

Forward

Greg

Marinkovic Augustine

2004-03-20

17

6'5"

BC Tauras

Guard

Isaiah Tobi

Ogunbare

2004-05-08

17

6'8"

Springfield Commonwealth
Academy

Centre

Jack

Kehoe

2005-04-19

16

6'5"

IT Carlow / Old Leighlin

Forward

Jack

Finn

2005-02-04

16

6'1"

Templeogue

Guard

Jakub

Pasieczny

2005-05-19

16

6'5"

Phoenix Longford

Guard

Jamie

Cotter

2004-02-05

17

6'1"

Reading rockets. JMA

Guard

Joseph

Badejo

2005-09-22

16

6'7"

Dundalk Ravens

Forward

Karl

Rokoszynski

2004-08-13

17

6'4"

Brentwood Fire

Forward

Leslie

Okafor

2004-01-03

17

6'5"

Itchen college / Solent Kestrels

Forward

Max

Tyndall

2004-11-01

16

6'5"

Drogheda wolves

Forward

Paul

Ryan

2004-05-27

17

6'6"

St Vincent's Basketball Club

Forward

Ruairi

Cronin

2004-01-31

17

6'4"

Castletroy College

Guard

Sean

Fitzpatrick

2004-08-16

17

6'3"

Malahide Basketball club

Guard

Tony

Ezeonu

2005-02-17

17

6'6"

Wt White High school Dallas, Texas

Guard